Written by Staff on March 25, 2020 – 7:48 am -
SEVIERVILLE, Tenn. (March 24, 2020) – NQC (the National Quartet Convention) has announced that NQC's Spring Break festival will now be held on April 23 & 24, 2020. The fourth annual event will once again be held at First Baptist Church in Sevierville, TN. Produced by NQC – Gospel Music's Largest annual event drawing nearly 40,000 from 40 states and half dozen foreign countries to its annual fall festival at the end of September – NQC Spring Break is designed to give gospel music fans a taste of the big fall convention and give gospel music fans an opportunity to enjoy the Smoky Mountains in the Spring as well as the fall.
Featured on the event this year will be last year's biggest winners at the annual Singing New Fan Awards, the Triumphant Quartet as well as Dollywood's host group, the Kingdom Heirs, both of whom reside in Sevier County. Also featured will be many artists often featured on the popular Gaither Homecoming series such as the Hoppers, Greater Vision, Mark Trammell Quartet, Jim & Melissa Brady along with the very popular Primitive Quartet and Singing News Fan Awards two-time Soloist of the Year, Joseph Habedank.
In addition to these popular Gospel Music artists, the event will also feature an appearance by the East Tennessee Mass Choir featuring the choir members of First Baptist Sevierville, and several other area choirs. Being lead by First Baptist Sevierville Worship Pastor, Scott Andrews, the choirs will be performing a special to open the second half as well as singing with several of the featured artists.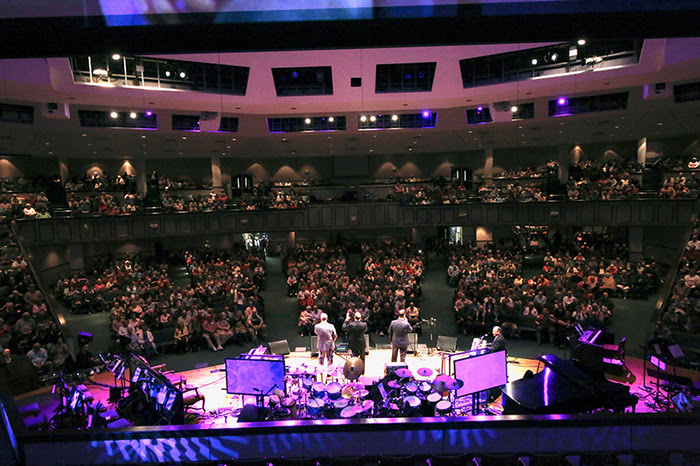 A packed house at 2019's NQC Spring Break in Sevierville, TN. Photo by Chip Woods
NQC organizers are set to make an exciting announcement about the future of the Spring event during both the Thursday night and Friday night performances.
The event takes place April 23 & 24, 2020 at First Baptist Sevierville.  Door open at 4:00 and the concerts start at 6:00 p.m. each night.  Additional information can be found at 
www.nqconline.com
Did you know that you can receive the printed, full-color version of SGNScoops Magazine by subscription? Find out more 
HERE
.
Find SGNScoops Magazine On Facebook 
HERE.
You can download the latest edition of SGNScoops Magazine 
HERE.
Read the latest edition of SGNScoops Magazine online
HERE.
Listen To Today's Gospel Music
HERE
Tags:
Christian Music
,
gospel music
,
Greater Vision
,
hoppers
,
Jim & Melissa Brady
,
Joseph Habedank
,
Kingdom Heirs
,
mark trammell quartet
,
national Quartet Convention
,
nqc
,
Primitive Quartet
,
Sevierville
,
Southern Gospel Music
,
Spring Break
,
Tennessee
,
triumphant quartet
Posted in
announcements
,
artists
|
Comments Off

on UPDATED!! NQC Spring Break To Be Held April 23 & 24, 2020
Written by Staff on March 24, 2020 – 1:02 pm -
NASHVILLE, Tenn. (March 24, 2020) – Many significant organizations and companies within the music industry have submitted a joint letter to congress on behalf of the music industry asking Congress to please include the music industry in any future relief packages, as the music industry has been uniquely and significantly impacted as the result of government mandates related to the Coronavirus pandemic.  One of the organizations that participated in this joint letter was the Southern Gospel Music Guild.
"The SGMG actively looks for ways to advocate for the Southern Gospel Music industry, and we were glad to sign on to this offer petitioning Congress for relief," states Clarke Beasley, President of the Southern Gospel Music Guild.  "Never in the history Gospel Music, as it is known today, has the industry faced a calamity of this scale and scope, and we hope our voice added to others will compel Congress to act in order to preserve our industry and our genre of music."
More news from SGNScoops Magazine:
Tags:
Clarke Beasley
,
Congress
,
Relief Package
,
sgmg
,
Southern Gospel Music
,
Southern Gospel Music Guild
Posted in
announcements
,
artists
|
Comments Off

on Southern Gospel Music Guild Advocates for Relief Package Inclusion from Congress
Written by Staff on March 23, 2020 – 12:06 pm -
2020 March SGNScoops Magazine – Editor's Last Word by Lorraine Walker
March is here with warmer winds and brighter sunshine, and much-needed rain. It seems like every March is different, but most people just want spring to begin. We are looking forward to a new season here at SGNScoops. I think I speak for all of my northern friends when I say that we've had enough snow! But as these pictures indicate, March gives us an in-between month of flowers and snow, expectation and waiting.
We are thrilled to bring March in like a lion as the saying goes, with a cover story on our friends the Browders who are celebrating 30 years of ministry. Thanks so much to Justin Gilmore who worked with me on this cover project. We so appreciate the authenticity of this family. 
We hope you have thoroughly read through each of the features. Canaan Cauffman, Exodus, Tanya Rose, Kenny Smith, and so many others. It was a pleasure to highlight Paul Heil on his 40th anniversary in radio ministry. Thanks as well to Dixie Phillips for introducing us to Sammy Ward, and Bill Dykes for introducing us to one of his favorite pastors, Dr. Keen. 
Be sure to check the back of the magazine to find out more about each of our contributors this month. Writers may change from month to month, but we always strive to give you the highest quality, and the best delivery of the gospel of Jesus Christ. Thanks to Lyndsey Chandler, Rob Patz, Vonda Armstrong, Robert York, Jantina Baksteen, and Les Butler. Special thanks also goes to my proofreader and general right hand, Joan Walker. And we so appreciate the people who make everything beautiful: Stephanie Kelley, Staci Schwager, and Pete Schwager.
Since Easter doesn't fall in March this year, the whole month seems to be waiting in expectation for the event. For those who celebrate Lent, or for any who may decide to commemorate this time of year in any special way, each day is a reminder of how much Jesus did for us. The days leading up to the cross, the events taking place as recorded in the Gospels, all of this happened as Jesus must have been in some way preparing himself for what lay ahead. And yet, he was fully present with every event. He knew that the horrible death was just around the corner, signaling the end to his earthly walk. But we never see where he is walking away from ministry or letting the shadow of what was ahead hang heavy over his heart. He was in between the wedding at Cana and the glorious Resurrection, yet he never dwelt on either, according to scripture. He told his disciples what would happen, but he never told them to leave him alone so he could wallow in self-pity.
Many of us are in between two events. Maybe we are between something very happy and yet we know there is something on the horizon, such as the death of a loved one. Perhaps you were in a good state of health, and now you are suffering, though you know at some point in the future you will be whole again. How are you handling this in between portions of life? Are you hiding, wallowing, or lashing out in anger? Or are you using this time to touch other people?
My prayer for you and myself, is that we use each day as a gift from God, and use the gifts that he has given to us, to bless others around us. Let's not forget to pray for others. Let's make each day count for him no matter where we are on our path to victory.
Editor's note: This article was written prior to the onset of the Coronavirus in North America. Are you in isolation because of COVID-19? You too are in the "in-between," forced to take time to stop and be aware of what is around you. Don't waste the time: God wants to talk to you, to let you know that he is the source of all peace and hope, and to calm you with the truth of his love. Spend time with him and also pray for others during this time that they might know his peace.
By Lorraine Walker
First published by SGNScoops Magazine in March 2020
Tags:
Browders
,
Canaan Cauffman
,
Coronavirus
,
COVID-19
,
Editor's Last Word
,
Exodus
,
gospel music
,
Kenny Smith
,
Lorraine Walker
,
SGNScoops Magazine
,
Southern Gospel Music
,
Spring. Easter
,
Tanya Rose
Posted in
artists
,
sgn scoops magazine
|
Comments Off

on Lorraine Walker: the in-between month of March
Written by Staff on March 21, 2020 – 9:30 am -
2020 March SGNScoops Publisher's Point by Rob Patz
Can you believe we are already in the third month of 2020? March also signifies Spring, and for those that live in certain parts of the country, it means the chance that the snow will soon be disappearing from their walkways and streets, and flowers will start to bloom.
I know I've written in the past that I love Spring and it's no surprise. I love new beginnings. I love the part of life where things start anew and for me, Spring has always been a signal for the start of many great gospel music events. I have been so blessed to have the opportunity to now run and organize events throughout the United States.
Spring also means that Easter is right around the corner. As a Christian, it should be the most incredible time of year. I heard a sermon recently about when Jesus was crucified, and the one thief recognized how amazing Jesus was that he wanted to be with him wherever it was that he was going. I find it very fascinating because this man obviously had lived a life of only caring for himself or taking what he wanted from whoever it was in the society of the time. I did some research and we really don't know that much about either thief. I know in a lot of circles they call the thief that accepted Jesus as his personal Savior on the cross, as the "grateful thief.' I think that's pretty cool.
As Christians today, we know that our society as a whole is spinning effortlessly out of control. I'm not here to say that I have an answer for how we can fix that, but I do think about the thief on the cross. He knew that Jesus was pure, and was willing to sacrifice who he was for more than just himself. I think as Christians, in this Easter season, we need to learn to sacrifice ourselves more to show those around us what it truly means to be a Christian. Not just Christian in word only, but Christian in deed and action. We are set apart, we are an example.
So let me challenge you, as we lead up to Easter, to be an example, to be the Christian that people are drawn to, not the Christian that's judgemental. Not the Christian that only talks to other Christians but to be the Christian that Christ so desired us to be. To be the person that takes the extra effort to lift up the people that are hurting, those that are looking and seeking for an answer, not just a religion, but a relationship. 
That's my challenge to you between now and Easter. Find someone in your community, find someone in your neighborhood, find somebody at your office, and show them what it truly means to be a Christian. Because the outside world looks at us and they see the image of Christianity, not the relationship we are so blessed to have.
Let me encourage you to join us in Tupelo, Mississippi, at Barnes Crossing Mall, April 23 – 25. If you need more information, you can call me at 360-933-0741, or email me at events@sgnscoops.com. 
Until next month, this is the Publisher's Point.
By Rob Patz
Tags:
Christian life
,
gospel music
,
Publisher's Point
,
rob patz
,
sgnscoops
,
Southern Gospel Music
Posted in
Christian interest
,
sgn scoops magazine
|
Comments Off

on Rob Patz: Spring and a Grateful Thief
Written by scoopsnews on March 21, 2020 – 5:55 am -
Weekend Word – Thank God I Am Free
Written by James McFall
Recently Recorded by Tbe Detty Sisters.
What  powerful lyrics ! Let it minister to you today…..
For a long time I've traveled down a long lonely road
My heart was so heavy, in sin I sank low
Then I heard about Jesus, what a wonderful hour
I'm so glad that I found out that He would bring me out
Though His saving power
Thank God I am free, free, free
From this world of sin
Washed in the blood of Jesus, and then born again
Hallelujah I'm saved, saved, saved
By His wonderful grace
I'm so glad that I found out He would bring me out
And show me the way
Like a bird out of prison that's taken it's flight
Like the blind man that God gave back his sight
Like the poor wretched beggar that found fortune and fame
I'm so glad that I found out He could bring me out
Through His Holy Name
Tags:
The Detty Sisters
Posted in
announcements
|
Comments Off

on Weekend Word- "Thank God I Am Free"
Written by Staff on March 20, 2020 – 11:11 am -
Arden, North Carolina (March 19, 2020) — The Talleys are using their music to help Nashville tornado recovery efforts through support of a local ministry serving the community. A song from their upcoming album, The Music Goes On, titled "Looks Like Jesus To Me" was written about The Bridge ministry, which exists to alleviate the suffering of underprivileged children, the homeless, and the working poor by providing life-sustaining resources and a message of hope. Now, The Talleys announce that a portion of each download or stream of the song will go to support The Bridge and its efforts directly.
"'Looks Like Jesus To Me' makes me feel thankful, thoughtful, and a bit sad. It was written by Aaron Wilburn and inspired by the work of the Bridge Ministry, which meets the physical and spiritual needs of the homeless in Nashville. The song makes me feel thankful for what I have, sad for the plight of those who struggle to survive, and thoughtful of how we, the body of Christ, can work to make their lives better," says Lauren Talley. "One way we want to do that is to directly support The Bridge through sales of the song. A portion of each download or stream's revenue will be donated to The Bridge, which is helping rebuild Nashville after the recent weather-related tragedies in the region. We are truly blessed. Let's pass our blessings along — that's what looks like Jesus to the world around us."
Songwriter Aaron Wilburn — who was performing with The Talleys in Monroe, Louisiana when Roger approached him about recording "Looks Like Jesus To Me" for their upcoming album — will also be donating half of his royalties from the song to help the ministry.
"On the morning of the tornados, I woke up from a dream that I had donated half of the writer royalties to The Bridge Ministry. I knew immediately what I must do and I made the call to put it in motion," says Wilburn. "Even though the new radio single from The Talleys had already been scheduled, within hours, plans changed as decisions were made to release 'Looks Like Jesus To Me' with The Talleys and their record company Crossroads Music to help raise funds for the victims from the March tornados. God is not an accidental God, not a haphazard God, and not a reckless God. He knows our tomorrows before our tomorrows arrive and when we have needs, He will meet them — sometimes from the giving hands of others — and also from our blessed hands into the lives of others. We never look more like Him than when we are serving others."
"Looks Like Jesus To Me" can be downloaded on iTunes and Amazon Music now and will be available on all streaming platforms when The Talleys' album, The Music Goes On, is released April 24. Those who are interested in making a direct donation to The Bridge can do so HERE.
The Talleys' video for "Looks Like Jesus To Me."
About The Talleys
The Talleys began in 1984 and enjoyed many years of success, including a Dove® Award and numerous Singing News Fan Awards. Following a three-year hiatus, the Talleys began performing together in 1996 with the current lineup of Roger, wife Debra and daughter Lauren, and today the Talleys remain a mainstay of Christian music.
The Talleys have enjoyed eleven number one songs, and have received numerous Singing News Fan Awards and Dove Award nominations. They are frequently recognized for their appearances on the Gaither Homecoming video series and concert tour, as well as In Touch with Dr. Charles Stanley and John Hagee Ministries. They have appeared on RFD-TV's "The Music City Show," and have toured overseas to Norway, Northern Ireland, Italy and South Africa. The Talleys consistently take their music with a message to hundreds of concert and church audiences of all sizes across America each year.
About Crossroads:
Crossroads (website HERE) is a market leader in the Southern Gospel, Bluegrass, and Americana fields. Established in 1993, following the combination of Horizon Music Group and Sonlite Records, Crossroads now operates several divisions including Crossroads Label Group (Horizon Records, Sonlite Records, Mountain Home Music, Skyland Records, Pisgah Ridge Records, Crossroads Records, and Organic Records), Crossroads Distribution, Crossroads Radio Promotions, and Crossroads Recording Studios. Led by a strong executive team of Christian music and Bluegrass music veterans, Crossroads combines cutting-edge technology with creative innovation to connect fans with our artists' music.
Tags:
aaron wilburn
,
crossroads
,
Gospel
,
Lauren Talley
,
music
,
Nashville relief
,
Southern Gospel Music
,
The Bridge
,
The Talley's
Posted in
announcements
,
artists
|
Comments Off

on The Talleys support Nashville tornado relief efforts with new song
Written by SGN Scoops Staff on March 20, 2020 – 6:37 am -
From Facebook
Please Keep John Hall in your prayers he had open heart surgery for me. This past Tuesday morning. Good thing I'm tough. Ha,,,, using a long vein out of my leg an one near the heart, the head surgeon will construct the three main arteries supplying the heart. God has spread that knowledge to the surgeons willing to ask for it.
Prayers please,,,for no mistakes.
Here we are,,, still enjoying life: 75.
Also Keep Praying For Sandi Patty Go REHERE
Tags:
Big John Hall
Posted in
announcements
|
Comments Off

on Pray For John Hall
Written by Staff on March 19, 2020 – 6:07 pm -
Let's Come Together While Staying Apart
Initial Slate of Concerts Announced
NASHVILLE, Tenn. (Thursday, March 19, 2020) – Godsey Media Management is proud to present a chance for all of us – fans and artists alike – to come together and unite while practicing social distancing. Thousands of concerts have been postponed for Christian artists and we don't want you to miss a moment of the music. Godsey Media Management is set to present a new online concert series, "HOPE SINGS," featuring your favorite artists live in concert from our TV studio in Nashville, Tennessee, directly to you, wherever you are.
The process is easy: a "Family Pass" to each concert is one low price of $20.00 per concert. Click the concert link below, fill in your email address, create a password, choose your method of payment – that's it! You can enjoy the concert at the scheduled time and it will be available for 24 hours after the live broadcast. You can watch easily on your Smart TV, computer, tablet or phone. (one pass per household)
We as artists, creators, listeners, and as a community can continue to share the light, love, and hope of Christ in this troubled time. For many artists this low ticket price to their online concert will be there main source of revenue while touring continues to be limited. We know many friends and fans need encouragement and want to support the artists they love.
Scott Godsey says, "You can buy multiple tickets and gift them to your friends and family. This is truly a time for us to come together and give the world access to personal, interactive concerts that will bring hope and encouragement in a time of crisis. The artists need your support more now than ever and they are putting together some unique ideas to make these online concerts even more special for those who are willing to purchase a pass! We will be producing a high quality production with staging, lighting and multiple cameras to give the consumer a real experience like never before."
The initial schedule of concerts will feature Greater Vision, Ivan Parker, Legacy Five, Perrys, Gold City, Brian Free and Assurance, 11thHour, Aaron Wilburn and friends, Jim and Melissa Brady, Tribute, Freemans, Nelons, Jeff Stice, LeFevre Quartet, The Old Paths, and more to be announced.
Godsey Media Management is known for the nationally syndicated Music City Show as well as producing and broadcasting live events through TV networks and streaming platforms for many years.
Tags:
11thHour
,
Aaron Wilburn and friends
,
brian free and assurance
,
Freemans
,
Godsey Media Management
,
gold city
,
gospel music
,
Greater Vision
,
Hope Sings
,
ivan parker
,
Jeff Stice
,
Jim and Melissa Brady
,
lefevre quartet
,
legacy five
,
nelons
,
Perrys
,
Southern Gospel Music
,
The Old Paths
,
Tribute
Posted in
announcements
,
artists
|
Comments Off

on HOPE SINGS Introduced by Godsey Media Management
Written by SGN Scoops Staff on March 19, 2020 – 2:01 pm -
March is here and so is our latest edition of SGN Scoops Magazine. We hope that you will read it cover-to-cover and enjoy every feature. Read SGN Scoops Magazine HERE
Our cover story this month is the Browders. This family has been heating up the gospel music charts in the last few months with songs from their latest album, Authentic. Justin Gilmore introduces us to each member and shares their stories.
Other stories we are sharing this month include Exodus, Canaan Coffman, Tonja Rose, Kenny Smith, and Sammy Ward. Special thanks to our publisher, Rob Patz, for talking to the renowned Paul Heil.
Bill Dykes talks to Dr. Charles Keen, Vonda Armstrong talks to DJ Brian Rothwell, and the Coastal Events Update showcases Southern Gospel Weekend, in Oxford, Alabama.
All this, plus radio charts, the Publisher's Point, and the Editor's Last Word. We do hope you enjoy everything that we have gathered from the world of gospel music to share with you this month.
We also hope that you have read about Jesus Christ, how to experience faith in him, and how real people live their faith in this world.
Tags:
sgn scoops magazine
,
Southern Gospel News
Posted in
announcements
|
Comments Off

on March 2020 SGN Scoops Magazine