Written by Scoops Staff on March 31, 2011 – 12:59 pm -
Peterson To Be Joined By Special Guests: Ron Block, Stuart Duncan And Andy Gullahorn
Show Will Benefit The Nature Conservancy In Tennessee
Nashville, TN (March 31, 2011) —– One of Nashville's most revered singer/songwriters, Andrew Peterson, is scheduled to perform on the highly popular Music City Roots: Live from the Loveless Cafe.  The concert series is emceed by Keith Bilbrey and hosted by singer/songwriter Jim Lauderdale.  The show will air live 7:00 – 9:00 PM CDT on Nashville's WRLT Lightning 100 and streamed worldwide at www.musiccityroots.com.  Tickets are $10.00 for general admission and $5.00 for anyone with a student ID.  Tickets may be purchased at New Grimey's New and Preloved Music, 1604 8th Avenue South and online at www.musiccityroots.com.  Every penny of each $10.00 ticket will benefit The Nature Conservancy in Tennessee, the leading conservation organization working around the world to protect ecologically important lands and waters for nature and people.
Andrew Peterson has always enjoyed a strong, stable fanbase that has followed his career throughout the years and helped to drive his latest project, Counting Stars, to debut #1 on iTunes and #6 on the Billboard chart.  Peterson's latest single from the project, Dancing In The Minefields is still strong on the charts after seven months of radio airplay and the video has received close to 500,000 views on www.youtube.com.  Up next for the talented singer/songwriter, who is also an award winning author, is his third children's book installment in the Wingfeather Saga series.  The Monster In The Hollows will release May 3, 2011.  And in the fall, Peterson will host his second annual Hutchmoot creative conference in Nashville.  The event spotlights music, conversation, and a series of discussions centered on the telling of great stories in song, literature, and film.
About Andrew Peterson
Peterson began his career in 1996 and signed with his first label, Watershed/Essential records in 1999. His first CD, Carried Along made CCM magazine's list of Top Ten albums of 2000.  In 2004, Peterson received his first Dove nomination for "Family Man" for Country Recorded Song of the Year.  Peterson's first project for Centricity Music in 2008, Resurrection Letters, Volume II, became the highest Billboard charting album of his career at that time. Peterson has also authored three children's books, The Ballad of Matthew's Begats, On the Edge of the Sea of Darkness and the 2010 Christy Award winner for Young Adult Fiction, North! Or Be Eaten. Peterson hosted his first annual event with Hutchmoot 2010, a three-day conference for lovers of story, art, and music.  The conference sold out in an incredible three weeks. Peterson's high-profile Christmas Tour continues to also be a sell-out across the country, including the historic Ryman auditorium.  For updates about Andrew Peterson please visit www.andrew-peterson.com or www.rabbitroom.com.
Tags:
andrew peterson
,
concerts
,
loveless cafe
Posted in
artists
|
Comments Off

on SINGER/SONGWRITER ANDREW PETERSON TO APPEAR ON MUSIC CITY ROOTS: LIVE FROM THE LOVELESS CAFE JULY 13, 2011
Written by Scoops Staff on March 24, 2011 – 11:42 am -
Going to see the Great American Gospel Caravan on the road?
Let our Sandi Duncan-Clark tell you all about it!
On March 11, 2011 fans waited in line at Marathon Church Auditorium in Greenville, S.C., for more than an hour before doors opened for the all-star concert, The Great American Gospel Caravan. Then the lights dimmed and artists gathered as a choir on stage, singing "This Great Caravan Keeps on Rolling Along." We were transported back in time, to Sunday mornings when many families throughout the country dressed for Sunday school, to the music of the Florida Boys, the Blackwood Brothers and the Chuck Wagon Gang. The wait was worth it and the evening just got better!
The Great American Gospel Caravan, brain-child of Dee and Danny Kramer, along with Charlie Waller, and business partners, Norman Bond and David White, was launched in 2008. The anticipation and excitement for the Greenville concert grew steadily, since this show was filmed to air on the weekly Great American Gospel Television Show.
Emceed by Gospel music legend, Ed O'Neal, the event opened with soloist Chelby Lynn, followed by one of most
exciting new family bluegrass Gospel groups, The Punches Family. The remainder of the evening featured the Encouragers, the Proclaimers Quartet, the Florida Boys with Charlie Waller, the Chuck Wagon Gang, the Blackwood Brothers Quartet and the Dixie Melody Boys. Southern Gospel music, stories and comedy made for a delightful evening of Christian entertainment.
Danny Kramer shared that more than a dozen Great American Gospel Caravan concerts are on tap and a 2013 Great American Gospel Cruise is in the works as well. He stated, "We are also in negotiation with the Alee Shriners organization to host the 2012 Waycross All-Night Sing, on June, 30, 2012 in Waycross, Georgia."
Great American Gospel consists of radio distribution, concert promotions and the weekly television show aired on the Daystar Network, NRB Television Network, TCT Network and Christian Television Network. The program is viewed all across America and in more than 200 countries worldwide, via satellite. "We are so excited by the response to the television show and look forward to expanding the coverage as the Great American Gospel Caravan concerts happen," Danny stated.
Be sure to watch for the Great American Gospel Caravan when it comes to your area!
Photos of the concert courtesy of Lynne White
Tags:
Blackwood Brothers
,
Chuck Wagon Gang
,
concerts
,
Dixie Melody Boys
,
Ed O'Neal
,
florida boys
,
great american gospel caravan
,
the encouragers
,
the proclaimers
Posted in
gospel events
|
Comments Off

on The Great American Gospel Caravan – We were there!
Written by Scoops Staff on January 4, 2011 – 1:16 pm -
Tags:
branson
,
concerts
,
voices of glory
Posted in
announcements
,
gospel events
|
Comments Off

on Invite: Voices of Glory
Written by Scoops Staff on January 3, 2011 – 1:47 pm -
By Lorraine Walker    |   Photos by Joan Walker

On an uncharacteristically mild New Year's Eve, Crabb Revival walked on stage for the first time in Canada and played their way into the hearts of over 500 people gathered in Bethel Gospel Tabernacle, Hamilton, Ontario. It was an evening of incredible musical talent, inspired preaching and corporate praise, and we were blessed to be in the midst of this band of worshippers. The blend of Southern Gospel-Funk-Country-Rock was the delicious wrapping around an edifying message of love, hope and encouragement for 2011.
The evening began with an Amazing Grace instrumental which featured Adam Crabb on harmonica, Zach Smith on lead guitar, Jedidiah Richardson on bass and Brooks Till on drums. It was a truly amazing beginning, followed by I Go To The Rock with vocalist Amanda Smith. Amanda and her husband, Zach, were suffering the aftereffects of food poisoning they received before traveling north of the border, but both gave their all this evening. Amanda is also seven months pregnant and even this did not affect her lovely, heart-felt performance.
The band moved into a stirring rendition of Through The Fire and Adam Crabb began to share from his heart about moving through difficulties and challenges, grabbing hold of God and going with Him into the future. There were tears in the house with the ballad, Heartbeat of God, featuring Amanda, from their new 2011 CD, Going Places. This was followed by another track from the same CD, a beautiful song entitled, Unforgiven. Two songs with incredible lyrics were followed by the new tune, If Not For Grace. If you think that you have heard all the ways in which the unfathomable grace of God can be described, you haven't heard it all until you've heard this song. Such a simple word, but such a profound work of God, to all of us who were "…a hopeless case and an empty space…".
Crabb Revival stepped up the pace once more with their version of Something's Going On In the Graveyard, with a country-rock feel that had this diverse audience getting excited, Canada-style. We may not be as overly demonstrative as our southern neighbours, but we know talent when we hear it, and we enjoy worshipping with those who have a heart after God like this band of young adults.
After a short break, the band returned with Please Forgive Me, followed by a time of worship with Agnus Dei (Allelujah, For The Lord God Almighty Reigns) and a powerful altar call. The group ended the evening with two songs featuring Zach Smith, Carried To The Table, and, Come To Jesus. The last song was also from the new CD and has a haunting, bluegrass feel with thought-provoking lyrics.
The entire evening definitely had a New Year's Eve message, no matter where the listener might be in their walk with the Lord. There were those just beginning their relationship with Jesus and they were encouraged to find their source of life in Him. There were those who perhaps had wandered from the right road and were called to let go of the things that were hindering their walk. There were also those present who had walked with the Lord for a long while but for whom 2010 was perhaps difficult or sad. For these, the exhortation was given to dream new dreams and to take back what was stolen by the enemy.
Crabb Revival ministered the word to an excited, expectant crowd and opened their hearts to an auditorium of Canadians that gladly welcomed both the talent and the word of this band. The music was delivered professionally, with nothing held back, as a gift to the listeners and to the Lord. Our Almighty God visited that place and drew us to Him as we lifted His Name. Thanks to Crabb Revival, there was truly a revival in the hearts of many. It definitely was an awesome way to welcome a New Year.
Tags:
concerts
,
Crabb Revival
,
Lorraine Walker
Posted in
exclusive report
|
Comments Off

on Exclusive Report: New Year's Eve with Crabb Revival
Written by Scoops Staff on December 3, 2010 – 6:38 am -
IVE BROADCAST ON WSM FROM THE COUNTRY MUSIC HALL OF FAME AND MUSEUM'S FORD THEATER
NASHVILLE, TN – THE ISAACS will be the special guests on Monday, December 6, 2010 during "AN INTIMATE EVENING WITH EDDIE STUBBS" at the COUNTRY MUSIC HALL OF FAME AND MUSEUM'S FORD THEATER in Nashville, TN. The national radio show, hosted by CMA Award Winner EDDIE STUBBS, airs live on 650 AM WSM and WSMOnline.com.
"We've been a big fan of Eddie Stubbs and his incredible contribution to the world of music through the years," said Lily Isaacs. "It is an honor for our family to be on his show and share stories of our personal lives."
Tickets to the live broadcast are available only by winning them from WSM on-air or the web site. Click here to register for tickets.
The Isaacs will discuss their career and new project THE ISAACS – CHRISTMAS which has been in the Billboard Bluegrass Charts Top 5 since its September 28, 2010 release.
ABOUT THE ISAACS:
The Isaacs, a multi-award winning family group who began singing 30 years ago, are based out of LaFollette, TN (30 min north of Knoxville). Lily Isaacs, Ben Isaacs, Sonya Isaacs and Rebecca Isaacs Bowman have a unique style that blends tight, family harmony with contemporary acoustic instrumentation that appeals to a variety of audiences. They perform frequently at the Grand Ole Opry, are active members on the Gaither Homecoming Videos and Concert Series and travel throughout the year performing internationally.
Lily Isaacs, matriarch of the group, was born in Germany after World War II to two Jewish Holocaust survivors and moved to the United States when she was 2 years old. She grew up in the Bronx, NY studying theatre and performing on Off Broadway and in 1968 recorded a folk album on Columbia Records with her friend as "Lily and Maria." She became a Christian in 1971 when a death in the family brought her and patriarch Joe Isaacs to church for the first time. That night, they began singing Christian music and laid the foundation upon which the Isaacs ministry has been built.
Siblings Ben, Sonya and Rebecca all sing and play different instruments. Ben, the oldest, sings and plays upright bass on stage. He spends much of his off time in the studio producing and playing bass on numerous other artists' albums including Merle Haggard, George Jones, a Jimmy Martin Tribute Project and Cherryholmes, and has received 5 Grammy nominations for the latter two artists. He arranges many of the Isaacs songs and is their sound technician on tour. Ben and his wife Melinda and their three children, Jacob, Cameron, & Kyra, make their home in Hendersonville, TN. Sonya, also living near Nashville, TN is married to Jimmy Yeary, and is the middle daughter and mandolin player/vocalist for the Isaacs. Sonya's husband Jimmy recently co-wrote the Rascal Flatts' hit "Why Wait." Rebecca, the youngest sister, sings and plays guitar and resides in LaFollette, TN with husband John Bowman and their 2 children, Levi and Jakobi. Sonya and Rebecca collaborate on many of the Isaacs songs and have penned most of their hits. They have also penned songs for many other artists including Gold City Qt, Trisha Yearwood, Mark Lowry, Vince Gill, Cherryholmes, Jeff and Sheri Easter, and many others. Sonya is a songwriter for Disney Music Publishing and appears in the 2009 Hannah Montana Movie as a background singer for Miley and Billy Ray Cyrus.
The Isaacs have made frequent guest appearances on many other artists records including Dolly Parton, Trace Adkins, Brad Paisley, Paul Simon, Vince Gill, Randy Owen, Trisha Yearwood, Ralph Stanley, Mark Lowry, and many more. They enjoy singing and traveling most though, and provide a professional, style sensitive performance wherever they go.
For more information, visit www.TheIsaacs.com, www.facebook.com/theisaacs, and www.twitter.com/isaacsmusic.
ABOUT WSM:
650 AM WSM's first official broadcast day was October 5, 1925. The station is the radio home of the Grand Ole Opry, which has been broadcast live over the airwaves since its inception. WSM can be picked up in 38 states on 650 AM and worldwide on www.wsmonline.com. 650 AM WSM is owned by Gaylord Entertainment (NYSE: GET), a Nashville-based hospitality and entertainment company that owns and operates Gaylord Hotels and the Grand Ole Opry. For more information, visit www.wsmonline.com or www.gaylordentertainment.com.
Tags:
concerts
,
eddie stubbs
,
nashville
,
the isaacs
Posted in
gospel events
|
Comments Off

on THE ISAACS TO APPEAR ON "AN INTIMATE EVENING WITH EDDIE STUBBS"
Written by Scoops Staff on November 30, 2010 – 12:35 pm -
MERRY CHRISTMAS FRIENDS,   Texas Gospel Music Hall's last concert in 2010. This is your personal invitation to attend the greatest concert in Texas this Friday night singing traditional Christmas songs and great Southern Gospel Music. Read below Tributes history.
Tags:
concerts
,
invitations
Posted in
gospel events
|
Comments Off

on Invite: Texas Gospel Music Hall
Written by Scoops Staff on February 23, 2010 – 9:16 pm -
MARKS THEIR THIRD MAJOR TOUR IN A YEAR
Nashville, TN (February 23, 2010) —- Centricity Music's powerhouse band, Me In Motion, will join Sanctus Real on its 2010 Tour that launches March 3rd and ends May 7th. The tour also features Above the Golden State and Addison Road. This marks the third major tour for the newcomer band in the last twelve months, as they were featured on the Newsboys fall tour in 2009 and the RED/Pillar tour in January and February 2010.
"Next week marks the beginning of an exciting new tour as we'll be hitting the road with one of our longtime favorite Christian bands, Sanctus Real," says Seth Mosley, lead singer, Me In Motion. "We love their message, their music, their hearts and are extremely excited to share the stage with them.  We'll be playing a new song, 'Seek Justice, Love Mercy,' from our upcoming self-titled CD and it's our first time to play the tune live.  We are extremely excited to share it with the fans and we believe that now is a critical time for this message to be heard loud and clear. We feel quite certain that no audience will leave unchanged, but called to live out their faith in a radical new way. Me in Motion is thrilled to be a part of this with Sanctus Real, Above The Golden State and Addison Road."
"It is a joy to work with a band that is as dedicated as Me In Motion is with their ministry," states Steve Ford, Vice President of Marketing, Centricity Music. "Success in this business takes aggressive touring, along with strong radio, and Me In Motion has both. It has been such a great time for our team to partner with a group that works as hard as we do."
On the tour, Me In Motion will perform additional songs from their new debut project that releases March 23, 2010. The first single from the new album, "Losers," is currently number 18 and climbing on the CHR chart. The video for "Losers" debuted on the Air1 website and is being played on various video outlets, including the Gospel Music Channel.
Me In Motion, which is comprised of Seth Mosley, Tim Wilson (bass/background vocals) and Brian Dexter (drums/background vocals), was formed by Mosley after working two years in a recording studio following high school graduation.  After realizing he didn't want to "sit in one place all the time," was when he brought Wilson and Dexter on board to begin the musical journey as Me In Motion.  The talent of the group immediately brought them attention which led to 140 tour dates in 2008 and Me In Motion reached 165-dates in 2009.  But more than playing Brit-influenced rock, it's the message that Me In Motion wants to impact with their audiences.
For more information on Me In Motion please visit, www.myspace.com/meinmotion or www.centricitymusic.com.
Tags:
ccm
,
concerts
,
me in motion
Posted in
gospel events
|
Comments Off

on ME IN MOTION TO JOIN SANCTUS REAL TOUR 2010
Written by Scoops Staff on November 11, 2009 – 10:10 am -
CHURCH HILL, Tenn. – Popular Southern Gospel trio Brothers Forever will be performing this weekend at the 2009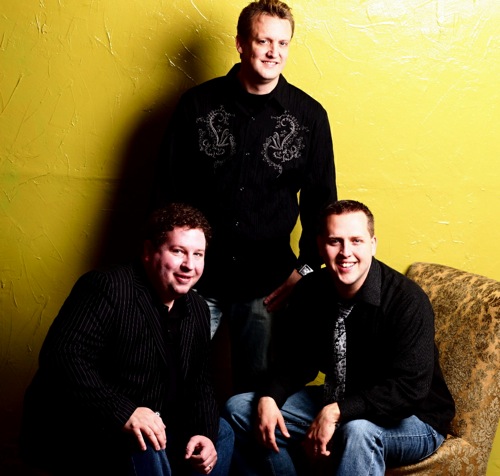 Christian Music Hall of Fame and Visionary Awards.  The event will take place on Saturday evening, November 14, 2009 at First Baptist Church in Frisco, Texas.  The show begins at 6:00 p.m.
"We are so excited to be a performer at this year's show," mentioned Curtis Hagy of Brothers Forever.  "We are humbled that they would think highly enough of us to ask us to particiate.  We are truly honored."
Gary Ballew of Brothers Forever said, "This is a huge honor for Brothers Forever. We are huge fans of all of the nominees and inductees.  We can't wait to be a part of such a treasured program."
Daylon Ware, lead agent with the IAMAS Corporation and advisor of the Hall of Fame said, "We are excited to have Brothers Forever as a part of our show's lineup.  They will add yet a new flavor to the artistry represented."
In addition to performing, the group will be a presenting artist as well.  The group will present the award for Christian Country Female Vocalist of the Year – which includes nominees Barbara Fairchild, Gayla Earlene, Jody Miller, and Melanie Walker."
The Hall of Fame and Visionary Awards will be hosted by David L. Cook and Chonda Pierce.  Additional artists such as Al Denson, Babbie Mason, Bruce Carroll, Christy Sutherland, David Meece, Pam Thum, Tammy Trent, and many more will be participating in the ceremony as well.
More information on this year's Hall of Fame and Visionary Awards can be found at http://www.hallmuseum.com .
Brothers Forever has had strong radio support of their most recent album Sheltered.  That album spawned off the hit singles "I Am Him," "I Feel a Blessing Come On," and "I Can't Forget the Day."  The group's current single – "More Than That" – has been a permanent fixture on the GospelMusicTimes.com Top 40 Fan Chart.
You can catch up with Brothers Forever at their homepage – http://www.brothersforever.net
.
Tags:
artists
,
concerts
Posted in
gospel events
|
Comments Off

on Brothers Forever To Perform at Christian Music Hall of Fame and Visionary Awards