Written by Scoops Staff on April 14, 2011 – 11:52 am -
BRANSON, Mo. – (April 14, 2011) – For the second consecutive year, the Branson Gospel Music Revival (formerly Convention) was honored as the 2011 Pacesetter Award at this year's Absolutely Gospel Music Awards.
The Pacesetter Award honors individuals, companies, artists, events, and the like who raise the standard in the industry during the previous year. Past winners have included such names as the Crabb Family, Daywind Records, Booth Brothers, and artist manager Kathy Hannah. It is the most prestigious award handed out at the awards program, and after its second year as a major concert event in the Southern Gospel Community, the Branson Gospel Music Revival was honored again.
Branson Gospel Music Revival is owned, organized, and hosted by gospel singer Rod Burton and his wife Kelly, working as YMR Music Productions, LLC.

Rod said, "God gave us a vision for this event to make a difference in people's lives. We're so honored to have that recognized and supported."
"The award is even more special to us this year," mentioned Kelly. "I believe the gospel community is seeing what we're about: elevating the gospel message above all. Celebrating gospel through song and changing people's lives with its message is truly our sole purpose for the Branson Gospel Music Revival."
During the couple's acceptance speech, Kelly thanked the late Susan Unthank, who founded AbsolutelyGospel.com, for her legacy in the gospel music community. "Susan did not have the time or tolerance for competition," Kelly said. "There are many fields to plow; we don't need to fight over them. God has too much work for us to do."
The Branson Gospel Music Revival was honored to be mentioned in the same category and stand alongside such names like SGN Scoops Digital (of which Kelly is the Editor-in-Chief), This Week in Gospel Music with Mickey Bell, Ernie Haaase and Signature Sound, and Gaither Vocal band.
The Absolutely Gospel (SGN) Music Award nominees were chosen by the staff of AbsolutelyGospel.com (formerly SoGospelNews.com) and select members of the Southern Gospel media and community. Voting was then open to fans to choose the winners.

The 2011 Absolutely Gospel (SGN) Music Awards Celebration took place on Tuesday, April 12, 2011 at River of Life Church in Smyrna, Tennessee to a standing room only crowd.
The Branson Gospel Music Revival is put on by YMR Music Productions, LLC.
The third annual Gospel Music Revival will take place Tuesday, June 28 – Friday, July 1 at the Tri-Lakes Center in Branson, MO.
Artists scheduled for the 2011 event include the HisSong, Dino, Freedom, Beyond the Ashes , The Greesons, Kenny Bishop, Ann Downing, Mike Allen, McMillan & Life, Sunday Edition, 2nd Generation, Rod Burton, Jay Stone Singers, Voices of Glory, Young Harmony, and many more! The Annual SGN Scoops Diamond Awards will also again take place during Branson GMR on the evening of Thursday, June 30.
More information about the Branson Gospel Music Revival can be found at http://www.bransongmr.com or by calling (615) 530-3726.
More information about YMR Music Productions, LLC. can be found at http://www.ymrmp.com or by calling (615) 530-3726.
About YMR Music Productions
YMR Music Productions, LLC. is a corporation formed initially for the exclusive purpose of organizing, promoting, and producing the Branson Gospel Music Revival.
Tags:
agm awards
,
Branson Gospel Music Revial
,
Kelly Burton
,
rod burton
Posted in
awards
|
Comments Off

on Branson Gospel Music Revival Claims 2011 Pacesetter Award at Absolutely Gospel (SGN) Music Awards
Written by Rhonda on October 7, 2010 – 12:26 pm -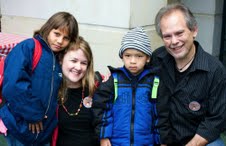 Couple Meets Sponsor Child and Sees Ministry's Work First Hand
HOMEWOOD, Ill. – Rod & Kelly Burton recently traveled to Bogota, Columbia to see the work of Compassion International first-hand. The couple, who together work in various aspects of Gospel music, partnered with Compassion International earlier this year.
The couple spent four days in the foreign country – visiting Compassion International projects and spending time with families who are directly affected by the child-advocacy organization. The Burtons saw the wholistic development it offers with spiritual, education, social, and nutritional opportunities. In addition, the couple was blessed to meet their own sponsor child – Jhordan (5 years old), as well as Kelly's brother's sponsor child – Anyi (7 years old).
Kelly Burton said, "We hugged, sang, and danced with the children. We were served by them and on one day, served them. We were overwhelmed by the hospitality of the country's Compassion staff and the organized, efficient, and Christlike work they are doing for thousands of children in areas saturated with poverty and in some cases, crime."
The Burtons share the work of Compassion International through their multiple areas of expertise in Gospel music – Rod's music ministry, Kelly's writing projects (SGN Scoops Digital), and Branson Gospel Music Revival, an annual event the couple organizes every year.
Kelly continued, "Being part of the work of Compassion and certainly traveling to Colombia has not just changed our life perspective – it has changed the focus of our ministry. I know we are blessed abundantly by living in America, but now we also believe with all our hearts that as Christians, it is our absolute responsibility to help rescue families from the curse of poverty – which often includes a hopelessness that we cannot begin to comprehend. It's our job to show them the hope of Jesus!"
"After holding a Compassion child in my arms while singing 'Jesus Loves Me,' the words of that song are more real than ever," mentioned Rod Burton. "Jesus loves us all, and those of us who already have that knowledge need to be His hands here on Earth. With Compassion, we are helping equip those in need to make the journey from hopelessness to blessed hope."
Friends and family can read more about The Burtons' experience in Columbia and with Compassion International by visiting Rod's website at http://www.rodburtonmusic.com .
Fans are encouraged to visit Rod's MySpace at http://www.myspace.com/rodburtonmusicinc.  Rod's ShoutLife can be found at http://www.shoutlife.com/rodburtonmusic.
You can find out more about the other works of The Burtons by visiting http://www.bransongmr.com or https://www.sgnscoops.com .
About Rod Burton
Rod Burton is one of Southern Gospel's favorite soloists. Described by family and friends as an interesting cross between big city businessman and down-home country boy, Rod is winning over fans all across the country. His current single is "Son of Man's Man" from his critically acclaimed New Hope Productions release The Difference.
Tags:
Branson Gospel Music Revial
,
compassion international
,
Kelly Burton
,
rod burton
,
sgnscoops
Posted in
causes
|
Comments Off

on Rod & Kelly Burton Travel to Columbia with Compassion International