Written by Scoops Staff on October 21, 2009 – 11:35 am -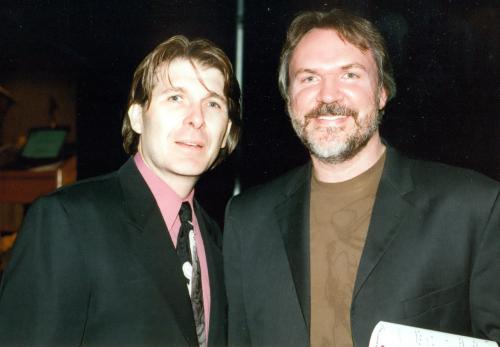 The Grand Master Fiddler Champion for 2009 is Alex Hargreaves of Corvallis, Oregon. Tashina Clarridge of Rosedale, Mass., previously of Redding, Calif. placed second. The two-day 38th annual Grand Master Fiddler Championship is the nation's championship event held at the International Bluegrass Music Association Fan Fest in Nashville, Tenn.
"This year's event brought together some of the most talented fiddlers we have ever seen," said Howard Harris, GMFC president. "Fiddlers came from across the U.S., Canada, the Czech Republic, and Japan."
The Grand Master Fiddler Championship. Inc. is a Tennessee non-profit and a U.S. IRS 501(c)(3) charitable corporation, formed to educate about and perpetuate fiddling as an art form and cultural treasure. Fiddlers competed for over $14,000 in prizes.
Hargreaves took home $2,000 in cash, the bronze Grand Master Fiddler statuette and appeared on the Grand Ole Opry. This was his first Grand Master championship.
Tashina received $1,500 and a plaque. This was her fifth consecutive second place showing.
Competitors showed their talents amongst some of the leading performers in acoustic music including Mark O'Connor and his Appalachian Trio, Grand Ole Opry star Buck White with Roland White, Quebe Sisters Band, Sierra Hull and Highway 111, Alex DePue and Miguel De Hoyos, Billy Contreras, The All Star Campers and Buddy Spicher, Cathy Roberts and U.S. Streamliners, Fiddle Frenzy, Ashanti Floyd "The Mad Violinist," Matt Barrett, Chris Morgan, and Matthew Davenport.
In honor of its founder, the organization presented the Dr. Perry F. Harris Award to Dolly Parton for her work in support of the traditional art of fiddling.
Actor/entertainer Randall Franks, "Officer Randy Goode" from TV's "In the Heat of the Night," served as celebrity host for both days of the event with a special appearance by WSM announcer Eddie Stubbs and Stuart Fryer, who hosted the accompanist contest.
"What wonderful shoes I am being allowed to walk in – Roy Acuff and Porter Wagoner," he said. "Fiddling who has been so good to me, its an honor to be able to give back by encouraging another generation of fiddlers. The organizers Ed, Howard and Crystal deserve great praise for keeping a vital part of our musical experience growing."
Read more »
Tags:
grand master fiddler
,
industry
Posted in
industry news
|
Comments Off

on Grand Master Fiddler Championship crowns new champion