Written by Scoops Staff on January 11, 2010 – 3:18 pm -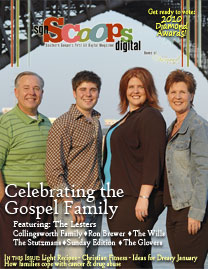 The January 2010 issue of SGN Scoops is now available for download. Click on the cover to read your issue in .PDF format.
For this month, we focused on the family & feature interviews with some of gospel music's favorite clans: The Lesters, The Collinsworths, The Wills,  The Stutzmans,  The Unthanks/Sunday Edition, and Ron Brewer. We heard some 'fun' road stories from The Glovers, as well. We also tackle issues that affect families, from January blahs to teaching children the gospel, from dealing with cancer to dealing with drug abuse. We're also happy to feature fitness advise from a Christian perspective.
ALSO TODAY, VOTING BEGINS FOR THE 2010 DIAMOND AWARDS. CLICK HERE TO SUBMIT YOUR TOP 10 FAVORITES IN EACH OF OUR CATEGORIES.
Click here or on the cover preview to download.
Click here to subscribe – be notified when a new issue is published or news is announced.
Reader tips: SGN Scoops is interactive. Most web links in the magazine are live – click on them to follow to the listed website. All ads and many photos are clickable as well. You can also use our Table of Contents – page 4 – interactively. Click on the article title you want to read and you will be taken there. We think you should read them all!
Tags:
2010
,
diamond awards
,
january 2010
,
scoops
Posted in
diamond awards
,
sgn scoops magazine
|
Comments Off

on January's SGN Scoops & Diamond Award voting!
Written by Scoops Staff on January 5, 2010 – 10:45 pm -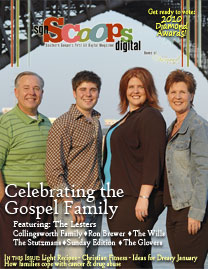 Coming Monday in January's SGN Scoops: Read about The Lesters as they celebrate 85 years and four generations of a family in Southern Gospel Music. Follow other families – The Stutzmans, The Collingsworths, The Glovers, The Unthanks of Sunday Edition, The Wills, and Ron Brewer & family.
This month also features the varied and relevant columns that are becoming synonymous with SGN Scoops… gifts we give our children, Christian art, fitness, families dealing with drug abuse, and more.
Get it free to your inbox next Monday, January 11. Go here to subscribe! You can also follow us on Facebook and Twitter.
Tags:
january 2010
,
scoops preview
Posted in
sgn scoops magazine
|
Comments Off

on Lesters, gospel families celebrated in January 2010 Scoops