Written by Staff on March 24, 2016 – 1:08 pm -
HOLLYWOOD—March 24, 2016—Scoring a rare A+ CinemaScore and drawing a remarkable $18.3 million in the first five days of release at the box office, MIRACLES FROM HEAVEN, the movie awakening audiences to everyday wonder, debuted this weekend in more than 3,000 theaters.
Starring Jennifer Garner, MIRACLES FROM HEAVEN is delighting both audiences and critics. "A story from the heart to the heart," CBN's Efrem Graham writes. "A heartrending, faith-affirming drama,"Movieguide's Dr. Ted Baehr proclaims, "an uplifting postcard from God." The Examiner's Cheryl Wicker simply calls it, "Astonishing." "The inspirational movie of the year" says Faith Based Consumer.
"Believers in a loving merciful God will be affirmed," Colleen Gerke, president of the National Association of Catholic Family Life Ministers, said.
"I left the movie feeling inspired with the hope of Heaven, assured of the goodness of God and filled with a renewed passion for my faith," Pastor Mike Johnson of Fellowship Church, Dallas, said.
"Audiences come thinking they need a miracle, and leave with new eyes for miracles all around them," says Producer DeVon Franklin, head of Franklin Entertainment. "In time for Easter, MIRACLES FROM HEAVEN is about new life, new awareness, a new wave of gratitude."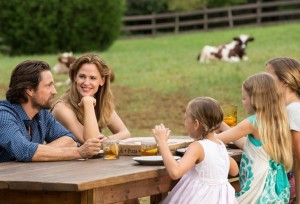 AFFIRM Senior Vice President Rich Peluso calls MIRACLES FROM HEAVEN's first-weekend reception "An incredible testimony of the power of the Beam family story and the hard work of our director, producers and world-class marketing team," and celebrates the Sony division's fourth A+ CinemaScore (SOUL SURFER, COURAGEOUS, WAR ROOM and now MIRACLES FROM HEAVEN). "That score ranks MIRACLES FROM HEAVEN with luminous films such as FINDING NEMO, WHEN HARRY MET SALLY, THE KING'S SPEECH, AND THE BLINDSIDE," Peluso said.
MIRACLES FROM HEAVEN stars Jennifer Garner, Kylie Rogers, Martin Henderson, Eugenio Derbez and Queen Latifah. Directed by Patricia Riggen. Screenplay by Randy Brown based on the book by Christy Beam. Produced by Joe Roth, T.D. Jakes and DeVon Franklin.
Jennifer Garner (PEARL HARBOR, Alias)
Kylie Rogers (FATHERS AND DAUGHTERS)
Martin Henderson (EVEREST, Grey's Anatomy)
Eugenio Derbez (THE BOOK OF LIFE)
Queen Latifah (The Wiz! Live)
MIRACLES FROM HEAVEN is based on the incredible true story of the Beam Family. When Christy Beam (Jennifer Garner) discovers her 10-year-old daughter Anna (Kylie Rogers) has a rare, incurable disease, she becomes a ferocious advocate for her daughter's healing as she searches for a solution. As Christy searches she befriends Angela (Queen Latifah), who helps bring everyday joy and hope back to the Beam family. After Anna has a freak accident, an extraordinary miracle unfolds in the wake of her dramatic rescue that leaves medical specialists mystified, her family's faith restored and their community inspired
MIRACLES FROM HEAVEN is released by Columbia Pictures, in association with AFFIRM Films, across North America in partnership with Roth Films, T.D. Jakes Production and Franklin Entertainment, the producers of 2014's hit film HEAVEN IS FOR REAL.
About Sony Pictures Entertainment
Sony Pictures Entertainment (SPE) is a subsidiary of Sony Entertainment Inc., a subsidiary of Tokyo-based Sony Corporation. SPE's global operations encompass motion picture production, acquisition and distribution; television production, acquisition and distribution; television networks; digital content creation and distribution; operation of studio facilities; and development of new entertainment products, services and technologies. For additional information, go to http://www.sonypictures.com.
About AFFIRM Films
AFFIRM Films is a division of Sony Pictures Worldwide Acquisitions (SPWA), a Sony Pictures Entertainment (SPE) company, dedicated to producing, acquiring and marketing films that inspire, uplift and entertain audiences. For more information go to www.AFFIRMFilms.com
More news
Tags:
AFFIRM Films
,
Jennifer Garner
,
Miracles From Heaven
Posted in
announcements
,
christian entertainment
|
Comments Off

on 'MIRACLES FROM HEAVEN' OPENS WITH A+ CINEMASCORE
Written by SGN Scoops on July 13, 2011 – 6:53 pm -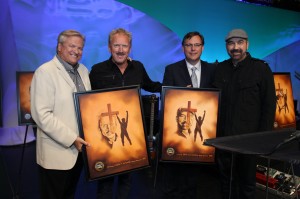 ATLANTA—Eddie Carswell and Billy Goodwin, founding members of Grammy-nominated NewSong, were named Musician of the Year at the inaugural The Champions of the Faith Awards & Benefit Concert, held this week at the International Christian Retail Show in Atlanta.
 
Presented by the Premier Foundation, in partnership with the Association For Christian Retail (CBA), the awards recognize businesses, organizations, entertainers, individuals and Christian retailers and vendors who are "champions" of the Christian faith by living lives dedicated to the principles taught by Jesus Christ.
 
In addition to Carswell and Goodwin, honorees included NASCAR's Trevor Bayne (Athlete of the Year); Karen Kingsbury (Author of the Year); World Vision's Richard Stearns (Charity of the Year); and AFFIRM Films/Sony Pictures Entertainment's Rich Peluso (Business Person of the Year), among others.  The event featured a concert by NewSong, along with GMA Artist of the Year Francesca Battistelli, as well as special guests Mike Donehey of Tenth Avenue North and visual artist Jared Emerson.  
 
The Premier Foundation is a 501 (c)(3) public foundation committed to fulfilling the mission of spreading the gospel of Jesus Christ. With the cooperation of the Premier Group (Premier Productions, Premier Christian Cruises, Premier Festivals and Camp Electric), the Premier Foundation touches millions of people every year through Christian concerts, radio and other Christ-centered events.
 
Co-founded by Carswell and Goodwin in 1981, NewSong is celebrating an unprecedented 30th year in Christian music. One True God, the band's 17th recording, debuted at #1 on Billboard's Top Christian/Gospel Albums chart in May, while NewSong's Winter Jam 2011 Tour Spectacular was the #1 tour in the world for the first quarter, according to Pollstar.  The group has amassed 20 #1 singles, a Grammy nomination, and a #1 mainstream adult contemporary single, among numerous other achievements.
 
For further information on NewSong, visit www.newsongonline.com or www.turningpointpr.com, and for additional information on The Champions of the Faith Awards & Benefit Concert, visit www.thechampionsofthefaith.com.  
Photo: Pictured at the First Annual Champions of the Faith Awards & Benefit Concert are (l-r) Gary Gentry, owner, The Premier Group; honoree Eddie Carswell, founding member of NewSong; Gene Krcelic, president, the Premier Foundation; and honoree Billy Goodwin, founding member of NewSong. (photo: Leland Holder, Leland On Location Photographic)
Tags:
AFFIRM Films
,
Association For Christian Retail
,
billy goodwin
,
eddie carswell
,
Francesca Battistelli
,
Karen Kingsbury
,
Mike Donehey jared emerson
,
Newsong
,
Premier Foundation
,
Richard Stearns
,
Trevor Bayne
Posted in
awards
|
Comments Off

on NEWSONG'S EDDIE CARSWELL AND BILLY GOODWIN HONORED AS 'CHAMPIONS OF THE FAITH'