Written by SGN Scoops on April 3, 2012 – 11:16 am -
NASHVILLE, Tenn. – (April 3, 2012) – Gospel music mainstays Mark209proudly announces that they have reached a management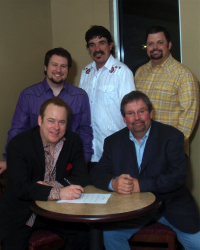 agreement with Billy Coren.
Billy Coren is a North Carolina native who began working with music legend Ronnie Milsap in February of 1976 and has been associated with him ever since.  Billy started his career as a sound engineer and then moved into show production as well as public relations and creative consulting.  In 1977, Billy became the first person to utilize pyrotechnics in mainstream as part of the Ronnie Milsap Show.  Billy also utilized these effects with J.D. Sumner and The Stamps in 1979.
In the late 70's and early 80's, Billy was involved with the musical group Memphis and managed and produced Dixie Road.  He has also produced many country and gospel projects over the past 35 years.
In his biography It Was Almost Like A Song, Ronnie Milsap said, "I'd be hard pressed to name a closer friend.  Billy's presence simply calms me.  I love to have him around before I go onstage.  That kind of closeness, coupled with his obvious creative talents, makes him and invaluable asset to my show and life."
Jym Howe states, "Billy has been an intricate part of Mark209 over the years, including helping us choose our new name.   We are thrilled to have him part of our team and sharing with us his wealth of knowledge."  Read more »
Tags:
billy coren
,
Mark209
,
Southern Gospel News
Posted in
announcements
|
Comments Off

on Mark209 Reaches Management Agreement with Billy Coren