Written by Staff on February 25, 2014 – 12:36 pm -
Canaan's Crossing is a Bluegrass Gospel group from Alabama with five members who are all accomplished musicians. Four of these musicians are also talented vocalists, creating arrangements and performing many original songs written by band-member Tina Miller. The group performs across the southern States and was recently signed by Gospel music label Song Garden. In 2013, Rob Patz, Publisher of SGN Scoops digital magazine, interviewed Canaan's Crossing, with the resulting article below published in the November, 2013 issue of SGN Scoops magazine.
Rob: Please introduce each member of Canaan's Crossing to our readers. What instruments do you each play?
Canaan's Crossing: Tina Miller ( Fiddle),  Andy Wilks (Guitar), Drew Long (Banjo), Josh Palmer (Mandolin), Tim Maze (Upright Bass)
 Rob: I've heard you have a new album with Song Garden. Who are some of the writers and players that were involved with this recording? What will be the first release to radio?
Canaan's Crossing: Our new album is titled WORDS and it's taken from one of the songs "The Words I Would Say."   A Contemporary Christian group, the Sidewalk Prophets, actually recorded the song in 2009.  Andy liked the song and brought it to us during a rehearsal.  Drew was experimenting with it and came up with a very unique Bluegrass feel to the song.  The project consists of two songs that two of our members, Drew Long and Josh Palmer wrote plus a couple of songs co-written by Kenna West. One of those is the new single "Somebody's Blessing" which seems to be a consensus favorite from all of us.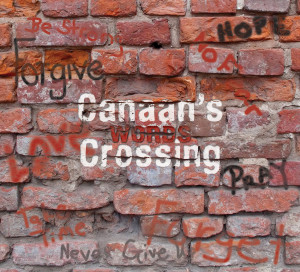 Rob:  All of you are accomplished players. If you could no longer play your current favorite instrument, what would you want to play?
 Tina:  It is almost impossible to imagine me not playing the fiddle.   I am not a professional, but I can pick most bluegrass instruments.  All of them except one!  I met my match when I tried to play the dobro.  As hard as I have tried, I just can't play those things.  I appreciate dobro players, every time I get brave enough to try and pick that instrument
 Andy: I would like to learn to play resonator guitar some day. Rob Ickes and Jerry Douglas are amazing.
 Tim:  I would play the piano simply because that is what my mother played while I was learning to sing.  I have her piano in my living room and can only look at it- maybe chord a little bit. Read more »
Tags:
Bluegrass Gospel
,
Canaan's Crossing
,
February 2014
,
November 2013
,
rob patz
,
sgn scoops
,
Song Garden
Posted in
sgn scoops magazine
|
Comments Off

on A Conversation With Canaan's Crossing By Rob Patz
Written by Staff on February 18, 2014 – 4:47 pm -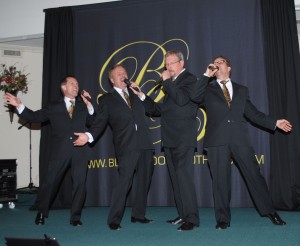 The Blackwood Brothers Quartet
Concert Review by Vivian Belknap
Thursday, February 13, 2014
Grand Prairie, Texas
How many quartets can say they are celebrating 80 years of classic southern gospel music?  In 2014, Billy Blackwood continues the legacy started in 1934 by his Dad, James Blackwood.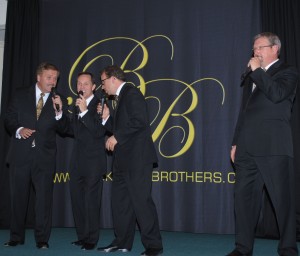 I had the great privilege to attend a concert featuring Billy Blackwood and The Blackwood Brothers Quartet, February 13, 2014, hosted by Pastor Bill Webb and the Bible Believer's Assembly of God Church in Grand Prairie, Texas. Those in attendance were treated with what Pastor Webb told Billy earlier in the afternoon would be "a night like never before."
The Quartet consists of lead singer, Billy Blackwood; Wayne Little, tenor; Butch Owens, bass and Michael Helwig, baritone.
The "night like never before" began with the classic feel of "The Joy of Knowing Jesus." The presence of the Holy Spirit was sweetly strong as the concert continued with songs like "The Old Country Church," "It Is No Secret" and "The Lighthouse."  Billy introduced a new song he wrote, "That's What Heaven Will Be."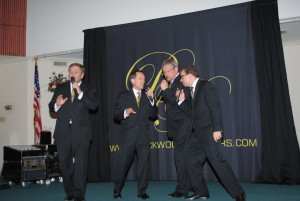 As though it couldn't get any better, Billy shared his heart. He proclaimed the goodness and grace of our Father through Jesus. He said, "Gospel music is not defined by the music, but by the message. The message makes it gospel music."  Then we heard the majestic orchestration of "Declaration of Dependence," from their album "Sweet Songs About Heaven." The song strongly declares our dependence on Jesus.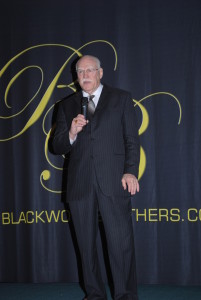 Big John Hall was in the audience and Billy asked him to come to the stage. As John walked on stage, with tears in his eyes, he said, "Your dad never missed a note; he never missed a beat; never, ever." Such a sweet time we got to see between these two men. Then we were blessed to hear John sing, "How Big is God."
The evening ended with the quartet singing a medley of audience requested songs. Then Billy closed in prayer; the presence of our Lord was amazing as Billy said, "I don't want to leave Your presence." "There's a Sweet Spirit in This Place," was the final song.  Was it a night like never before? YES!
Billy Blackwood not only resembles his dad physically, but like James Blackwood, he is a gentleman on the stage, behind the product table and in the parking lot.
When you have the opportunity to see them in concert, you will leave blessed and renewed in spirit.
For The Blackwood Brothers tour schedule and other information, click on to http://www.blackwoodbrothers.com/
Tags:
Big John Hall
,
Billy Blackwood
,
Blackwood Brothers Quartet
,
Butch Owens
,
Christian Music
,
February 2014
,
gospel music
,
Michael Helwig
,
southern gospel
,
Wayne Little
Posted in
announcements
,
gospel events
,
reviews
|
Comments Off

on The Blackwood Brothers Quartet: A Night Like Never Before