Written by SGN Scoops on April 10, 2014 – 10:18 am -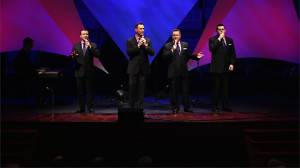 Ringgold, GA 04-10-2014- In conjunction with Sagemont Church, Houston Texas, The Old Paths Quartet have released their first "Live" music video featuring their hit radio single, "Long Live The King." This video is part of a complete concert DVD and was produced by veteran producer Ron Ingram, best known for his involvement with previous Crabb Family video productions and the famous Cathedrals, Alive Deep in the Heart of Texas Video.  The song, "Long Live The King,"  written by Dianne Wilkinson and Chris Binion, tells of the crucifixion, the mockery of Jesus, the judgement of sinful man, and the return of Christ to reign forever as King! The song currently sits at #3 on the Singing News Charts, and is an amazing, timely song for this Easter season.
Photo: From left to right: Josh Townsend, Jeremy Peace, Tim Rackley, Doug Roark, and Daniel Ashmore
Tags:
Gospel Music Videos
,
Singing News Magazine
,
Southern Gospel News
,
The Old Paths
Posted in
announcements
|
Comments Off

on Live Music Video Release By The Old Paths Quartet
Written by SGN Scoops on August 26, 2013 – 5:21 am -
Sharps Chapel TN- "Paul's Journey is excited to release their first music video, produced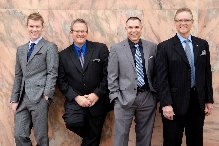 by Chapel Valley.  The title song, "Come Dirty, Leave Clean", written by Rodney Griffin, is becoming a hit at radio stations all across the country.
Chapel Valley, is currently producing several more music videos that are scheduled to be released in early 2014. For behind the scenes footage, as well as previewing each video before it is released to television, go to the Chapel Valley You Tube channel, which can be found by going towww.chapelvalleystudio.com
Below is the link to Paul's Journey's new video! Check it out and send this link to your friends!
http://youtu.be/vnbbDzJcCeI
Tags:
Gospel Music Videos
,
Paul's Journey
,
Southern Gospel News
Posted in
announcements
|
Comments Off

on Paul's Journey Releases First Music Video
Written by SGN Scoops on November 12, 2012 – 8:26 am -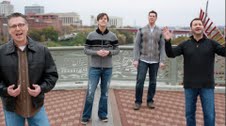 Brian Free and Assurance announce the release of Official Music Video to 'I Want to Be That Man' on Nov 27.  Until then, fans can watch the Behind the Scenes Video published by Godsey and Associates for a preview of what is to come with exclusive commentary from Brian Free.
The group posted to facebook earlier this week how fans can access the video:
"Our Music video posted on this page will be out November 27th and we'll have it on our website and many other online sites as well as YouTube, also you will get it in an email if you're on our email mailing list. So if you're not on it, go to our website and sign up on the email newsletter."
 Watch the behind the scenes video here: https://www.youtube.com/watch?v=rv4vgzSuP6A
For more information about Brian Free and Assurance, visit www.brianfreeandassurance.com.
For more information about Godsey and Associates, visit www.godseyandassociates.com.
Tags:
brian free and assurance
,
Godsey and Associates
,
Gospel Music Videos
,
Southern Gospel News
Posted in
announcements
|
Comments Off

on Brian Free and Assurance Announce Video Release Date