Written by SGN Scoops on December 10, 2012 – 5:09 pm -
Entertainer Randall Franks, "Officer Randy Goode" from TV's "In the Heat of the Night," is featured on a new video release from Autry-Franks Productions highlighting his vintage studio recording of "Let's Live Every Day Like It Was Christmas" performed with Grand Ole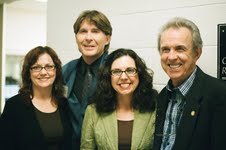 Opry stars – the Whites, Jesse McReynolds and Jerry Douglas.
"It was so much fun to see these performances like they have not been seen before," Franks said. "Although we taped the performances to help promote the project 20 years ago, they were mainly used for news stories around the country and the song as a whole was never released. Seeing it and the other interview clips from the project brings back so many wonderful memories. All these wonderful actors and artists donated their time for this charitable effort."
This performance featuring Randall vocally with Buck, Sharon and Cheryl of the Whites was included among the top 10 country vocal collaborations of the year when the song was released to radio.
It appears on the 20th Anniversary "Christmas Time's A Comin'" CD featuring the cast of TV's "In the Heat of the Night" and Friends from Sonlite and Crimson Records in association with MGM. The CD was produced by Randall Franks and Alan Autry.
The charity CD raises funds for drug abuse prevention charities and features selections from the actors of the popular show with special appearances by country, bluegrass and gospel stars. A donation of $20 in the U.S. to receive the CD can be made at www.shareamericafoundation.org. "In the Heat of the Night" currently airs on WGN America. Read more »
Tags:
Grand Ole Opry
,
James McReynolds
,
Jerry Douglas
,
Randall Franks
,
Southern Gospel News
,
The Whites
Posted in
announcements
|
Comments Off

on Actor/entertainer Randall Franks releases new Christmas music video