Written by Staff on August 17, 2017 – 2:18 pm -
Three Bridges released "Soldiers," their critically-acclaimed debut album, in 2002. It may be surprizing to some to realize that after the past 15 years of their ministry going strong and enjoying numerous album releases, this current CD marks the first time they have released a hymns project.
"Hymns and Classics Renewed" is the title of the debut hymns project from the group. The album contains well-known hymns done in the soulful stylings Three Bridges has become known for. The album features the current lineup of Jeremie Hudson, Shannon Smith and Elliott McCoy.
This new project kicks things off with "There's Power in the Blood." The arrangement is upbeat and employs an edgy, soulful feel. It's definitely a fresh arrangement for the familiar hymn. The next cut is "The Old Rugged Cross." This is a straightforward, mellow arrangement of the well-known ballad, featuring solid vocals with tight harmonies. Baritone Elliott McCoy and Shannon Smith do a nice job on this one.
"The Love of God," which features tenor Jeremie Hudson, is a ballad that is both well-orchestrated and delivers emotional vocals. This is a solid contribution to the project.
The Dallas Holm classic, "Rise Again," which won a Dove Award in 1977 as Song of The Year, has been included, with the trio putting their own style on the popular tune. Lead singer Shannon Smith is featured on this one, and he delivers a solid vocal performance. This is a powerful arrangement of the song that audiences and fans are sure to love.
The popular gospel classic penned by Mylon Lefevre in 1970, "Old Gospel Ship," is another highlight from the project. The song is upbeat, and you will find yourself singing along in no time.
The group has re-cut a fan-favorite song from their debut mainline album in 2002 called, "The Captain." This is a moving ballad with tight harmonies that fans of the group are already well familiar with.
Overall, this first hymns offering from the group is a solid effort. The album
contains both lively, upbeat tunes and ballads that stir emotion. The trio infuses their blend of soulful, edgy Gospel into well-known timeless classics. It produces a sound that Southern Gospel fans are sure to enjoy.
By Jimmy Reno
Jimmy Reno is a regular contributor to SGNScoops Magazine.
See the latest issue of SGNScoops Magazine here.
For Gospel music news click here.
For more artist features click here.
Tags:
Christian Music
,
Elliott McCoy
,
gospel music
,
Hymns
,
Jeremie Hudson
,
Jimmy Reno
,
Shannon Smith
,
three bridges
Posted in
announcements
|
Comments Off

on Jimmy Reno reviews Three Bridges new CD, "Hymns and Classics Renewed"
Written by Staff on February 21, 2014 – 2:06 pm -
[Editor's note: First published by SGM Radio Website in May 2013, written by Matt Baker.]
I first heard Three Bridges a few years ago on my local radio station. They were playing a song called, "I'm A Soldier". I remember thinking to myself, "Those guys sound like they have a blast singing that song!" It was such a fun song to hear. They certainly have ridden off of that hit and brought many more toe-tappers to the airwaves. But their current single, "Forgive Myself", struck me in a different tone. We certainly need those fast, fun songs that still have truth in the message, but we also need songs like "Forgive Myself". When I had the chance to chat with Elliott McCoy, Shannon Smith, and Jeremie Hudson, and get their thoughts on the song, I had no idea how special the testimonies would be. There's no better way to show the power of the song than to go straight to the ones who recorded it.  Here's my conversation with Elliott (EM), Shannon (SS), and Jeremie (JH):
MB:  Let's start with the basics. How did you all get started in Gospel Music?
SS – My family was musical. I sang my first solo in church at the age of five and began voice lessons at age 14, continuing formal voice training for the next 12 years or so. I was a voice performance major at the University of South Carolina and traveled with a college music group. I served as a Minister of Music, Senior Pastor, and then began to do solo ministry wherever I could. I filled in with N' Harmony at the tenor position in the late '90's. I went into full-time solo ministry in September 2000 and then was the lead singer for The Imperials from 2002 to 2008. For about 18 months I was the worship leader for a church in Miami, FL. I started with Three Bridges in March 2010.
JH – I started singing when I was eight years old. My father, who sang baritone for The Churchmen, was practicing one day and I just started singing alto with him. I realized that day there was something special about singing for God. I continued singing in church as well as competing in talent showcases and later won the regional Church of God Teen Talent Contest for the state of Alabama. In the early 1990's some friends
and I formed the group, Fresh Anointing, at which time I discovered I could sing the tenor part. For the next five years the group not only sang on weekends but also worked full time jobs. In 1999, I joined The Imperials as their tenor and I was there until 2008. I needed to get off of the road for a while so I served as a Worship Pastor in Alabama. I started with Three Bridges in May 2013.
EM- I grew up in a musical family. My grandparents were great influences on me. I began singing with groups like The Laymen Quartet, The Premiers Quartet, and Southern Tradition. As a member of The Premiers, we were able to work with ministers like Dr. John Rawlings and Rex Humbard.
MB: Tell us how Three Bridges was started, Elliott, and where the name came from.
EM: I had wanted to start a Gospel group for a long time but in 2001 it seemed like the Lord's time had finally come. I sang in a church choir with Mitch Kenitzer (Mitchell Jon) and talked with him about my dream of starting a group. He became the lead singer and we found a wonderful tenor, Stephen Blanton, to join us. We recorded our first CD, Soldiers, released a couple of songs to radio, which were very well received, and the rest is history. We chose the name, Three Bridges, because we liked the word "bridge" as we have bridged our lives to Christ and we want to be a bridge for others to get to Christ, and there were three of us so we decided on Three Bridges.
MB: Let's talk about "Forgive Myself." What does a song like this, a very personal song, mean to the three of you?
SS: This is one of those songs where the beauty of the lyric and the beauty of the music come together to create a breathtaking and powerful song! Most Christians know that God has forgiven them of their sins, but many of us struggle to forgive ourselves. We tend to focus so much on our sin and its consequences that we forget that God dealt with the sin when Jesus took our punishment at the cross. Rather than receive the truth of 2 Corinthians 5:21 "He made Him who knew no sin to become sin, so that we might become the righteousness of God in Christ Jesus" a lot of Christians become trapped in an "I'm just an old sinner saved by grace" mentality. Do we honestly think that the sacrifice of Jesus wasn't enough to make us righteous? Read more »
Tags:
Christian Music
,
Elliott McCoy
,
Forgiveness
,
gospel music
,
Jeremie Hudson
,
Shannon Smith
,
southern gospel
,
three bridges
Posted in
announcements
|
Comments Off

on The Heart Of The Matter: A Conversation With Three Bridges
Written by Rhonda on September 9, 2010 – 6:27 am -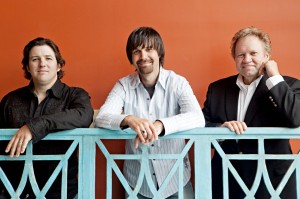 Brentwood, TN (Mansion Entertainment) September 9th, 2010 – Three Bridges, one of Southern Gospel's prominent trios, has signed with Mansion Entertainment.
 
Shortly after their critically acclaimed "Soldiers" project in 2002, Three Bridges received a Southern Gospel News Award nomination for Breakthrough Artist of the Year. The accolades continued to follow year after year with a New Artist award from the Southern Gospel Music Guild, Horizon Group recognition by the Diamond Awards, two-time Singing News award recipient for Trio Of The Year and multiple other awards and nominations for Song of the Year, Best Album Cover and Trio Of The Year.  Comprised of group members Elliot McCoy (baritone and group manager), Shannon Smith (lead) and Jeremie Hudson (tenor), Three Bridges has toured venues across the world from gospel singings, to business conventions, churches, political meetings, TV shows, charitable relief events and all the way to Air Force One. They have appeared on Bill Gaither "Homecoming Video's" and were special guests on a video for the United Nations. Add to that the fact that their last 12 radio singles have appeared in the Top 40 on the Southern Gospel charts with 7 of those in the Top 10 and 3 of those making number one spots. They are definitely among the elite of prominent trios in Southern Gospel.
 
Look for a debut Three Bridges project on Mansion Records soon. You can also visit with Three Bridges at the Friday evening Meet & Greet and 3 Minute Give-Away during the National Quartet Convention in Louisville, Kentucky beginning at 7pm, Friday September 17th in the Mansion Entertainment booth (#295). A special Mansion Entertainment collectable poster will be available to commemorate the evening. For more information regarding Three Bridges visit their website at  www.threebridgesgospel.com  or visit the Mansion Entertainment website at www.themansionentertainment.com.
Tags:
Elliott McCoy
,
Gaither Homecoming Videos
,
Jeremie Hudson
,
Mansion Entertainment
,
Mansion Records
,
Shannon Smith
,
three bridges
Posted in
announcements
|
Comments Off

on Three Bridges Sign With Mansion Entertainment
Written by Rhonda on August 30, 2010 – 1:01 pm -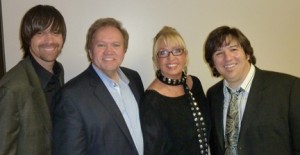 NASHVILLE, Tenn. – (August 16, 2010) – Exciting trio Three Bridges has reached an exclusive booking agreement with the Beckie Simmons Agency.
Elliott McCoy of Three Bridges said, "We are so excited about being back with Beckie and the rest of her staff. We firmly believe that the Beckie Simmons Agency is the premier booking agency in Southern Gospel music, and we know that she will do a tremendous job booking Three Bridges."
"My friendship with Elliott McCoy goes back quite a few years," adds Beckie Simmons.  "The group Three Bridges has always been very entertaining and musically innovative. Now, with the voices of Shannon Smith and Jeremie Hudson (formerly of The Imperials), Elliott has retained the same level of vocal and spiritual quality as always!  Shannon and Jeremie are not only amazingly talented singers, but also ordained ministers.  Elliott can be proud of the talent these two young men bring to Three Bridges, and BSA is happy to be a part of their innovative, unique ministry!"
The Beckie Simmons Agency promotes the biggest and brightest names in Southern Gospel music including such artists as Gold City, Jeff & Sheri Easter, Jason Crabb, The Bowling Family, The Freemans, The Pfiefers, LeFevre Quartet, Crystal River, and many more. To find out more information on the Beckie Simmons Agency – visit http://www.bsaworld.com.
Three Bridges has been preparing for the release of their highly anticipated new recording. The yet-to-be-titled new release will be the first to feature new members Shannon Smith and Jeremie Hudson.
For more information on Three Bridges, visit them on the web at http://www.threebridges.net or http://www.homelandentertainmentgroup.com.
Three Bridges will also be a regular featured artist on the upcoming national television program "Brush Arbor Jubilee" as will be shown on numerous networks and local cable markets nationwide.
About Three Bridges
The music of Three Bridges is rooted in traditional Southern Gospel and Black Gospel music. This blended style has made Three Bridges one of the prominent internationally-acclaimed Gospel groups in Christian music today — a group known for tight harmony, a unique vocal style, an exciting, energy-packed stage presentation, and, most importantly, spreading the joy of being a Christian.
Tags:
Beckie Simmons Agency
,
Elliott McCoy
,
Jeremie Hudson
,
Shannon Smith
,
three bridges
Posted in
announcements
|
Comments Off

on Three Bridges Reaches Booking Agreement with Beckie Simmons Agency