Written by Scoops Staff on June 8, 2010 – 12:20 pm -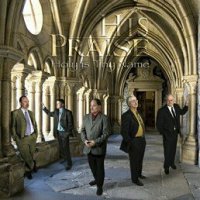 Nashville, TN- Heartwarming Records ( a division of Homeland Entertainment Group) announces the signing of a fresh new quartet to the national scene; His Praise Quartet. His Praise hails from Hopkinsville, Kentucky and although they formed in 2000 at Hillcrest Baptist Church in their home area it was not till July of 2004 they awarded the Grand champion at the Kentucky State Farm Bureau Quartet and eventually advanced the Group Talent Competition at the National Quartet Convention. Since that time the group has been singing regionally around their Kentucky and surrounding areas.
The quartet consists of Bass Dale Lisembe, Baritone Marc Thomas, Tenor Stephen Fryer and Lead Jesse Tewell. All four members have attended and graduated from the Steve Hurst School of Music and are currently seeing many doors begin to open with concerts in churches, civic centers, fairs and numerous festivals through the country. Now with Homeland/Heartwarming being their new label home their first label release "Holy Is Thy Name" produced by award winning producer Lari Goss is set to release in next month in mid July, with the debut single "A Wonderful Change" arriving at stations presently.
It is the desire of His Praise Quartet to serve the Lord Our God through song. It is our prayer that souls will be won for the Kingdom of Christ and that Christians will be renewed through the anointing of this Word.
Homeland Director of A/R Eric Melton stated " We feel blessed that God has brought artists to us that have a common goal among themselves to see souls won to the kingdom of God. With talents like His Praise and production like Lari Goss has completed on this recording, the unity that is promoted through the ministry is expected to see unlimited possibilities as they sing the gospel in every concert and church service.
For more information on His Praise Quartet you can find them at www.hispraiseqt.com or www.homelandentertainmentgroup.com or on Facebook at His Praise Quartet Fan Club.
Tags:
his praise quartet
,
homeland
,
record label signings
Posted in
artists
,
industry news
|
Comments Off

on Homeland Entertainment Group Signs His Praise Quartet
Written by Scoops Staff on June 8, 2010 – 12:18 pm -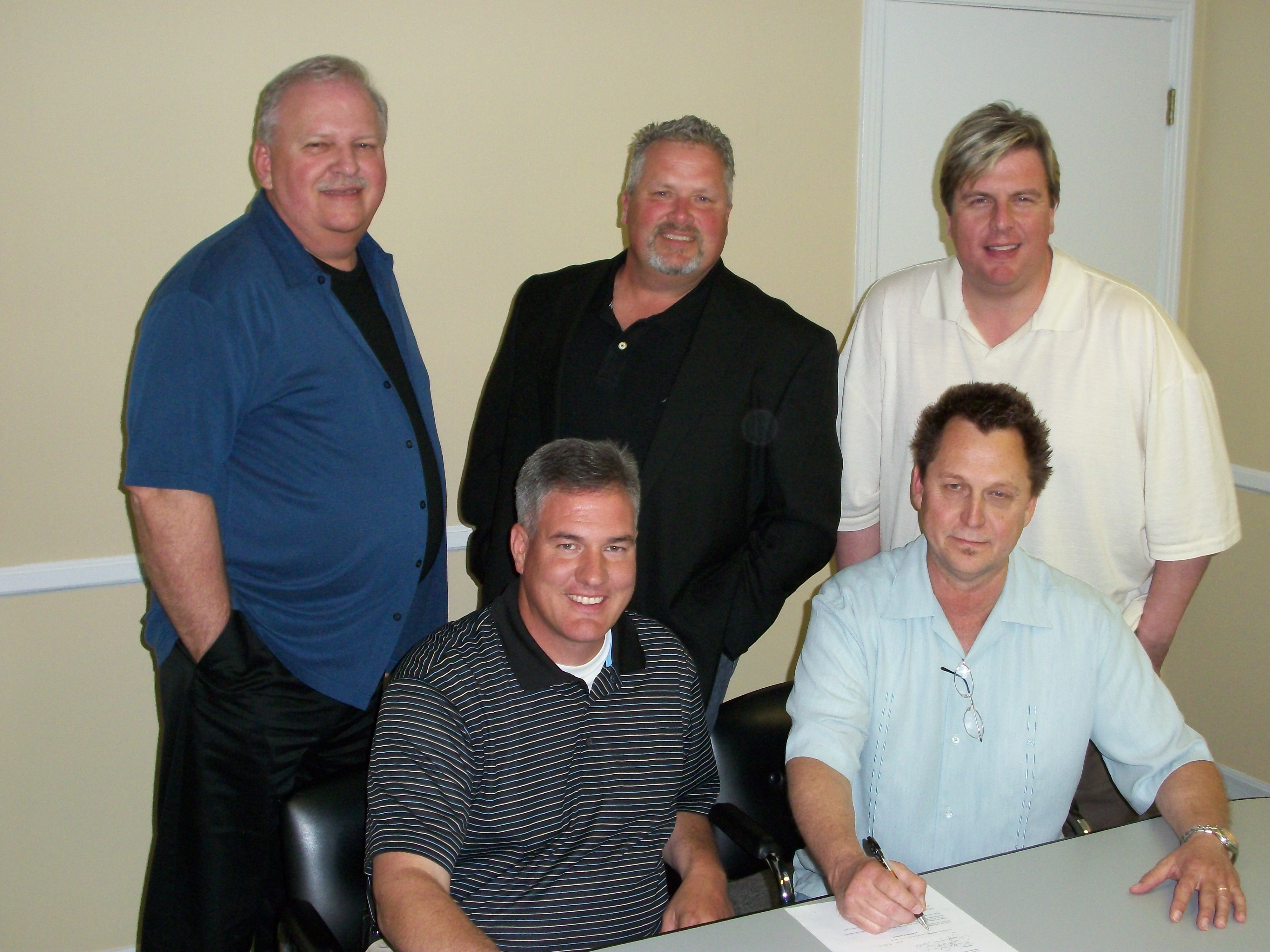 Cross and Crown Music has a rich heritage in Gospel music, working with a long list of Gospels greatest artists. Southern Salvation, the newest addition to their family, has its own rich heritage to use as a foundation on their path to excellence. The name Hess has long been associated with musical excellence and ground breaking groups in Southern Gospel music. Steve Hess, nephew of legendary Hall of Famer Jake Hess, and the rest of Southern Salvation are showing that this rich tradition will continue. Joining Steve are Sean Link and Judd Suker.
VP of Artist Relations Brian Beatty said "Their music has its own unique style. They are authentic Christians who allow their faith and love for God to shine through their music. They are excellent musically and also spiritually relevant. We are thrilled to have them aboard and know that God will do great things through their ministry."
To learn more about Southern Salvation, go to
www.southernsalvation.com or check them out at www.crossandcrownmusic.com
Tags:
cross
,
cross and crown
,
record label signings
,
southern salvation
Posted in
artists
,
industry news
|
Comments Off

on Cross and Crown Music Signs Southern Salvation
Written by Scoops Staff on May 29, 2010 – 8:42 am -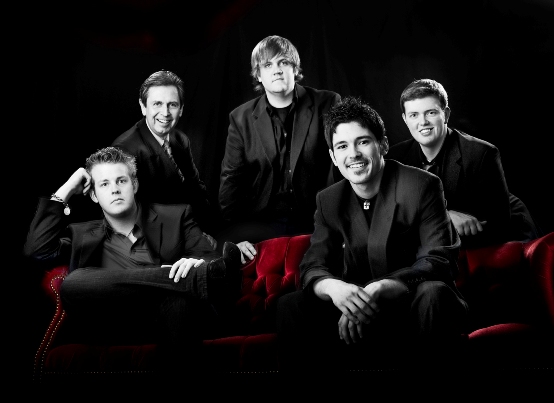 Cross and Crowns Music is proud to announce the addition of Ninth Hour Quartet. Coming from Southeast Missouri, this dynamic young group was formed in 2005 by a group of
high school students
. Marrying a traditional quartet style with a modern edge to their music, Ninth Hour Quartet is quickly garnering attention across the nation. "Their love for God and their business integrity are certain. We are excited to partner with these young men and expect great things from them." says Brian Beatty, VP of Artist Relations for Cross and Crowns Music.
Ninth hour will soon be in the studio working on their premier project with Cross and Crowns Music. Check out the official website of Ninth Hour at
www.nhquartet.com
for more exciting news and an updated concert schedule.
Tags:
cross and crown
,
ninth hour
,
record label signings
Posted in
artists
|
Comments Off

on Cross and Crowns Sign Ninth Hour Quartet
Written by Scoops Staff on May 5, 2010 – 10:40 pm -
Arden, NC – The heartwarming family group The Jay Stone Singers from Hope Mills, NC has joined the Pinnacle artist roster at Crossroads. They just completed recording the tracks this month for their upcoming project titled Fully Committed, set to release this summer. Bobby and Sharona Carter commented, "As we enter our 34th year, we are excited and so grateful for the opportunity to be a part of the Crossroads family and the Pinnacle label. We will continue to be FULLY COMMITTED to what God has called our family to do and that is to share the wonderful story of His love through song."
Jeff Collins, producer for the recording, states, "This is a wonderful family who is truly dedicated to growing their ministry. People will be drawn to them and will especially enjoy Emma and Stone, the very talented children of the family. You won't meet nicer folks."
Tags:
crossroads music
,
jay stone singers
,
record label signings
Posted in
artists
|
Comments Off

on The Jay Stone Singers Join The Pinnacle Family of Artists
Written by Scoops Staff on April 27, 2010 – 9:38 am -
Eastern Canada's Premier Award Winning mixed quartet, "The Ascensions" have reached a recording agreement with Chapel Valley.
This exciting group consists of Lance and Peg Matheson,  lead singer Devin Cook and Bass vocalist Burrell Cross.
Their music has touched many lives in Canada and the United States and it has not gone unnoticed as they have won several prestigious ECMA awards. The Ascensions received "Artist of the Year" in 2002 and again in 2004. They also received "Best Gospel Recording" in 2010. Lance Matheson has written several hit songs and won "Songwriter of the Year" in 2005.
Chapel Valley's Marketing and Aritist Director, Richard Hyssong, states: "The Assensions are very talented individuals who have a strong commitment and desire to see people come to Christ. Chapel Valley is excited to work with the group because our record company is all about producing artists that want to make a difference and see lives changed."
The Ascensions will be in the studio this fall with a CD release date scheduled for early 2011.
Tags:
ascensions
,
chapel valley
,
record label signings
Posted in
artists
,
industry news
|
Comments Off

on The Ascensions Sign With Chapel Valley
Written by Scoops Staff on April 16, 2010 – 9:10 pm -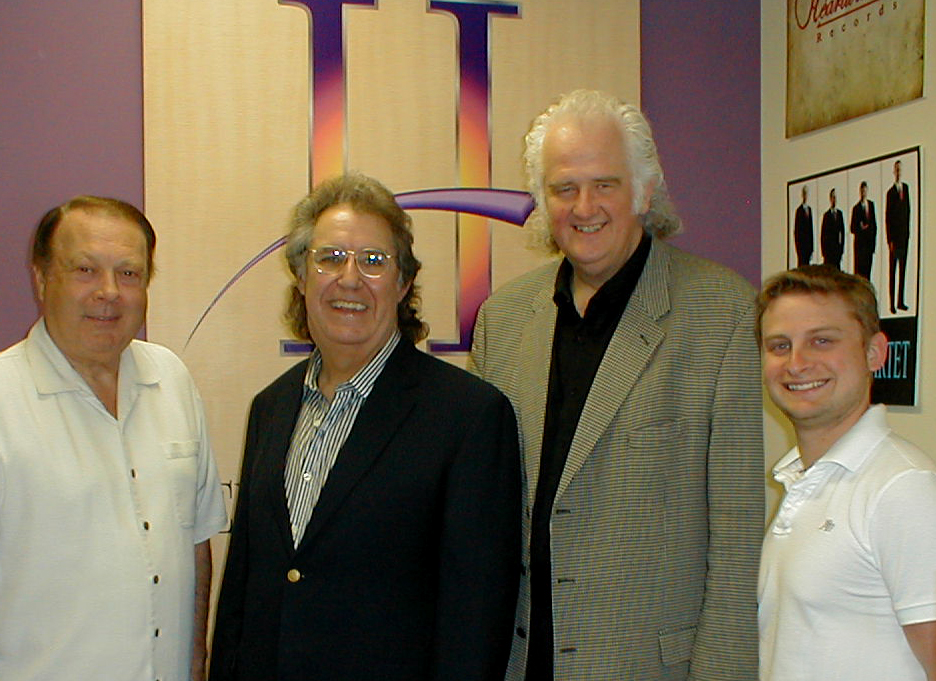 Nashville, TN- Homeland Records ( a div. of Homeland Entertainment Group) announces their latest artist signed to the Homeland Label; The Legendary Toney Brothers of Gallatin, TN.   The Toney Brothers have been a staple artist in Gospel Music for almost 55 years and still perform in over 250 venues per year.  Group manager Terry Toney who has been with the quartet since 1972 still has a vision and passion to carry the torch that  his father and three uncles began in 1955.  Throughout their longevity of their career, the group has traveled millions of miles and have had numerous chart singles.  Their fans not only appreciate their prominent harmonies but also their sincerity at leading people to Jesus Christ and encouraging lyrics in today's society.
The current lineup consists of Terry Toney singing bass, Gospel Music Veteran George Amon Webster (formerly of the Cathedral Quartet and Heartland Boys) singing baritone, Lead Vocalist Kasey Kemp (formerly of Naomi and The Segos) and newest member Judson Horner; tenor vocalist (also formerly of the Naomi and the Segos).
The Toney Brothers are currently in the studio beginning work on the yet to be titled project that is set to release on July 20th.  The project will include a few new songs combined with traditional quartet favorites.  This will be accompanied by a new DVD release as well from the Brush Arbor Jubilee Television series produced by Homeland Entertainment.  The Toney Brothers will be a regular featured artist on Brush Arbor Jubilee which begins airing nationwide on networks and cable television stations late spring and early summer.  Check the Brush Arbor Jubilee website for updates on scheduled listings.
You can find more information forthcoming concerning the Toney Brothers at www.toneybrothers.com, www.homelandnentertainmentgroup.com, or www.brusharborjubilee.com.
(pictured left to right) Homeland CEO Bob Jones,  George Amon Webster of the Toney Brothers, Terry Toney (Manager of the Toney Brothers) and Homeland Records  Vice President Scott Godsey
Tags:
homeland
,
record label signings
,
toney brothers
Posted in
artists
|
Comments Off

on Homeland Records Signs The Toney Brothers
Written by Scoops Staff on April 6, 2010 – 6:40 am -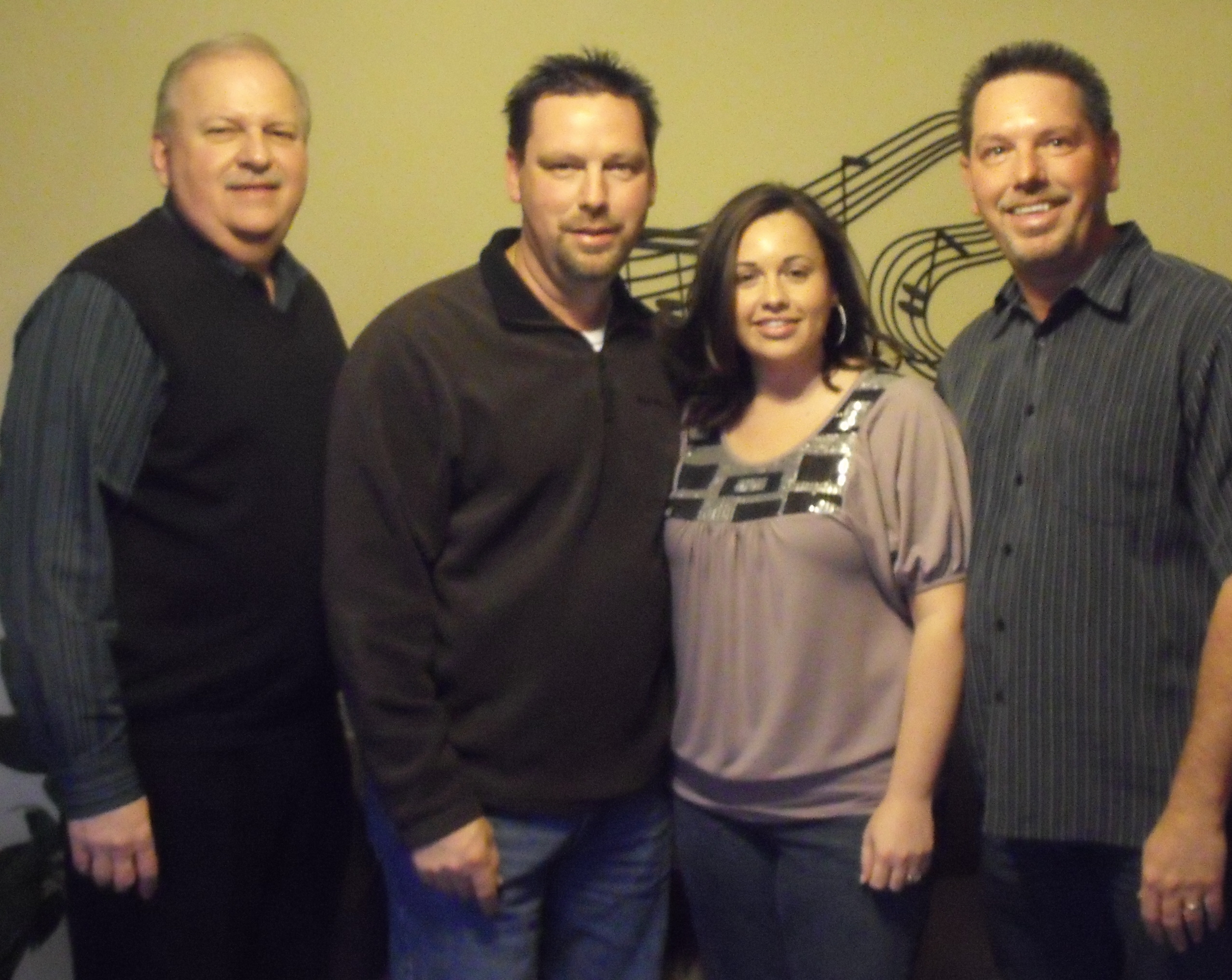 Cross and Crown Music is happy to announce the signing of By Faith from Manchester, TN. This exciting trio is currenly working on song selection and will have their new project available by the end of Spring. "I have known Johnny and Ronnie Brown for a long time and I'm so glad to see them become a part of Cross and Crown Music. It's always exciting to see a family traveling and singing together. Johnny, Ronnie and Heather are sweet folks and we look forward to the great times ahead." stated Garnie Yeager, Exec VP of the company.
"By Faith has been singing for 15 years now and are so excited about being a part of the Cross and Crown family. From the first time we met with Garnie and Brian we felt the Lord leading us in this direction and can't wait to see what the Lord has in store."
By Faith is on the 4 Square label and will be working with Producer, Troy Peach on their freshmen project with Cross and Crown.
Tags:
by faith
,
cross and crown
,
record label signings
Posted in
industry news
|
Comments Off

on Cross And Crowns Sign By Faith
Written by Scoops Staff on March 9, 2010 – 9:27 pm -
Brentwood, TN (Mansion Entertainment) March 10, 2010 – Mansion Entertainment has signed Triumphant Quartet to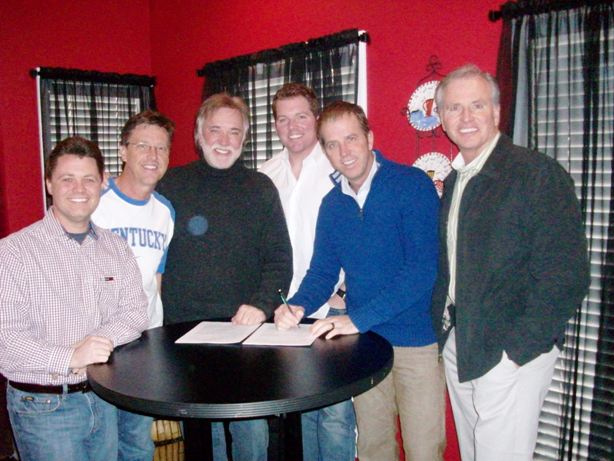 a long term recording agreement.
Since their inception in 2003, the Triumphant Quartet has performed for over 100,000 at a University of Tennessee, performed for thousands each year that have come through the Louise Mandrell Theater in Pigeon Forge, TN and their travels have taken them around the world. Their music has garnered the group such nominations as Top 10 Song of The Year (Singing News Fan Awards), Top 10 Album of The Year (Singing News Fan Awards) and numerous Top 5 nominations recognizing both the group and group members. Their list of landmark achievements culminated with the group being awarded the Top Male Quartet of The Year award at the Singing News Fan Awards in 2009 along with Eric Bennett receiving the Favorite Bass Singer of The Year award and Jeff Stice being awarded the Favorite Musician of the Year honors. Add to that impressive list of accolades a nomination for Best Southern, Country or Bluegrass Gospel Album by the 52nd Annual Grammy Awards for their album, 'Everyday', produced by Wayne Haun with group pianist Jeff Stice lending his talent as associate producer.
Wayne Haun, a 5-time Dove Award winner with an unprecedented 45 nominations, will again lend his Grammy-nominated producer talents to the new project which will also include a live DVD at The Mansion Theater in Branson, Missouri. The much-anticipated project is scheduled for release to radio and retail in September 2010. You can find more information by visiting www.triumphantquartet.com or www.themansionentertainment.com .
Tags:
Mansion Entertainment
,
record label signings
,
triumphant quartet
Posted in
industry news
|
Comments Off

on Triumphant Quartet Signs Long Term Recording Agreement With Mansion Entertainment
Written by Scoops Staff on February 17, 2010 – 10:02 am -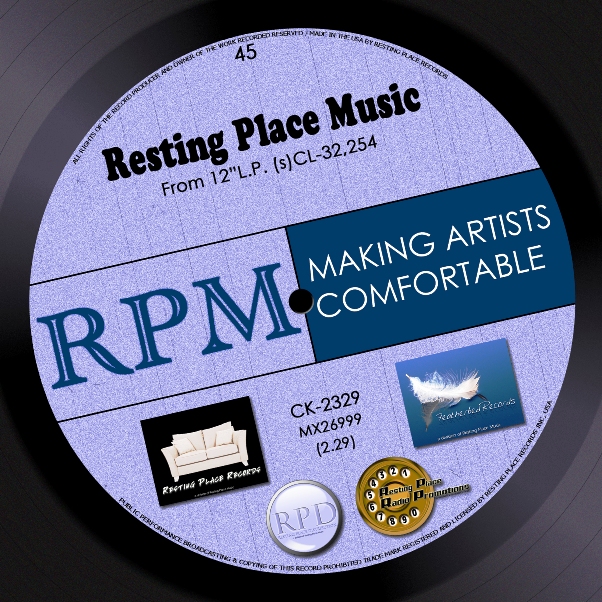 Sylvester, GA. – Resting Place Music is pleased to announce the signing of a new country gospel duo,TAYLOR-ROSE of Lick Creek,KY. David Taylor started his musical journey with Dollywoods Fire On The Mountain,where he sang the gospel portion of the show.Richie Rose was formerly in country music having played many great stages such as the Grand Ole Opry. These two talented men are now traveling the country together, expressing Gods love through music and testimony.
Ricky Atkinson, President of RPM states, "Taylor-Rose is a great duet. These guys are blessed with unbelievable musical talent,but also are humble and meek people.We are excited to be working with this new and powerful artist, and expect great things from them!"
The debut single for Taylor-Rose will be on RPM Vol.9, which will be at radio March,2010
Based in Eastern Kentucky, this group travels all over the southeast and is available for booking. Contact them at taylorroseduo@yahoo.com
also get more info at Resting Place Music: www.restingplacemusic.com
Tags:
country gospel
,
record label signings
,
resting place music
Posted in
artists
|
Comments Off

on Resting Place Music Signs Country Gospel Taylor-Rose
Written by Scoops Staff on February 15, 2010 – 1:25 pm -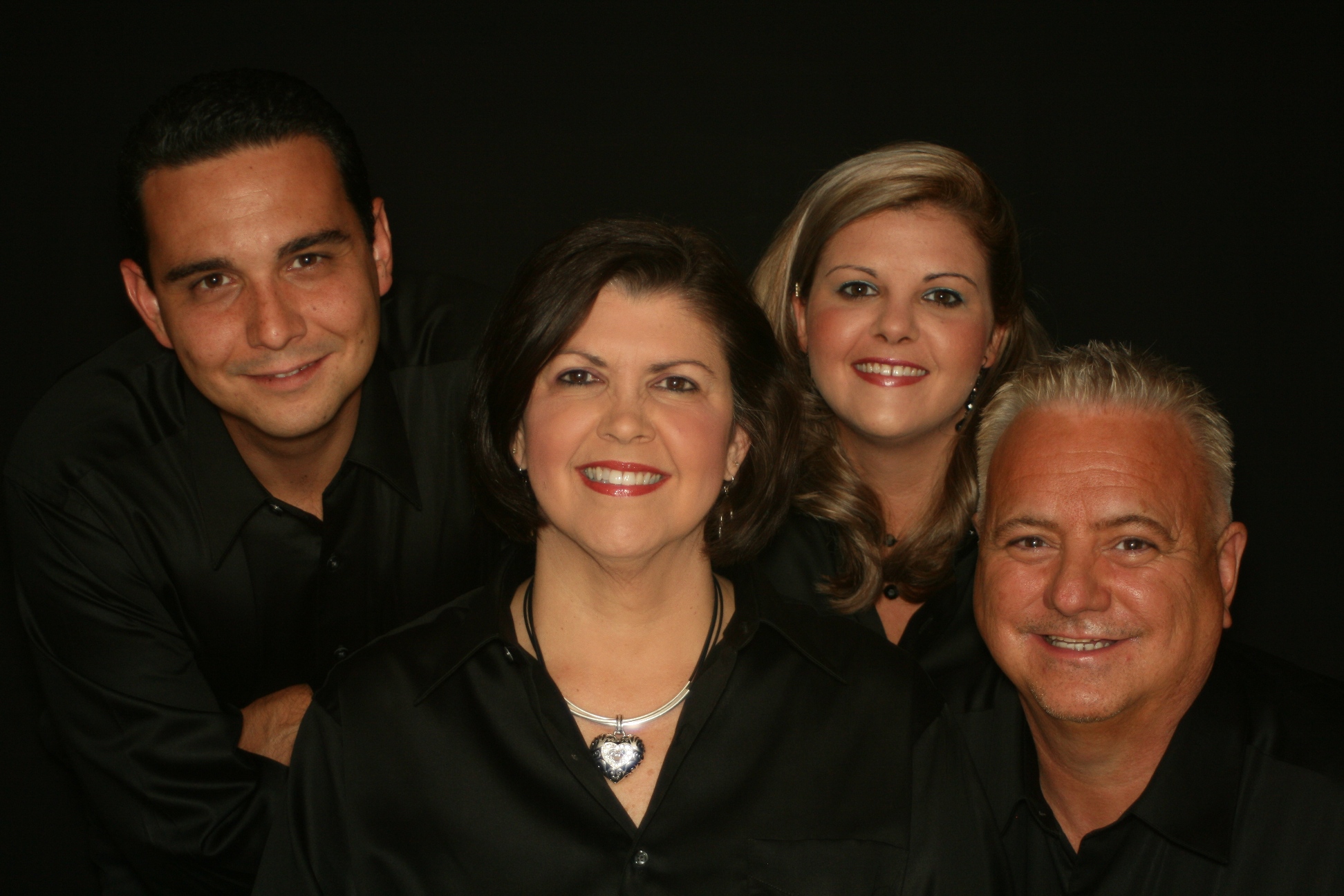 Nashville, TN- Heartwarming Records (a division of Homeland Entertainment Group) is excited to announce the signing of one of the Southern Gospel Music's most electrifying family groups, Southern Legacy.
Southern Legacy's history in gospel music is competition for even the most prominent of today's groups. The members of Southern Legacy consist of Rick Dunn, his wife Cindy, their daughter Stephanie, and is headed under the direction of Stephanie's husband Andy Browning. Each of these members bring a unique chapter to the story which is the foundation of Southern Legacy. Rick grew up the son of a pastor and developed a heart for ministry through music at a very early. Cindy and Stephanie both "grew up" in Southern Gospel Music. Cindy's Father is GMA & SGMA Hall of Fame member Glen Allred, of the Legendary Florida Boys. Andy worked for several years as a music director and radio personality in his hometown of Knoxville, TN. Then after completing his education would go on to sing with one of the most respected names in Gospel Music, the Grammy Award winning Blackwoods. In addition, Andy was an active part of the Stamps-Baxter School of Music for 10 years. During this tenure he was offered the unique opportunity to work with and learn from some of the most well known names in Gospel music including Ben & Brock Speer, Gene McDonald, Jack Clark (the legendary pianist for the Harvesters Quartet), Bob McKenzie of Benson Music, and Bill Gaither.
Browning says "We do not take our history in Southern Gospel Music lightly. God has truly blessed us by allowing us to have so many friends and mentors in the Southern Gospel field. With that blessing comes responsibility, we are committed to the furtherance of this great music that has been entrusted to us. We are very excited to have the opportunity to work with Homeland Entertainment Group. Homeland has always been one of the premier record companies in our industry. God has truly blessed us! As an added bonus he has allowed us the opportunity to work with a company whom so many of our friends and family have worked with down through the years. "
Scott Godsey of Homeland Entertainment says about the relationship "We are pleased to announce Southern Legacy signing to the Homeland Family of Labels. We are anticipating great things from this release and believe they will receive a favorable reaction when the fans hear this well deserving artist! "
Southern Legacy's first release on the Heartwarming label will be titled "Old Fashioned Meeting". This project will feature some of Southern Gospel Music's best loved standards presented in the signature style that is unique to Southern Legacy. This anticipated project is slated for release in the August of 2010.
For more information on Southern Legacy, visit them online at www.southernlegacymusic.com .
Tags:
homeland
,
record label signings
,
Southern Legacy
Posted in
artists
|
Comments Off

on Southern Legacy Signs with Homeland Entertainment Group