Written by Staff on August 10, 2020 – 7:48 am -
Arden, North Carolina (August 6, 2020) — As part of the next generation of gospel music artists, the 3 Heath Brothers (website HERE) have quickly captured attention with their powerful voices and unmistakable calling to spread God's word. The trio records music they believe in, with words they hope others carry through daily life, giving encouragement and hope.
With their latest single, the timely "Give It To Jesus," the 3 Heath Brothers continue this mission, reminding listeners that when life is tough, they can give all their burdens and chaos to Jesus.
Nicholas Heath, who wrote the song, says at the time, he didn't realize how relevant it would become. "It is a song that has almost become our theme song during this time when there are so many questions and not many answers," says Nicholas. "No matter what any of us are going through or dealing with and no matter how we've been hurt or our questions…the safest and best thing we can always do is give it to Jesus."
The moving song is the latest single from the trio's Horizon Records debut album Who We Are, which showcases the brothers' creative arrangements, song choice and production, making an impressive statement about their music, mission and beliefs.
Stream "Give It To Jesus" HERE.
About 3 Heath Brothers
The 3 Heath Brothers are teenagers, Nicholas, Clayton, & Christian Heath from Thomasville, NC. They have been singing together as long as they can remember. Their mom taught them to sing parts from a very early age and their dad is the Senior Pastor at Faith Community Chapel in Thomasville, NC.
When these young guys get up to sing, people are consistently shocked by their tight harmony, powerful vocals, and a cappella arrangements. In the summer of 2018, they won the Grand Champion Trophy at the NC State Annual Singing Convention. They recently performed at Dollywood, Billy Graham Training Center at the Cove, and are Main Stage artists at Singing in the Sun 2019 and the Gatlinburg Gathering 2019.
Audiences won't want to miss their young energy and passion for God. They love God and their goal is to promote Christ and demonstrate that you are never too young to give all you have to God.
About Crossroads:
Crossroads is a market leader in the Southern Gospel, Bluegrass, and Americana fields. Established in 1993, following the combination of Horizon Music Group and Sonlite Records, Crossroads now operates several divisions including Crossroads Label Group (Horizon Records, Sonlite Records, Mountain Home Music, Skyland Records, Pisgah Ridge Records, Crossroads Records, and Organic Records), Crossroads Distribution, Crossroads Radio Promotions, and Crossroads Recording Studios. Led by a strong executive team of Christian music and Bluegrass music veterans, Crossroads combines cutting-edge technology with creative innovation to connect fans with our artists' music.
Did you know that you can receive the printed, full-color version of SGNScoops Magazine by subscription? Find out more 
HERE
.
Tags:
3 Heath Brothers
,
crossroads
,
gospel music
,
Horizon Records
,
Southern Gospel Music
Posted in
announcements
,
artists
|
Comments Off

on The 3 Heath Brothers encourage giving burdens to Jesus with new single
Written by Staff on August 8, 2020 – 11:06 am -
I don't know about those of you who are reading this, but for me, I have been banging my head against the proverbial wall in my brain.It is so easy to get lost in the vortex of opinions, debates, and agendas swirling in the world today. The past few months have put pressure on all of us.
Now, more than ever, we need to come together in unity and pray.  Pray for our country and our leaders, pray for our world, pray for our families, pray for our ministries and ministers.
Turn off the television, the internet, and spend time lifting each other up.
This morning, I awoke a little before 5:00 a.m., and once again, I felt God gently calling me downstairs to spend time with him. I don't say this in pride, but in humility, because I have been battling with Papa God about these early morning moments. I would rather be sleeping, or I haven't seen the desired results from our time together. Don't get me wrong, I love and am grateful for every moment we spend together, but I am also very transparent and real with God.
I give you this glimpse into my soul, so you will know what I am writing here isn't just for you the reader, it is also me preaching to myself.  
We entered this year with grand declarations. 2020: a year of double portion; 2020: a year of great vision. Then 2020 decided to hit us head-on, and we began crumbling.  
The best thing about this year is that it has shaken us deeply.  Scripture tells us in Hebrews 12 that what can be shaken will be shaken, and only that which is of God will remain. 
This year has agitated and rubbed us raw. This morning as I read my devotion, I loved what the writer wrote: "A pearl is the only gem that has the ability to absorb and reflect. That is why the scripture sometimes refers to the kingdom of heaven being like a merchant.  Jesus goes out and sells everything He has to purchase the pearl of great price. It is imperative to understand that, if you are going to be looking for pearls, you have to go into the sea of humanity, and there you find pearls in oysters.  Unfortunately, every oyster does not produce a pearl. Only those that have spent their existence being irritated will become pearls. Their suffering has formed a substance inside of them that makes them precious. Do not waste your suffering and your sorrow…"
All oysters reside in the sea, and they all bump along the sand, but just a few will open enough to allow a piece of sand to enter and not regurgitate it back out. Only a few press into the uncomfortable and pain that the sand causes to produce pearls.
'Do not waste your suffering!' That phrase jumped from the pages of my devotions. Where has your heart been during this season of chaos and confusion? Have you wasted your suffering? 
My heart has been leaning into God, but I have so many questions. I have squirmed and tried so very hard to displace the sand agitating me.
This morning as I write this, I am making a decision to change my focus back to the beginning of the year. I will proclaim that 2020 is the year of double portion and that all circumstances work for my good, because I know to whom I belong.  
Our words have power, so when believers speak gloom and doom when the world seems to be going in a negative direction, it can be devastating.
Proverbs 18:21 (GNV) "What you say can preserve life or destroy it, so you must accept the consequences of your words." 
As the bride of Christ, we need to be as the woman from Proverbs 31:  "Even in the night (dark) season she arises and set food on the table for the hungry ones in her house and for others." 
In this dark season, let us begin to set the table for those hungry to find meaning by speaking positive words of life. Christ has given us the keys to the kingdom, now let us rise up and use them.  
We need to filter our circumstances by the purification of scripture: whatever is true, whatever is noble, whatever things are just, whatever things are pure, whatever things are lovely, whatever things are of good report. Let us meditate on anything that is of virtue and anything praiseworthy. 
When we begin to practice the aforementioned, we will discover love, joy, peace, longsuffering, kindness, goodness and faithfulness reigning in our lives.  
Today, let us focus on the best parts of 2020, and begin to pronounce that this year will be a year of great opportunity for the message of Christ. That will be my message for those around me. 
It may mean that when others around you are in fear of illness, you proclaim that, "No weapon formed against me will prosper." It may mean that when you see someone die from illness, you declare that, "Everything works for the good of those who love God and are called according to His purpose." It may mean that you just sit with those who are hurting in this world and not give any advice, but only show your love and friendship to others in action and not with Christianize words.  
Remember to whom we belong and remember the message that has been spoken to you in your life. Great opportunity comes from adversity. I believe that greatness is coming out of 2020 and that our best days are ahead.  
By Selena Day
Selena Day is a motivational speaker and is available to speak at your conference or event.  You may contact her at selenaday@me.com http://www.queenliving.org  http://facebook.com/queenismsbyselenaday. Photographs courtesy of Selena Day.
Did you know that you can receive the printed, full-color version of SGNScoops Magazine by subscription? Find out more 
HERE
.
Tags:
Christian life
,
Selena Day
,
Suffering
Posted in
artists
,
Christian interest
|
Comments Off

on Selena Day: Don't waste your suffering
Written by Staff on August 7, 2020 – 11:44 am -
Nashville, TN (August 7th, 2020) –Up-and-coming Gospel trio, Avenue, is proud to announce its newest members.
In a video release this morning, industry veteran Kasey Kemp welcomed two newcomers to the group. Mississippi native Kyle Smith will be stepping in as the trio's lead singer while accomplished vocalist Daniel Rivera takes the tenor position.
The new line up has already spent time in the studio together working on brand new music, including a new single that is expected to be at radio next month.
For more information about the new group members, as well as the future of Avenue, watch the video link below:
To find out more about Avenue, visit avenuemusic.net.
Did you know that you can receive the printed, full-color version of SGNScoops Magazine by subscription? Find out more 
HERE
.
Tags:
Avenue
,
Avenue Trio
,
gospel music
,
Kasey Kemp
,
Southern Gospel Music
Posted in
announcements
,
artists
|
Comments Off

on Avenue Welcomes New Members
Written by Staff on August 7, 2020 – 9:15 am -
Globally acclaimed singer/songwriter, Danny Jones, released two singles this summer to 249 countries and nine stores. The songs are "Heaven's Gate" and "Run." Outlets include iTunes and Amazon.com.
"Run" was also included in "The Sparrows" movie and CD all-star soundtrack. "Heaven's Gate" was the ending credits song for the "Vanished" film and included on the CD soundtrack, as well.
Danny was blessed to perform live at the Hollywood premiere of "The Sparrows" in 2015. The film starred Kevin Sorbo, Christopher Atkins, and Judy Norton.
A music video of "Run" is in the works with footage from the actual film.
EHA-NASHVILLE is honored to have this incredible artist on our roster.
Stay tuned for more news on Danny Jones!
For More Information Contact: 256-318-9566
Did you know that you can receive the printed, full-color version of SGNScoops Magazine by subscription? Find out more 
HERE
.
Tags:
Christian Music
,
Danny Jones
,
eha-nashville
,
gospel music
,
Heaven's Gate
,
Run
Posted in
announcements
,
artists
|
Comments Off

on Danny Jones releases "Run" and "Heaven's Gate"
Written by Staff on August 6, 2020 – 9:41 am -
One Old Man Can't Be All That Bad: Legendary Southern Gospel Music Association Hall of Fame Member, Ed O'Neal, Releases Memoir
Kinston, NC – Many talented vocalists and musicians step onto concert stages across the country year after year; however, only the faithful and dedicated overcome the pressures of life on the road. Ed O'Neal, whose name has been synonymous with Gospel Music for 60 years, can certainly be labeled as one of the faithful and dedicated.
O'Neal joined The Dixie Melody Boys in early 1960s and became owner and manager of the quartet a few years later. Over the years, O'Neal and The Dixie Melody Boys, have enjoyed tremendous success. In 2000, O'Neal was named recipient of the Marvin Norcross Award, the highest honor presented at The Singing News Fan Awards Ceremony each year. Additionally, in 2004 he was inducted into the Southern Gospel Music Association Hall of Fame.
While success has abounded, adversities have also been encountered. In fact, over the past six decades O'Neal has seen over 90 personnel changes. "That has to be a record in this business," he says with a chuckle. Yet with all the changes, the Dixie Melody Boys and Ed O'Neal have stood the test of time. O'Neal, with the assistance of writer David Bruce Murray, chronicles those ups and downs in a new memoir, One Old Man Can't Be All That Bad.
Within the pages of One Old Man Can't Be All That Bad, O'Neal shares stories from his youth, growing up in Raleigh, NC, as well as how he met the love of his life, Mama Joy, as she was affectionately known to the many alumni of Ed O'Neal University – the group of men who at one time were members of The Dixie Melody Boys. The 84-year old also shares all about the trendsetting DMB Band, who made waves in the mid-80s with their progressive musical stylings, as well as his various business ventures, and the many hijinks he has experienced with the cast of characters he has traveled with during his career.
Murray, O'Neal's co-author, is the owner of the industry websites 
SGHistory.com
 and 
MusicScribe.com
 and has been writing about Southern Gospel music in various forms for more than 25 years. "I had a blast helping Ed put his amazing life story into book form," Murray states. "As we were working together, we laughed a lot and also shed a few tears as I am sure many of the readers will as they read about Ed's life filled with music, faith, family and laughter. No one can tell a story quite like Ed O'Neal."
Ed O'Neal's love for his family, the people he has met through Gospel music, his desire to always present quality music, united with his desire to never compromise his responsibility to spread the Gospel are most evident within the pages of this historical account. This biography conveys the story of a man who has enjoyed blessing after blessing, while remaining dedicated and faithful to his music, his family and his Father.
Did you know that you can receive the printed, full-color version of SGNScoops Magazine by subscription? Find out more 
HERE
.
Tags:
Dixie Melody Boys
,
Ed O'Neal
,
gospel music
,
hall of fame
,
Southern Gospel Music
Posted in
announcements
,
artists
|
Comments Off

on SOUTHERN GOSPEL MUSIC ASSOCIATION HALL OF FAME MEMBER, ED O'NEAL RELEASES MEMOIR
Written by Staff on August 6, 2020 – 6:28 am -
Songwriters Lee Black, Jason Cox, and John Darin Rowsey Honored
NASHVILLE, TN (AUGUST 3, 2020) — Daywind Music Publishing is celebrating its songwriters, Lee Black, Jason Cox, and John Darin Rowsey, who were recognized for writing on some of the  most performed songs in Christian music last year. BMI, one of the largest performing rights organizations which collect royalties from radio, television, and other performances, honored the three writers at the 2020 BMI Christian Awards celebration, announced online this year on BMI.com.
To honor the achievements of these Christian songwriters and more, BMI created a webpage where fans could watch special video messages and performances, listen to award-winning music, and learn more about their favorite songwriters.
Daywind Music Publishing's catalog, Christian Taylor Music, and its exclusive songwriters Lee Black, Jason Cox, and John Darin Rowsey, were among those honored by BMI for some of Christian music's top played songs on radio. Lee Black co-wrote "Sun's Gonna Come Up." Performed by the LeFevre Quartet, the song hit #1 on the Singing News Southern Gospel l radio chart in November, 2018. Jason Cox co-wrote "Even Me," performed by Triumphant Quartet, which reached the top of the Singing News chart in July, 2019. And Rowsey penned "Woke Up This Morning" performed by The Guardians.
Daywind Music Publishing is home to an award-winning roster of writers including Lee Black, Riley Harrison Clark, Jason Cox, Gerald Crabb, Janice Crow, Marty Funderburk, Mike Harland, Joseph Habedank, Devin McGlamery, Tim Lovelace, Karen Peck, John Darin Rowsey, Belinda Smith, Sue Smith, Aaron Wilburn, Diane Wilkinson, Nathan Woodard and Hunter Leath. Daywind Music Publishing is a subsidiary of Daywind Music Group, one of the premier labels in Christian music.
Did you know that you can receive the printed, full-color version of SGNScoops Magazine by subscription? Find out more 
HERE
.
Tags:
Christian Music
,
Daywind Music Group
,
gospel music
,
Jason Cox
,
John Darin Rowsey
,
Lee Black
,
Southern Gospel Music
Posted in
announcements
,
artists
|
Comments Off

on Daywind Music Publishing Celebrates 2020 BMI Recognition
Written by Staff on August 4, 2020 – 11:05 am -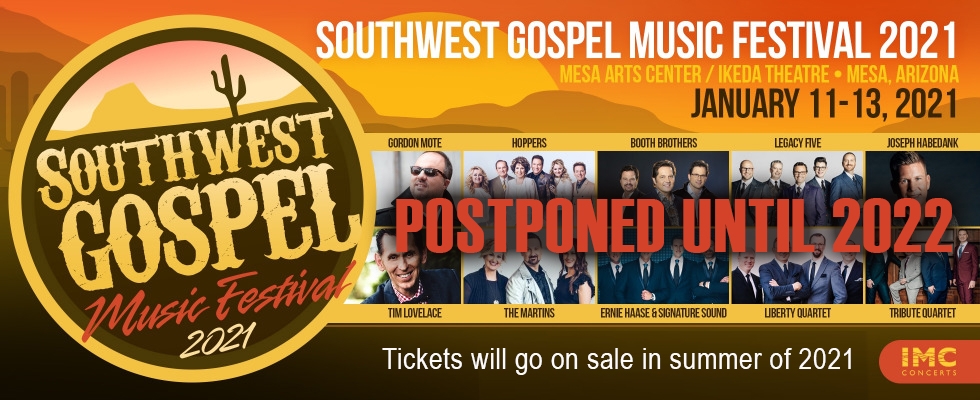 Johnson City, TN – In compliance with local and state mandates and recommendations limiting public gatherings due to COVID-19, IMC Concerts has announced plans to postpone the 2021 Southwest Gospel Music Festival, originally scheduled for January 11-13 in Phoenix, AZ.
"We are deeply saddened by having to postpone the SWGMF until 2022," IMC President, Landon Beene states. "It was a very difficult decision, but our team has been closely following updates by the CDC, as well as the local officials in the greater Phoenix area, and we felt this was the best decision to make at this time."
According to Beene, the postponement was made in the best interest of the event attendees, as well as the artists featured at the event.
"The health and well-being of our patrons is of the utmost importance. At this time, unfortunately, we are not able to provide a definite date as to when to expect things to be back to normal, which puts us in a challenging position."
Although a definite date is not being announced at this time, the new date is tentatively set for January 13-15, 2022.
"This is the date we are hoping to be able to make happen," Beene continues, "and we plan to offer the same wonderful line-up of artists that we had scheduled for the 2021 event."
Beene also states that all ticket holders from the 2020 event will be contacted directly by IMC representatives and will have the first option to renew their same seats once the event goes on sale in the summer of 2021.
"Unfortunately, the capacity restrictions in place make it impossible for us to plan, promote and host our event in January, 2021. With that said, we WILL RETURN, and we are already looking forward to this event in 2022. Our prayers are with the artists and the great fans of Gospel Music during these difficult and unprecedented times."
Did you know that you can receive the printed, full-color version of SGNScoops Magazine by subscription? Find out more 
HERE
.
Tags:
2021 Southwest Gospel Music Festival
,
gospel music
,
hoppers
,
imc concerts
,
legacy five
,
Southern Gospel Music
Posted in
announcements
,
artists
|
Comments Off

on IMC CONCERTS ANNOUNCES POSTPONEMENT OF SOUTHWEST GOSPEL MUSIC FESTIVAL
Written by Staff on August 4, 2020 – 8:19 am -

PIGEON FORGE, Tenn. (August 4, 2020) – The NQC Board of Directors announced today plans for NQC 2020, and provisional plans if NQC 2020 is not allowed to take place as scheduled due to state and government orders.
If state orders allow, NQC 2020 will occur as scheduled. However, if state orders for September include any kind of social distancing, it will mean that NQC 2020 will have to be suspended.
If NQC 2020 is suspended, due to state orders, NQC will move forward with an alternative event on the same dates. This event will be the NQC Fall Festival.
Further information about the event and logistics are as follows:
The NQC Fall Festival will take place September 27 – October 3, 2020 if social distancing orders prevent NQC 2020 from occurring
The LeConte Center will be set with 1,500 chairs socially distanced 6' apart by pairs
The main stage of the Fall Festival will be set up at one end instead of in the round.
Admission for the NQC Fall Festival will be sold on a first come, first serve basis. The event is currently on sale and will be a general admission event.
NQC recommends people who know they will be in Pigeon Forge for NQC week to purchase Fall Festival tickets now. If state orders allow NQC, all NQC Fall Festival admissions will be refunded.
If the NQC Fall Festival occurs, NQC customers will either have their admission refunded or applied to next year.  It will be each customer's choice.
Artists who perform in the Fall Festival will have displays set up in the Greenbriar ballroom, and the displays will be sufficiently distanced apart.  There is plentiful space in the Greenbriar to allow for distancing between and in front of the displays.
The NQC Fan Festival will feature around 10 artists per night.
For either NQC or NQC Fall Festival, a live only webcast will be made available to subscribers.
"We did not want to preemptively suspend NQC in advance of the state orders being issued for September," states Clarke Beasley, NQC Executive Vice President. "However, if state orders prevents NQC from occuring as planned, we wanted to have an alternative ready to go that would be in compliance with all existing state orders for the benefit of NQC attendees as well as the NQC artists."
A complete schedule of the NQC Fall Festival option is available on 
www.nqconline.com
.
ABOUT NQC:
NQC – the National Quartet Convention – was founded in 1957 by gospel music legend and former backup vocalist for Elvis Presley, J.D. Sumner who co-produced the event with James Blackwood. The annual convention was moved in later years to Nashville, TN and then to Louisville, KY where it was held for 20 years.
Tags:
nqc
,
NQC 2020
,
Nqc Fall festival
Posted in
announcements
,
artists
|
Comments Off

on NQC Board of Directors Addresses Coronavirus Concerns for 2020 Event
Written by Staff on August 3, 2020 – 12:52 pm -
Sharps Chapel, Tennessee – The Chapel Valley family extends its deepest condolences to the family members of Ordained and the family of Glenda Hasty. Glenda went to be with Jesus on Sunday afternoon, August 2, 2020 at 3:45pm.
Glenda and her husband, Shelby Hasty, traveled the United States as The Hastys for twenty-five years. Their daughters, Stacy Wilson and Catrina Headrick, traveled and sang with them. After being off the road due to health reasons, Glenda joined her daughter, Catrina Headrick and son-in-law, Greg Headrick in 2016 to sing with the group known as Ordained.
Shane Roark shared, "Our hearts are deeply saddened by the loss of such a precious lady. Glenda Hasty was a gifted vocalist with a heart that radiated her love for the Lord. Our thoughts and prayers are with Greg and Catrina as they carry out the ministry of Ordained and keep singing, just as Glenda would have encouraged them to."
We are thankful to know we will be reunited in heaven with so many who are already with Jesus. Philippians 1:21 says, "For to me, to live is Christ and to die is gain." Though we grieve the loss of precious saints, we celebrate the memories we have. Heaven just gets sweeter every day!
You can visit Ordained on Facebook to let them know you're praying for them:  https://www.facebook.com/ordainedministries/
Tags:
chapel valley
,
Glenda Hasty
,
gospel music
,
Ordained
,
Southern Gospel Music
Posted in
announcements
,
artists
|
Comments Off

on CHAPEL VALLEY'S ORDAINED MOURNS LOSS OF MEMBER, GLENDA HASTY
Written by Staff on August 3, 2020 – 9:52 am -
Tags:
Brian Etheridge
,
Buddy Burton
,
Charles Yates
,
David Maddox
,
Ed Hill
,
Howard Green
,
Ken Hicks
,
Little Willie Wynn
,
Peggy Parker
,
Robert York
,
The Greesons
,
Tommy Fairchild
,
Tri-State Gospel Music Hall of Fame
,
Troy Burns
,
Will Dickerson
Posted in
announcements
,
artists
|
Comments Off

on Tri-State Hall of Fame Ceremony recognizes Troy Burns, Buddy Burton, more