Written by SGN Scoops on February 10, 2014 – 12:45 pm -
Nashville, TN (February 10, 2014) Singer/songwriter Kenna Turner West recently returned to Nashville from a performance on the 2014 Country Music Cruise. Hosted by Entertainment Cruise Productions and Time-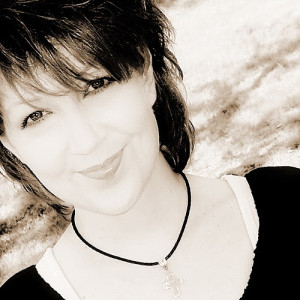 Life's Star Vista Entertainment, thousands of Country Music fans from around the world enjoyed daily concerts, interviews, and meet-and-greets by their favorite country stars such as Kenny Rogers, Vince Gill, Patty Lovelace, Jo Dee Messina, The Gatlin Brothers, and Restless Heart, along with Wade Hayes, T. Graham Brown, Andy Griggs, Ty Herndon, Bryan White, Jamie O'Neal, and The Warren Brothers.
West, the daughter-in-law of country music legend Dottie West, was thrilled to be part of the standing room only George Jones Tribute show hosted by Lorianne Crook and with a special appearance by the late star's wife, Nancy.
"It was an honor to sing with some of the greatest Country singers and musicians in our industry," said West of the experience. Kenna's husband, Kerry, audio engineer for Ronnie Milsap, ran sound for the event, as well as for the Restless Heart shows. "Interestingly, Kerry ran sound for Restless Heart's showcase twenty-five years ago that landed the group their first record deal, so it was somewhat sentimental for all the guys to work together again," West added, "To spend time with the Gatlins was a highlight of the trip for us. Since it was Dottie who first brought them to Nashville, there was a lot of story-swapping going on all week."
For more information about Kenna West, visit www.kennaturnerwest.com or https://www.facebook.com/kenna.west.77
Tags:
Dottie West
,
Kenna Turner West
,
Restless Heart
,
Ronnie Milsap
,
Southern Gospel News
,
The Gatlins
Posted in
announcements
|
Comments Off

on
Written by SGN Scoops on June 7, 2013 – 6:48 am -
NASHVILLE, Tenn. – (June 6, 2013) – Gospel music mainstay MARK209 celebrates the release of their new radio single "It Takes Faith."
MARK209 has been referred to by some music business insiders as "The best group you have probably never heard."  With the release of "It Takes Faith," they hope to change that.  "It Takes Faith" was written by Kenna Turner West who is one of the most prolific gospel songwriters of today.
The apostle James said in James 2:17, "Even so faith, if it hath not works, is dead, being alone."  In "It Takes Faith" we feel Kenna has done a wonderful job putting the theme of this scripture to song.
Not only has MARK209 gotten a great song from a great writer, but they have utilized some of the best musicians in Nashville.  The rhythm section is comprised mostly of the band members of country legend, Ronnie Millsap.  The musicians playing on this song consist of on Guitars: Bruce Dees (played on over 70 #1 country records), Jamie Brantley (Ronnie Millsap's lead guitar player, bandleader, and music director), Kerry Marx (member of the staff band at the Grand Ole Opry, and was guitar player on the TV show, Nashville Now); Bass Guitar: Steve Brantley (played with James Brown, Dave Loggins and Gary Morris); Piano and B3 Organ: Adam Hampton (keyboard player for Ronnie Milsap); Drums: Rodney Edmondson (drummer for Ronnie Milsap); Harmonica and Fiddle: David Johnson.  Recording Engineers are Jamie Brantley and Kerry West (Ronnie Millsap's sound engineer) and the project is co-produced by Billy Coren and Jamie Brantley.
This first radio single comes from their CD entitled "On A Roll", which is soon-to-be released.
2012 was a banner year for this electrifying quartet, highlighted by appearances at the 35th Anniversary of ELVIS WEEK at Graceland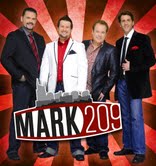 on the main stage, an appearance on the main stage at the North Carolina Apple Festival in Hendersonville, NC, and with Ronnie Milsap.  Later this year the group is scheduled to perform at the legendary Wheeling Jamboree in Wheeling, WV during the Jamboree's 80th year celebration.
The brand new MARK209 website was recently launched which includes a "Kids Corner" that features puzzles and coloring pages for children 12 and under. You can visit MARK209 online at www.MARK209.com.  You can also find the group on any number of social networks, including Facebook (www.facebook.com/mark209), Twitter (www.twitter.com/mark209music), and YouTube (http://www.youtube.com/mark209music).

About Mark209
MARK209 is the most exciting Gospel quartet touring the country today. The intricate harmonies, detailed arrangements, energy, and versatility place this group in a league of its own. In a time when mediocrity is widely accepted, this group has raised the bar and exceeds everyone's expectations.  As Mark Bishop said when describing MARK209, "this isn't your granny's music."  MARK209 consists of Nathaniel Justice, Jym Howe, Bryan James Hatton, and Ray Woconish. 
Tags:
mark 209
,
Ronnie Milsap
,
Southern Gospel News
Posted in
announcements
|
Comments Off

on MARK209 Releases New Radio Single
Written by SGN Scoops on March 7, 2012 – 4:04 am -
NASHVILLE, Tenn. – (March 5, 2012) – Gospel music mainstays Mark209 had the distinct privilege of performing onstage with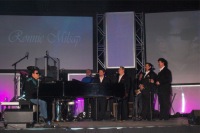 Country music icon Ronnie Milsap at a recent concert event.
At Ronnie Milsap's request, Mark209 accompanied The Milsap Show to Palmetto, Florida to perform as a part of Bill Bailey's Winter Gospel Music Convention, the largest winter gospel music festival in the United States.
Mark209 opened for The Milsap Show, and Ronnie asked the quartet to join him on stage to sing some selections, which included "Peace In The Valley" from his gospel CD, Then Sings My Soul.
Ronnie said from stage, "If you've got such a quality quartet as Mark209, you just have to do an Elvis song just like he did it."
The group then backed him on Elvis' "Love Me." Also on the evening's program in Palmetto, Florida were Karen Peck & New River, the Collingsworth Family, and Wilburn & Wilburn.
Dominic Korzecki was in attendance and posted on Ronnie Milsap's Facebook page: "These guys [Mark209] have to be one of the best Southern Gospel groups I've heard since The Stamps."
Jym Howe of Mark209 states, "We have had people ask us what it is like to sing with Ronnie Milsap and to be honest, Kenny Rogers said it best, 'There is no greater thrill, and at the same time no greater fear, than singing with Ronnie Milsap.  He is, quite simply, as good as he has to be to be better than the person he is singing with.'  It is an honor to share Ronnie's stage and a thrill to sing with him.  Each time we have performed with him, his band and crew has actually treated us like we were somebody." Read more »
Tags:
collingsworth family
,
Jym Howe
,
karen peck and new river
,
mark 209
,
Ronnie Milsap
,
Southern Gospel News
,
wilburn and wilburn
Posted in
announcements
|
Comments Off

on Mark209 Shares the Stage with Country Music Icon Ronnie Milsap
Written by SGN Scoops on October 7, 2011 – 5:57 am -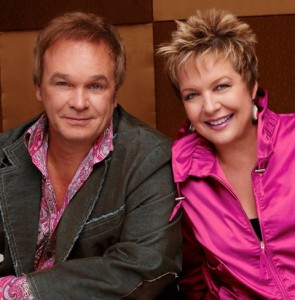 Nashville, TN – Grammy® Nominated, Award-Winning Jeff & Sheri Easter, favorites on the popular Gaither Homecoming Tour and Videos, are excited to announce the "PAINT YOUR TOWN PINK" tour for the month of October in celebration of National Breast Cancer Awareness Month! Concert-goers are invited to dress in pink – men and women – to show their support and local breast cancer charity groups will be invited to each date to bring community awareness to their local group.
This is a very special month for Sheri Easter – she is celebrating over 3 years FREE of breast cancer. Sheri says: "When you get the call, your world stops, and you know your life is changed. I am thankful that I had a wonderful support system of my family and all our wonderful throughout the country and the world. I thank God for his mercy – I am celebrating over 3 years of being free from breast cancer! Showing up to our "PAINT YOUR TOWN PINK" concerts is an opportunity to show your support for the loved ones and friends in your community that are going through cancer." Jeff adds "I'm even gonna wear pink! Real men can wear pink! "
The "PAINT YOUR TOWN PINK" tour makes a stop at the Grand Ole Opry for "Opry Goes Pink" on Saturday, October 22. Jeff & Sheri Easter will team with The Grand Ole Opry® and Women Rock For The Cure™ in the fight against breast cancer for it's third annual "Opry Goes Pink" show. Opry member Martina McBride will flip the switch on the Opry's barn backdrop turning it pink for the night. The special show will include performances by McBride, along with American Idols' Lauren Alaina, Edens Edge, Kellie Pickler, Ronnie Milsap, Jeff & Sheri Easter and others as well as activities recognizing breast cancer survivors. Sheri comments: "It's a special treat to be asked to help turn the Opry pink. Sheri Easter will sign her new book, Hear My Heart, in the Opry Gift Shop prior to the evening show. The book is a collection of writings through the years, including her bout with breast cancer. The book is available at online retailers, book stores and at www.JeffAndSheriEaster.com.
Connect with Jeff & Sheri through social media: Facebook – www.fb.com/JeffAndSheriEaster, Twitter – @JSEaster, @SheriEaster
ABOUT JEFF & SHERI EASTER:
Two-time GRAMMY®-nominated Jeff & Sheri Easter are Gospel music treasures, featured regularly on the Gaither HOMECOMING videos and international HOMECOMING tours in addition to their own heavy schedule of appearances. Jeff & Sheri are the recipients of six GMA DOVE Awards, 15 Singing News Fan Awards, three Society for the Preservation of Bluegrass Music Association Awards, two International Country Gospel Music Association honors, 16 Voice Awards, four Southern Gospel Music Fan Fair Awards, five SGN Scoops Diamond Awards, four Hearts Aflame Awards and three Cash Box Awards. Formed in 1988 following childhoods as part of their respective, nationally-known family groups—The Lewis Family and The Easter Brothers, the married couple is joined today on stage by their children—Madison and Morgan Easter—who round out the group. The group is known for such hits as "Roses Will Bloom Again," "Praise His Name," "Thread of Hope," "Speak to the Mountain" and many others including "Born to Climb," which garnered a 2010 DOVE Award. They were nominated for a 2011 GRAMMY® Award for their Expecting Good Things (Spring Hill Music) recording, which was recorded while Sheri endured a bout with Breast Cancer.  She has been cancer free for over 3 years. Their latest recording Silver Anniversary (SpringHill) celebrates 25 years of marriage and music.
You don't want to miss this wonderful evening of fun, inspiration, and great singing!
TOUR DATES
10/07 – Chuckey, TN – Casi Full Gospel Church – 7:30 PM
10/08 – Roebuck, SC – Bethlehem Baptist Church – 6:00 PM
10/09 – Ypsilanti, MI – EMU Convocation Center – 3:00 PM
10/15 – Abbosttstown, PA – Calvary Christian Center – 7:00 PM
10/16 – Chocowinity, NC – Tarhill Variety Theater – 3:00 PM
10/21 – Myrtle Beach, SC – Myrtle Beach Convention Center – 7:00 PM
10/22 – Nashville, TN – Grand Ole Opry Bookstore – 5:30 PM
(Sheri will sign her book Hear My Heart prior to their Opry performance)
10/22 – Nashville, TN – Grand Ole Opry – 7:00 PM & 9:00 PM
10/23 – Pigeon Forge, TN – Dollywood Pines Theatre – Various Times
10/24 – Pigeon Forge, TN – Dollywood Pines Theatre – Various Times
10/28 – North Charleston, WV – North Charleston Apostolic Church – 7:00 PM
10/29 – Nashville, IN – Seasons Lodge – 7:00 PM
10/30 – Richmond, KY – Full Gospel Tabernacle – 6:00 PM
Tags:
breast cancer
,
Edens Edge
,
Gaither Homecoming Tour
,
Jeff & Sheri Easter
,
Jeff Easter
,
Kellie Pickler
,
Lauren Alaina
,
Martina McBride
,
Ronnie Milsap
,
sheri easter
,
Southern Gospel Music
,
Southern Gospel News
Posted in
announcements
|
Comments Off

on JEFF & SHERI EASTER INVITE YOU TO "PAINT YOUR TOWN PINK!"