Written by Rhonda on November 3, 2010 – 3:08 pm -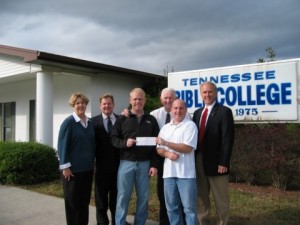 NASHVILLE, TENN.  (November 1, 2010)—Award-winning bluegrass duo Dailey & Vincent presented a check for $20,000 to the Tennessee Bible College in Cookeville, Tennessee, representing their portion of proceeds from the sale of their CD, Singing From the Heart.  The all a cappella gospel collection, honoring the Church of Christ's practice of singing without instruments, was released on Rounder Records in 2009.  Tennessee Bible College is a Church of Christ institution.  
 
"Jamie Dailey and Darrin Vincent are not only two excellent musicians and performers, but two down-to-earth good, humble men," said Malcolm Hill, Chancellor of Tennessee Bible College.  "They want to see a better world and are willing to give to that end.  The support they give to Tennessee Bible College helps make possible a college education for worthy young men and women.  May God continue to bless and keep them."
 
"We're so pleased to be able to present this check to the college to fund scholarships so that deserving students can get an education," said Darrin Vincent.
 
"Years ago, when Malcolm first told me about the need for scholarship funds at the college, we talked about putting a gospel CD together," said Jamie Dailey.  "This was long before Darrin and I decided to form a duo.  It took several years and the support and participation of a long list of incredible singers, but we were finally able to make this project happen.  To see what it's done for the college is very gratifying."
 
To record the album of quartets, Dailey & Vincent called on the very best of vocalists from the worlds of bluegrass, southern gospel and country music.  Guests on the album include tenor Andy Ball, bass Glenn Dustin, tenor Anthony Facello, baritone Tony King, tenor Shawn Lane, bass Jeff Pearles, as well as Doyle Lawson, who sang baritone on "Near the Cross," and Molly Skaggs, daughter of Sharon White and Ricky Skaggs.
 
Singing From the Heart earned two International Bluegrass Music Award nominations—for Gospel Recorded Performance of the Year ("Don't You Wanna Go to Heaven") and Best Liner Notes for a Recorded Project.  The notes were written by Fred Bartenstein.
 
For more information on Dailey & Vincent, visit www.daileyvincent.com.
Tags:
dailey & vincent
,
Tennessee Bible College
Posted in
causes
|
Comments Off

on DAILEY & VINCENT PRESENT $20,000 CHECK TO TENNESSEE BIBLE COLLEGE
Written by Rhonda on August 13, 2010 – 2:41 pm -
 
NASHVILLE, TENN. — IBMA Entertainers of the Year Dailey & Vincent are proud to announce their inaugural homecoming charity concert to raise money for the newly formed Dailey & Vincent Fund.  Tickets are on sale now for the concert, which is scheduled for Saturday, October 2, at 5:00 p.m. at the Jackson County High School Football Field in Gainesboro, Tennessee.  Proceeds will go directly to the newly formed Dailey & Vincent Fund, administered through the Cookeville Regional Medical Center Foundation, a 501(c)(3) organization.
 
The Dailey & Vincent Fund exists to provide financial assistance to disadvantaged children of Jackson and DeKalb Counties to meet immediate medical, nutritional and educational needs not covered by insurance or other means, while acknowledging the God-given gifts, potential and dignity of each child.
 
Concert tickets are $15 and are available in Cookeville at the Tennessee Bible College; in Gainesboro at Jackson Bank & Trust or by calling J.B. Dailey (931-268-0438) or Fred Heady (931-644-0391); in Livingston by calling Judith Nevins (931-403-6191) or Johnny Painter (931-704-0144); and in Smithville at Cantrell Furniture and Webb's Drug Store, or by calling Julie Vincent (615-418-5759).  Tickets are also available online at www.daileyvincent.com and will be sold on the day of the concert in the Gainesboro town square.
 
Those attending the concert need to bring lawn chairs. The first 1,000 tickets sold will be accompanied by preferred parking privileges at the football field. Additional free parking will be off-site with shuttle service provided to the concert. In the event of inclement weather, the concert will be moved indoors.  No refunds will be issued.
 
Fans of award-winning bluegrass duo Dailey & Vincent know that they take their music seriously.   It's also obvious that they believe strongly in giving back—to their community, their industry and their fans, as first seen with the release of Singing From the Heart, a CD that helped raise fund for Tennessee Bible College.  Now, Jamie Dailey and Darrin Vincent are taking it a step further with the formation of their own charitable fund and an annual homecoming charity concert.
 
Dailey & Vincent signed with Rounder Records in 2007 and released their self-titled debut in 2008.  They are the reigning International Bluegrass Music Association Entertainers of the Year and Vocal Group of the Year, taking home the coveted trophies in 2008 and 2009.  They are the only bluegrass act ever to win IBMA's Emerging Artist and Entertainer of the Year awards in the same year (2008).  Their current release, Dailey & Vincent Sing the Statler Brothers, features bluegrass versions of 12 of the Statlers' most-loved hits and is available exclusively at Cracker Barrel Old Country Store and www.crackerbarrel.com.  The album debuted at #1 on the Billboard Bluegrass Albums chart, where it has spent nine weeks at #1 and 19 weeks in the top 3.  It also debuted at #19 on the Billboard Country Albums chart.  The album, as well as lead track "Flowers on the Wall," were the most-played on Sirius XM's Bluegrass Junction during the month of June.  More information on Dailey & Vincent, including tour dates, is available at www.daileyvincent.com.
Tags:
dailey & vincent
,
Rounder Records
,
Tennessee Bible College
Posted in
gospel events
|
Comments Off

on Dailey & Vincent Plan Inaugural Homecoming Charity Concert