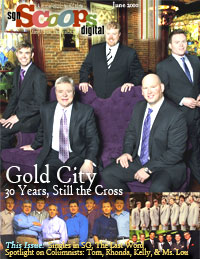 The June 2010 issue of SGN Scoops is now available for download. Click on the cover to read your issue in user-friendly .PDF format.
Dee Ann Bailey talks to Tim Riley, and traces the genesis of one of southern gospel's favorite quartets, Gold City! Stephanie Kelley gets to know Dino Kartsonakis, famous for his piano playing and his heavenly cakes! Lorraine Walker wraps up a series on Southern Gospel Singles, and our columnists cover the variety of relevant Christian world view topics you have come to expect.

Click here or on the cover preview to download.
Click here to subscribe – be notified when a new issue is published or news is announced.
Reader tips: SGN Scoops is interactive. Most web links in the magazine are live – click on them to follow to the listed website. All ads and many photos are clickable as well. You can also use our Table of Contents – page 4 – interactively. Click on the article title you want to read and you will be taken there. We think you should read them all!