Written by SGN Scoops Staff on June 11, 2013 – 7:45 am -
We're excited about the June issue of SGNScoops Magazine. What a BUSY month! Scattered all over the country, our writers have captured some of the most exciting events and happenings in Gospel Music. A lot of cool things have been going on in the ministry of the Kingdom Heirs. The Kingdom Heirs are featured as the cover story this month, so don't miss their story. Also this month, Adam Crabb talks about his new album, Ava Kasich shares a powerful testimony, the Jay Stone Singers and Sacred Calling share their latest too. Enjoy the latest in Christian Country news with Paul Summers, and get a younger perspective with Dustin Leming. Be encouraged by Dr. Jeff Steele's devotion and be inspired by Lou Hildreth's Life, Love and Legends. Laurette Willis of Praise Moves shares an article regarding Christian Fitness. The June issue is a special edition due to all of the events covered. Enjoy the inside scoop on the Great Western Fan Festival, Singing in the Sun, Inspiration Pop 2929 Movie Premier, as well as a Union Street concert review. Don't miss the inside scoop and look ahead to the Gospel Legends Reunion too. This issue also includes June Music Reviews and a book review on New York Times Best-Selling Author, Ken Abraham's WHEN YOUR PARENT BECOMES YOUR CHILD. June is indeed a busy month of spotlighting the world of Southern Gospel Music! SGNScoops Magazine is free, so please share with your friends, fans and family!
Tags:
Adam Crabb
,
Allison Durahm Speer
,
Ava Kasich
,
Biblical Times Theater
,
Christian Country News
,
Creekside Gospel Music Convention
,
Dixie Phillips
,
ew York Times Best-Selling Author
,
Gospel Legends Reunion
,
Great Western Fan Fest
,
Inspiration Pop 2929
,
jay stone singers
,
Ken Abraham
,
Lorraine Walker
,
Paul Summers
,
Pauline Patterson
,
Rhonda Frye
,
Rick Kiser
,
rob patz
,
Sacred Calling
,
Sandi Duncan Clark
,
southern gospel concerts
,
Southern Gospel Music
,
Southern Gospel News
,
The Kingdom Heirs
Posted in
announcements
,
sgn scoops magazine
|
Comments Off

on June 2013 SGNScoops Magazine
Written by SGN Scoops on August 24, 2012 – 10:43 am -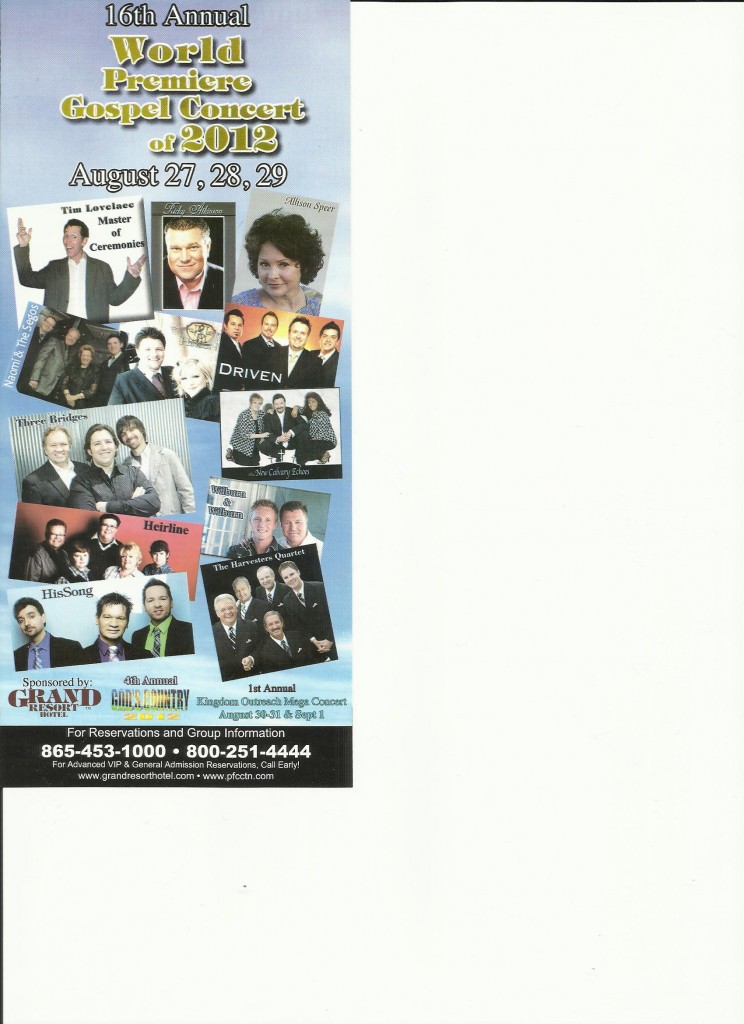 World Premiere Gospel Concert of 2012 will have over 100 great performers in southern gospel quartets, trios, duets and solos on stage at the Grand Resort Convention Center Monday, August 27th , Tuesday, August 28th  and Wednesday, August 29th.
Tim Lovelace will be the host for this awesome 3-day event.  Each day there will be two four-hour shows with the first one starting at 1:00 PM and ending at 5:00 PM.  The second show will begin at 7:00 PM and end around 11:00 PM. Six great shows in all will thrill any gospel music lover. Popular demand has made this the 16th year of this filmed-for-television event.
An added feature this year will be a chapel service each mornings at 10:00.  There will be praise and worship and sharing of the Word by various ministers.
There will be 100+ great gospel singers as well as special surprise guest appearances with other stars and comedy acts.  A few of the groups performing are Tim Lovelace, Chuck Wagon Gang, Harvesters Quartet, Allison Durham Speer, Heirline, HisSong, Wilburn and Wilburn, Naomi and The Segos, Beyond The Ashes, Diplomats, Driven Quartet, Three Bridges, Weston & Christy Hinson, Ann Downing and many, many more.
Don't miss this great time of gospel music, inspiration, fun and fellowship in the Smokies.
Call now to purchase your tickets and make reservations at 865-453-1000 or 1-800-251-4444.  Be sure to ask for Reservations.
Tags:
Allison Durahm Speer
,
Ann Downing
,
Beyond the Ashes
,
Church Wagon Gang
,
Diplomats
,
Faith Pearcey
,
Grand Resort Hotel
,
Harvesters Quartet
,
Southern Gospel News
,
Tim Lovelace
,
Weston & Christy Hinson
,
wilburn & wilburn
Posted in
announcements
,
gospel events
|
Comments Off

on Stage is Being Set For…..WORLD PREMIERE GOSPEL CONCERT 2012 in Pigeon Forge