Written by Staff on August 7, 2014 – 7:58 am -
By Lindsay Huggins
It's my honor today to feature some of my favorite folks in Southern Gospel music. We see lots of families singing and traveling together, but I want to share a very special group with you. The Browns hail from Le Mars, Iowa, making their way across the nation sharing God's love through music. And if this is your first introduction to this family, you can thank me later.
Shelly Brown, "mama" of the group, spent several years singing with a ladies trio. The kids would sing a song or two with them, which must have let Shelly know that they had something pretty special as a family. One of the first concerts as The Brown Family was for a Christmas banquet in Minnesota. Michaela says, "I remember Andrew was so little he just got up on one song and shook a rhythm egg!" They were very young at the time, and just starting out singing as a family. The kids only knew a few songs so they mostly backed up Shelly with their sweet vocals and, of course, cuteness.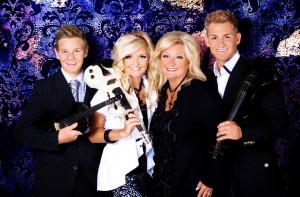 Fast forward to the present. The Browns have now been traveling in Southern Gospel music for 14 years, and those kids are some of the finest young people in gospel music today. Shelly, Michaela, Adam, and Andrew are the ones you will see on stage, but the whole family is involved. Dad Keith is the bus driver and keeps them all in line. From time to time, Keith and Shelly's oldest daughter Jessica Trammel (married to Nick Trammell of The Mark Trammell Quartet) will join them.   This family has grown recently with the addition of granddaughter Tessa, Jessica and Nick's two-year-old. And they are expecting a baby boy later this year!
Their bubbly personalities, beautiful smiles, and unquestionable talent have made them one of our genre's most loved family groups. My first time meeting this fine family was at National Quartet Convention a few years back. Our booths were just across the aisle from each other, and The Browns always had a crowd of folks coming to see them. It was easy to see that the folks loved them. It might have also had something to do with the brownies they gave away, but we'll just say that's a bi-product of their sweetness! Something else that impressed me about The Browns is how they encourage others in the industry, particular the young folks who are furthering the music we love. Each year at National Quartet Convention, they host a night of pizza and bowling and provide a time of fellowship, fun and encouragement, all on their dime! I think that's pretty cool.
For those who might not yet be familiar with their music, you don't know what you've been missing! They are always writing and creating new music, but also love the old hymns of the faith and have a way of taking them to a new level.   The kids all play violin, but when you add a little Southern Gospel flair it turns into a fiddle! Listeners of all ages will enjoy the hymns done "Brown style", and you can find these on their HERITAGE HYMNS COLLECTION albums.(more than one?)
Most importantly, though, is their testimony of God's faithfulness and indescribable love. This season in their ministry is focused on sharing the hope and joy that can only be found in a life rooted in God's love for us, and our love for Him and those He has placed in our lives. 1 John 4:16 says "And so we know and rely on the love God has for us. God is love. Whoever lives in love lives in God, and God in them." The Browns want to do just that: live in love. Michaela says, "Dad has always told us 'You don't have to look far for ministry,' and that is truer today than ever before."
Having recently signed with Stowtown Records (a record label formed by Ernie Haase and Wayne Haun), The Browns are delighted to share new music from their latest project LOVE LOUD. It's the perfect title for the heart of their ministry.   This journey with a new record label has been an exciting time. "It has been such a pleasure to team with Stowtown in taking our music to the people. Wayne Haun did an incredible job producing it as well as writing some of the music. All the family members had a hand in writing over half of the songs on the album. We love making new music and we hope you enjoy listening to it as much as we loved making it!"
This family has had the privilege of performing on some of the biggest stages across the country. Southern Gospel fans have followed them from the Gaither events such as Family Fest and Gaitherfest, to the main stage at National Quartet Convention, all the way to Branson, MO, where they performed over 30 Christmas shows in the Americana Theater. Their bus has seen many miles!
Speaking of the bus, life on the road is "CRAZY", they say. When you put the whole Brown family together 24/7, you never know what might happen, but they enjoy being with each other. Who knows what new song might be birthed from the next trip on the bus!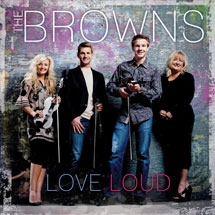 We've talked about the music and ministry, but did you know The Browns have a huge family farm? Yes, these beautiful people are farmers!! "Our farm is a century farm. We grow corn and soybeans… lots of them!  We all help in various ways and are no strangers to large equipment, hard work and a little dirt on our clothes now and then."   Luckily they clean up pretty well!
When they aren't working on the farm or singing on stage, you can find them furthering other creative outlets and ambitions. Michaela has studied at Le Cordon Bleu in Paris and Cambridge School of Culinary Arts, and has taken a few notes from the best cooks she knows…her mom and grandmas. You can find her delectable recipes at www.stagetothestove.com.   Michaela and Adam are also real estate entrepreneurs, and enjoy rehabilitating and managing properties.   See? They really can do it all.
You should probably be watching for a reality TV series soon! Okay, seriously I don't think there are plans for one, but with farming, hobbies, ministry on the road, and upcoming life events (Andrew is graduating high school, Adam is getting married this summer, and Grandbaby #2 is on the way), they'd have plenty of material. Not the least of which could be the retelling of the time the kids left Shelly at the airport because she was late to the gate!
By now, I know you can't wait to connect with The Browns, find them in concert in your area, and add their music to your collection. Take a moment to visit their website at www.thebrownsmusic.com. You'll be glad you did.
First published by SGM Radio website in May 2014.
For current features by Lindsay Huggins on SGM Radio visit http://www.sgmradio.com/
Tags:
Adam Brown
,
Andrew Brown
,
Christian artist
,
Christian Music
,
gospel music
,
Lindsay Huggins
,
Michaela Brown
,
sgm radio
,
Shelly Brown
,
The Browns
Posted in
SGM Radio
|
Comments Off

on Spotlight on The Browns
Written by Rhonda on August 14, 2010 – 4:15 am -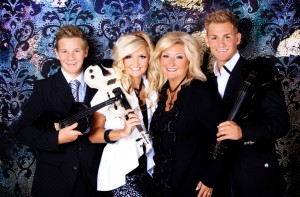 August  14, 2010
Brentwood, TN (Mansion Entertainment) August 14, 2010 – The Browns have recently signed with Manor House Music and have the distinction of becoming the first addition to the Manor House label, a new division of Mansion Records.
This family group, based out of LeMars, Iowa is comprised of Shelly, Michaela, Adam and Andrew Brown, They have performed across the country from the Americana Theatre in Branson, MO, to Dollywood Theme park stages, to singing on over seven Royal Carribean and Carnival cruise ships. The Browns have also performed for Former Vice President Dan Quayle and were invited to sing for President George W. Bush. This award winning group has received the prestigious honor of Top 10 Mixed Group of the Year for the second year in a row as well as having been awarded the Top 5 Horizon Group of the Year for 3 consecutive years by The Singing News Magazine Fan Awards. Their last single release, "It's A God Thing", was a Top 40 on The Singing News Charts peaking at #23.
The Browns are currently writing and selecting songs for their new project and will begin recording in Mansion Entertainment's world-class studio in the near future. A release date will be forth-coming. For more information regarding The Browns, Mansion Entertainment, Manor House Music please go to www.thebrownsmusic.com or www.themansionentertainment.com.
Tags:
Adam Brown
,
Andrew Brown
,
Manor House Music
,
Mansion Entertainment
,
Michaela Brown
,
Shelly Brown
,
The Browns
Posted in
announcements
|
Comments Off

on The Browns Sign With Manor House Music