Written by Staff on July 22, 2018 – 7:09 am -
Okay this one is the hardest for me,  because people have hurt me, and it's natural to want revenge but that's not what Jesus said for us to do.
Ephesians 4::32 says, "Be kind and compassionate to one another, forgiving each other, just as in Christ, God forgave you." (NIV)
The word "forgive" or a form of it is mentioned 95 times in the Bible.
48 times in the Oid Testament.
47 in the New Testament.
With that kind of repetition, we know that it is important to God.
Question 1: What happens if I don't forgive?
Answer: Heb. 12
:
15 tells us if we don't forgive, then bitterness takes root inside us and defiles us, changes us.
Question 2: Have you heard this? "I'll forgive but I won't forget!"
Answer: I have heard it often. Jesus tells us in the model prayer, "The Lord's Prayer" as we call it, ( Matt. 6:12-15; Mark 11:25-26; Luke 11:4) to forgive. If we don't, then our prayers won't get past the ceiling.
Paul tells us in 2 Corinthians to settle any issues we have with our brothers and sisters before we pray. It is called "reconciliation." If we don't, (Matt. 5:23-24) Jesus won't hear us.
Forgiveness begins with you, on the inside. You have to be willing to forgive. Why? As I said, we are told in Hebrews 12:15, that bitterness takes root if we are unwilling to forgive. I've seen bitter people and the world is full of them. The churches are full of them too! Yes, I said it – because I've seen it.
And finally, forgiveness heals. Not only the one you forgive, but you, too. It starts on the inside and works its way out. Healing takes place and miracles can happen.
When Jesus healed someone in the gospels, (read them,) he forgave that person,  and they were made whole.
Think about it, then do it.
Forgive.
By Pastor Stephen Widener
Read the June 2018 SGNScoops Magazine HERE.
Find SGNScoops Magazine On Facebook HERE
Download The PDF Version Of SGNScoops June 2018 Magazine HERE
Listen To The Best In Todays Gospel Music Online HERE
Tags:
Christian life
,
Forgive
,
Pastors Ponderings
,
Stephen Widener
Posted in
announcements
,
Christian interest
,
SGM Radio
|
Comments Off

on Pastor's Ponderings: When it's Hard to Forgive
Written by Staff on December 5, 2016 – 6:20 pm -
Cincinnati, OH –  Exciting news coming from Bryan Hutson of Rescue Me Ministries for 2017. Bryan Hutson, 24-year veteran of gospel music, announces he will continue ministering under the ministry he and his wife, Yvonne, formed four years ago, Rescue Me Ministries. The couple is passionate about ministering to couples, families and spreading the gospel through music, preaching and speaking engagements.
Rescue Me Ministries previously limited their engagements to the holiday season. However, Bryan will continue throughout the year doing limited dates under Rescue Me Ministries. He will be doing
solo dates as his calendar allows. Bryan and Yvonne will be available to also do marriage retreats, conferences and special events on a limited basis. Bryan looks forward to opportunities for speaking and preaching as well as continuing his vocal career. The upcoming year will hold a new website along with a new recording for the veteran. Details are coming together about an exciting new tour for the upcoming year.
You can receive more information about scheduling an event by contacting Gordon Lutz at The Lutz Agency at 740-409-1060.
You can also visit Rescue Me Ministries Facebook page or Friends of Bryan Hutson Facebook page for more information.
For more Gospel music news click here.
For monthly blogs by Bryan and Yvonne Hutson on marriage and life, please visit SGMRadio website. Their latest blog entitled, "Love Me Tender," is posted here. It begins:
From B:
Intimacy. What does that word mean to you?
The very nature of the word means different things to different people. To some, it simply means "physical touch" or being close.
I googled the word: "Intimacy" and it says "close familiarity or friendship; closeness."
"the intimacy between a husband and wife".
So, what happens when you CAN'T be "physical" with your spouse?
For more from "Love Me Tender," by Bryan and Yvonne Hutson, click here.
Tags:
Bryan Hutson
,
Christian life
,
family
,
gospel music
,
marriage
,
Rescue Me Ministries
,
Yvonne Hutson
Posted in
announcements
,
artists
,
SGM Radio
|
Comments Off

on Bryan Hutson announces plans for 2017
Written by Staff on May 7, 2016 – 8:10 am -
By Steve Boctor—Husband, Father, Author and Pastor
Mother's Day can be an absolutely wonderful day of celebration. I can picture the children and their dad tip toeing to the kitchen early in the morning quietly making breakfast for their mother. They set the plate of food, a hot cup of coffee, her favourite flower and a card on the tray and bring it all up to her while she's still in bed. What a special moment of love and appreciation for such a deserving mother.
However, Mother's Day can also be very difficult for some women as it can conjure up many feelings of sadness and pain.
– Some are hurting because the mother you love deeply passed away.
– Others are wrestling with the reality that your mother has been diagnosed with a terminal illness and cherishing every moment you have with her is bitter sweet.
– Some have longed to be a mother for so long; but the medical reports have crushed those dreams.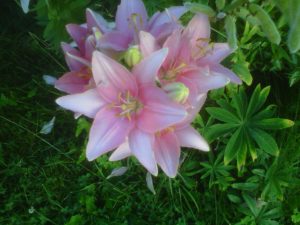 – Some of you may even be grieving, or angry, because you never really had a good mother in your life and were left to raise yourself.
– Some mothers are feeling the tremendous burden of a child (or children) that has not only left home, but is living an unhealthy lifestyle.
– Some are even dreaming of how old your child would be today if they weren't taken from you so prematurely.
On such a day as this, no matter how good or difficult it may be, I believe there is one thing worth remembering: God created each of you with unique qualities that are worth honouring and celebrating.
The Apostle Paul wrote; "Whatever is true, whatever is noble, whatever is lovely, whatever is admirable—if anything is excellent or praiseworthy—THINK ABOUT (ie FOCUS on) such things." (Philippians 4:8)
Tags:
Mothers Day
,
SGMRadio
,
Steve Boctor
Posted in
Christian interest
,
SGM Radio
|
Comments Off

on Celebrating Mother's Day not always easy, possibly painful
Written by Staff on May 4, 2016 – 6:30 pm -
Anyone who has been associated with Southern Gospel Music for any length of time will know the name Big John Hall.   This great baritone/bass singer has been around the Gospel music circuit since the early 1960's and probably before that.
In the early days, he was probably best known for his great bass singing with the Stamps Quartet.  This was before J.D. Sumner bought the group, and changed it to J.D. Sumner and the Stamps Quartet.  He also sang bass for the Blackwood Brothers from 1965-1968.   After leaving the Blackwood Brothers, John Hall began a solo career and has been featured on many of the Gaither videos.
One of my favorite moments on one of the Gaither videos was watching the faces of some of the younger bass singers, when John Hall was asked to come and sing "How Big Is God."   You could see them looking with admiration and awe.
John Hall has recorded many great records.   Included in the list are: Here Come The McDuff Brothers with Big John Hall; I Don't Know Why; If God is Dead; I am Loved; Life In Jesus Name; Light of the World; The Lord Liveth; Portrait In Sound; Reason I Praise; Rise And Be Healed; and many more.
There are many great bass singers singing today. My own personal opinion is that many bass singers can really hit those low notes, but they are not great soloists. George Younce was an exception and so is John Hall. Big John can take a song and give it his own personal touch, and you can understand every word.
My late father was not too knowledgeable on Southern Gospel Music but every once in a while he would ask me, "What's that Big John Hall doing these days?"  He loved John Hall's singing.
I was asked to run the audio for Big John at a concert a few years back at my home church in Peterborough and I was struck by his professionalism. I had set up a microphone for him, an SM57. On the pulpit was another mic, I can't remember the brand, but John asked me if he could use that microphone instead. After hearing the sound that came out of that mic during practice, well, let's just say, the man knew what he was doing.
I had the privilege of talking with John Hall recently and he told me that he had been in London, Ontario, with the new Blackwood Brothers with Jimmy Blackwood. John had been asked to attend as well as Bill Shaw and to join in with the group! John said, "It sounded as good as the old Blackwood Brothers."  Wow! I wish I had been there!
What is Big John Hall doing these days?   He is still very busy, traveling and singing in many churches.
John Hall has a heart for ministry, and was quoted by Jerrell Millar, editor of the Remnant magazine, as saying,  "he has a voice sent from Heaven for days such as this"(1) (referring to a revival meeting, that John Hall was asked to sing at). In 1989 he was asked to come to Dothan, Alabama, to participate with Dudley Hall in a series of meetings at the Auditorium there. What happened in that meeting had a long-lasting effect on the body of Christ in the Southeast Corner of Alabama. John was asked to come and be the worship leader.
John Hall then led the worship in what was supposed to be just a few meetings organized by the local churches in that southern city. It was as predictable as afternoon thunderstorms in Alabama but the lightening was supplied by God. Night after night Big John took the mic and led people into the realm of the spirit where they had never been. It was revival as they had never seen it before.  That was in 1989 and the flow and move of God has only increased.
You can hear John's deep baritone voice as it sings in a majestic rhythm but what is coming through that voice is not just a normal deep voice. Big John will tell you it takes more than talent to sing before thousands of hungry people each week. The responsibility of change and the mantle of freedom comes along with the voice these days. (2)
Big John Hall considers his voice secondary to his ministry. Sharing Christ and leading a congregation in worship is first in his life. John and his wife Judy attend Calvary Cathedral, in Fort Worth Texas.
I'm not a bass singer. I've tried. I'm a baritone. But if I were a bass, I would want my voice to sound like Big John Hall.
By Philip Foster. Find out more about Phil here.
First published 2012/09/17 on www.sgmradio.com
Tags:
Big John Hall
,
Blackwood Brothers
,
Stamps Quartet
Posted in
artists
,
SGM Radio
|
Comments Off

on Big John Hall: A Voice Sent From Heaven
Written by Staff on July 23, 2015 – 9:40 am -
From Bryan Hutson …
This month's article may be the most difficult yet most transparent one for me.
It is difficult because it's a subject that I have failed at MISERABLY.
I have said before that Yvonne and I don't have marriage counseling degrees framed on our wall. We don't ever want to be perceived as "having it all together" because we don't. We have both attended the "Marriage School of Hardknocks." We even feel like we're being hypocritical at times. Many times we find ourselves failing at THE VERY ISSUES that we are preaching for or preaching against.
I admit that when I came into our relationship, that I brought a lot of emotional baggage. Years of hurt, rejection, bitterness and pain. Yes, a lot that I openly admit, that I brought on myself.
The issue that I battle is making my wife and children PAY for things from my "previous life". "Our previous life" is what Yvonne and I call the years BEFORE WE met and married.
I grew to adulthood and made mistakes and in a "previous life", I was TOLD that I was a "mooch" (one who doesn't pull their weight in finances or in the household) and a "Monster" because of my anger issues. I battle those "labels" that were put on me. See, if you're told something long enough, it's hard NOT to believe it.
A few weeks ago, Yvonne and I were riding in the car after seeing our Granddaughter being born and she inadvertently said something innocent that I took offense to. My mind raced back to my "previous life" where I felt like my feelings didn't matter and I wasn't allowed to voice my opinion about certain issues. After Yvonne innocently made her remark, I emotionally shut down and as she asked "What's wrong?" I kept repeating "Nothing, I'm fine."
At that moment, I allowed the enemy a foothold. I allowed the devil to whisper to me "Here we go again, YOUR opinions didn't matter and YOU don't matter."
See, I KNOW Yvonne's heart and I should've realized that she never meant to hurt me. I was allowing the baggage of my previous life to weigh me down IN THIS LIFE. I CHOSE to be offended and instead of letting it go, I held onto that pain for 2-3 days.
I also allowed the enemy to keep re-stating those lies to me. "YOUR opinions don't matter, because YOU don't matter. If you tell her how you feel, you'll be perceived as a Monster."
I was distant and quiet that week. It was like there was the "Elephant In The Room" but I didn't want to talk about it.
Which in turn caused Yvonne to feel like she wasn't worth it and our marriage wasn't worth fighting for.
I was making Yvonne pay for something that happened to me YEARS ago. However, in order for she and I to have a future…we must deal with our past.
Click the link to read Yvonne's response….
Tags:
Bryan Hutson
,
Christian life
,
marriage
,
SGMRadio
,
Soul'd Out
,
Yvonne Hutson
Posted in
artists
,
Christian interest
,
guest
,
SGM Radio
,
special feature
|
Comments Off

on Bryan and Yvonne Hutson: Baggage Claim
Written by Staff on May 12, 2015 – 9:36 am -
Pigeon Forge TN – SGN Scoops is pleased to announce the hosts of the 2015 Diamond Awards in Pigeon Forge, Tennessee. Dr. Jeff Goff and Little Jan Buckner-Goff will be the guest hosts for the awards ceremony to be held on November 3, 2015 during the Creekside Gospel Music Convention at the Smoky Mountain Convention Center.
"Little Jan and I are truly excited to emcee the Diamond Awards program in Pigeon Forge this year, November 3, 2015," said Dr. Goff recently. "We can hardly wait to see our fellow artists and so many of our Gospel fans at this prestigious event. Mark your calendar and plan to be there with us."
Coastal Media CEO and publisher of SGN Scoops, Rob Patz, is also excited to have Jerry and Little Jan at Creekside this fall. "The Goffs are known and loved by so many in Southern Gospel, and they have such a way of engaging an audience, that I know this year's Diamond Awards will be truly special. Please join us for this memorable event!"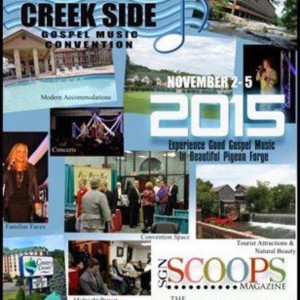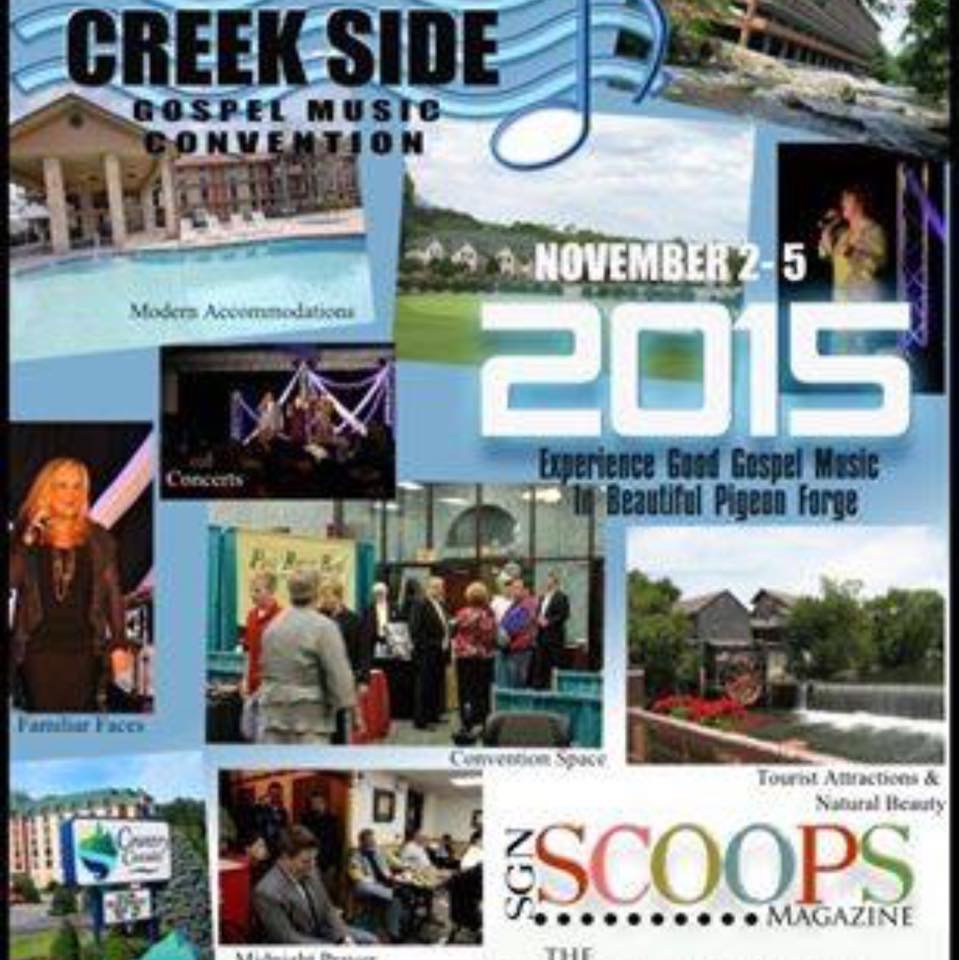 Creekside Gospel Music Convention is being held on November 2nd through 5th at Pigeon Forge, and fans are encouraged to reserve their tickets early. For ticket and lodging information, contact Rob Patz at rob@sgnscoops.com or 360-920-4057. For more information visit http://www.creeksidegospelmusicconvention.com/
Tags:
2015 Creekside Gospel Music Convention
,
2015 Diamond Awards
,
Dr. Jerry Goff
,
Little Jan Buckner-Goff
,
Pigeon Forge TN
,
rob patz
,
sgn scoops
Posted in
announcements
,
artists
,
awards
,
breaking news
,
christian entertainment
,
Christian interest
,
diamond awards
,
exclusive report
,
gospel events
,
industry news
,
SGM Radio
,
special feature
|
Comments Off

on Dr. Jerry Goff and Little Jan Buckner-Goff to host 2015 Diamond Awards
Written by Staff on May 5, 2015 – 2:23 pm -
By Rebecca Little Burke
Many years ago a quartet was formed known as The Cathedral Quartet. This quartet was one of the greats and has paved the way for many in Southern Gospel music, including this month's featured artist. As the recipient of the Singing News Fan Awards 2007 Horizon Individual and 2008 Favorite Young Artist, as well as an accomplished songwriter, there is no doubt that God has been at work behind the scenes over many years preparing for this young man to step on stage and share the Gospel message through song. It is my absolute pleasure to introduce you all to my friend, Mr. Nick Trammell.
RB: Tell us about your start in Southern Gospel music.
Nick: I was born in 1984 when my dad (Mark Trammell) was with the Cathedral Quartet. I was blessed to grow up around some of the most influential people in the industry and didn't even realize it until I was grown. I watched my dad get on the bus to leave every weekend and always dreamed of someday getting to do the same thing. In 2006, I got my first opportunity to sing with some of my favorite people, The Perrys. Joseph Habedank called me in August of 2005 and asked me if I would be willing to fill in for him for a couple of nights while he attended his best friend's wedding. Of course I accepted! I was scared to death both nights, but after that weekend, I was hooked. I prayed when I got home for God to allow me the opportunity to do this. Almost one year to the day later, in August 2006, I stepped on the stage in Seminole, OK again with The Perrys, my first full time group. Read more »
Tags:
gospel music
,
Jessica Trammell
,
mark trammell quartet
,
Nick Trammell
,
Rebecca Little Burke
,
southern gospel
Posted in
christian entertainment
,
Christian interest
,
SGM Radio
,
special feature
|
Comments Off

on Young Gospel: Nick Trammell
Written by Staff on May 1, 2015 – 9:21 am -
In respect of the upcoming National Day of Prayer on May 7, 2015 and the release of Karen Peck and New River's album and video, Pray Now, we have posted this devotional on the Lord's Prayer by Lorraine Walker and Stephen Widener. We encourage you to visit Karen Peck and New River's website and view their video, "Pray Now."
For several months now I have been praying Our Lord's Prayer as part of my daily devotions. God has been teaching me and I've been trying to comprehend at least part of what Jesus was saying when He gave the disciples this prayer in Luke 11:2–4 and in Matthew 6:9-13.
I asked my friend Stephen Widener, an assistant Pastor in Lenoir, North Carolina, to give his thoughts as well. My prayer is that this will lead you into your own study as we take a deeper look into these words from our Lord.
Stephen: "Let me say this, it is the model prayer of how we're to pray. The Bible clearly says to pray without ceasing (1 Thess. 5:17). God wants to have an intimate relationship with us, as He did with Adam in the Garden of Eden before Adam sinned. This is why God sent His Son, Jesus to bring us back to the Father, God Himself.
"When you're intimate with someone, not in a sexual way, but have a relationship where you talk consistently with them, it creates a special type of intimacy. That is what God wants and that's what prayer is: talking to a Holy, Sovereign God. You are special to Him.
"Prayer is not getting God to do things for you, even though He wants to, but getting you to do His will. (v.10) His will does not go against His Word. When we are praying, we are to pray specifically." Read more »
Tags:
karen peck and new river
,
Lorraine Walker
,
national day of prayer
,
Pray Now
,
Stephen Widener
,
The Lord's Prayer
Posted in
SGM Radio
,
special feature
,
Uncategorized
|
Comments Off

on Praying the Lord's Prayer
Written by Staff on March 27, 2015 – 12:03 pm -
By Cindy Walker
Restless throughout the Sabbath night, drifting into the sweet escape of sleep only to awaken repeatedly with the sorrow of deep grief clutching her heart, Mary rose before dawn.  Methodically and numbly she gathered up the jars of spices and oils that she, Salome and James' mother had prepared before sunset on preparation day, the day before the Sabbath.  A timid knock on her door made her jump, and fear rose in her throat before she recalled that Salome and the other Mary were to meet her here.  She quickly pulled her garments close to her and slipped out the door into the shadows, where the other two women waited.  They silently drew into each others' arms briefly, hoping somehow to gather strength from each other for the sorrowful task ahead of them.  Silent tears trickled down their faces as they each gathered up an equal share of the jars and quietly started toward their destination.
The pre-dawn light cast strange shadows into the cool mist that hung over Jerusalem and the women shivered, drawing their black robes tighter around themselves.  Each was lost in her own thoughts, terrible images flashing through their minds; bitter accusations and insults hurled at One who only came to bring new life and hope to them.  How could the crowds have waved palm branches one day, only to later have risen up and crucified the One who had such love in His eyes, such healing in His hands, such compassion in His heart for sinners?  How could this be?  It seemed impossible.  It felt like a nightmare, and yet, the chill of the early morning and the reality of where they were going struck with a crushing blow.  It was a nightmare…but it was a real one.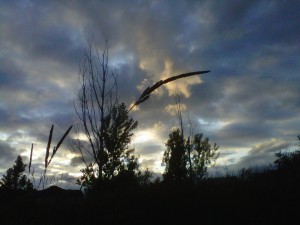 Mary Magdalene continued to replay scenes in her mind as she walked silently beside two of her closest friends.  She recalled how different her life was since she met the Messiah.  She grew up in Magdala, a village well known for its fish trade, wool and woolen dyes.  Early on in her life she worked alongside her mother and quickly learned the skills of spinning wool and dyeing it, preparing garments that were sought after by many passing through the countryside.  Mary's mother was a wise woman who managed her household, servants and purchases with skill and confidence while her husband and sons spent long hours on the fishing boats, earning a denarius each for their labour, day after day.  She was proud of her father and how he provided for them so faithfully.  Her family was happy and comfortably well off in their home in Magdala.  Everyone was healthy and rejoiced in the pleasure of a hard day's worth.  That was the 'norm' for her family.  That is, until Mary became sick.
She remembered how she came home one day after several hours at the market selling the woolen garments her family was famous for.  She thought she had been out in the sun too long that day.  Her body felt weak and the pain in her head grew stronger even after she lay down.  After a few days, Dr. Luke grew more alarmed when she began to describe times of collapse, when her muscles would give way, sending her to the ground.  Also, of times when her heart and lungs seemed to suddenly cease their function leaving her gasping for breath moments later.  The powders and herbs he prescribed did little to alleviate Mary's pain or improve her condition as days stretched into weeks.  The painful boils and scaly skin condition that came several weeks later added to the hopelessness and discouragement that had settled on her and on their home. 
No longer were the sounds of laughter heard where once the joyous sound was a staple during their evening meals together.  Not that Mary joined them for meals now anyway, she was too sick to take much more than broth and bread.  Weeks dragged into months and then a year passed, with no improvement in her condition.  Gone was the hope that every young Jewish girl dreamed of: the hope of a husband and a family.  Mary was known in the village now as being unclean because of her illnesses. Some even said she was demon-possessed, that each malady she struggled with was a demon that plagued her.  Mary's mother, father and brothers tried to encourage her.  They felt the stigma that rested upon her but felt helpless to remedy it.
Then one afternoon the village grew loud with excitement.  Someone shouted that Jesus of Nazareth was passing by!  Although many in Magdala had forsaken their worship of Jehovah, still they were anxious to meet this Man they had heard so much about.  Was He truly the Messiah, or just a prophet, as some said?  Mary's family talked of it as they prepared to join the people waiting in the street.  Mary wondered if the stories she had heard were true.  He had been in other villages and people had been healed.  Was that possible?  If this Jesus really did heal people, could He heal her? 
Her sicknesses had been with her so long that there was not much more than a flicker of faith that pushed its way through the pain of hopelessness and discouragement that pressed upon her.  "Perhaps He is able," she whispered to herself, "But would He be willing to heal me?"  Many of the villagers believed she had demons that plagued her and they looked upon her with pity and distain as they moved away from her in the crowd.  For this reason alone, Mary was able to move forward to the edge of the street to see the Man everyone pressed in to see.
Suddenly He was before her, and Mary gasped as He looked at her.  She was so used to the looks of the villagers that she was shocked at what she saw in His eyes.  She found she could not look away from the compassion, care and hope she saw shining there.  No one had ever looked at Mary that way, especially since she had become sick a year ago.  She saw Him smile. 
Then as He stepped toward her, she saw Him rest His hand on the head of a little girl whose lifeless eyes suddenly sparkled, as for the first time in her life, she was able to see!  She threw her tiny arms around Jesus' leg and giggled.  He beamed at her and patted her head before moving toward Mary.  She stood in awe at what she had just witnessed and faith leapt in her heart.  This was no ordinary man!  This man was from God!  Little Sarah was just healed of blindness!
Jesus reached out His hand toward Mary and she knelt to kiss it and bowed down in worship.  She had seen Him heal and her heart rejoiced in gratefulness.  She was in the presence of One who deserved her homage.  Jesus rested His other hand on Mary's head for just a moment and said quietly, "Arise, your faith has made you well."  Then He was gone in the throng of people calling out His name, begging for His touch.  Mary remembered rising slowly from the ground, the noise of the crowd fading as they hurried to catch up with Jesus.  She stood alone suddenly, staring down the street at the crowd.  His words burned within her, "Arise, your faith has made you well."
Mary trembled as her faith in the Healer swept over her.  She looked down at her hands.  The boils were gone.  And the skin condition that had left her hands gray and scaled had been replaced with the creamy, golden skin of her childhood.  Her heart began to hammer, but not because of the plague that routinely squeezed the life from her heart and lungs.  In fact, she could breathe more freely than she had done in months!  Her headache was gone.  Mary realized that although she usually could only stand for brief periods of time without her legs suddenly collapsing, that strength surged through her body!  There was no weakness…there was no muscle collapse.
Mary's heart pounded with the realization of what had happened to her.  She was healed.  This man of God, with such compassion in His eyes, had known her needs and healed her without a word from her own mouth.  She hadn't time to call out to Him for healing when she witnessed Sarah's; she had just bowed in worship of this God-man.  And He had healed her too!
"Mary!"  Mary was startled as she was brought back to the present.  Salome had asked her a question.  What was it she had said?  "Mary!  How are we going to roll the stone away?"  None of them had thought of this when they started out for the tomb.  "The Master will see to it," Mary said quickly.  Then she hesitated, looking into the eyes of the other two women as the reality of what she had just said and where they were going struck them with new grief.
How often had they said those words over the years as they had traveled with Him and the other disciples?  As they helped, as they cooked and served meals and set out sleeping mats; as they moved from town to town, sometimes with abundance and sometimes with little provision, they had often experienced circumstances where questions and doubts would arise.  And yet, each time, the food was enough, the lodging was enough, the provision was enough.  They knew it was because of the Master.  He was their Teacher, their guide and their God.  He was Messiah.  They saw the miracles, but more than that, they saw the kingdom of God through His teachings.  There was hope!  Messiah was here!
Mary looked at the women and tears streamed down their faces, mirroring hers.  "The Master will see to it."  Those were the words that came from her lips.  The words that came from her heart.  But none of that was true now. The death of hope crushed Mary's heart.  She shuddered.  Partially from the damp gay mist that hung heavy around them, but the real depth of her shudder came from her soul.  What would they do?  About the stone?  About living life without Him? Mary's heart cried out silently to Jehovah, "Please.  Will You not grant this one last chance to serve my Master?"  The cold chill of silence gave no answer to Mary's spirit.
She lifted her head and gazed upward, her prayer lifted to the Father, silently seeking communion with Him.  As she lowered her gaze, through the dim light of the pre-dawn she could see the tomb ahead of her.  She blinked, then quickly turned her eyes to the other women.  They stared ahead, eyes riveted on the scene before them.  No one said a word as they grasped each others' arms and ran toward the tomb.  The stone was gone!  It was not in front of the tomb, but pushed aside!  With fear, the women moved closer, then began to weep.  Someone had stolen His body!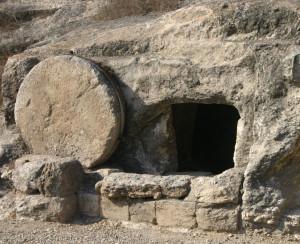 There were no words to express the anguish dashing their hearts.  With tears falling, the women turned to each other in fear.  James' mother and Salome gazed at Mary, grief overwhelming them, causing their eyes to grow large and dark.  Mary saw the fear that she felt mirrored in their eyes.  They wanted to go home. All this was too much to comprehend after the terrible days leading up to the crucifixion of their Master.  Mary drew into their arms for a moment before urging them to return to their homes to rest.  "I will tell Peter," Mary said, "Do not worry.  I will tell Peter.  He will know what to do."  The women drew together one last time to gather strength and then parted to go their separate ways.
Peter and John and the others looked at Mary without saying a word, but their eyes showed a mixture of grief, disbelief and pity.  Poor Mary.  This was obviously too much for her.  Peter sprang up and rushed from the door of the house, no longer fearful of who might see him or associate him with the King of the Jews.  John followed, assisting Mary and talking quietly with her as they journeyed back to the tomb.
Suddenly, up ahead, Peter stopped still.  John glanced at Mary and then over Peter's shoulder. Mary was right! The stone was rolled away!  They both looked at her and then back at the tomb.  Peter bent to glance inside but John pushed past him and walked into the sepulchre.  The grave clothes were there!  And the special napkin that had covered their Teacher's face was folded and set aside!  What could this mean?  There were few words exchanged between the three, Peter and John inside the tomb, and Mary sitting on a stone nearby.  The sun was beginning to rise and melt the gray mist of dawn away, warming the grass and the tiny white flowers that fluttered now in the soft breeze.  Mary noticed none of that.
"Where have they taken my Lord?" she whispered.  Peter and John told her they needed to go back to the house to tell the others.  Mary shook her head.  "I just want to stay here," she said.  Peter and John looked at each other in concern.  They didn't want to leave her here.  Alone.  In her grief.  And yet they must tell the others.  They must come up with a plan of what to do next.  They looked at her again, urgency flashing in their eyes, but Mary just shook her head.
"Come to us when you can," John said softly, and Mary nodded as she starred off in the distance, tears glistening in her eyes again.  She didn't hear them leave, she was lost in her thoughts; her healing, His traveling ministry, His teachings, His righteousness, His arrest, His beating, His crucifixion, His death.  Hope died within her. It was over.  There was nothing left to hope for.  He was gone.  Her Master, her Teacher was gone.  Her healing didn't seem to matter now because now there was no one left to minister to.  Was it all in vain?  Had she put her hope, her future, her life into the hands of Someone who was dead? Weeping overcame Mary as she sat on the stone a short distance from the tomb.  Turning sorrowful eyes to the tomb, Mary saw two men.  She was not surprised by their presence as it was customary for the gardeners to be working in the early morning before the heat of the day arrived.  The man said to her, "Why are you weeping?"
Mary thought it strange for one acquainted with this garden tomb to wonder at her tears but answered him saying, "Where have you taken Him?"  She glanced to the far side of the garden to see if there was another tomb nearby.
"Mary!"  The gentle, yet commanding voice was the only one like it!  Mary quickly turned.  "Teacher!"she cried out.  A smile flickered through her tears as she bowed down in worship before Him, just as she had done many years ago.  She reached for His hand.  He gently told her, "Do not cling to Me, but go tell the brethren that I am ascending to my Father and your Father, to my God and your God."  His eyes shone with compassion and grace as He smiled at her faith. 
Mary rose from the ground, her eyes fixed on the Lord, hope dawning within her at His words.  He was alive!   The Master was alive!  Hope was not dead.  Hope stood before her and promised eternal life.  The Lord had risen!  A smile started within her heart and burst onto her face!  "Messiah!" she whispered.  "Messiah!"  His words were true!  Because He lived, she would live also!  She rushed off to join the other disciples.  She had much to tell.  The greatest news of all!  She had seen the Messiah!  The Lord had risen! "Death had lost and life had won, for morning had come."1 
 By Guest Author Cindy Walker
First published April 2012 on SGM Radio website. For current features click HERE.
1. "Then Came the Morning Lyrics." Lyrics.net. STANDS4 LLC, 2015. Web. 27 Mar. 2015. <http://www.lyrics.net/lyric/8442675>. Written by: CHRISTIAN, CHRIS/GAITHER, GLORIA/GAITHER, WILLIAM. Lyrics © Warner/Chappell Music, Inc.
Tags:
Easter
,
Jesus
,
Mary Magdalene
,
sgm radio
,
Then Came the Morning
Posted in
SGM Radio
,
special feature
,
Uncategorized
|
Comments Off

on Then Came The Morning
Written by Staff on February 13, 2015 – 11:08 am -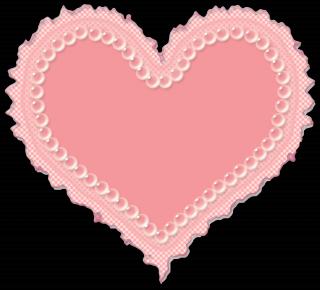 By Lorraine Walker
Love has many languages and also comes in many disguises. Among the faces of love are people like Mother Teresa, St. Francis of Assisi and Mary Magdalene. I've encountered some current faces of love that I wanted to share with you this month.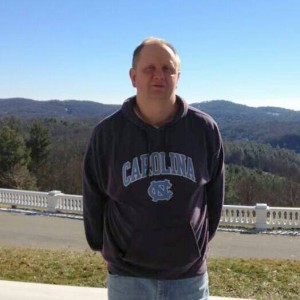 Stephen is a regular preacher who lives a regular life in a regular town. A few weeks ago, this town had an irregular snowstorm causing a lot of damage and loss of power. Stephen decided to shovel out the drive for the widow next door. He then headed to her neighbor's house, owned by an 87-year-old lady who was also alone. Stephen shoveled her steps and walk, bringing her the mail that she had been unable to reach for several days. In the post was a check that the widow had been expecting for years, money that was desperately needed. She thanked Stephen and the Lord for giving her a good Christmas. She called him an 'angel' but Stephen said, 'No, just a preacher with a shovel.'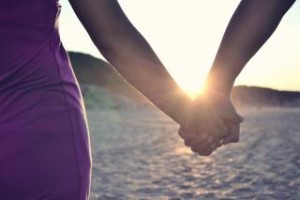 William and Eunice have been married 70 years. The sweethearts have known each other all their lives, walking to school together, dating for a year and then marrying at 18 years of age. They pastored together for 50 years, raised a boy and girl, helped those in need and have been a blessing to all who have known them. Their road hasn't been easy or carefree. Their son passed away twenty years ago. However, the years have been kind to this couple, their faces showing the results of lives well lived. William and Eunice radiate a love for God, for each other, and for those they meet.
I have a wonderful friend with a loving family and the gift of hospitality. In the last few years, she has undergone a battle that came close to taking her life several times. Walking through the wilderness of mental health issues, 'Grace' felt she had lost the love and presence of God in her life. Desperate and alone, she renounced the evil that had taken over her mind. Convinced there was no escaping an eternity of hell and separation from the Lord she loved, her days were a nightmare of voices, panic and terror.
Grace shared her story with a pastor and his wife. They spoke truth into her life, truth that was able to break the bonds that had ensnared her mind. Grace embraced this truth and realized that nothing could separate her from the love of God. She found that concentrating on the evil in her mind had kept her from running to the arms of her Savior. Her healing began on that day.
Today, through the love and mercy of a healing God, Grace is finding her way back to health. Her eyes radiate the peace and joy that once filled her life, but she is a changed person. Her thirst for more of God is greater than ever. She wants to know Him, to love Him with every fiber of her being. Grace had a calling on her life before entering the valley but now realizes that she is being refined as gold for the work that God has planned for her. Grace, in her desire to know more of God, exudes a love for Him that is powerful and humbling.
Love comes in many faces. I pray we seek to wear the face of the love of God in everything we do today.
By Lorraine Walker
First published as a Reality Check on SGM Radio website, February 2010.
For more Reality Check editions, click on to http://www.sgmradio.com
Tags:
Faces of Love
,
God's love
,
Jesus' love
,
Valentine's Day
Posted in
guest
,
SGM Radio
,
special feature
|
Comments Off

on The Faces of Love