Written by scoopsnews on May 26, 2018 – 5:15 am -
No matter your age, there's likely something that you fear.  It could be fear of the unknown, aging, being alone, losing a loved one, rejection or something more.
God's word says "Be strong. Take courage…because God, your God, is striding ahead of you. He's right there with you. He won't let you down; he won't leave you."
Deuteronomy 31:6
A prayer for you today:
Heavenly Father, it is so awesome to know that we can dwell in Your loving presence. Thank you for providing a place where fear has no power over us because Your mercy ensures forever. Touch the person reading this today Lord and give them peace and wisdom to get through this day..
In JESUS name……. Amen!
Until next week……
Happy Saturday Y'all!
V
Tags:
Beautifully Broken
,
Vonda Easley
,
Weekend Word from SGN Scoops
Posted in
announcements
|
Comments Off

on Weekend Word- "Fear Less, Pray More" by: Vonda Easley
Written by scoopsnews on February 10, 2018 – 5:56 am -
"No temptation has overtaken you but such as is common to man; and God is faithful, who will not allow you to be tempted beyond what you are able, but with the temptation will provide the way of escape also, so that you will be able to endure it." – 1 Corinthians 10:13
There is a wonderful Bible story that describes a much greater God. It's the story of three Hebrew boys who refused to worship the idols of Nebuchadnezzar. Their response, "God can spare us from the fiery furnace; He has that power. But, even if He does not, we'll never serve your gods or bow down to your statue." They chose to trust God even when it made no earthly sense to do so. And God came through for them, Remember?
God will never take us through a trial that is too hard for us to deal with. No matter how difficult your trials, you can trust His promise. He will give us a way to endure it, to resist it, or to get through it. I'm sure folks made fun of the three boys as they do us sometimes today, but they trusted God. Are you trusting him with your trial today? You can! Even when it makes no earthly sense.
This weeks "Weekend Word" has been brought to you by Vonda Easley, Beautifully Broken. To book Vonda for your next Ladies event, 256-310-7892 or vondaeasley@gmail.com.
Tags:
Beautifully Broken
,
Strictly Southern with Vonda Easley
,
Weekend Word from SGN Scoops
Posted in
announcements
|
Comments Off

on Trusting God When It Makes No Sense
Written by SGN Scoops Staff on April 25, 2011 – 11:08 pm -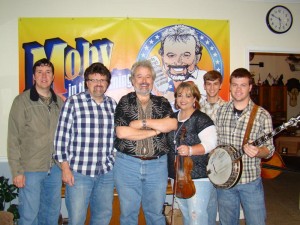 (Atlanta, Georgia)  Bluegrass Gospel band Canaan's Crossing was live on the Moby in the Morning radio show on Friday April 22nd.  They played songs from their two latest CD's including a portion of the title track "Beautifully Broken".  Tina Miller, singer and fiddle player  stated, "anytime you can bring your style and brand of gospel music to an audience that might not hear it on a regular basis it gives you a good feeling.  It was an honor to represent bluegrass gospel to such a large audience".
Moby in the Morning was voted the Academy of Country Music's Air Personality of the Year in 1999 and a four time winner of Billboard magazine's Morning Personality of the Year.  The popular morning show is heard every morning in 15 states.
Tags:
Academy of Country Music
,
Beautifully Broken
,
Canaan's Crossing
,
Moby
Posted in
announcements
,
christian entertainment
|
Comments Off

on Canaan's Crossing Live With Moby In The Morning