Written by SGN Scoops Staff on November 14, 2012 – 2:16 pm -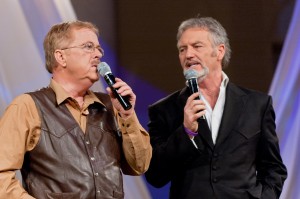 Larry Ford: Little Is Much When God Is In It
By Sandi Duncan Clark
One of the nicest, most gracious couples in Southern Gospel music is Larry and
Sherryl Ford. No matter where you meet this charismatic couple, they greet you with a
smile, a hug and a warm handshake. This IS Larry and Sherryl Ford. More than forty
years of marriage, six children and eight grandchildren, have melded this couple into a
ministry of faith and family that God has used all around the world.
Larry's first performance was on the stage of his home church in Levelland,
Texas. Standing on a chair, singing "How Great Thou Art," and accompanied by his
Mom at the piano, Larry began an illustrious music career. Larry credits his mother for
instilling in him and his brother, Bruce, a love for God and a love for music.
"Our musical training began at home and at church. We learned to sing shaped notes;
the old fashioned way to read music. Mom saw to it that we were also trained by an
Italian vocal coach, who began our formal, classical training" Larry stated. Later, Larry
attended Eastern New Mexico University on a music scholarship.
During those years, the family; Larry, his brother Bruce, along with his Mom and Dad,
would sing and his Mom would play piano. On Sunday mornings, they often sang for
their church's live radio program before going to the morning service and singing. "More
importantly, my mom and dad modeled for us a life of faith and trusting God." Larry
adds.
From that early beginning to some of the grandest stages all around the world, Larry
Ford has ministered and entertained thousands of people with his testimony and vibrant
tenor voice. Larry has appeared at many Gaither Homecoming events and on a number of
videos. As an ordained minister, former pastor and evangelist, he has shared the love of
God and the plan of salvation wherever he is called.
Tags:
Because He Lives
,
Gaither Homecoming
,
John Lemonis
,
Ken Turner
,
Kenna West
,
Larry Ford
,
Southern Gospel News
,
Sue C. Smith
Posted in
special feature
|
Comments Off

on Larry Ford: Little Is Much When God Is In It