Written by Staff on July 12, 2016 – 2:41 pm -
Nashville, Tennessee (July 11, 2016) The Beckie Simmons Agency is thrilled to announce the addition of the award-winning Gospel music group 11th HOUR to its roster of artists.
It takes time for any up and coming group to reach the level of quality and stature to be considered by any premiere booking agency. 11th Hour has worked very hard to get to that level. Their achievements include two number one songs on the charts already in 2016 and winning Progressive Song of the Year for "Jesus Is In the House" at the Absolutely Gospel Music Awards
"11th Hour is living proof that 'cream rises to the top'! It's not often that you find young people seasoned with a commitment to Christ that shines through every song they perform. Having just had their second #1 song, 11th Hour is truly a prime example to their generation. BSA is so honored to be a part of this journey with Amber, Jaquita and Grant, along with Chris White and the team at Crossroads. What a combination! And with God's help, the sky is the limit for them." stated Beckie Simmons.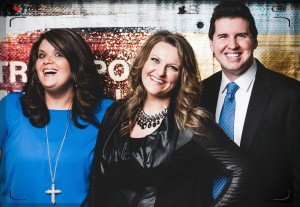 Lead singer Amber Eppinette commented, "I just knew from the moment we sat down and talked there was a kindred spirit with Beckie. We are very honored and thrilled to start this new journey with BSA. Our support team at Crossroads Records, AG Publicity, and now Beckie Simmons Agency gives us all the elements we need to reach a larger audience with the message of the Good News."
Pamela Unthank of AG Publicity said, "Working with 11th Hour has been a pleasure since they signed with us last September. Their dedication to spreading the Gospel with the highest professionalism makes them a credit to the SGM community and shows us a glimpse into the future of our genre."
If you would like to interview 11th Hour contact AG Publicity at info@agpublicity.com.
If you would like to learn more about 11th Hour you can go to http://11thhourgospelgroup.com, or catch them on FaceBook at https://www.facebook.com/11thhourgospelgroup.
See them on Twitter at https://twitter.com/11thHourGG.
To book 11th Hour for your church, concert, or event contact Beckie Simmons through the Beckie Simmons Agency at beckie@bsaworld.com or call 615-595-7500.
####
About 11th Hour
It seems that times flies faster each day. As we watch the clock or see life whisking by, one thing is sure for Christians, we need to heed the time and share the good news in this 11th Hour.
As we draw closer to the Lord's return, 11th Hour is committed to not waste a single minute to reach the lost and encourage the saints. They have already had multiple top 10 Ten Charting hits, including "Steppin' Out", "Room With a View" and now a #1 with 'Jesus Is In The House". Through their songs, some of which are written by group vocalist Amber Eppinette, their first and foremost desire is to tell people about Jesus.
For more Gospel music news click here.
Tags:
11th Hour
,
Becky Simmons
,
gospel music
Posted in
announcements
,
artists
|
Comments Off

on 11th Hour Signs With Beckie Simmons Agency