Written by Staff on October 6, 2017 – 6:45 am -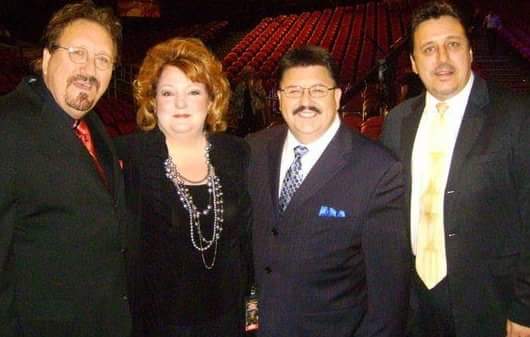 The Original Hinsons: Ronnie, Chris Freeman, Larry, Bo Hinson
If you're a Southern Gospel Music fan, you're definitely familiar with the legendary Hinson family. Their music and variations of Hinson groups has spanned decades; their sound and message as moving and relevant today as it was when they started.
Hinson connoisseurs will tell you quickly which one is their favorite singer, which is their favorite song, era, group, and hybrid. They can tell you the place, date, and lineup of each Hinson performance they've attended.
They talk of how they miss Kenny Hinson and how his son Weston sounds a lot like him when he sings. And you can certainly hear the resemblance.
Gospel singers everywhere, even those named Hinson, are compared to Kenny. And he was one of the greats, no doubt. His music lives on.
I don't know the Hinsons, and have, unfortunately, never been to hear any of them sing in person, but have been blessed by their music since I became a Christian in 1980 at the age of 20.
It didn't take me long to discover the Hinson music on the radio and a few Christian TV appearances. Now I enjoy them on the internet. Their songs minister, teach, and inspire Christians seeking a closer walk with Christ. They may never know how many lives they've touched, or how, with their music. But I suspect there are many more like me that have untold stories of how their Christian lives were enriched by Hinson music.
Untold until now, that is. I'm telling my Hinson story in this article.
Tags:
Bo Hinson
,
Chris Freeman
,
gospel music
,
Kenny Hinson
,
Larry Hinson
,
Ronnie Hinson
Posted in
announcements
,
Christian interest
,
sgn scoops magazine
|
Comments Off

on The Exceptional Talent of Bo Hinson
Written by SGN Scoops on August 1, 2011 – 2:17 pm -
NASHVILLE, Tenn. – (August 1, 2011) – Southern Gospel favorites The Freemans will be hosting a unique cruise featuring many classic names from Gospel music's varied history.
 
Set to take place January 16-21, 2012, the "Legends On the Sea (A Reunion Cruise)" will feature such performers as The Classic Hinsons (featuring Ronny Hinson, Larry Hinson, Chris Freeman, and Bo Hinson), Rambo McGuire (remembering The Rambos with special guest Buck Rambo), The Steeles, The Shepherds, The Singing Cookes, and hosts The Freemans.
 
The special cruise will also feature a New Artist Showcase. Artists set to perform on that showcase include Heavens Highway, Chris Hester, The Bilderbacks, Deep Water Band, and The Williamsons.
 
Darrell Freeman of The Freemans said, "This is such a unique opportunity for all of these artists to get together. We are so excited about hosting such legendary names and voices in the industry on this cruise. If you've loved the music of these legends, then you won't want to miss out on this cruise!"
 
The cruise will stop in Nassau, Bahamas and Key West and departs from Jacksonville, Florida. The price of the cruise includes cruise fare, food, all taxes, gratuities, receptions, and concert tickets.
 
For brochures, pricing and complete itinerary visit www.the-freemans.com/cruise.html .
 
The Freemans recently scored their latest #1 single with the lyric driven and poignant song "The Father & the Son." Penned by celebrated songwriter Dianne Wilkinson, "The Father & the Son" spent four consecutive weeks at #1 on the AbsolutelyGospel.com (formerly SoGospelNews.com) Top 40 Weekly Chart – the Southern Gospel's most watched and respected weekly radio report.
 
"The Father & the Son" is the debut single from The Freeman's much-anticipated new recording – Evidence. Four years in the making, Evidence is truly The Freemans' most transparent and emotional release to date. Evidence features songs that were chosen in response to four pivotal years for the group, which were mired with multiple family deaths and extremely personal losses for individual group members. Those events took the group on an emotional journey that resonates throughout the new recording.
 
Evidence is now available at concert events and on The Freemans' website.
 
To visit the newly designed website of The Freemans, visit http://www.the-freemans.com.  You can also visit the group's MySpace at http://www.myspace.com/thefreemans07. The group's Fan Facebook is located at http://www.facebook.com/thefreemans .
 
About The Freemans
The Freemans are one of Southern Gospel's most celebrated and critically acclaimed groups.  History, experience and spiritual wisdom are three attributes that can be used to describe the foundation of the Freeman ministry.  Deeply rooted with family, the Freemans' experience spans 30+ years. Now in their 20th year of ministry, the Freemans still perform at approximately 250 dates a year, and continue to experience tremendous success.
Tags:
Bo Hinson
,
Chris Freeman
,
chris hester
,
Deep Water Band
,
Gospel music cruise
,
heaven's highway
,
Larry Hinson
,
Rambo McGuire
,
Southern Gospel News
,
The classic Hinsons
,
the freemans
,
The Singing Cooks
Posted in
announcements
|
Comments Off

on The Freemans To Host Legends On the Sea (A Reunion Cruise) This Coming January