Written by SGN Scoops Staff on April 1, 2015 – 10:50 am -
Legendary Group Celebrates Big Week for Sometimes It Takes a Mountain and Happy Rhythm Releases
NASHVILLE, Tenn.— Sometimes It Takes a Mountain and Happy Rhythm, the all-new DVDs from the Gaither Vocal Band, debuted at the #1 and #2 spots respectively on this week's Music Video Sales chart according to Nielsen SoundScan.  Hosted by Gospel Music Hall of Famer Bill Gaither, the new releases feature the GRAMMY® Award-winning quintet performing in an intimate, rustic setting just south of Nashville at the concert hall of celebrated country duo Joey+Rory.
The recordings feature LIVE performances of the songs from the group's recent top-charting Sometimes It Takes a Mountain (Gaither Music Group) audio recording along with additional numbers as well as guest performances by HOMECOMING artists The Martins, The Isaacs, Goodman Revival, Charlotte Ritchie, Buddy Greene and The Nelons.
The DVDs also include interview footage with group members Bill Gaither, David Phelps, Wes Hampton, Todd Suttles and Adam Crabb and highlight the unmistakable harmonies that have garnered five GRAMMY® nominations, two GRAMMY® Awards and 17 GMA DOVE Awards.  The Gaither Vocal Band was nominated for a 2015 GRAMMY® Award and was inducted into the Gospel Music Hall of Fame in 2014.
Crabb's award-winning vocals are highlighted on the recording's first radio single, "Sometimes It Takes a Mountain," which is currently in the Top 5 on the national radio chart.
The new DVD releases can be seen on an international TV campaign currently airing on PBS, Dish TV, DirecTV, AT&T Uverse, GaitherTV, TBN, RFD, FamilyNet, CTN, GMTN, Guardian, Liberty, TCT and TLN.  It is airing in Canada on Vision TV, CTS, The Miracle Channel and Hope TV.
The Gaither brand of artists and products topped the BILLBOARDYear-End Chart of Music Video Sales Labels for 2000, 2011 and 2014.
The
Sometimes It Takes a Mountain
and
Happy Rhythm
DVDs are exclusively distributed by
Capitol Christian Distribution
and are available throughout general market stores and the Christian marketplace in addition to online retailers including
iTunes, Amazon
and
www.gaither.com
.
To see some of the video from the Sometimes It Takes a Mountain DVD recording, visit:
To hear some of the music from the Sometimes It Takes a Mountain audio recording, visit:
Tags:
Capitol Christian Distribution
,
Gaither Vocal Band
,
Sometimes It Takes a Mountain
,
Southern Gospel News
Posted in
announcements
|
Comments Off

on Gaither Vocal Band Lands Top 2 Spots on This Week's Music Video Sales Chart
Written by SGN Scoops on March 12, 2013 – 3:20 pm -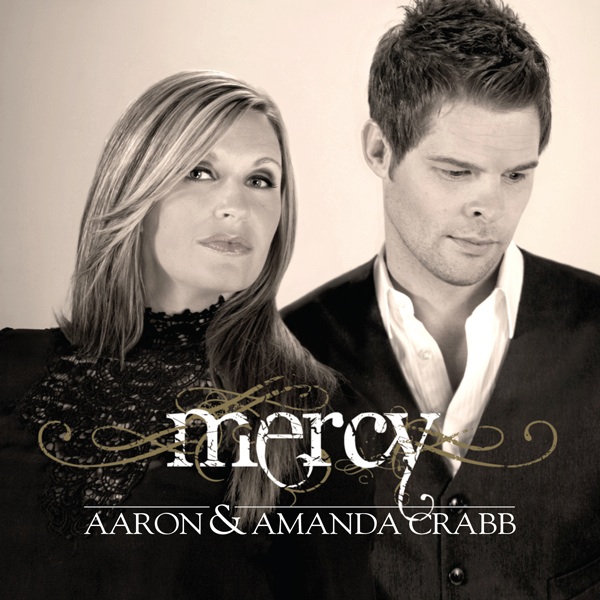 NASHVILLE, Tenn.— Mercy, the fourth recording from Dove Award-nominated singer/songwriters and worship leaders Aaron & Amanda Crabb, is set to bow April 23 from Difference Media (Capitol Christian Distribution). Co-produced by Aaron Crabb and Ben Isaacs (The Oak Ridge Boys, The Isaacs), Mercy features 11 songs revealing a decidedly country direction for the duo, while paying tribute to their storied Southern Gospel heritage and a range of Inspirational influences.
Acclaimed as "Ones To Watch in 2013" by GMCtv online, Aaron & Amanda Crabb co-wrote six selections, including the worshipful "Holy" and the debut multi-format Christian radio single, "Take Him to the Place," a deeply personal anthem of Hope and healing penned during a trip to Israel.
Mercy is also highlighted by the album's debut mainstream country single, "I'm Learning," written by Lee Black, Michael Fordinal and Kenna West. The song has already been embraced by such stations around the country as Winslow, Arizona's KINO, WEAG in Starke, Florida, and WKRO in Cairo, Illinois, among others.
"We heard it and immediately thought, 'That's just us,'" says Aaron Crabb of "I'm Learning." "We're learning life as we live it and learning the things that matter and the things that don't. The most important thing is your family and your relationship with God because things on this earth one day are going to pass away, but He will be forever."
"We love all styles, so you'll hear a lot of different influences on the album," Crabb continues. "I'm a country boy, and those roots probably come through more than anything else. These songs came at the right season in our life. God molded this album and shaped it to what it needs to be and I believe it's going to help a lot of people."
Aaron Crabb gained prominence as a member of the groundbreaking Crabb Family, one of the most popular acts in Southern Gospel music with more than 10 Dove Awards and three GRAMMY® nominations to their credit. Since the group disbanded in 2007, Aaron & Amanda have released three acclaimed projects as a duo—2008's Dove-nominated After the Rain, 2009's CD/DVD Live at Oaktree, and 2010's Love With No End. The couple serve as worship leaders at San Antonio's Cornerstone Church.
Difference Media is a division of Cornerstone Church, founded and pastored by John Hagee. The label features some of the leading names in Southern Gospel music, including Aaron & Amanda Crabb, Canton Junction, Matthew Hagee, Tim Duncan, The Cornerstone Sanctuary Choir, John Hagee and The Hagees. A non-denominational evangelical church with more than 20,000 active members, Cornerstone Church is home to John Hagee Ministries, which telecasts Pastor Hagee's radio and television teachings throughout America and to 245 countries around the globe. The ministry also operates GETV, a 24/7 online television and video on-demand broadcast of sermons and original programming, as well as music videos and performances by Difference Media artists (www.getv.org).
Difference Media recently signed an exclusive distribution deal with Capitol Christian Distribution (formerly EMI CMG Distribution). Mercy will be the label's inaugural release under the new agreement.
For further information, visit www.differencemedia.org or www.turningpointpr.com.
Tags:
Aaron Crabb
,
Amanda Crabb
,
Ben Isaacs
,
Capitol Christian Distribution
,
cornerstone Church
,
DIFFERENCE MEDIA
,
emi cmg distribution
,
GMCtv
,
John Hagee Ministries
,
Kenna West
,
Lee Black
,
Southern Gospel Music
,
The Crabb Family
Posted in
announcements
|
Comments Off

on MERCY UNVEILS AARON & AMANDA CRABB'S POIGNANT, POWERFUL JOURNEY