Written by SGN Scoops Staff on November 17, 2014 – 12:49 pm -
Grammy Winner's Inspiring Anthem "Love Is Stronger" Featured on Two-Disc Set
NASHVILLE, TN – Grammy winner Jason Crabb's powerful song, "Love Is Stronger," is featured as one of the top twenty-five most inspiring songs of faith on the new collection from Maranatha! Music's Top 25 series, Top 25 Country Songs of Faith. The brand has sold nearly 1.8 million copies since inception with 'Songs of Faith' the first country set in the series.
The twenty-one time GMA Dove Award winner joins a stellar line-up of artists featuring Rascal Flatts, Tim McGraw, Carrie Underwood, Lady Antebellum, Amy Grant, Dolly Parton, Wynonna Judd, Kenny Chesney, Chris Young, Johnny Cash and more.
From the moment Crabb heard "Love Is Stronger," he knew the song would
touch hearts. "Jay DeMarcus, my producer, brought this song to me," Crabb shares. "I immediately knew I had to record it this song – I knew it would touch people because it touched me. My wife Shellye was going through some very hard times when this song came into our lives – it helped me and I knew it would help others.
The song later came to life through a video directed by award-winner Roman White. Debuting nationally on USAToday.com, the video stars Ashley DeRamus, a young lady living with Downs Syndrome, bringing awareness to those living with the disease.
"This song shares a universal message of hope and encouragement," comments Crabb. "We're all going through something and this song reminds us that love – of Jesus, of our families – it's stronger than anything and will pull us through. I am honored that I was chosen to sing this song."
The album, available in stores and online, boasts all original artist recordings from some of the brightest, biggest, and best artists who are performing songs of faith notable for their uplifting lyrics.
Top 25 Country Songs of Faith is a double-disc collection including Grammy-winning artists from contemporary chart-topping acts to legendary hit-makers. Fans will recognize favorite No. 1 tracks, heartfelt duets, and a mixture of ballads and up-tempo songs.
There's no slowing down for this talented communicator. Jason Crabb is currently on the road with the "Music & Madness" tour with Mark Lowry & The Martins and also the "Learning To Laugh Again" tour with Chonda Pierce. He is featured on the soundtrack CD to Kirk Cameron's feature film Saving Christmas and is writing for a brand new project – his debut release on Provident Label Group's Reunion Records.
Top 25 Country Songs of Faith – Disc 1
1.     Bless The Broken Road – Rascal Flatts
2.     Touchdown Jesus – Tim McGraw
3.     Jesus, Take The Wheel – Carrie Underwood
4.     Long Black Train – Josh Turner
5.     What The World Needs – Wynonna Judd
6.     Hello World – Lady Antebellum
7.     I Need Thee Every Hour –  Amy Grant duet w/Vince GIll
8.     Baptism – Kenny Chesney duet w/Randy Travis
9.     That Old King James – Scotty McCreery
10.  Heaven Sent Me You – John Michael Montgomery
11.  Three Wooden Crosses – Randy Travis
12.  When I Get Where I'm Going – Brad Paisley feat. Dolly Parton
Top 25 Country Songs of Faith – Disc 2
1.     That's Why I Pray – Big & Rich
2.     The Man I Want To Be – Chris Young
3.     Love Is Stronger – Jason Crabb
4.     Holes in the Floor Of Heaven – Steve Wariner
5.     Ten Thousand Angels Cried – LeAnn Rimes
6.     This is God – Phil Vassar
7.     That's What I Love About
Sunday
– Craig Morgan
8.     When It's My Time – Rodney Atkins
9.     What Would Jesus Undo – Michael Boggs
10.  Angel Band – Vestal Goodman & George Jones
11.   Daddy Sang Bass – Johnny Cash
12.  I'll Fly Away – The Charlie Daniels Bad
13.  The Duck Dynasty Song – Amanda Ryan
Connect with Jason Crabb:
JasonCrabb.com
Facebook.com/JasonCrabbMusic
Twitter @JasonCrabbMusic
Tags:
amy grant
,
Carrie Underwood
,
Chris Young
,
Christian Country News
,
dolly parton
,
Johnny Cash
,
Kenny Chesney
,
Lady Antebellum
,
Rascal Flatts
,
TIM McGRAW
,
Wynonna Judd
Posted in
announcements
|
Comments Off

on Jason Crabb Joins Rascal Flatts, Tim McGraw, Carrie Underwood, Lady Antebellum, Amy Grant, Dolly Parton and More on New Collection: Top 25 Country Songs of Faith
Written by SGN Scoops Staff on August 2, 2012 – 9:02 am -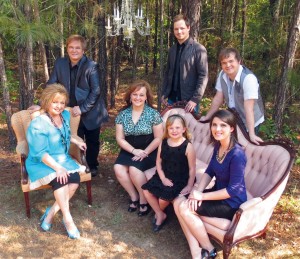 Two-time GRAMMY-nominated and six-time Dove Award-winning artists Jeff and Sheri Easter are scheduled to appear on the Grand Ole Opry on Saturday, August 4 for two shows at 7 and 9:30 p.m.
These gospel music family group mainstays will be premiering songs from their upcoming release Eyes Wide Open (Spring Hill Music) which will hit streets on September 18. They will be performing with other artists, including Carrie Underwood, Little Jimmy Dickens, Jeannie Seely, Jim Ed Brown, Jean Shepherd, Bill Anderson and many others.
"Jeff and I feel so at home at the Opry," states Sheri. "We both grew up in families of bluegrass gospel artists, so we made a lot of longtime friends over the years, many of whom are part of the Opry family. It always feels like coming back home when we're there."
Jeff adds, "Our music has always been country; our lyrics have always been gospel; and we love to sing love songs to each other; so stylistically, we fit in well with not only the Opry artists, but also the Opry fans."
To learn more about this week's Grand Ole Opry shows, visit http://www.opry.com or call 1-800-SEE OPRY.
Tags:
Bill Anderson
,
Carrie Underwood
,
Dove Award
,
Eyes Wide Open
,
Grand Ole Opry
,
Jean Shepherd
,
Jeannie Seely
,
Jeff & Sheri Easter
,
Jim Ed Brown
,
Little Jimmy Dickens
,
Southern Gospel News
Posted in
announcements
,
christian entertainment
|
Comments Off

on Grammy Nominees Jeff & Sheri Easter to appear on the Grand Ole Opry
Written by Rhonda on September 22, 2010 – 7:26 pm -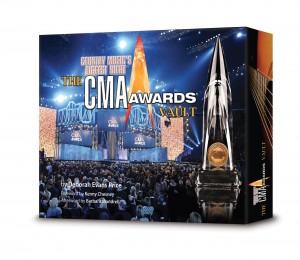 Historic Photographs, Replica Memorabilia, and Narrative Provide a Time Capsule of the Annual CMA Awards
NASHVILLE – The glamour, history, backstage stories, and memorable moments from more than 40 years of the annual CMA Awards, "Country Music's Biggest Night,(tm)" are collected in a new, unique book, The CMA Awards Vault, now available nationwide. 
Author Deborah Evans Price traces the show's 43-year run from a one-hour, radio-only broadcast in 1967 to the glittery three-hour, network television spectacle of today. Evans Price interviewed dozens of Country Music's biggest stars, from Sonny James, the host of the first "CMA Awards Banquet and Show," to Brad Paisley and Carrie Underwood, who will host "The 44th Annual CMA Awards" for the third time in November. In the process, the author takes the reader behind the scenes and recalls the greatest performances, the famous – and sometimes infamous – fashion trends, and the art of putting together a top-rated network gala.
"As someone who grew up watching the CMA Awards, and was then privileged to go to the Awards for the past 25 years, I couldn't think of anything that would excite me more than doing a book on the institution," said Evans Price.
 
What really sets this book apart from other Country Music histories, however, is the unique "scrapbook" approach. The CMA Awards Vault contains never-before-published photographs, artwork, and memorabilia. Tucked into dozens of pockets throughout the book are replicas of such items as a program from that first CMA Awards in 1967; a note to the CMA from the Charlie Daniels Band in 1980; a ticket to "The 40th CMA Anniversary" show; and the set-design blueprint from the 2009 CMA Awards.
 
"I'm thankful for the wonderful journey this book provides through the history of the CMA Awards," writes Barbara Mandrell in the book's afterword. "Reading it makes one feel so 'behind the scenes,' 'inside,' and as though they're having conversations with many of the great artists in Country Music."
 
No Country Music fan should be without this "home archive" of the history of "Country Music's Biggest Night." Graced by a foreword by four-time CMA Entertainer of the Year Kenny Chesney, The CMA Awards Vault is published by Whitman Publishing, LLC, of Atlanta. The 144-page hardcover 12-inch by 10-inch book with slipcase is available for $49.95 in bookstores and online retailers. The book can also be ordered at www.CMAawards.com and www.WhitmanVaultBooks.com. CMA members can purchase the book for $35 at www.CMAawards.com or at the CMA office.
 
"The 44th Annual CMA Awards" will be broadcast live from the Bridgestone Arena in Nashville on Wednesday, Nov. 10 (8:00-11:00 PM ET) on the ABC Television Network.
 
Tickets for the 2010 CMA Awards are on sale now and can be purchased by logging on to www.ticketmaster.com; calling (800) 745-3000; or in person at the Bridgestone Arena box office, 501 Broadway (corner of Fifth Avenue and Broadway), Nashville. Ticket prices begin at $110 for Upper Level. All ticket prices include sales tax, but exclude applicable service/handling fees. Purchase tickets early for best available seats. In 2009, the CMA Awards sold out in advance.
 
Visit CMAawards.com for information on Awards nominees, past winners, highlights, games, merchandise, and more. Join the CMA Mob, sign up for CMA Exclusives, and visit CMA's Facebook, Myspace, Twitter, YouTube, and other social network sites.
 
The CMA Awards nominees and winners are determined by the 6,000 industry professional members of CMA, which was the first trade organization formed to promote an individual genre of music in 1958. The first "CMA Awards Banquet and Show" was held in 1967. The following year, the CMA Awards were broadcast on NBC television for the first time – making it the longest running, annual music awards program on network television. The show aired on NBC through 1971 and on the CBS Television Network from 1972 through 2005 before moving to ABC in 2006. 
 
"The 44th Annual CMA Awards" is a production of the Country Music Association. Robert Deaton is the Executive Producer, Paul Miller is the Director, and David Wild is the writer. The special will be shot in high definition and broadcast in 720 Progressive (720P), ABC's selected HDTV format, with 5.1 channel surround sound.
Tags:
Brad Paisley
,
Carrie Underwood
,
CMA Awards
,
CMA Awards Vault
,
Deborah Evans Price
,
Whitman Publishing
Posted in
awards
|
Comments Off

on "THE CMA AWARDS VAULT:" COUNTRY MUSIC'S BIGGEST NIGHT!