Written by Staff on January 8, 2019 – 12:28 pm -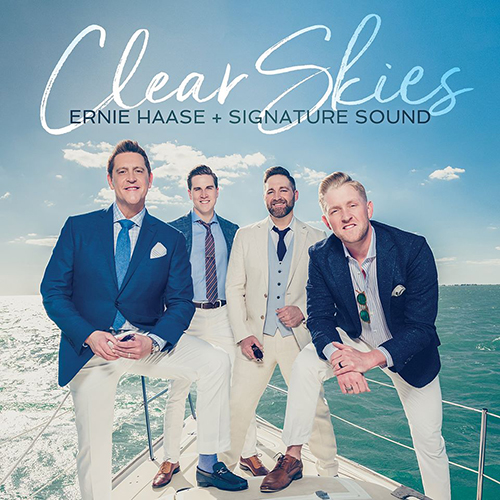 Ahead of the 61st Annual GRAMMY®  Awards, 
Ernie Haase & Signature Sound are celebrating their nomination in Gospel Roots Category 40 by releasing their impassioned "Sailing with Jesus" video on Parade.com this week.
The "beautiful, calming and upbeat song and video perfectly 
showcases
  this act's substantial vocal and writing talent" (Parade.com), which is included on their GRAMMY® nominated project Clear Skies.
The quartet's tenor, Ernie Haase, is also an accomplished songwriter and co-wrote seven of the 13 songs on the project.  
"This has been a challenging year for Ernie Haase & Signature Sound, but with this nomination, I really do see Clear Skies, and it feels great! It took us two years to get Clear Skies to the finish line. Each lyric, each phrase and each note was carefully crafted.
Throughout the process, I knew we had something special. I would put the sonic quality of this album up against any other album in any other category and no one can beat our message," Haase shared with Parade.com. 
CLEAR SKIES TRACK LISTING
1. CLEAR SKIES
2. HEAVEN IS
3. GIVE ME JESUS
4. SAILING WITH JESUS
5. AS FOR ME AND MY HOUSE
6. GIVE THEM ALL TO JESUS
7. A LONG LINE OF LOVE
8. LOVE TOOK HIS BREATH AWAY
9. THREE MEN ON A MOUNTAIN
10. YOU'LL FIND HIM THERE
11. MY HALLELUJAH
12. WALKING THROUGH FIRE
13. LONGING FOR HOME
To order Clear Skies, click HERE. 
Read the latest issue of the SGNScoops Magazine HERE.
Download SGNScoops Magazine PDF 
Here
Find SGNScoops Magazine On Facebook 
Here
Listen To Today's Gospel Music 
Here
Tags:
Christian Music
,
Clear Skies
,
Ernie Haase
,
Ernie Hasse And Signature Sound
,
gospel music
Posted in
announcements
,
artists
|
Comments Off

on ERNIE HAASE & SIGNATURE SOUND SHARES "SAILING WITH JESUS" ON PARADE.COM IN CELEBRATION OF GRAMMY® NOMINATION FOR CLEAR SKIES
Written by Staff on August 22, 2018 – 8:47 am -
Nashville, TN  – It's been a banner year for Grammy® nominated and multi-award winning group Ernie Haase & Signature Sound. Keeping the momentum going, they've released their newest offering, a live concert DVD entitled Clear Skies Live in Bossier City, LA.
"We've had a tremendous response to the Clear Skies songs, both from radio and in concerts," Ernie Haase shares. "Many of our fans expressed the desire to take that concert experience home with them – and that's what this is: the Clear Skiesconcert experience on DVD. With the energy from the crowd, the enthusiasm from the First Bossier worship team and the stories behind the songs, I think we've captured the concert experience beautifully."
Clear Skies has had tremendous radio success with the first two singles, "Give Me Jesus" and "Clear Skies," hitting #2 and #1 respectively on the Singing News Top 40 charts. The third single, "Longing for Home," is shipping to radio soon in both studio and live versions.
While the DVD brings the EHSS concert into your home, the live concert is always an unforgettable experience. To see Ernie Haase & Signature Sound live on their Give Me Jesus Tour, check out their tour dates at www.ErnieHaase.com.
Clear Skies Live in Bossier City, LA (DVD) and Clear Skies (CD) are both distributed by Sony/Providentand are available online and at your local Christian retailer.
ABOUT ERNIE HAASE & SIGNATURE SOUND:
From its formation in 2003, Ernie Haase has built Signature Sound Quartet into one of the most popular and beloved quartets in all of Southern Gospel music. Haase's early roots lie with the legendary Cathedrals Quartet and his time with them fueled the dream of starting his own powerhouse quartet. EHSS has traveled all over the world, offering energy, excitement 
and
encouragement through its powerful brand of gospel music. As one of the most celebrated quartets in gospel music, EHSS has earned a GRAMMY ® nomination and multiple GMA Dove Award wins throughout the years. Additionally, the group is a radio favorite in both the United States and internationally, and a leader in CD sales and long-form music video sales with several RIAA®-certified Gold® and Platinum® DVDs. Ernie Haase & Signature Sound is comprised of Ernie Haase (tenor), Devin McGlamery (lead), Dustin Doyle (baritone) and Paul Harkey (bass).

ABOUT STOWTOWN RECORDS:
StowTown Records was founded in 2011 by Ernie Haase and Wayne Haun and then expanded in 2014 with the addition of partners Landon Beene and Nate Goble. With each person bringing their individual expertise, StowTown has become a powerhouse independent Gospel Music label. As the creative home for many of today's top artists, the StowTown family of artists includes Ernie Haase & Signature Sound, Doug Anderson, Charles Billingsley, The Browns, Cana's Voice, The Collingsworth Family, The Erwins, TaRanda Greene, The Guardians, Trey Ivey, The Little Roy & Lizzy Show, Tim Lovelace, Jody McBrayer, Devin McGlamery, The Perrys, Rambo McGuire, Southern Raised, The Taylors and Triumphant. Distributed worldwide through Provident/Sony Distribution, StowTown Records has garnered industry attention with multiple GMA Dove Awards and chart-topping releases from their highly respected roster of artists.
Read the full SGNScoops Magazine July 2018 HERE
Download the PDF of SGNScoops Magazine HERE
Find SGNScoops On Facebook HERE
Listen To Today's Gospel Music Online HERE
Tags:
Christian Music
,
Clear Skies
,
Ernie Haase
,
ernie haase and signature sound
,
gospel music
,
StowTown Records
Posted in
announcements
,
artists
|
Comments Off

on Ernie Haase & Signature Sound and StowTown Records Bring Clear Skies to DVD
Written by Staff on February 16, 2018 – 11:25 am -
Nashville, TN (February 16, 2018) – Grammy® nominated and multi-award winning group Ernie Haase & Signature Sound's latest project, Clear Skies, is a HIT!
The release debuted at No. 1 the week of release on the Nielsen SoundScan Southern Gospel chart. Lauded by press and fans alike, Clear Skies, has found a home in the heart of listeners across the country, with the latest single – the title track "Clear Skies" – already making an imprint on radio charts.
Clear Skies is available now – in stores and via digital outlets.
The new release is especially meaningful right now, as just a few weeks ago, Tara Younce – sister of Ernie's wife, Lisa – passed away from cancer. In the midst of preparing for one of the beloved group's most hopeful releases, Ernie and his family were dealing with a very private pain. As they were starting to promote the new release, Ernie took time off to reflect and grieve with his family.
In his first interview since Tara's passing, Ernie Haase recently opened up to Faithwire's Billy Hallowell in an exclusive interview. 
Click here to read the article.
The highly-anticipated release, on Haase's own StowTown Records/Provident Distribution, features inspirational and encouraging themes set to out-of-the-box musical moments and masterful production. This release delivers a cornucopia of musical styles and themes from the modern "My Hallelujah" to the 1975 Imperials classic arrangement of "Give Them All To Jesus" to the fresh and appealing "Sailing With Jesus."
You Can Download SGNScoops Magazine 
HERE
Find SGNScoops Magazine On Facebook 
HERE
Listen To The Best In Todays Gospel Music 
HERE
Tags:
Clear Skies
,
EH&SS
,
ernie haase and signature sound
,
StowTown Records
Posted in
announcements
,
artists
|
Comments Off

on Ernie Haase & Signature Sound's Clear Skies Hits No. 1