Written by SGN Scoops on April 11, 2013 – 5:54 am -
NASHVILLE, Tenn.— For the third consecutive year, the Winter Jam Tour Spectacular reigns as the #1 tour in the world (first quarter). Leading 
Pollstar's
2013 Worldwide First Quarter Ticket Sales Charts – Top 100 Tours, Winter Jam attendance surpassed all other tours to date this year, including outings by Pink, Maroon 5, Justin Bieber and Bon Jovi, among others.
Concluding its 18th season March 30 with a record-setting 42 sellouts since launching in January, the 44-city mega tour hit some of the country's largest arenas. With a combined total audience of nearly 554,000 people, this year's tour was the biggest in Winter Jam history.
Founded and hosted by GRAMMY®-nominated NewSong, the Winter Jam 2013 Tour Spectacular was headlined by GRAMMY®-winning, multi-platinum recording artist TobyMac. Presented by World Vision and promoted by Premier Productions, the tour also featured RED, Matthew West, Jamie Grace, Sidewalk Prophets and Royal Tailor, with a message from national speaker Nick Hall. Additionally, the Youth Music Vault Pre-Jam Party included performances from Jason Castro, OBB and Capital Kings.
Highlights of this year's unprecedented tour included sellouts at such top venues as Chicago's Sears Centre; Atlanta's Philips Arena; The Sprint Center in Kansas City; Oklahoma City's Chesapeake Energy Arena; and Cleveland's Wolstein Center, among numerous others. Winter Jam's capacity "hometown" stop at Nashville's Bridgestone Arena February 9 featured a string of special guest appearances, including Newsboys' Michael Tait, Francesca Battistelli, Mandisa and for KING & COUNTRY. The tour concluded March 30 at San Antonio's AT&T Center, with an opportunity for fans around the world to view the show live online.
"Without fail, God uses Winter Jam to touch lives for His Kingdom in ways that exceed our greatest expectations every year," said NewSong's Eddie Carswell, founder of Winter Jam. "Record sellouts have allowed more people than ever to hear the Gospel of Jesus Christ during the tour, while providing opportunities to help the least of these around the world. Behind the scenes, Winter Jam is a special family. Lifelong friendships are made among the tour's amazing artists and crew."
Created by NewSong in 1995, Winter Jam has consistently featured the genre's biggest names, introducing Christian music to new audiences across the country while providing a powerful platform for the Gospel message.
For further information, visit www.jamtour.com or  www.turningpointpr.com.
PHOTOS:
Top: TobyMac and Jamie Grace (credit: David Kelly) 
Middle: RED (credit: Kurt Heinecke)
Lower: NewSong's Russ Lee (l) and Matt Butler (credit: David Kelly
Tags:
ccm
,
Christian Concerts
,
Christian Music
,
Contemporary Christian Music
,
Jamie Grace
,
Jason Castro
,
Matthew West
,
New song
,
Nick hall
,
RED
,
Winter Jam
Posted in
announcements
|
Comments Off

on WINTER JAM REIGNS AS #1 TOUR IN THE WORLD FOR THIRD CONSECUTIVE YEAR
Written by SGN Scoops on June 30, 2012 – 4:59 am -
NASHVILLE, Tenn.—Dove Award-winning singer/songwriter Nichole Nordeman offers a poignant and personal look at God's relentless pursuit of humanity with Love Story, due August 28 from Worthy Publishing.  Subtitled The Hand That Holds Us from the Garden to the Gates, Nordeman's first book traces God's unyielding mission from the beginning of time to rescue His beloved, in our most fragile and broken condition.
Based on the best-selling multi-artist recording, Music Inspired By The Story (EMI/WOW), which Nordeman co-wrote, Love Story exposes the humanity and more emotional underside of our most beloved biblical characters. Spanning Adam and Eve's painful choice in the garden, Abraham and Sarah's crawl through infertility, Mary's teenage journey as a young, unlikely mother, Paul's staggering encounter with Jesus on a dirt road, and the hope we cling to as we imagine His return.  Nordeman does not simply offer these stories from her own perspective, but bravely weaves her own life's fumbling and failures into each chapter, leaving these iconic men and women of the Bible looking less heroic and a little more human. Her poetic observations point ultimately to the all-consuming love of God for all of us.
"In every story and on every page, from the garden to the gates, I encountered God's people tucking His love into their satchels, sewing it into their robes, clutching it in fear, clawing at in anger, carving it into caves, collapsing into it, rejoicing, repenting, revising and rewriting their stories because they were…we are…so perfectly loved," says Nordeman.  "The Bible is the ultimate used book that's falling apart in perfect condition, much like its cast of characters. Love stories, all of them."
"If Nichole Nordeman weren't so curious, creative, clever, and convicted, our generation would be missing its finest songs and pages," said pastor and best-selling author Max Lucado.  "But she is curious, creative, clever, and convicted.  And since she is, you are holding a book that will blow the dust off an old faith and give structure to a young one.  Read it!"
Nichole Nordeman is a recording artist and songwriter for Sparrow Records/EMI Christian Music Group, with numerous #1 and Top 10 singles to her credit and cumulative CD sales of over one million.  A two-time Gospel Music Association winner for Female Vocalist of the Year, she has won a total of nine Dove Awards, including one recently as the lyricist on the best-selling album, Music Inspired By The Story.  She lives with her family in Tulsa, OK.  Connect with her on Twitter @nicholenordeman.
Worthy Publishing (www.worthypublishing.com), a division of Worthy Media, Inc., is a privately held company whose mission is helping people experience the heart of God. Worthy is an independent voice in Christian publishing, managing editorial, marketing, publicity, sales, and distribution from its home offices in Brentwood, TN. Worthy focuses on a boutique list of new books each year, crossing a broad spectrum of genres, including fiction, Bible study, current events, devotionals, biography, leadership, specialized Bibles, as well as spiritual and personal growth.
Love Story, a 224-page hardcover title, retails for $16.99 and will be distributed by EMI CMG.
For further information visit http://worthypublishing.com/books/Love-Story/ or www.turningpointpr.com.
Tags:
Christian Books
,
Contemporary Christian Music
,
EMI Christian Music Group
,
GMA Dove Awards
,
max lucado
,
Nicole Nordeman
,
Sparrow Records
Posted in
announcements
,
Christian interest
|
Comments Off

on NICHOLE NORDEMAN PENS POIGNANT, PERSONAL LOOK AT GOD'S LOVE STORY
Written by SGN Scoops on February 20, 2012 – 7:19 am -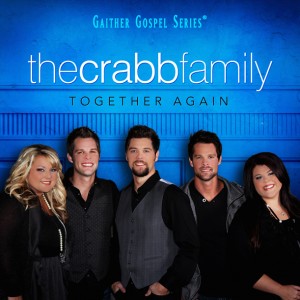 NASHVILLE, Tenn.—February 17th, 2012—Together Again (Gaither Music Group), the all-new studio recording from the multiple award-winning Crabb Family, hit shelves and online stores this week, taking the #1 position on the southern Gospel sales chart according to Nielsen SoundScan.  The ten-song release, produced by lead singer and GRAMMY® Award-winning solo artist Jason Crabb, landed the #6 position on the contemporary Christian sales chart in addition to landing at #123 on the BILLBOARD Top 200 list. "This is really an encouragement to us," stated Jason.  "As a family, to be back in the studio and back on stage for a limited run has been a blast.  To see others embrace us and get excited about new music from us, well, that is an honor and it inspires us.  We are all doing what we do today because of the support of countless friends and fans over the years.  We are reminded yet again of their encouragement and love to us.  We appreciate them so much.""We are pleased to see such a strong response to the new Crabb Family release," stated Barry Jennings, president of Gaither Music Group.  "This family created something special years ago that clearly remains significant to their many fans who keep coming back for more." An extensive tv and media campaign surrounding the new release began earlier this month on networks including GAC, GMC, RFD, FamilyNet, TBN, CTS, CTN, Vision TV, Grace, Legacy, FFE, Miracle and Airtime.    Together Again is available digitally and at retail stores everywhere.  It is distributed exclusively by EMI CMG Distribution.  For further information regarding The Crabb Family, visit www.thecrabbfamily.com. About The Crabb Family
Siblings Jason, Adam , Aaron, Kelly and Terah, known as The Crabb Family, took the Christian music industry by storm in the 90's with their signature brand of country-tinged Gospel, live stage band and powerhouse musical arrangements.  The Crabb Family took home 11 GMA DOVE Awards, garnered three GRAMMY® nominations, and blurred the lines between Christian music genres with recordings and nominations ranging from bluegrass to black Gospel.Their family blends became a hit on platforms varying from the Gaither HOMECOMING stages and "The Grand Ole Opry" to the Brooklyn Tabernacle and  Carnegie Hall.  Their downhome appearances, highlighted by songs written by the group's original founder Gerald Crabb, made them a household name in the southern Gospel music community and a "new favorite" across several genres.  Heralded by the industry and fans alike, the group produced numerous Top 10 hits and 16 number one hits.
Tags:
Aaron Crabb
,
Adam Crabb
,
Contemporary Christian Music
,
Contemporary Christian News
,
Crabb Family
,
EMI Distribution
,
Gaither Music Group
,
Jason Crabb
,
Kelly Bowling
,
Southern Gospel Music
,
Southern Gospel News
,
Spring Hill Music
,
Terah Penhollow
Posted in
announcements
|
Comments Off

on Crabb Family's New Recording Lands on the BILLBOARD Top 200, Contemporary Christian and Southern Gospel Charts