Written by SGN Scoops on March 18, 2014 – 10:46 am -
(Nashville, TN) DOWN HOME – Nashville, TN's newest vocal group – has announced their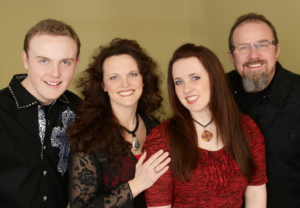 initial DOWN HOME LIVE! 2014 tour dates, beginning with appearances last weekend in Oklahoma City, OK and surrounding areas.
Committed to faith and family roots, DOWN HOME – comprised of family members Mac & Sharon McEwyn along with their children AnnMarie and Michael – brings a powerful message of hope. The group has built their concert experience around the fact that hope brings strength. With just one listen to the music of DOWN HOME, listeners are encouraged and given strength through hope for another day!
"We absolutely love performing," says Mac McEwyn, founder of the group. "There's nothing like seeing the faces of an audience when they smile. You can see them experience the music. We want to "live the music." If the song talks about making a difference, a difference is what we want to make. Each one of us can look back and see at least one individual who stood in the gap and made a difference in our lives. Our culture needs more individuals who are willing to stand on the rock of truth and deliver hope to the world. The world needs to see people of faith join together, encouraging and edifying one another, laughing together, crying together, walking through hard times together, and reaching out to those in need of the same. DOWN HOME concerts and events are focused on building faith, loving family and encouraging people."
Along with the unique harmony only a family can provide, a concert experience with DOWN HOME is uniquely enhanced through the utilization of panoramic multimedia video screens, intelligent lighting and special effects orchestrated to bring to life a total musical experience. It truly is a multi-sensory event and one not to be missed!
Combine family harmony with state-of-the-art sound and lighting and you have a concert experience like no other! You have DOWN HOME LIVE!
Here are the initial tour dates, with more to be announced in coming weeks:
March 15, 5pm Crossroad Community Bible Mannford, Oklahoma
March 16, 7pm First Christian Church Custer City, Oklahoma
March 23, 10:30 am Harvest Bible Church Mohave Valley AZ
March 23, 5pm Harvest Bible Church Mohave Valley AZ
March 28, 7 pm 4th Friday night Concert Series Tulare CA
March 30, 6 pm Word of Life Fellowship
April 6, 9:15/ 10:40 am First Hemet Church Hemet CA
April 6, 6pm First Hemet Church Hemet CA
April 9, 6:30 pm Fowler Baptist Church Fowler, CA
April 12, 6pm Christian Life Center, Merced CA
April 13, 11am Northwest Church Fresno CA
April 22 7pm Highland Baptist Church Hayward CA
April 23, 6:30 pm Waterford First Southern Baptist Waterford CA
April 25, 6:30 pm Immanuel Reformed Ripon CA
April 27 9am Shelter Cove Community, Modesto CA
April 27, 5pm New Life Community Fair Oaks CA
Tags:
Down Home
,
Mac McEwyn
,
Southern Gospel News
Posted in
announcements
|
Comments Off

on DOWN HOME ANNOUNCES INITIAL SPRING 2014 TOUR DATES
Written by SGN Scoops Staff on February 10, 2014 – 9:25 am -
Lou Wills Hildreth is the guest on Gospel Music Today for the week of February 9. Ken and Jean Grady host southern gospel news and concert updates, the Feature Group is The Social Security Boys, and Jean reviews a new recording by Down Home. An article about Dianne Wilkinson is the subject of this week's Singing News Notes. The Songfellows Quartet sings, and the show includes exclusive video of McCray Dove and The Dove Brothers Band, recorded by Gospel Music Today's cameras at The Owasso Gospel Opry, in Owasso, OK, and a visit to the Gospel Music Today Archives for an exclusive concert video of Declaration.
Tags:
Dianne Wilkinson
,
Down Home
,
Gospel Music Today
,
Lou Wills Hildreth
,
Songfellows Quartet
,
Southern Gospel Music
,
Southern Gospel News
Posted in
video
|
Comments Off

on Gospel Music Today On SGNScoops.com