Written by SGN Scoops on January 15, 2014 – 9:09 am -
Moneta, VA (January 14, 2014) Mansion Recording Artist, The Mark Dubbeld Family open the year with a Newly Updated Website www.mjdubbeld.com and an exciting 3 month "His Love, That's Why" Southern Tour into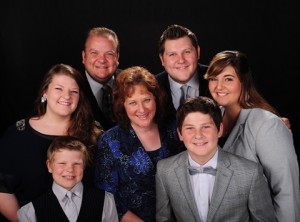 GA and FL. The family has been going south for the last 3 years and it has always been a blessing to so many.
This years Tour will take them to churches, and concert venues with opportunities to meet new friends and continue to expand the reach of the Mark Dubbeld Family. We encourage you to check us out at a concert near you.
Mark Dubbeld states "We are blessed to be sharing so many new songs from our latest CD release, "His Love, That's Why" produced by Nick Bruno and Mansion Records. I think many are going to love the new songs." Also, be looking for our new single to be released to radio "Higher Than I" written by Janene Dubbeld.
To learn more about the Mark Dubbeld Family go to our website www.mjdubbeld.com or www.facebook.com/MarkDubbeldFamily .
The Mark Dubbeld Family is booked by Michael Davis & Associates and Mountain Top Talent 828-454-5917 or www.mountaintoptalent.com .
Tags:
Dubbeld Family
,
Mansion Records
,
Mark Dubbeld
,
Mark Dubbeld Family
,
Nick Bruno
,
Southern Gospel News
Posted in
announcements
|
Comments Off

on Mark Dubbeld Family On Tour In The South
Written by SGN Scoops on July 29, 2013 – 10:26 am -
Moneta, VA (July 29, 2013) In the midst of some very exciting times for the her family group, Elena Dubbeld, of the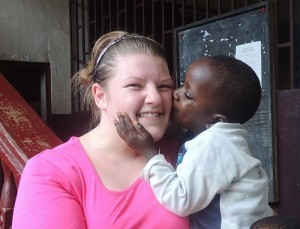 Mark Dubbeld Family, returned from a life changing mission trip in Cameroon, West Africa. She arrived home just in time finish singing with her family in a ministry engagement in PA.
 In Cameroon, Elena was privileged to work for three weeks in an orphanage and travel "around the mountain" to a village where the missionaries had been invited to come by its chief. While she experienced "roughing it" in many ways, Elena says, "It was definitely worth it. It was an eye opening experience, and God was faithful."
 The children loved lots of hugs and kisses, which Elena was willing to give. Working with Victor and Claudine Chamberlin, of Evangelical Bible Mission a lock in with teen girls and a Vacation Bible School were also a part of her trip.
Even though returning "home" means joining her family on the road Elena says, "Wherever my family is, that's home."
Dad, Mark Dubbeld stated "While we missed Elena the three weeks she was gone, we knew that experiencing life on a true mission field would change her life forever."
In addition to the exciting missions trip for Elena the Mark Dubbeld Family recently performed at the AGM Music Festival. Mark commented "While in Nashville for the Festival, we were able to stop in the studio and work on our new recording for Mansions Manor House Music. We are always thrilled to be able to record our new music."
Tags:
Dubbeld Family
,
Southern Gospel News
Posted in
announcements
|
Comments Off

on Elena Dubbeld of the Mark Dubbeld Family Returns From Cameroon, West Africa
Written by SGN Scoops on February 7, 2013 – 8:31 am -
Nashville, TN (January, 5th, 2013) – Mansion Entertainment recording artist, The Mark Dubbeld Family, have released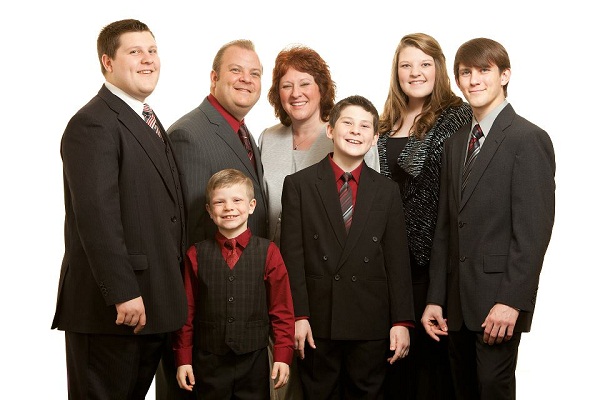 their first Children's Book called,  "The Farmer Said, 'Yes!'"
Written by Janene A. Dubbeld, the book relays the true story of Don and Twana Hawk who were missionaries to Honduras.
As a farmer and his wife from Ohio, Don and Twana heard God's call to go and help underprivileged children learn about Jesus. They would also teach the boys how to provide for their families.
Author Janene Dubbeld commented. "Since the first class of just 12 students, more than 7,000 students have been educated and ministered to through the school named, "El Sembrador," founded by the Hawks."
El Sembrador's educational programs include vocational training and a Bible institute. Many graduates have gone on to become mechanics, lawyers, engineers, and pastors. It encourages children of all ages to say, "yes," to whatever God desires for them to do.
Mark Dubbeld said, "Teaching children the importance of missions is an important area of Christianity and Janene reaches kids of all ages with her book."
Missions will benefit from the sale of this Children's book. To purchase or find more details of this book go online to mjdubbeld.com, mjdubbeld@msn.com, or http://www.facebook.com/marknjanene.dubbeld.
The Mark Dubbeld Family continues to tour full-time on the "Inside The Gate" Tour in Florida for the months of February and March. Their appearances ranging from churches, concert venues, RV parks with recent appearances at Dollywood and National Quartet Convention Main stage.  For Booking or more Information regarding resources about The Mark Dubbeld Family visit their website at www.mjdubbeld.com or 540-293-8467
Tags:
Childrens Ministries
,
Dubbeld Family
,
Mark Dubbeld
,
Southern Gospel News
Posted in
announcements
|
Comments Off

on The Mark Dubbeld Family Releases New Children's Book