Written by SGN Scoops Staff on October 13, 2014 – 8:24 am -
The Martins are the guests on Gospel Music Today for the week of October 12. Ken and Jean Grady host southern gospel news and concert updates. The Feature Group is The Lunas, and Jean reviews a new recording by New Road. An article by Pat Barker entitled "Where Are They Now?" is the subject of this week's Singing News Notes. The show features singing by Three Bridges, exclusive video of Jeff and Sheri Easter, recorded by Gospel Music Today's cameras at the Southern Gospel Worship Gathering, in Broken Arrow, OK, and a visit to the Gospel Music Today Archives for an exclusive concert video of The Lesters at the Southern Gospel Worship Gathering, in Broken Arrow, OK, including an exciting interview with Brian Lester and Gene Reasoner.  In the news headlines this week are The Kingsmen, Karen Peck, Bev McCann, the Steeles, Paul Heil, Eddie Crook and Claude Hopper.
The show is on KWHB TV47 in Oklahoma every
Sunday at 4:30 PM
, and on Roku on FFE TV
Monday at 8:00 PM
and AllNations TV
Tuesday
and
Wednesday at 6:30 PM
. Check local TV schedule for Beaumont, TX, Tyler, TX. Atlanta, TX, and Morrilton, AR. The current edition of Gospel Music Today is online now at the Gospel Music Today website, 
www.gospelmusictoday.com
.
Tags:
Easters
,
Gospel Music Today
,
Ken & Jean Grady
,
Martins
,
Southern Gospel News
Posted in
video
|
Comments Off

on Gospel Music Today For October 13 On SGNScoops.com
Written by SGN Scoops on October 22, 2013 – 9:20 am -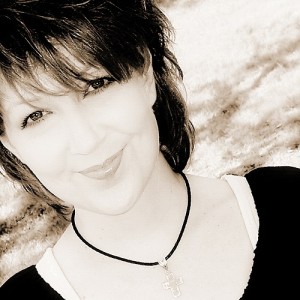 Nashville, TN (October 21, 2013) Five-time Dove Award-nominee and three-time AGM/SGN "Songwriter of the Year" Kenna Turner West is headed to radio with the release of her first Daywind single entitled "Be Still and Know."
Known primarily for penning chart-topping songs such as "Calvary's Cry," "Ask Me Why," and "Revival," the list of artists who have recorded her songs reads like a veritable "who's who" of the gospel music industry, including Jason Crabb, The Booth Brothers, Brian Free and Assurance, Karen Peck and New River, Gordon Mote, The Martins, Jeff and Sheri Easter, Legacy Five, The Bowling Family, and many more.
Music runs in the family for Kenna, the daughter-in-law of country music legend Dottie West and the daughter of former Blackwood Brothers bass singer, Ken Turner. For thirty years, the author and certified counselor has blended music, devotional teaching, and humor into a ministry that has reached around the world serving alongside Christian leaders such as Franklin Graham and Dr. Jerry Falwell at venues ranging from The Pentagon to NASCAR chapels to the local church.
With an impressive seven #1 songs to her credit, thirteen "Song of the Year" nominations, and two "Song of the Year" wins, the Daywind staff writer is thrilled about the release of her first radio single in Gospel music, "Be Still and Know," which hits the airwaves in November. "We couldn't be more proud of her or more grateful to her Source," states Rick Shelton, Vice President of Daywind Publishing.
For more information about Kenna Turner West go to
www.KennaTurnerWest.com or https://www.facebook.com/kenna.t.west .
You can reach her by E-mail at booking@westhouseonline.com .
Tags:
daywind
,
Easters
,
gordon mote
,
Jason Crabb
,
karen peck and new river
,
Kenna West
,
Southern Gospel News
,
The Martins
Posted in
announcements
|
Comments Off

on Daywind To Release Single On Award-Winning Songwriter, Kenna Turner West
Written by SGN Scoops on July 16, 2013 – 11:06 am -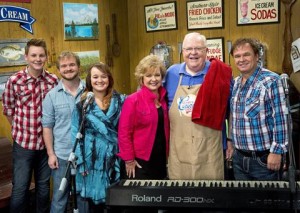 NASHVILLE, Tenn.–July 16, 2013—Multi-award-winning and GRAMMY®-nominated 
Jeff & Sheri Easter
, of Lincolnton, GA, will make their debut appearance on RFD-TV's "Larry's Country Diner."  The show will air as part of the all-new series of this popular tv program on Saturday, July 20
th
, at 10:00 p.m. CDT / 11:00 p.m. EDT and on Sunday, July 21
st
, at 6:00 p.m. CDT / 7:00 p.m. EDT.
"We love what Larry does at the diner and have been watching the show for some time," described Sheri.  "The setting and atmosphere feel like home to us being from a very small, country town.  When we first saw the show, we instantly related to its talent and entertaining blend of humor, music and meaning; so we were thrilled to get our own place at the table, so to speak, for the first time."
Jeff and Sheri, their daughter, Morgan, their son, Madison, and percussionist Landan Smith performed "I Know How It Feels to Survive" and "Sitting on Top of the World," both from Jeff & Sheri's current studio recording Eyes Wide Open (Spring Hill Music Group).  In addition, the studio audience enjoyed the group's performances of gospel classics "Workin' on a Road" and "Thank You, Lord, for Your Blessings on Me."
Eyes Wide Open incorporates the country-styled gospel harmonies and hints of bluegrass for which the group has been known since its inception and celebrates their family heritage, both past and present.  The recording is distributed exclusively by Capitol Christian Distributionand is available at retail stores and online stores everywhere.
(Photo by Phil Johnson)  (L-R) Members of Jeff & Sheri Easter Landan Smith, Madison Easter, Morgan Easter and Sheri Easter; Larry Black, of "Larry's Country Diner" (RFD-TV) and Jeff Easter gather at the diner for home-cooked food, good music and family fun. 
Tags:
Easters
,
Jeff & Sheri Easter
,
Larry's Country Diner
,
Southern Gospel News
Posted in
announcements
|
Comments Off

on GRAMMY® Nominees Jeff & Sheri Easter to Appear on RFD-TV's "Larry's Country Diner"
Written by SGN Scoops Staff on June 7, 2012 – 9:44 am -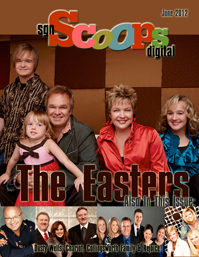 Wow! June kicks off a season of scorching hot issues of Scoops Magazine! Everyone loves the Easters! It is a pleasure to present Jeff, Sheri and the family as the cover story this month. Also in this issue, find out the latest from the Collingsworth Family, Chariot, Rejoice! and Stone Carter. Sandi reviews new music for June and also shares a concert story featuring Dailey and Vincent and a concert story of the Singing Cookes celebrating 50 years in gospel music. Rob Estep gives a look behind the scenes with Dusty Wells and Ms. Lou Hildreth shares Life, Love and Legends. Jennifer Campbell and John Mathis encourage our hearts and so does our new staff writer, Charlie Sexton! Jeff Hawes keeps us up to date with the latest happenings with Karen Peck and New River and Angela Griffin tells us what songs are topping the charts. Rhonda Frye gives the latest information on Gospel Music's newest event, The Creekside Gospel Music Convention – home of the 2012 Diamond Awards! We're bringing you the latest in Southern Gospel Music- always digital always free! We appreciate you for reading and we ask that you share SGNScoops with your friends!
Check the magazine out HERE
Tags:
Angela Griffin
,
Chariot
,
Charlie Sexton
,
collingsworth family
,
Creekside Gospel Music Convention
,
diamond awards
,
Easters
,
gaither
,
jeff and sheri easter
,
jeff hawes
,
Jennifer Campbell
,
John Mathis
,
karen peck and new river
,
Legends
,
Lou Hildreth
,
Rejoice
,
Rhonda Frye
,
rob patz
,
Singing Cookes
,
southern gospel
,
southern gospel concerts
,
Southern Gospel Magazine
,
Southern Gospel News
,
Stone Carter
Posted in
announcements
,
sgn scoops magazine
|
Comments Off

on June 2012 SGNScoops Magazine