Written by SGN Scoops Staff on March 18, 2013 – 4:10 pm -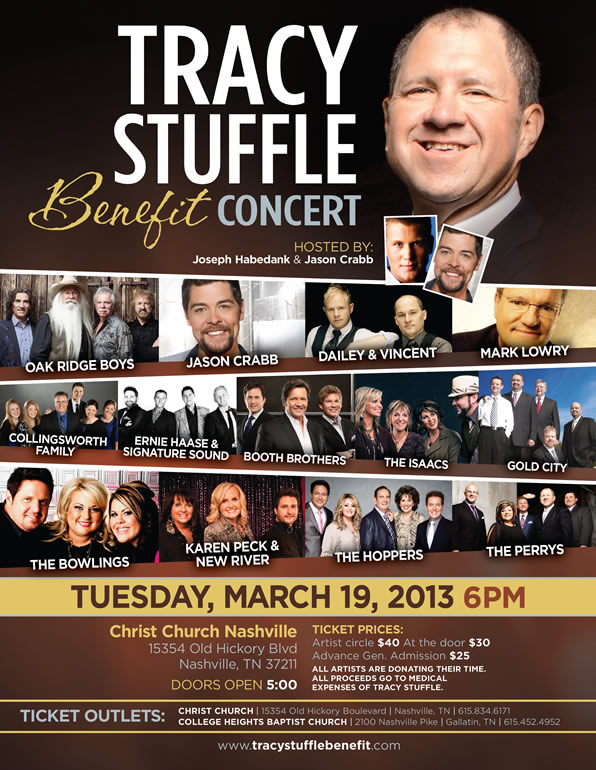 NASHVILLE, TN (March 18, 2013) – It was announced today that the benefit for Tracy Stuffle, to be held on Tuesday, March 19, 2013 at 6:00 PM CST, will be live-streamed for those who are unable to be in attendance.
The evening will be live-streamed via video on TracyStuffleBenefit.com, online and radio through SolidGospel.com and rebroadcast on XM/Sirius's enLighten Channel 18 and Dish TV Channel 6018 on Wednesday, March 20, 2013 at 7 ET, Saturday March 24 at 7:45 ET and Sunday March 24 at 9:45 PM ET.
"I am very appreciative to these companies – TechWerks, SolidGospel, enLightenXM/Sirus – for partnering to expose the benefit to as many people as possible. I know the Stuffle family appreciates the prayers and support," says Joseph Habedank, organizer of the concert. "This will give those who are unable to attend in person a chance to be a part of the night and donate as well."
There is a very limited amount of tickets left for the night which features Jason Crabb, Ernie Haase & Signature Sound, Dailey & Vincent, The Hoppers, Mark Lowry, the Collingsworth Family, the Booth Brothers, The Isaacs, Gold City, The Bowlings, Karen Peck & New River and a special appearance by The Perrys.
This is a benefit concert for Tracy Stuffle – beloved bass vocalist and group owner/manager of the Perrys – who has been in critical condition at a Nashville area hospital since suffering a massive stroke on January 21, 2013 while driving his vehicle in downtown Nashville, TN. All proceeds from this concert will go toward medical expenses for Tracy Stuffle.
For more information and to purchase tickets for this evening, vist TracyStuffleBenefit.com. Tickets may also be purchased at Christ Church in Nashville, TN or College Heights Baptist Church in Gallatin, TN.
Tags:
enlighten
,
Joseph Habedank
,
Perrys
,
SolidGospel.com
,
Southern Gospel Concert
,
Southern Gospel News
,
Tracy Stuffle
Posted in
announcements
|
Comments Off

on Live-Stream Announced for Tracy Stuffle Benefit Concert
Written by SGN Scoops Staff on May 23, 2011 – 9:21 am -
enLighten, the Southern Gospel channel on Sirius/XM, is airing a special program featuring the Talley Trio on 7 P.M. ET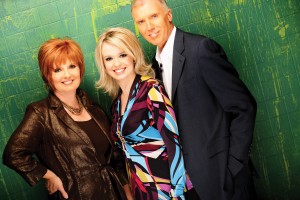 tomorrow, and 11 P.M. ET on Wednesday. There will also be an encore performance airing on 12 Noon ET on Monday, May 30 (Memorial Day).
This special segment features songs from the Talley Trio's He's Alive, and special interviews with the Talley Trio.
enLighten airs on Sirius/XM Channel 18 and Dish TV Channel 6018.
Tags:
enlighten
,
Memorial Day
,
talley trio
Posted in
announcements
,
christian entertainment
|
Comments Off

on enLighten Airing Special Talley Trio Program Tomorrow
Written by Scoops Staff on April 26, 2011 – 12:05 pm -
Per programming announcements made this week, satellite radio provider Sirius XM will be relegating their southern gospel station, known as Enlighten, to an internet-only line-up.
For most subscribers to Sirius/XM, this eliminates the ability to listen to Enlighten while driving and causes a rate increase if in fact one wants to access Enlighten via the internet programming or SmartPhone application offered.
According to information on the Sirius XM website:
"enLighten" is moving to channel 805 on SiriusXM Internet Radio, where you can continue to hear great Southern Gospel music from artists like Gaither Vocal Band, Gold City and Inspirations.

If SiriusXM Internet radio is not currently part of your subscription, you can continue to enjoy Christian music on "The Message" (Channel 63) featuring Christian hits, and on "Praise" (Channel 64) where you'll find Gospel music along with a new weekly show called "The enLighten Hour."

You can also try SiriusXM Internet Radio FREE* for 30 days or add it to your current plan at any time for a small, additional monthly fee. Go to www.siriusxm.com/player for complete information.
Southern gospel music fans have already begun to mobilize in protest of this change. To voice your opinion, please visit the"Save Enlighten" Facebook page, where contact information for Sirius XM is also available. It is imperative that protests be made directly to Sirius XM and not just on the FB page in order to be heard.
Tags:
enlighten
,
radio
,
sirius xm
Posted in
announcements
,
industry news
|
Comments Off

on Sirius XM to Eliminate ENLIGHTEN/Southern Gospel Radio From Its Regular Lineup