Written by Staff on August 13, 2017 – 9:12 am -
When I was falling in love with my husband, I didn't stop and ask myself what kind of father he would be. After we were engaged, a woman told me to watch how he treated his mother. If he treated her well then he would treat me in the same manner. No words have been any truer, and I have extended this same advice to my own daughters.  
I am very lucky though that my husband has turned out to be a pretty amazing dad. He is the kind of father that helps when it is time for birthday parties. He is the kind of father that the night before Halloween or Thanksgiving, he's designing an outfit for the girls to wear to school. He is the kind of father that on our girls' 16th birthday, he took them all out to a very nice restaurant of their choice, bought them flowers and showed them how a man should treat a woman. When our girls went to prom, he not only drove them to the Prom, he stayed in the area just to peek in from time to time to watch them as they danced and enjoyed their special night.  
The greatest gift I believe that he has given them is his love for me. Men, if you really want to show daughters how they are to be treated, then treat your wife the way you want a husband to treat them. If you want your sons to know how to treat their wives, men, then set that example. And if you treat your wife in a manner contrary, then your sons should call you out.  
I was told this story from a couple – that during a difficult season with their son – he started being very disrespectful to his mother. The father one day took his son out to his workshop and placing his arm around him, he softly and a little menacingly told him, "she may be your mother, but she was my wife first. I don't let any man treat her the way you have been treating her. Now that you are becoming a man, consider this your one and final warning." Needless to say that their son's attitude got considerably better.
I am so thankful for the example that my father set for me with my own mother. I can always remember how my dad would go out in the morning during the wintertime and crank my mom's car for her while she was getting ready so that she would get into a warm car for her drive to work.  
If you are a true student of God's Word, you know that the father nature of God is to provide. I have seen this so many times in my own father and in my husband. Whenever our girls are in need, he does whatever he can to help. Having three girls, he has at times been stretched in their need for his time and attention.  
To be honest, I have been struggling with parenting lately. I have found that this season of parenting adult children has been the hardest so far. So, I wanted to take the time to honor my own father and my children's father in this article.
No parent is perfect, and I think that is one of the hardest parts of parenting – your own imperfection and how it affects those which you most treasure. My own father had his faults, but to me, he is a hero.   
I do have memories of times that my father or my husband may have missed the mark, but I choose not to remember those as much and to focus on the moments when they did. I believe that as our girls grow older, they will see that their father was an amazing example of the Father's perfect love in an imperfect vessel, just as I see this about my own father. How thankful I am of the reflection he has shown me over the years of God's grace and unfailing love. Even when I have hurt my daddy, he has always been there to extend grace and love, with consistency.   
If it were not for my daddy's imperfect, perfect love, I would not have seen the true nature of God … nor would I have sought out our heavenly Father to lean on during some of my formative moments in life.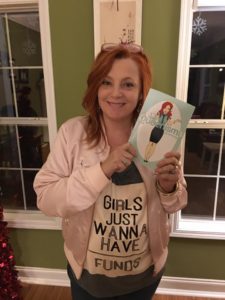 I am very fortunate and grateful to have such amazing men in my life – men who are authentic and real. They are men who always try to be the best versions of themselves, men who have chosen to love me and my imperfections and who are willing to see the best version of me in all that I do.
Thank you, Chuck Day and Bruce Brantley, for loving me. And in the words of my grandmother, "thanks for being mine."
Selena Day is a motivational speaker and is available to speak at your conference or event.  You may contact her at selenaday@me.com http://www.queenliving.org  http://facebook.com/queenismsbyselenaday. Photographs courtesy of Selena Day.
By Selena Day
First published by SGNScoops Magazine in June 2017.
For the latest issue of SGNScoops Magazine click here.
For Gospel music news click here.
For more artist features click here.
Tags:
Christian fathers
,
Christian life
,
Chuck Day
,
Fathers
,
Selena Day
Posted in
announcements
,
Christian interest
,
sgn scoops magazine
|
Comments Off

on Lessons on being a father and a husband by Selena Day
Written by Staff on June 22, 2017 – 7:36 pm -
2017 June SGNScoops Rob Patz: Publisher's Point
Welcome to the June edition of SGNScoops Magazine. Can you believe that we are almost halfway through the year of 2017? It's hard for me to imagine how fast this year has flown by. When we're younger, we think time moves so much slower than it really does, and when we get older, we realize how fast time really is moving.
As many of you know, I usually avoid talking about Father's Day during the month of June in the Publisher's Point. If you don't believe me, go back and read past years of SGNScoops. Now that I look back on it, it was not necessary, but each of us mourn the loss of someone in a different way. I'm coming to grips with that, so this month I want to tell you a story about my dad.
My father loved trains, and in fact, my grandfather worked for the Canadian National Railroad as an arbitrator, so trains are in our family. I can remember my father buying me my first train, which progressed to a larger train, and a larger train, and then a larger train. My father would lay on the floor with me, and we would play with these trains. To be honest, I think he was having as much fun or maybe more than I was.
I remember at about eight years old, my dad and I were laying on the floor playing with the larger model train that he had gotten me. Now, I know my dad … he would never miss an opportunity for a life lesson. I think that was the pastor in him. As we were laying there on the floor, he said, "Our lives are a lot like a train. We are on a track to a destination. Unfortunately, some engineers push their train, and those trains derail. They are much like people who push life outside of the speed limit, go too fast for the tracks and miss their station. Then, there are people who stay within the recommended speed. They move along the tracks safely and get to their destination."
I remember him looking at me and saying, "Rob, that is much like people and our relationship with God. If we try to speed things up and move past what God wants, we are going to derail our life. If we listen to God, who is the ultimate engineer – and stay within the parameters that He has laid out for our lives – not only are we going to get to our location but we are going to get there safely."
Being a boy of eight years old, at first that story didn't sink in. In fact, it was many years later before the story really hit home with me. If I remember correctly, my first words after he made this great analogy were, "Hey Dad, can you set up my race car set now, because I can switch lanes, and we don't have to go around on the same track." I'm sure my father was wondering if I had listened at all. I wish more than anything he could read this and know that I listened and understood.
So many of us today want to rush to the destination. We want to get to the place that in our mind we think is the most important, sometimes cutting corners on our own convictions, much like the engineer who knows better but still gives the train too much fuel and accelerates past the recommended traveling speed. He knows he's pushing it to the limit and probably hoping he doesn't derail. Unfortunately in life, if we cut corners or go past the recommended traveling speed, we more than likely are going to suffer derailment in our lives.
I'm thankful that I serve a God who watches over us even after we've derailed. Much like me as as a child, when my train would derail because I would push it to the limit of speed, God is willing to reach His hand down and put our lives back on the track. He doesn't think twice about it if we ask Him and if we seek to move in the right direction.
So many of us rush through life. I think that's my biggest regret. I haven't taken the time to enjoy moments. If I could go back to that moment at eight years old, I would. If I could tell my father I loved him one more time, I would for all the money in this world. So if your dad is still with you, tell him you love him and tell him you appreciate what he has done for you.
I hope each and every one of you have an amazing month of June, and please join me for Vernon Alabama's Gospel Music Weekend, Sept. 8-9 in Vernon, Ala.
I also encourage you to be with us Oct. 30 through Nov. 2 for Creekside Gospel Music Convention in Pigeon Forge, Tenn. It's going to be an awesome four days of Gospel Music and renewal for your soul.
And that's this month's Publisher's Point.
Read the Publisher's Point and more in the 2017 June issue of the SGNScoops Magazine:
Thanks for reading SGNScoops Magazine. Be sure to tell your friends all about us!
Tags:
Christian life
,
Father's Day
,
Fathers
,
God
,
model trains
,
Prayer
,
regrets
,
rob patz
,
trains
Posted in
Christian interest
,
sgn scoops magazine
|
Comments Off

on Rob Patz: Fast Trains and Life Regrets