Written by SGN Scoops on March 20, 2013 – 5:56 am -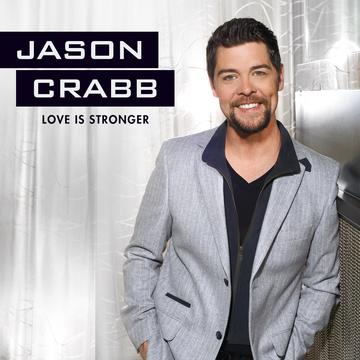 March 19, 2013 – (NASHVILLE, TN) The reviews are in and critics are raving about Love Is Stronger, the latest release from Grammy award-winning vocalist, Jason Crabb. The second studio release from 17-time Dove Award-winning vocalist has garnered attention from both Christian and mainstream press including CCM Magazine, Entertainment Tonight, Associated Press, and Fox News, among others.
Additionally, the release was highlighted by iTunes – the largest distributor of digital music – as a "New & Noteworthy Release" on the main iTunes page as well as Christian & Gospel page. iTunes selects these spots for releases they deem to be be significant additions to the musical landscape. AOL Music also turned their spotlight onto the project by hosting an AOL Music Listening Party where listeners could stream the entire CD for free during release week.
Produced by a trio of musical heavyweights – Jay DeMarcus (Rascal Flatts), Ed Cash (Chris Tomlin), Wayne Haun (Jessica Simpson, Celine Dion) – the project has received amazing support among reviewers and music fans alike. "I've been blown away with how warmly this new music has been embraced," said Crabb. "I am so proud of this project and my prayer is that the music would touch the listener and give them encouragement."
Crabb kicked off his release in high-gear as Free Chapel hosted a live CD release celebration featuring Jason, his band and a live orchestra. The event, streamed to over 40,000 people in more than 35 countries, featured special guests Pastor Jentezen Franklin, Andy Andrews and producers Jay DeMarcus and Wayne Haun. From there, Jason was interview by Fox News' Lauren Green via satellite from Rome, Italy where. Jason continued his high-octane release week taking the stage of the Grand Ole Opry where he debuted two new tracks from the project and he wrapped up the weekend with an appearance at Billy Graham's "The Cove."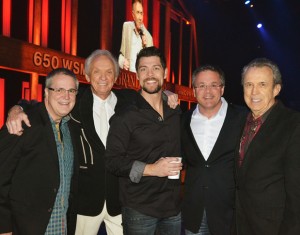 Here's just a sample of what people are saying about Love Is Stronger:
"Grammy-winning Christian singer Jason Crabb impressively drives home the theme of how genuine love can be even if there's heartache and grief. His soaring voice, lyrics of enduring faith and solid production on the 11-track set continue to prove why he is the Gospel Music Association's reigning male vocalist and artist of the year."
– Associated Press

"Love is Stronger is a breakthrough album that will thrust Jason Crabb into a bright spotlight…Jason uses tremendous vocal control as he slides effortlessly from soft, tender notes to full-on power belting… Kari Jobe joins her voice with Jason's on "Love Wins." The song defies categorization and should reach and bolster many…. This (album) has huge potential to expand Crabb's audience…Packed from start to finish with strong songs, versatile vocal performances, and an abundance of energy and emotion, this album is not limited to a single musical category…A gem of a record"
– New Release Tuesday

"Few artists on today's musical landscape possess Jason Crabb's ability to move effortlessly from one musical style to another, erasing boundaries between country, pop and gospel with the smooth, rich voice that has made him a Grammy winner and the Gospel Music Association's reigning Male Vocalist and Artist of the Year"
– AOL's The Boot

"No corn fluff to be found here…rich interpretations of positive lyric themes are set against solid arrangements…Crabb's soulful tone weaves through this record… An eleven-track gem."
– Music News New York

"Jason Crabb's new album (Love Is Stronger) is impressive."
– Huffington Post 

"One of the most anticipated releases of 2013…He is definitely one of the most talented vocalists out there.  Love Is Stronger is definitely one of the best albums of 2013."
– Christian Music Review

"…One of the most talented artists this industry we call CCM has ever seen…Spine-tingling artistry…Each moment of the new album is emotive and beyond the confines of any one genre…"
– CCM Magazine

"One of the most gifted vocalists to rise in popularity the past decade…A collection of strong tunes…Brilliant vocal showcases."
– Roughstock

"Crabb has never been more himself: he shows a greater command over his vocals and he has never sounded more passionate…This CD really brings out the new man in Crabb – one who is confident when he rocks and yet provides the heart pabulum when he croons."
– Breathecast

"…Truly magical…Powerful, Jason's delivery is heartfelt and flawless…"
– Absolutely Gospel

"…Truly fulfilling…One of the strongest gospel albums of this year."
– Nashville Country Club
From the reviews, it is evident that Love Is Stronger, and the overriding messages of love and encouragement contained in the lyrics, have resonated strongly. The 11-track CD was released on March 12, 2013 and contains lyrics that echo Crabb's own real-life.
Along with the release of the new project, Jason reached a social media milestone during release week crossing over 100,000 "likes" on Facebook. "I love my Facebook family! I love the way everyone prays for and interacts with each other," Crabb comments. "It's amazing what one comment can lead to. Many times I've posted a scripture or encouraging thought and someone replies back to tell me that it was exactly what they needed at that time."
Love Is Stronger is available wherever music is sold and online digitally at iTunes, Amazon, and Rhapsody among others.
Connect with Jason Crabb
Website :: www.JasonCrabb.com
Facebook :: www.Facebook.com/JasonCrabbMusic
Twitter :: www.Twitter.com/JasonCrabbMusic
Photo: From L-R: Paul Franklin, Mel Tillis, Jason Crabb, Pete Fisher (Opry General Manager) and Buck White (The Whites) all smiles as Jason gets ready to take the Grand Ole Opry stage. Photo courtesy Nelon PR
Tags:
ccm
,
Ed Cash
,
Entertainment Tonight
,
Free Chapel
,
Grand Ole Opry
,
Jason Crabb
,
Jay DeMarcus
,
jentezen Franklin
,
Love Is Stronger
,
Southern Gospel Music
,
Wayne Haun
Posted in
announcements
|
Comments Off

on JASON CRABB HITS A HOME RUN WITH LOVE IS STRONGER!
Written by SGN Scoops on March 7, 2013 – 3:58 pm -
"It's Time To Let The World In On Our Little Secret"
By Rhonda Frye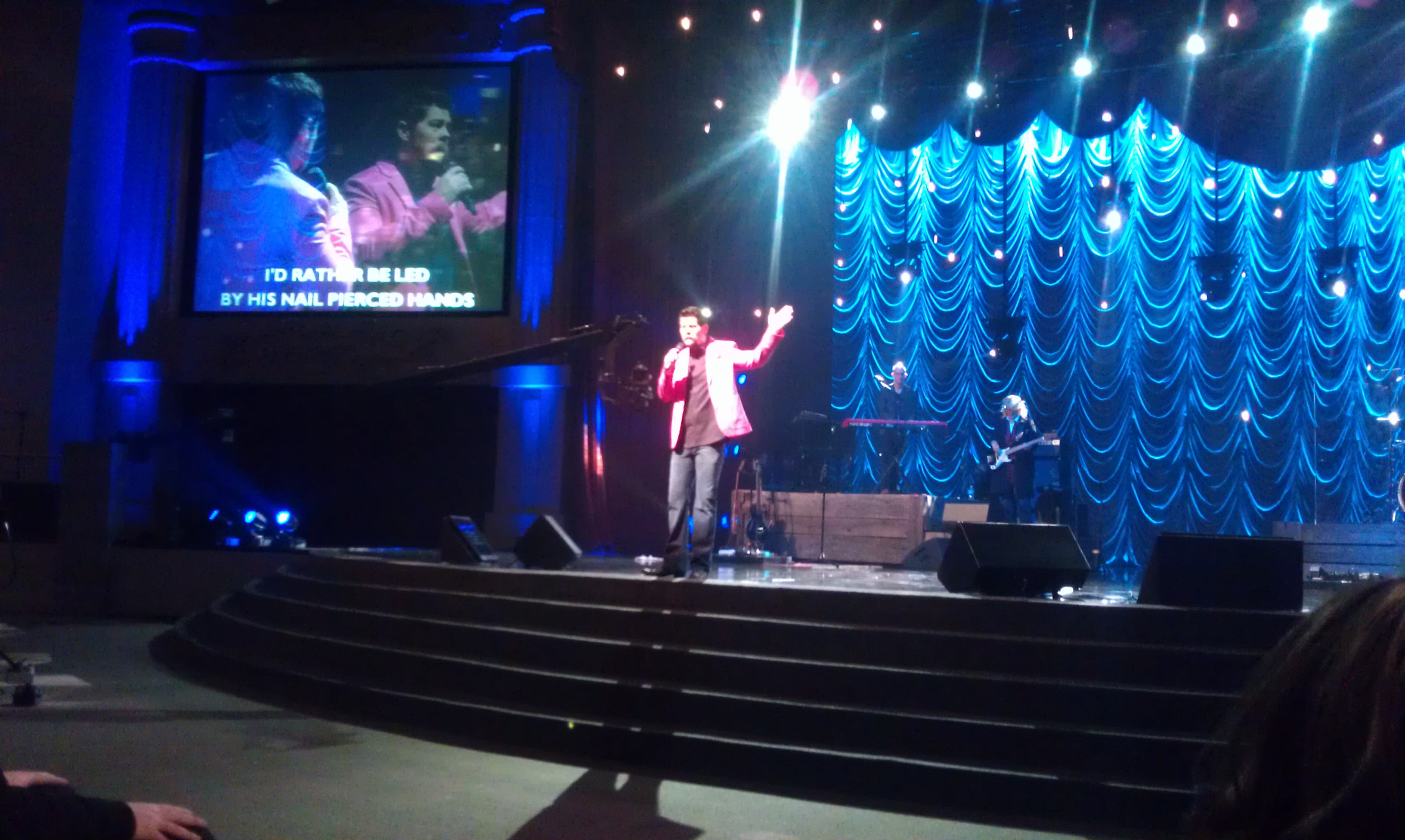 What a night at Free Chapel in Gainesville, Georgia!  Pastor Jentezen Franklin opened the doors to the Worship Center welcoming the Grammy winning, reigning GMA Dove Male Vocalist and Artist of the Year, Jason Crabb. This wasn't an ordinary concert, but a special night of celebration of the highly anticipated release of LOVE IS STRONGER.  Jason was joined by family, friends, special guests and a house packed with enthusiastic fans eager to sample the new music. This new music is geared up to reach all ages, genres and the world with the love of Christ.
Following a warm introduction, Jason claimed the stage in style- all dressed up in a hot pink jacket! He opened the night with the first track off the album, "Give." Judging by the crowd's response, it was obvious from the first few lines of the song that Jason's new music was going to be received well.
The crowd listened intently as Jason sang "I'm a mess today cause yesterday I followed the desires of my foolish heart into the dark…Feeling far away, need a couple days to work real hard to hit the mark  to get myself back in good with you.  What a waste, what a losing game cause….."  After the pause, Jason broke into the chorus… "That's What The Blood Is For," and the crowd broke out into applause, many rising to their feet.  "What The Blood Is For," written by Ronnie Freeman and Tony Woods, is Crabb's first single to Southern Gospel radio.
Sprinkled throughout the night were video messages of congratulations from Barbara Mandrell, Larry Gatlin, Kari Jobe and also Bill Gaither.  All were personal and meant to be treasured by Crabb, but Bill Gaither's words were  profound:  "…You're changing the world," Gaither commented.
Finding it hard to find the right words to express gratefulness, Jason welcomed Wayne Haun and Jay DeMarcus to the stage to discuss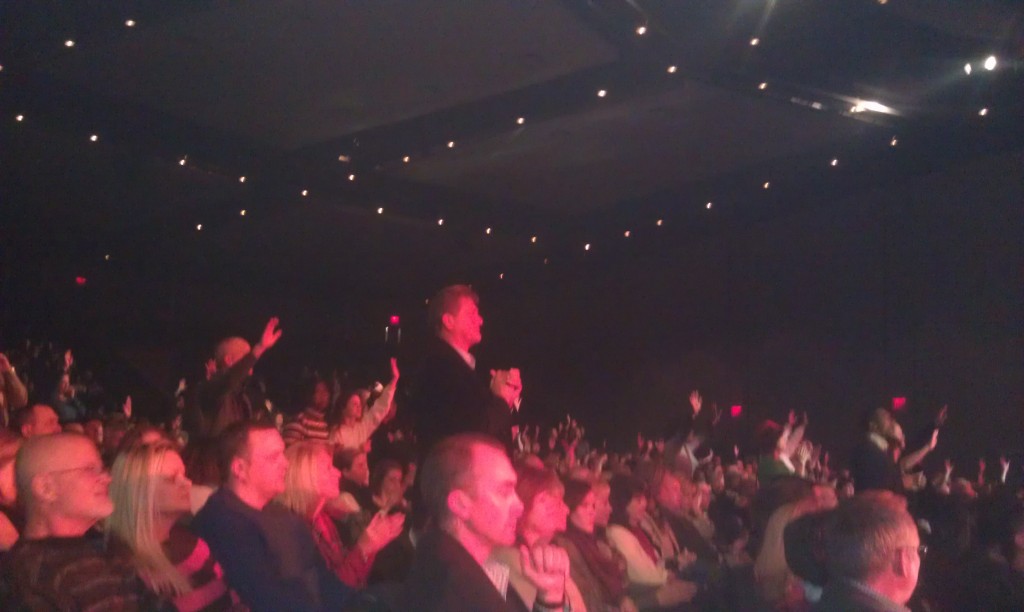 the production of the album. Everyone laughed as Jason admitted to how nervous he was during the project's beginning stages.  Both Haun and DeMarcus had encouraging words for Crabb and expressed high hopes of the record crossing over into the mainstream market. "It's time we let the world in on our little secret," DeMarcus said.  The crowd clapped, cheered, and whistled in enthusiastic response!
Pastor Jentezen Franklin spoke similar words of encouragement for the album to go beyond the Christian market and prayed over Jason with boldness and great faith. Obviously humbled, Jason was grateful for the words of life spoken into his ministry.
Jason was also thankful that longtime friend, best-selling author, Andy Andrews made an appearance at this special occasion.  As soon as Andrews won the crowd with humor, he deposited spiritual truths into their hearts.
In the course of the evening, Jason showcased the increasingly popular, "Let Mercy Hold You," and introduced the song "Near."  Again, the crowd responded in heart-stirred worship standing on their feet with hands lifted high. Read more »
Tags:
bill gaither
,
Christian Music
,
Free Chapel
,
Jason Crabb
,
Jay DeMarcus
,
jentezen Franklin
,
Southern Gospel News
,
Wayne Haun
Posted in
announcements
|
Comments Off

on SGNScoops On The Road: "Jason Crabb Celebrates CD Release"
Written by SGN Scoops on February 28, 2013 – 5:21 am -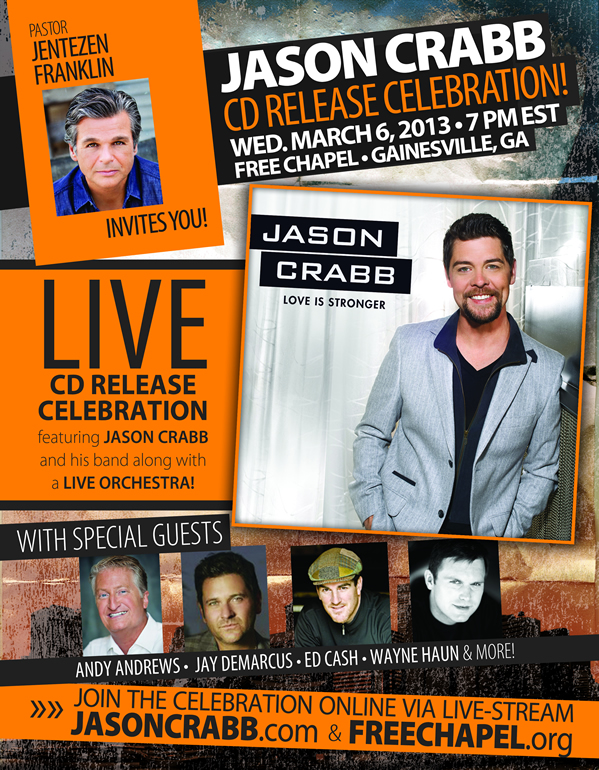 Tags:
ANDY ANDREWS
,
Ed Cash
,
Free Chapel
,
Jason Crabb
,
Jay DeMarcus
,
jentezen Franklin
,
Southern Gospel News
,
Wayne Haun
Posted in
announcements
|
Comments Off

on Jentezen Franklin Welcomes Jason Crabb for CD Release Celebration