Written by Staff on February 16, 2020 – 9:59 am -
Tough love, unexpected guest and faith in Christ set Joseph Habefank free from addiction
Joseph Habedank leans back, microphone in his right hand, left arm outstretched. He pours his entire soul into delivering the message he lives every day.
Heaven's best takes all the scars
For the worst in all of us
That's the glory of the cross
The wonder of His love
That's the beauty of the blood!
They aren't just words of beauty for one of Southern Gospel's favorite soloists. They're life. And he's grateful beyond measure.
"Only God can take blood and make it pretty," he says during a November concert at Stithton Baptist Church in Radcliff, Kentucky.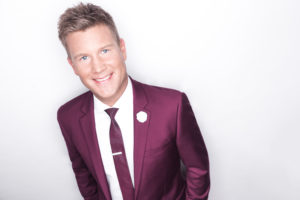 Joseph Habedank knows that beauty of the blood. He knows it personally. Even his surname is a reminder of what God has done in his life. "My name in English is Habedank," he says with a smile. "In German, 'haben' is 'to have' and 'danke' is thanks. So my name means 'have thanks.'
It was fitting that a few weeks before Christmas 2018  he was with The Erwins as part of the Resurrection of Faith Tour which has been working since 2017. The name comes from the artists albums, Habedank's "Resurrection" and The Erwins' "Only Faith Can See," which were current at the tour's outset. 
At 33, Habedank is the oldest artist on the tour. The Erwins' ages range from 18 to 26. Through November, they had played about 50 dates together and plan to continue the tour indefinitely. 
"I'm proud of (the tour). There is no one else in the entire world I would rather travel with than those kids," Habedank says. 
But the Resurrection of Faith tour might be a metaphor for Joseph Habedank's career. One of gospel music's top stars before he was 20, Habedank hit the bottom before he was 30 but now tells his story, made possible by the beauty of Christ's blood.
Tags:
gospel music
,
Grammyy
,
John Herndon
,
Joseph Habedank
,
SGNScoops Magazine
,
Southern Gospel Music
Posted in
artists
,
Christian interest
|
Comments Off

on Joseph Habedank lives in The Beauty of the Blood