Written by scoopsnews on November 9, 2017 – 12:39 pm -
Goodlettesville, TN – Popular Southern Gospel group, Triumphant Quartet has announced that an exclusive scheduling agreement has been reached with the Harper Agency. According to Harper Agency President, Ed Harper, the agency will immediately begin scheduling Triumphant for 2018.
Triumphant Quartet has been delighting audiences of all ages since the group first walked onto the stage at the Louise Mandrell Theater in Pigeon Forge, TN, in 2003. Their smooth harmonies and rich quartet sound quickly gained them national attention, recognition and concert demand. That popularity promoted the group in 2008 from singing daily at the Mandrell Theater to touring and performing in major concert venues, auditoriums and churches nationwide. Over the past decade, the Quartet has been voted Fan Favorite nine consecutive years and each individual group member has also received numerous nominations and honors. They have enjoyed many Top 40 radio hits, as well as five #1 releases, including their most recent hit, Chain Breaker. They have also received four Album of the Year honors, as well as three Song of the Year awards. "It is absolutely amazing how God has blessed Triumphant over the past 15 year," states Triumphant Quartet member Eric Bennett. "During that time we have had a wonderful relationship with Michael Davis and the Dominion Agency; however, we are very excited about the future and this new opportunity with The Harper Agency. Over the past three decades, Ed and Jeff Harper have set the standard in excellence and professionalism. It is truly an honor to be represented by these two men and their fine staff."
The rich heritage of The Harper Agency dates back to 1968 when Herman Harper took a position with Don Light Talent, booking recording artists. Herman became a leader in the field of Gospel talent agents and worked to build his own agency when his son, Ed joined the Harper team in 1986. "My brother, Jeff and I have had the privilege to work with many wonderful artists over the years," Ed Harper states, "and we count it an honor to be involved in the music ministry of Triumphant Quartet."
"We have known the members of Triumphant for years," Harper continues. "Our relationship with David Sutton and Eric Bennett goes back to their days with The Kingdom Heirs. We've know Clayton Inman since the days when we first booked The Singing Americans, when Clayton was a member of that group. Over the years, we have also become great friends with Scott Inman, and we have been privileged to work with Aaron Dishman, the Quartet's newest member, who was a member of The Dixie Melody Boys for several years. We have great respect for each of the guys individually and as a collective group. It is a wonderful opportunity for the Harper Agency to embark upon an exclusive booking agreement with Triumphant. We look forward to a great working relationship for many years to come."
The Harper Agency may be reached by calling 615-851-4500, visiting www.harperagency.com or emailing info@harperagency.com. Additional information regarding Triumphant Quartet is available online here
Tags:
Harper Agency
,
Triumphant Qt
Posted in
announcements
,
artists
|
Comments Off

on TRIUMPHANT QUARTET REACHES SCHEDULING AGREEMENT WITH THE HARPER AGENCY
Written by SGN Scoops on July 18, 2013 – 3:59 am -
Goodlettsville, TN- One of Christian music's leading booking agencies, The H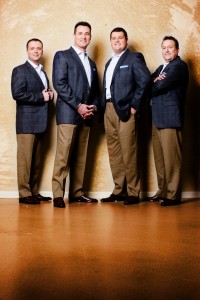 arper Agency, has announced the signing of popular quartet, The Old Paths. The announcement comes on the heels of the group's recent Number One national hit, "God's Great," their second Number One national hit from their Right Now recording on Crossroads Music's Sonlite Records label. The song peaked at Number One in the June issue of The Singing News Magazine. Sonlite Records President, Chris White is thrilled with the success of the group's debut release on the Sonlite label. "When I first heard the Old Paths, I knew immediately that these guys were not just another quartet," White says. "It's a rarity these days to discover an artist who you believe possesses all the main ingredients to succeed quickly.  Now with two Number One songs to their credit in less than a year, they have drawn the attention they deserve.  I trust and believe that their talents will be relevant in our business, for years to come and, I'm glad the Harper Agency will be a part of this process."
Based in Atlanta, GA, Old Paths is actually paving a new path into national prominence with numerous hit songs, as well as national award nominations. Most recently, the group received five nominations when the 2013 Singing News Fan Awards' Top 5 nominations were announced, including New Traditional Quartet. The group also received seven nominations for the 2013 NQC Music Awards, including Favorite Male Group.
The Harper Agency is pleased to add The Old Paths  to their roster of fine artists, which also includes numerous other notable quartets.  "My dad, who founded The Harper Agency in 1986, was a member of  The Oak Ridge Boys for 12 years," Ed Harper, President of The Harper Agency, states. "As a result of Dad's love for four-part harmony, our agency has a rich tradition of representing quality quartets. The Old Paths help us continue that tradition. They have been around for quite a while, but they have recently begun to make a real impact in so many areas. They have received major endorsements from such prominent pastors as  Dr Jerry Vines and Dr Charles Stanley, which is a great testament to their desire for ministry, as well as their exceptional talent. We are honored to have the opportunity to work with and represent such an outstanding group of young men. We look forward to being a part of their future for many years."
For Old Paths, joining the Harper Agency is just one more step in the right direction for this talented quartet. "We are honored and humbled by the recent success of our ministry, and all the glory is given to the Lord, Jesus Christ," Old Paths' baritone, Douglas Roark shares. "We are thankful for the support of our families, friends, fans and diligence of the Crossroads Music team. Along with that success there's been a greater demand for scheduling. We're delighted to announce an agreement with the renowned Harper Agency! With their shared interest in keeping the Gospel of Christ at the forefront, we have every confidence that we can better focus on the day to day task of the ministry and allow more time with our families when we're home. We are so looking forward to what we believe God has in store."
* * *
Tags:
crossroads music
,
Harper Agency
,
Old Paths
,
Southern Gospel News
Posted in
announcements
|
Comments Off

on HARPER AGENCY ADDS OLD PATHS TO ARTIST ROSTER
Written by SGN Scoops on October 14, 2011 – 4:38 am -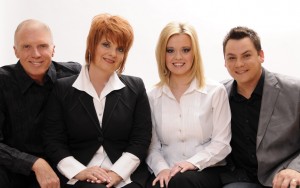 Goodlettsville, TN – One of Christian music's leading booking agencies, The Harper Agency, has announced the signing of popular vocal group, The Talleys (pictured in attached jpg), to their talent roster. The announcement comes on the heels of yet another major change for The Talleys when they transitioned from a trio to a quartet in September with the addition of  Brian Alvey. Alvey, who married multi-award winning group member, Lauren Talley, in June, made his official debut on stage with the family Labor Day weekend in Gatlinburg, TN. "Brian not only brings an impressive vocal ability to the group," group manager, Roger Talley stated, "but he adds a new excitement to the stage with his proficiency as a multi-talented musician. We love his testimony and his heart for ministry."
The East Tennessee based musical family, consisting of the mother/father team of Roger and Debra Talley, as well as daughter, Lauren and now son-in-law, Brian, has enjoyed numerous honors and accolades over the years, including 10 Number one radio singles, making them one of Christian music's most beloved families.
The Harper Agency is pleased to add The Talleys to their roster of fine artists, wich also includes numerous notable family groups.  "Being a family business," Harper Agency representative, Jeff Harper comments, "we understand the dynamics of working together to achieve a common goal.  The Talleys, with their unique sound, are a perfect example of what happens when family blends music and ministry harmoniously." 
Jeff's brother, Ed Harper shared those sentiments."I've known Roger and Debra for nearly 30 years, and of course, I love and admire Lauren's exceptional vocal ability. We are honored to have the opportunity to work with and represent such an outstanding family. We look forward to being a part of their future for many years."
Joining The Harper Agency marks a major change for the popular group, ending their long-time association with Fay Shedd and the Artist Direction Agency, who first began working with the senior Talleys in the early 1980s. "We would like to express our appreciation to Fay Shedd for the many years of hard work and friendship, but we are excited about the opportunity to work with the Harper Agency. We have long respected Ed and Jeff Harper, and we look forward to a new season of ministry. We encourage and invite all of our promoter and pastor friends across the country to contact the Harper Agency to reserve your place on the Talleys' schedule."
The Harper Agency may be reached by calling 615-851-4500 or visiting www.harperagency.com . The Agency is currently scheduling 2012 dates for The Talleys.
Tags:
Brian Alvey
,
Debra Talley
,
Harper Agency
,
Lauren Talley
,
roger talley
,
Southern Gospel Music
,
Southern Gospel News
,
The Talley's
Posted in
announcements
|
Comments Off

on Harper Agency Adds Talleys To Artist Roster