Written by SGN Scoops Staff on August 18, 2014 – 8:30 am -
Mike LeFevre of The LeFevre Quartet is the guest on Gospel Music Today for the week of August 17.  Ken and Jean Grady host southern gospel news and concert updates, the Feature Group is The Coffmans, and Jean reviews a new recording by High Road III.  An article about Steve Hess is the subject of this week's Singing News Notes.  The show includes a new music video by Red Roots, exclusive video of The LeFevre Quartet, recorded by Gospel Music Today's cameras at the AbsolutelyGospel.com Music Fest, in Smyrna, TN, and a visit to the Gospel Music Today Archives for an exclusive concert video of Gold City, at First Assembly of God, in Owasso, OK.
The show is on KWHB TV47 in Oklahoma every
Sunday at 4:30 PM
, and on Roku on FFE TV
Monday at 8:00 PM
and AllNations TV
Tuesday
and
Wednesday at 6:30 PM
. Check local TV schedule for Beaumont, TX, Tyler, TX. Atlanta, TX, and Morrilton, AR.
Tags:
High Road III
,
Ken & Jean Grady
,
Southern Gospel Music
,
Southern Gospel News
,
The Coffmans
,
The LeFevre Quartet
Posted in
video
|
Comments Off

on Gospel Music Today For August 18th On SGNScoops.com
Written by Staff on July 8, 2014 – 11:46 am -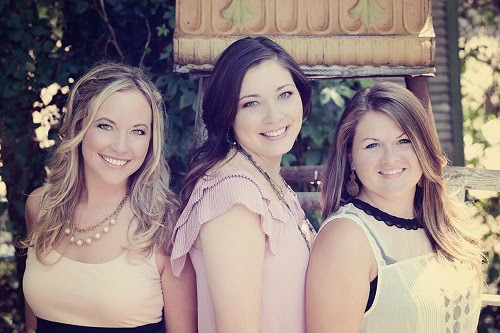 If there is anyone in this country that hasn't heard High Road III I suggest you run, not walk to your nearest digital media and play some of their music. A combination of Bluegrass, Country, Gospel and Appalachian mountain music, this female trio will speak to your heart and squeeze every drop of passion from your soul. The live instrumentation and honed vocals of Sarah Davison, Anna Grace Kimbrough and Kiley Phillips have allowed them to share the stage with The Martins and Jason Crabb, taken them to the main stage at the 2013 National Quartet Convention and brought them to the notice of Ben Isaacs who produced their latest album. Look for High Road III and their latest release, Angel At The Crossroads to start hitting charts and award nomination lists this year.
Sarah, Kiley and Anna Grace are all graduates of Belmont University's School of Music and reside in Nashville, Kentucky. They sing everything from Patsy Cline's "Crazy" to Kari Jobe's "Revelation Song" with ease, taking the melody from low and thoughtful to high and crying accompanied by violin, piano, guitar, drums and even stand-up bass.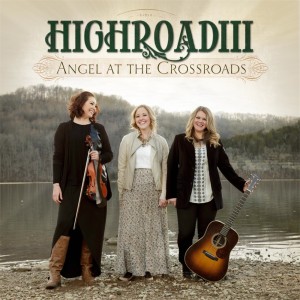 High Road III has been gaining fans in the industry as well as in their listening audience. Jonathan Edwards of SGN Scoops Radio says, "They are sweethearts and very talented. In fact, they have the most musical talent I have seen in any group in a long time." Lottie Squires of WCKB 780 shares, "I've seen them on a couple of showcases at NQC, and met them briefly…they're amazing musicians and singers!"
Over the past year, the trio has sung with another well-known trio, The Martins. Jonathan Martin says he and sisters Judy and Joyce thoroughly enjoy singing with these ladies. "The Martins love High Road III! We have shared the stage with these girls and their talent and musicianship is outstanding! Add that to their sweet spirits and love for Jesus and you can't help but love them."
The heart of High Road III is in sharing the gospel through their music, as Anna Grace explains. "My love is to be able to relate to the audience when I sing or speak; not for my sake, but for the sake of Christ. There were and are still so many times in my life when I need someone to encourage me and lift my spirits. God has brought and continues to bring those people into my life, and through them He shows and reminds me just how precious I am to Him. My goal is to show His love and compassion to those who I come across just as I have been shown love and compassion."
"Angel At The Crossroads," the title song of High Road III's latest album is all about how God intervenes in our lives in different ways through His love and compassion. "It is a beautifully written song that captures the thoughts of someone who is at a crossroads in their life and God provides someone to steer them in the right direction," says Sarah. "I think we have all had angels at the crossroads at some point in our lives."
One of the people God brought to the lives of this trio was Ben Isaacs, producer of Angel. "Working with Ben Isaacs for the first time was a dream come true," says Sarah. "All of us have listened to the Isaacs sound and absolutely love them. To have Bill (Gaither) sing on our project was a huge honor for us; what a wonderful and genuine man he is! This project is honestly exactly what we sound like. We played all of our own instruments and sang just like we do in a concert, and I love that aspect of this project. It just sounds real."
"Ben Isaacs and Mark Capps worked very hard on our latest project, and I feel above all else, we gained two new, great friends," says Kiley. "They are so humble and down-to-earth; not to mention absolutely hilarious. We had a blast working with them. I think we all would like to work with the Gaither crew in the future. Bill Gaither was sweet enough to sing a bass part on a track called "When God Dips His Pen of Love" on our new album. What an amazing honor! We hope to work more with them in the future."
Anna Grace has enjoyed working with a lot of artists during the past year. "I got the pleasure of being able to play fiddle behind Karen Peck and New River last year at a Bluegrass Showcase during the NQC week, and just loved every moment with the players, including Ben Isaacs, Sonya Isaacs and Ben Rochester, among others. All of those folks were really sweet, and I loved Karen as well. Ben Isaacs has been so great to work with on our last project, and I was so blown away by how much he cared about our sound and about us doing the very best that we could. I felt like I was a better player and singer having been under his direction as a producer." As she looks into the future, Anna Grace adds, "This is a huge dream, but I would love to work with someone like Dolly Parton or Alison Krauss. I know that they both demand a lot of themselves musically, and I know that I could learn so much from them about how to be a better musician."
High Road III is already full of talented musicians. Kiley Phillips plays the acoustic guitar and sings the high harmony, though she says they all share the lead vocals from time to time. "My favorite song to sing live is 'Redeemer' because it's such a powerful song and has an unfailing message; that our Redeemer lives.  I love singing this song because it gets such an amazing response from people all over the States. People are familiar with the song and can really worship along with it."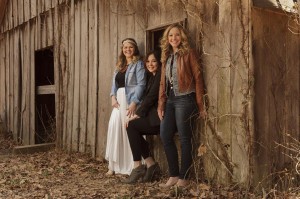 Sarah Davison is the trio's pianist and sings both lead and harmony. "I love singing 'Walk Beside Me' the most for our live concerts because it has such a powerful message and musically it just speaks to me!"
Alto singer Anna Grace Kimbrough says, "The instrument I have been playing for 22 years is the fiddle. My favorite song to sing right now is "My Savior's Love". The words of that hymn are so powerful and remind me that my works don't get me closer to Christ. I have the ability, through faith in Jesus Christ, to draw closer to Him because of what He did on the Cross for me."
High Road III has been traveling more and more as their fan base grows, and they each have their own favorite place to sing. "My favorite place to sing would probably be at my home church, Scott Avenue Christian Church in Newton, IL," says Kiley. "I grew up singing as much as I could in that church, and the people there are truly amazing. High Road has played there a couple times within the last few years, and I can truly say that the Holy Spirit showed up each time we played there. Along with an incredibly moving worship service, I have personally never felt so supported and loved as I do in that church.  My parents and much of my family are very involved in the church, and I can whole-heartedly say that the members of SACC support me like family." Kiley adds, "My ultimate venue would probably have to be the Grand Ole Opry. There's just something so special about that place, to have the honor of standing on that stage where so many greats have stood – that's something special." Read more »
Tags:
Angel At The Crossroads
,
Anna Grace Kimbrough
,
Ben Isaacs
,
Bluegrass Music
,
christian country
,
High Road III
,
Kiley Phillips
,
Lorraine Walker
,
Sarah Davison
,
sgn scoops
,
southern gospel
Posted in
sgn scoops magazine
|
Comments Off

on Taking The High Road
Written by SGN Scoops Staff on July 7, 2014 – 1:35 pm -
NASHVILLE, Tenn. (July 7, 2014) HIGHROADIII, award-winning Appalachian Gospel group, will be the featured worship leader guest at the EXTREME! Challenge 2.0 Conference at the LifeWay Ridgecrest Conference Center in Ridgecrest, North Carolina.
EXTREME! Challenge 2.0 brings together ministry leaders who understand how to teach the Bible for transformation and who have started thousands of new Bible study groups, and will share their expertise with attendees. The purpose of the conference is to discover how to engage more people in ministry and how to reach more people for Christ in an efficient manner. Leaders of all age groups will be in attendance, learning how to meet today's Bible study group challenges. The conference will take place on July 18 through July 21, in the beautiful Blue Ridge Mountains in western North Carolina, located on the 1,300-acre Ridgecrest Christian conference center.
HIGHROADIII was invited by the conference leaders to be the featured worship leader. The group feels honored to be asked to participate in leading the attendees into worship.
"This event is such a great time. I'm so looking forward to leading worship, as well as seeing some friends at the event." stated Kiley Phillips.
Anna Grace Shideler said, "I have been looking forward to this event all summer. We are excited to see what God's going to do!"
Keyboardist for the group, Sarah Davison commented "LifeWay is such a great organization and such an intricate part of so many churches in the Southeast. We couldn't be more honored to be a part of leading the worship services in such an incredible event with such an outstanding group of people in the ministry. I have a feeling it's going to be good."
HIGHROADIII's inventive instrumentation and beautiful harmonies and vocals are a perfect fit for the spirit of the conference.
For more information on HIGH ROAD III, visit http://www.highroadmusic.com or https://www.facebook.com/HIGHROAD3 .
To book HIGHROADIII contact them at highroadmusic@gmail.com .
For more information on LifeWay Ridgecrest Conference Center, visit http://ridgecrestconferencecenter.org.
For more information on the EXTREME! Challenge 2.0, visit http://www.lifeway.com/Event/leadership-training-extreme-ss-challenge-2-0-ridgecrest-nc.
Tags:
High Road III
,
LifeWay Ridgecrest Conference Center
,
Southern Gospel Music
,
Southern Gospel News
Posted in
announcements
|
Comments Off

on HIGHROADIII Featured Artist At LifeWay Ridgecrest Conference Center
Written by SGN Scoops Staff on June 6, 2014 – 12:17 pm -

Signal Mountain, TN June 6, 2014 This weekend's special Harmony Road TV program features the national broadcast premiere of High Road III and their new video "Angel at the Crossroads". Other music on the program include The Booth Brothers (from the Jubilee project), The Freemans with "Lead Me Home", The Rochesters and the moving song "In My Father's Eyes", and Buddy Greene with Jeffrey Taylor performing "Walking in Jerusalem".
"All of us at Harmony Road TV are pleased when we are able to offer a national broadcast premiere of a new video" said Roger Spears, Harmony Road producer. "High Road III is a wonderful trio of dedicated and multi talented musicians and singers and we hope to hear a lot more from them over the next few years as they make their mark in Christian music" he concluded. Viewers will enjoy the variety of music on this week's show which includes offerings from established as well as newer artists.
Harmony Road is a weekly Southern Gospel TV program hosted by "Singing News" publisher and Solid Gospel Radio host Les Butler. Harmony Road can be found each week on The Heartland Network Sunday mornings at 8:00 Eastern as well as Saturday afternoons on WATC57 in Atlanta. You can watch Harmony Road on the NRB Network each Saturday evening at 8:30 Eastern. The NRB Network is available over the air, on DirectTV, ROKU, online streaming and through their mobile app. Also find the program on the WALKtv network (including ROKU) and www.wmjn29.com. For a complete list of stations and networks that air the program, go to www.harmonyroadtv.com.
Tags:
Harmony Road TV
,
High Road III
,
southern gospel
,
Southern Gospel News
,
Southern Gospel TV
Posted in
announcements
|
Comments Off

on Harmony Road TV features national broadcast premiere of high road III video "Angel at the crossroads"
Written by SGN Scoops Staff on May 17, 2014 – 4:19 pm -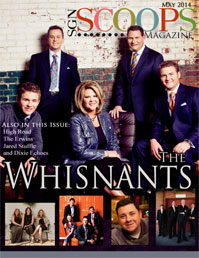 Welcome to the May issue of SGN Scoops digital magazine! We are thrilled to bring to you the best stories in Christian music, from features to devotionals to concert reviews. This month, our cover story is the beloved family group, The Whisnants, as they allow SGN Scoops to come with them backstage and in the bus. Be sure to read this captivating feature by Jennifer Campbell. Erin Stevens' Younger Perspective shines the spotlight on The Perrys' artist, Jared Stuffle. Other artists featured include The Erwins by Marcie Gray, new Christian female trio High Road III by Lorraine Walker, and Sandi Duncan Clark catches up with the Dixie Echoes.
Craig Harris reviews a concert event by the indescribable Mark Lowry along with the award-winning Martins. Rob Patz tells America what they want to know about family group The Hoggles. Rhonda Frye reflects on Mother's Day. Legendary staff writer, Lou Wills Hildreth shares the taping of the SGMG 2014 Harmony Honors.
We are happy to have our participating artists sharing their hearts with you, including Dr. Jeff Steele, David Staton, Sherry Anne and Kelly Nelon Clark.
Also included in this month's issue are CD reviews, SGN Scoops Top 100 songs for May and our monthly Health Feature by Laurette Willis, who discusses the enjoyable topic of regular exercise!
We hope you take a moment to read the uplifting and encouraging articles this month. Pass the link along to family and friends and don't forget to tell your favorite artist that you saw their feature in this month's SGN Scoops magazine!
Tags:
David Staton
,
High Road III
,
Jeff Steele
,
Kelly Nelon Clark
,
Lorriane Walker
,
Mark Lowry
,
rob patz
,
Southern Gospel News
,
The Dixie Echoes
,
The Martins
,
Whisnants
Posted in
sgn scoops magazine
|
Comments Off

on May 2014 SGNScoops Magazine
Written by SGN Scoops on May 9, 2014 – 7:09 am -
Nashville, TN (May 8, 2014) Award winning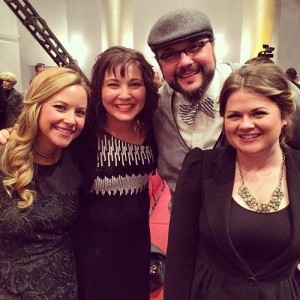 female group sensation HIGHROADIII celebrated releasing their brand new album with a big CD Release Party, May, 7th . The new CD 'Angel At The Crossroads' is about to make a big splash in the Gospel Music arena.
The Country/Bluegrass sounding Gospel group performed their new release in it's entirety to a packed house at the Backstage Room of 3rd and Lindsley, a restaurant known for it's musical events in Nashville.
Performing songs from their sophomore project these ladies demonstrated some of the closest harmony you will ever hear. The CD has a wide variety of musical tastes from a short a capella rendition of the old hymn "Count Your Blessings" to the Southern Gospel Hit "Beulah Land" to the contemporary stylings of "Redeemer".
Lending their hands to this project included multi-award winning artists Bill Gaither singing Bass, Greg Ritchie playing drums and Ben Isaacs producing the album. Greg Ritchie also performed with the group at the CD Party.
Though the girls included enough cover tunes to keep it interesting, there is some great original material to listen to also. Penned in part by group members Sarah Davison, Kiley Phillips and upright Bass player Stephen Wilder "Worry" is an upbeat Bluegrassy song that will lift your spirit any time you are down. The other tune written by group members "Don't Weep For Me" has a nice Country feel and a real message that will get you thinking about Heaven. There is even one novelty song "Prayer Chain" which speaks of how a prayer chain can in some cases be a rumor chain. It's a really cute song. The title song "Angel At The Crossroads" seems to have a special meaning to the lives of each of the ladies.
All in all it was a night of fun and great fellowship including HIGHROADIII fans, some media, other Gospel artists and even some Belmont University students. Kiley Phillips, Lead singer and guitar player, commented "We are so thankful for each and every person who came out to our CD Release Party. We had such an amazing time sharing our new project with our closest friends and family. The support and encouragement that we felt is so humbling and gives us a charge to work even harder to spread the Word of God and His message that we all three believe in."
All three members of HIGHROADIII are Belmont University graduates. Sarah Davidson, Kiley Phillips and Anna Grace Kimbrough make up the ladies of HIGHROADIII while Stephen Wilder plays the upright Bass with them as often as possible.
In an additional note, HIGHROADIII has recently signed an extensive publicity agreement with AG Publicity of Nashville, TN. Pamela Unthank of AG Publicity stated "The first time I heard these three young ladies I knew they had a sound that was going to take them a long way toward getting them to where they want to be in their careers. We are proud to represent a group with such a great sound and loving spirit."
You can learn more about HIGHROADIII at http://www.highroadmusic.com or https://www.facebook.com/HIGHROAD3 .
You can book HIGHROADIII at highroadmusic@gmail.com .
Tags:
Ben Isaacs bluegrass gospel
,
High Road III
,
Southern Gospel News
Posted in
announcements
|
Comments Off

on HIGHROADIII Releases New CD With Big Party
Written by SGN Scoops Staff on April 23, 2014 – 10:32 am -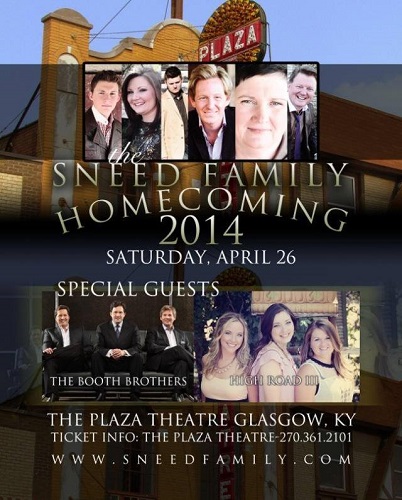 Tags:
booth brothers
,
High Road III
,
Sneed Family Homecoming
,
Southern Gospel News
Posted in
christian entertainment
|
Comments Off

on Sneed Family Homecoming This Weekend