Written by Staff on January 6, 2017 – 7:30 am -
Nashville, TN (January 4, 2017) –Allegiance Trio is excited to announce big changes for 2017. Corey Lackey has been named to the position of tenor singer.
"Corey is ready to step up. He brings a charisma to our ministry that will be exciting to watch," said Kasey Kemp, spokesman of the group. "We have formed a strong team and God is growing us. Allegiance Trio is positioned for the doors that are opening," Kemp continued.
Lackey, 22 years old, joined the Trio after relocating to Nashville from the Detroit, MI area. Previously, Lackey has been serving the group as the road manager and providing sound engineering.
"I am thrilled that Kasey and Jake are providing this opportunity. I have traveled many miles with these men and know that their hearts burn to sing. Standing beside them every night will be a distinct honor," Lackey responded.
Allegiance Trio further announces the "Time to Sing" Internet video program. Under the direction of Jake Sammons, the program features Southern Gospel artist testimonies that drive them to sing. The interviews provide a poignant view into the lives of these individuals.
Allegiance Trio is comprised of three men who combine their voices for one purpose, to align themselves to honor God with one voice. Along with Kemp and Lackey, Jake Sammons sings baritone and writes much of their music.
The acclaimed Wayne Haun and Nick Bruno skillfully produced the music for the Trio's newest project, It's Time To Sing. Gus Gaches directed the project under Song Garden Records label. Allegiance Trio has plans to release the next single from the project soon.
To keep abreast of news from Allegiance Trio, watch for their new website or click on their site on Facebook.
For more Gospel music news click here.
Tags:
ALLEGIANCE TRIO
,
Corey Lackey
,
gospel music
,
Jake Sammons
,
Kasey Kemp
,
Nick Bruno
,
Wayne Haun
Posted in
announcements
|
Comments Off

on Allegiance Trio Announces New Tenor Singer
Written by SGN Scoops Staff on December 10, 2012 – 3:50 pm -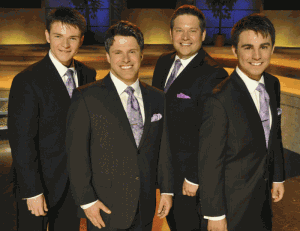 Nashville, TN December 10, 2012 – Christian Music Group, DECLARATION, takes center stage this weekend at the Trader's Mall, 6900 Benton Road, Paducah KY, 42003. The concert will be Saturday, December 15, 2012, at 6:00 PM.
"The Christmas season can get hectic and crazy," says Jake Sammons of DECLARATION, "We love taking the true Message of Christmas and presenting it through traditional Christmas songs as well as songs that speak the Gospel into our everyday lives."
DECLARATION is a Christian Music Group based in Nashville, TN. They began with the tutelage and support of Award-Winning Bill Gaither Homecoming Artists, the Booth Brothers. This exciting and energetic young group has traveled across the United States and into Mexico over the last 16 months as well as releasing 5 group CDs and a live DVD. They appeared as a Featured Artist at the 2012 National Quartet Convention in Louisville, KY.
"This weekend we will celebrate the Season by taking the Message of Christmas to where the people are, the mall," said Jake. "We believe that we have a great message and that's our gift to people this Holiday!"
For concert information or to learn more about DECLARATION, please contact April Potter Holleman of Creative Vision Entertainment by calling 615-479-0954 or visit www.DeclarationTrio.com.
Tags:
April Potter Holleman
,
Declaration
,
Jake Sammons
,
national Quartet Convention
,
southern gospel concerts
,
Southern Gospel News
Posted in
announcements
,
christian entertainment
|
Comments Off

on Declaration To Appear At Trader's Mall, Paducah, KY
Written by SGN Scoops Staff on November 15, 2012 – 3:23 pm -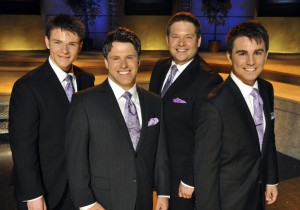 Declaration of Nashville, Tn is excited to announce they are joining the list of Creative Vision Entertainment artists.
Creative Vision Entertainment is a Nashville, Tn based management/booking company owned by April Potter Holleman.
Declaration's ministry began 16 months ago with an endorsement by and invitat…
ion to tour with, The Booth Brothers. Touring with the Booth Brothers has allowed Declaration to hone their craft while being exposed to a large national and international audience. In addition to a full-time tour schedule, Declaration has four recordings with two national singles, an "Artist Spotlight" appearance on The Gospel Greats, a performance at the National Quartet Convention and also garnered a top 5 Nomination in the Sunrise category of the Diamond Awards.
"I am thrilled about the opportunity of working with these guys. Their talent, passion for ministry and attitude make
the perfect combo of what we look for at Creative Vision in our family of artists. I am excited for the future and cannot
wait to get started working hard for Declaration", states April. Jake Sammons of Declaration says, "Since we began sixteen months ago, watching God move in our ministry has been amazing! We are looking forward to where He is leading and believe that April and CVE are part of that path."
In addition to booking and managing a concert schedule, CVE will also be working to expand Declaration's revival/crusade ministry. Declaration's Kasey Kemp says "We feel very strongly about singing in churches and concert halls, but we also have a heart for revivals/crusades. April has experience in growing these types of ministries and we look forward to the doors God is opening with her help."
For more information concerning Declaration, please visit www.declarationtrio.com
On Facebook www.facebook.com/declarationtrio
On Twitter www.twitter.com/DeclarationTrio
For more information concerning Creative Vision Entertainment, please visit www.creativevisionentertainment.com
On Facebook www.facebook.com/creativevisionent
On Twitter www.twitter.com/CVEApril
Tags:
Creative Vision Entertainment
,
Declaration
,
diamond awards
,
Jake Sammons
,
Kasey Kemp
,
southern gospel
,
Southern Gospel News
,
the booth brothers
Posted in
announcements
,
diamond awards
|
Comments Off

on Declaration Enters Management and Booking Agreement with Creative Vision Entertainment
Written by Rhonda on September 20, 2010 – 4:03 am -
Nashville TN- Homeland Recording artist The Toney Brothers announced today
that effective immediately, Jake Sammons, and Derrick Boyd, are joining
The Toney Brothers.
Jake Sammons will be singing baritone, and playing the keyboard, and
Derrick Boyd, will be singing tenor. Jake will be filling in for George
Amon Webster unitl he is able to return, after that time, Jake will remain
with the group, as a vocalist and as pianist as well.
These gentlemen are no strangers to Gospel Music Fans. Sammons spent four
years as lead vocalist with The Toney Brothers during the time when the
quartet had such Top 20 singles as "Gonna Make My Getaway" and "Mercy Came
Down".  Jake then spent several more years as Music Director and morning
drive host at WPOS Southern Gospel Radio in the Toledo Ohio market.
Boyd is one of Gospel Music Fans favorite all time tenors.  He has spent
over 20 years with such groups as the Dixie Melody Boys, Heaven Bound and
The Kingsmen.  Both of these men are welcome additions to the group and
they are looking forward to being back on the road seeing the fans at all
Toney Brother appearances.
Work is already underway for the new Homeland recording to be released
this fall, and the first single with this dynamite group "Just As He Is"
written by Dianne Wilkinson has just been shipped to radio.   The Toney
Brothers are also regular guest artists on the new nationally syndicated
Television program "Brush Arbor Jubilee" which can be seen throughout
various markets each weekend.   National Quartet Convention Fans will get
an opportunity to hear this group on Thursday afternoon at the Featured
Artist Showcase.
You can find more information at www.homelandentertainmentgroup.com or at
www.toneybrothers.com
Tags:
Brush Arbor Jubilee
,
Derrick boyd
,
Homeland entertainment Group
,
Jake Sammons
,
toney brothers
Posted in
announcements
|
Comments Off

on Jake Sammons and Derrick Boyd Join The Toney Brothers