Written by SGN Scoops Staff on November 28, 2014 – 12:14 pm -
Artists include Randy and Sheri Miller,
Canaan's Crossing and  John R. Bowman
Signal Mountain, TN Recently several award winning gospel and bluegrass singers and musicians gathered in a cabin in Monteagle, Tennessee to perform on "A Harmony Road Christmas", the program's original Christmas production for 2014.  The episode will contain classic and newer Christmas songs, personal Christmas memories and a special reading of the Christmas Story, from the Book of Luke by program host Les Butler.
"It was a special day inside the cabin at Jim Oliver's Smokehouse in Monteagle.  The music and spirit were great as these wonderful musicians and singers performed for the taping of "It's a Harmony Road Christmas" said Roger Spears, program producer.  "We had planned to produce an acoustic program with an "Americana" feel and we weren't disappointed.  Canaan's Crossing, John Bowman with guest Troy Engle, and Randy and Sheri Miller proved why they are considered top performers, but even more importantly, dedicated Christians with the desire to reach people through their music", he concluded.
"Les Butler's hosting and his beautiful reading of the Christmas Story will round out an entertaining and inspirational program" added Spears.
Tim Maze of Canaan's Crossing added "To be in thousands of homes to celebrate the Christmas season is such an honor and blessing.  Our thanks to Harmony Road for asking us to be a part of this great event".
Allan Rhodes of Rhodes Media Center and Harmony Road Productions was technical director for the production, providing camera work and production.  Bill Lord from Nashville, Tennessee assisted with audio and Jim Oliver's Smokehouse added location assistance and hospitality services.
Now available to over 80 million television homes across the country in addition to online streaming, ROKU, mobile app and more, Harmony Road is a weekly southern gospel television program hosted by Singing News, Butler Music Group and Solid Gospel Radio veteran Les Butler.
Information on Harmony Road, Its affiliates and time slots can be found at www.harmonyroadtv.com.  Viewers can also interact with the program on Facebook at Harmony Road TV and on twitter @harmonyroadtv.
Harmony Road is produced and distributed by Harmony Road Productions and features the best in Southern Gospel music and video. It can be found each week on The Heartland Network, The NRB Network (including DirecTV, streaming and mobile app), WATC57 in Atlanta, WGNM-TV in Macon, WYBU-TV in Columbus, GA/Phoenix City, AL.  Also find the program on the WALKtv network (including ROKU), Harmony Gospel in Greeneville, SC,  DCT3in Middle Tennessee, TV24 in Anniston/Gadsden, Charter Cable in Clarksville, Cookeville/Crossville, Sevier County, Lebanon and Jackson, TN and  WMJN29 in Decatur/Athens/Cullman, AL.  Harmony Road has recently added affiliates www.bbntv.org, where the program will be streamed online several times a week.
Affiliates have also been added in Jackson, TN, Beaumont, TX,  and Harrogate, TN.
Allan Rhodes of Rhodes Media Center is the programs technical director.
Tags:
Canaan's Crossing
,
harmony road
,
Jim Oliver's Smokehouse in Monteagle
,
John Bowman
Posted in
announcements
|
Comments Off

on Harmony Road TV Produces Original Christmas Special
Written by SGN Scoops Staff on June 2, 2014 – 12:22 pm -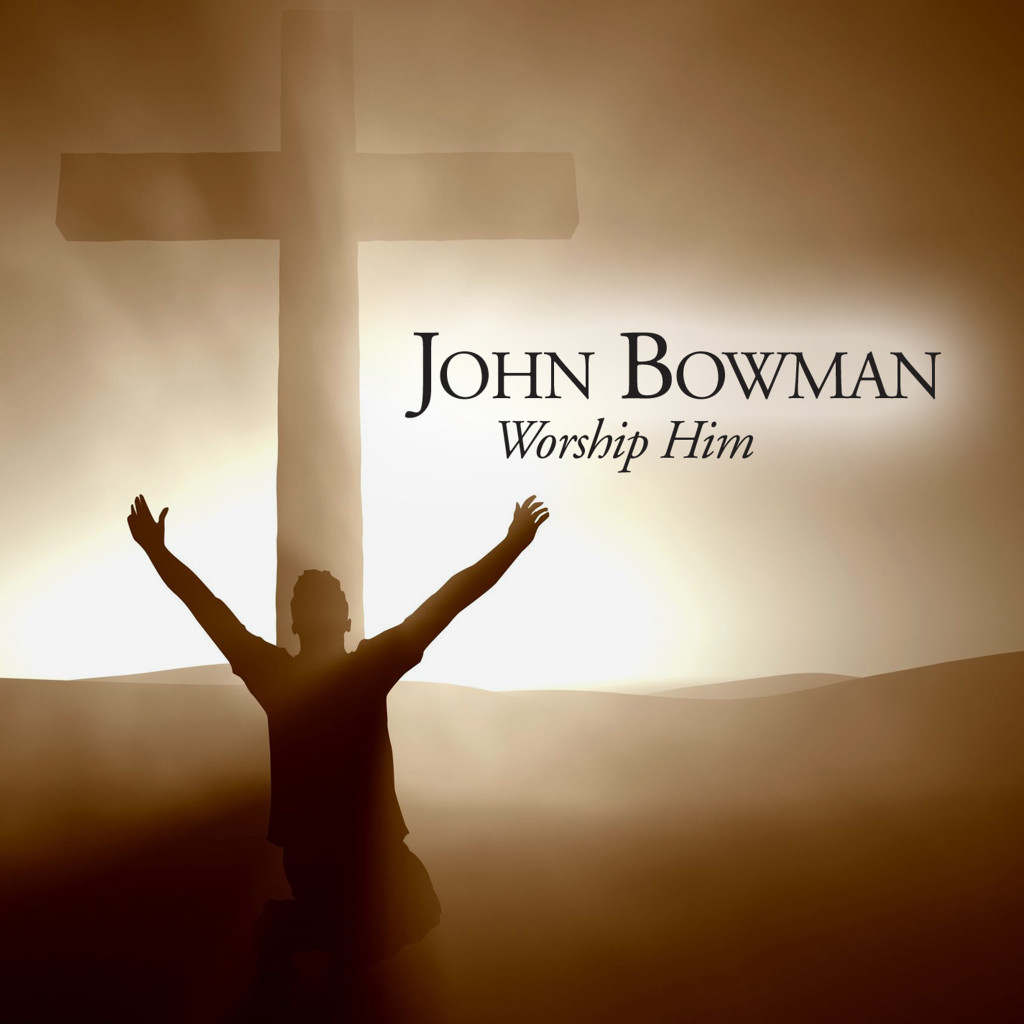 Arden, NC — There is a sweetness and purity in a single vocal and guitar together. John Bowman's voice reflects true worship in this new all-acoustic, solo release.
Bowman, who is recognized in the traditional Gospel world first as a member of the legendary Bluegrass outfit Doyle Lawson and Quicksilver and later as a standout member of The Isaacs, shines all on his own on this stripped-down release entitled WORSHIP HIM.
The songs move from the quick-rolling cross picking of "God's Not Dead" to the soothing lullaby style of "In My Father's Eyes" to the story ballad "I Love My Friends." Each track is delivered with sincerity and unwavering faith. It gives the feel of simple worship, of solitude and joy. Through these ten songs, their message and delivery, Bowman invites you to join and Worship Him.
John R. Bowman has a long and impressive list of credentials as a musician, singer and preacher. John started his career as a singer and guitarist with bluegrass legend, Doyle Lawson. CMA female vocalist of the year Alison Krauss later hired John as guitarist for Union Station. In 1994 Bowman joined The Isaacs and spent 12 years traveling all over the world with the gospel legends. Bowman answered the call to preach and earned an exhorter's license through the Church of God in Cleveland, Tennessee.
In 2006 Bowman left the road to teach at a local Christian School in La Follette, Tennessee. He taught there for 5 years. During this period, 2007-2009, Bowman worked with banjo great, J.D. Crowe, as his bass player and vocalist. John worked with Crowe and the New South for nearly two years.
In November of 2009, Bowman along with Adam Steffey, Ronnie Stewart, Harold Nixon, and Keith Garrett formed the Grammy-nominated, IBMA award winning group, The Boxcars.
In 2010, Bowman released a tribute album to his father-in-law, Joe Isaacs. The project entitled, "Family Chain: The Songs of Joe Isaacs," was nominated for a Dove award, and remains one of the most played on Sirius XM Radio.
Another highlight of 2010, was when Bowman earned a degree in Christian ministries through Oakland City University in Oakland City, Indiana through the Hopper Foundation.
Bowman has recorded 4 solo projects over the span of 18 years and preached many special services and revivals.
After 22 years of traveling with some of the world's greatest bluegrass and bluegrass gospel artists, Bowman is embarking on a new journey with a greater focus on ministry. WORSHIP HIM is available June17 and is a fine platform for the launch of John's new adventure.
Tags:
Church of God in Cleveland
,
Doyle Lawson and Quicksilver
,
Hopper Foundation
,
John Bowman
,
Southern Gospel News
Posted in
announcements
|
Comments Off

on John Bowman Has Come to Worship Him
Written by SGN Scoops Staff on January 5, 2012 – 3:30 pm -

Arden, NC – Crossroads Entertainment & Marketing announces the launch of Pisgah Ridge, a new label for special projects and for promising up-and-coming Bluegrass groups. Pisgah Ridge will offer an award-winning studio production team, professional marketing and radio promotion, and worldwide music distribution.
This announcement follows the recent successes of Crossroads' premiere Bluegrass label, Mountain Home Music Company. Mountain Home artists recently spent multiple months at the #1 position on Bluegrass Unlimited's monthly song and album charts. Mountain Home artists also took home seven awards, including "Song of the Year," "Instrumental Group of the Year," and "Emerging Artist of the Year," at the 22nd Annual International Bluegrass Music Awards.
Tim Surrett of Balsam Range will act as A&R Consultant for Pisgah Ridge. "I'm very excited about Pisgah Ridge," he said. "With the popularity of Mountain Home, we saw the need to have a label home for promising Bluegrass bands to grow their music and expand their fan base. Mountain Home's strength in this industry will help open doors for emerging artists on the Pisgah Ridge label. I also look forward to producing these artists whenever possible. God has blessed us richly in the Bluegrass Gospel arena, and I'm proud to be working with Crossroads in delivering great music to a wider audience."
The first Pisgah Ridge release was John Bowman's Family Chain: The Songs of Joe Isaacs. Tim Surrett is currently at Crossroads Studios producing an upcoming Pisgah Ridge release from New River Bluegrass. Heart On The Run will be available in stores and online February 21, 2012.
Tags:
bluegrass
,
Crossroads Entertainment
,
Joe Isaacs
,
John Bowman
,
New River Bluegrass
,
Pisgah Ridge
,
Tim Surrett
Posted in
announcements
,
christian entertainment
|
Comments Off

on Crossroads Announces New Bluegrass Label: Pisgah Ridge