Written by scoopsnews on March 29, 2019 – 10:09 am -
From Libbi
The Perrys concert for tonight in Richmond, IN has been canceled due to an accident this morning about 6:30AM in Indianapolis. A tire came off of a Jeep going in opposite direction as our bus, the tire came across the concrete barrier on the interstate and hit our bus on the drivers side window shield. Andrew was driving and it's a miracle that he kept the bus under control enough to get it off the interstate. Had the tire came in 6 inches higher, our story this morning would be one of disaster. But, GOD!!! Andrew will be going to the hospital when he gets home to be checked out in his lungs as he has been coughing up shards of glass. Please pray for us as we are trying to get back home to NASHVILLE so we can finish out the remaining dates for the weekend.
Please pray!
Tags:
Andrew Goldman
,
Libbi Stuffle
,
the perrys
Posted in
announcements
|
Comments Off

on Please Pray For The Perrys
Written by scoopsnews on June 20, 2018 – 1:57 pm -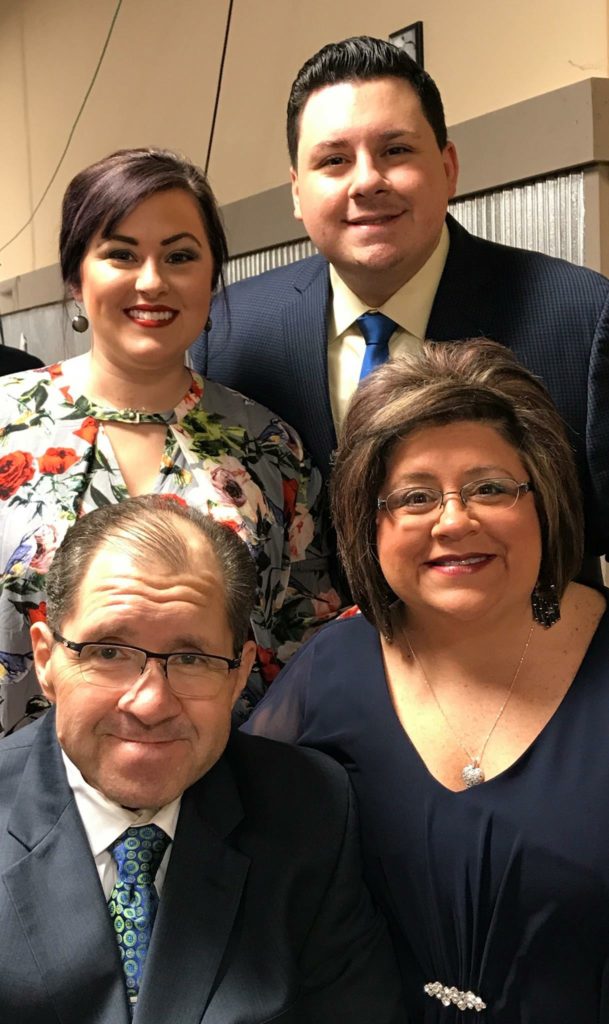 From Pastor Bill Bailey (06-19-18)
I had the privilege of notifying Libbi and Jared of Tracy's Hall of Fame induction last week. Since it was made public this morning by the SGMA's official announcement, I wanted to share this special video with everyone. Thanks Troy for capturing the moment. Feel free to share to help spread the word. Congrats to Tracy and the entire Stuffle/Perry family. It's an honor well deserved!
Check out the complete list of all inductees below. Congratulations everyone!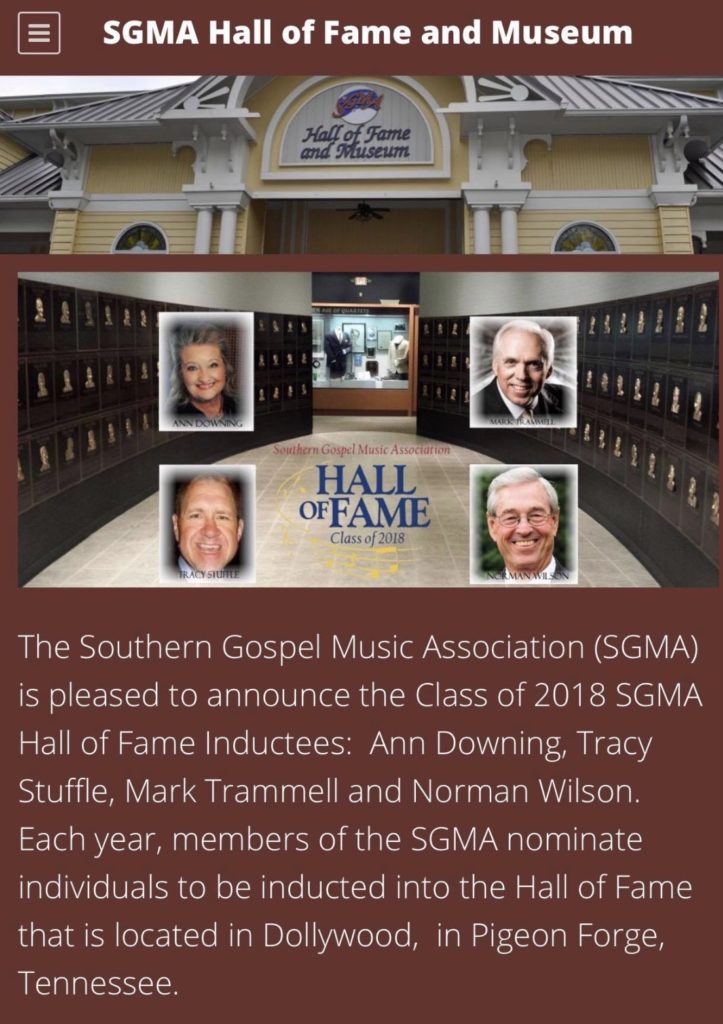 Below  is the video with Pastor Bill giving the news to Libbi and Jared. It has been a difficult year for The Perry's. We are so thrilled and from the entire staff at SGN Scoops…… Congratulations!!!!
Tags:
Libbi Perry
,
Libbi Stuffle
,
the perrys
,
Tracy and Libbi Stuffle
Posted in
announcements
|
Comments Off

on Congratulations to The Stuffle Family
Written by SGN Scoops on October 8, 2012 – 9:32 am -
Hendersonville, TN (Oct. 4, 2012) –The Singing News held its annual Fan Awards, along with inductions to the Southern Gospel Music Hall of Fame, on Wednesday at Dollywood in Pigeon Forge, TN. Daywind artists took home ten of the awards presented, with the Booth Brothers garnering seven of the awards.
Recipients included the Booth Brothers' Ronnie Booth for Male Vocalist and Favorite Lead, Michael Booth for Favorite Tenor, and Jim Brady for Favorite Baritone. The Booth Brothers were also awarded Favorite Trio, Favorite Artist and Favorite Song of the Year with She Still Remembers Jesus' Name. Libbi Stuffle (Perrys) received recognition as Favorite Alto of the Year while Rodney Griffin (Greater Vision) was once again named Songwriter of the Year for the 14th consecutive year. Wilburn and Wilburn received the Horizon Group of the Year award as well as Jordan Wilburn taking home Horizon Individual of the Year.
We are thankful for the opportunity to partner with such a talented and committed group of artists," shares Norman Holland, Vice President and Director of A&R at Daywind. "The artists that we at Daywind have the privalage of working with are some of your favorite artists and we count it a joy to be a part of their ministries."
The Singing News Fan Awards are voted upon each year by subscribers of the Singing Newsmagazine. The awards celebrated their third year at Dollywood, in conjunction with the SGMA inductions, after previously being held at Freedom Hall during the National Quartet Convention. For more information on the Singing News, visit www.singingnews.com. For more information on the Southern Gospel Music Association, visit www.sgma.org.
Daywind Records is based in Hendersonville, TN, and is distributed worldwide through New Day Christian Distributors. For more information on Daywind Records and their award-winning family of artists, visit www.daywindrecords.com.
Tags:
booth brothers
,
daywind
,
Dollywood
,
Jim Brady
,
Jordan Wilburn
,
Libbi Stuffle
,
Michael booth
,
national Quartet Convention
,
Ronnie Booth
,
sgma
,
Southern Gospel News
,
The Singing News
,
wilburn and wilburn
Posted in
announcements
,
awards
|
Comments Off

on Daywind Artists Shine At The 2012 Singing News Fan Awards
Written by Rhonda on September 7, 2010 – 3:08 am -
SGNScoops is keeping up to date with the condition of Tracy Stuffle.  The following is the latest information from Libbi Stuffle: 
"Sitting here in the hospital starring at 4 walls and a TV! Been a quite
day. Tracy has tried resting, being last night he didn't get much with
the nurses coming in every 45 minutes to do stuff. Hoping to go home in
the morning. He has appointments with his heart surgeon Weds and
…diabetes Dr Thurs. Maybe we can get some answers!"
Tracy and Libbi are appreciative of the outpouring of prayer support and are asking for continued prayer during this time.  SGNScoops will continue to pray for the Stuffle family and will continue to provide updates as this situation changes. 
Tags:
Libbi Stuffle
,
the perrys
,
Tracy Stuffle
Posted in
breaking news
|
Comments Off

on Latest Update From Libbi Stuffle
Written by Rhonda on September 6, 2010 – 10:34 am -
{September 6, 2010}  According to a facebook update from Libbi Stuffle, Tracy was admitted back into the hospital yesterday afternoon for testing and observation.  During the morning worship service yesterday,  Tracy began to experience symptoms of blood sugar levels dropping. He was taken to the Emergency Room where blood levels checked out ok, but another bout of symptoms occured.  The decision was made to keep him in the hospital for overnight observation.   Earlier this morning, according to Libbi, he was taken for a CT scan of his chest and abdomen.  At this time, we do not have news of test results, but are asking for prayer for healing and recovery for Tracy. Our prayers are with the Stuffle family.
—
Tags:
Libbi Stuffle
,
the perrys
,
Tracy Stuffle
Posted in
breaking news
|
Comments Off

on Tracy Stuffle Back In Hospital For Observation And Testing