Written by SGN Scoops Staff on December 6, 2017 – 11:27 am -
NASHVILLE, Tenn.—One of Christian music's most influential bands, GRAMMY®-nominated NewSong, recently made their Grand Ole Opry® debut on the stage of Nashville's historic Ryman Auditorium. Performing their multi-format megahit—and one of the most popular modern holiday songs of all time—"The Christmas Shoes," NewSong was also joined by GRAMMY®-winning singer/songwriter Francesca Battistelli for a rendition of "The Best Christmas Ever," the title-cut of the group's critically-acclaimed 2016 holiday set.
In addition to NewSong's debut, the Opry's star-studded evening lineup included country/pop hitmakers Restless Heart; GRAMMY®-nominated bluegrass singer/songwriter Sierra Hull; Warner Bros. recording artist William Michael Morgan; Country Music Hall of Famer Charlie McCoy; and Opry members Jeannie Seely and Mike Snider, among others. 
 
Audiences around the country can currently catch NewSong showcasing seasonal favorites during their annual "Very Merry Christmas Tour." This year's tour also features GRAMMY®-nominated, multi Dove Award-winning singer/songwriter Crowder, as well as Word recording artist Sarah Reeves. Presented by Holt International, "NewSong's Very Merry Christmas Tour" will hit 12 cities this month before concluding December 17 in Clinton, Tennessee. 
Tags:
Newsong
Posted in
announcements
|
Comments Off

on NEWSONG MAKES GRAND OLE OPRY® DEBUT
Written by SGN Scoops on April 5, 2014 – 7:03 am -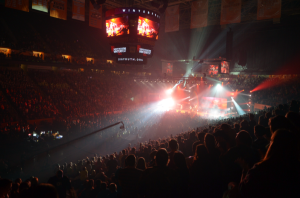 (Nashville, TN) April 4, 2014 – JASON CRABB – Grammy Award Winner and 21 time GMA Dove Award winner  – kicked off his 2014 Love Is Stronger tour with a little help from his friends. Well, make that 20,000 friends! Crabb recently began his tour with a stop in Knoxville, TN at Thompson-Boling Arena as part of Winterfest weekend. Appearing alongside Duck Dynasty's Luke and Sadie Robertson and the band Planetshakers, Jason's soaring vocals, signature guitar skills and his amazing band filled the arena and had the crowd of over 20,000 teenagers on their feet with hands in the air!
The theme of the night was one that Jason is very familiar with – camo! In honor of the Robertson appearance attendees were asked to wear camo and Jason was happy to ablige! "Anyone who knows me, knows I LOVE to hunt," said Crabb. "So when they asked for everyone to wear camo, I was in!" Jason surprised John Luke Robertson and his sister Sadie Robertson with a presentation of two very special "Duck-Crabb Calls" as the audience roared with laughter and applause!
From Knoxville, Jason made the trek back home immediately to Nashville, TN to make a special appearance during the WinterJam Tour Spectacular at Bridgestone arena in Nashville. Jason surprised the audience as he stepped into the middle of the massive arena to introduce his friends, NewSong. Crabb joined an impressive line-up of surprise guests including Carrie Underwood & Mike Fisher and Francesca Battistelli. The evening featured performances from Tenth Avenue North, Thousand Foot Krutch, Plumb, Colton Dixon, Lecrae and NewSong.
Along with the new tour, Jason recently partnered with relief organization Feed the Children. Around the world, Feed The Children provides nourishing meals every school day to more than 350,000 children. In 2013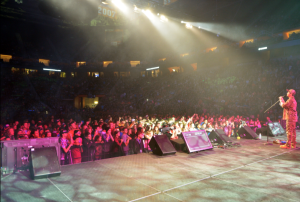 , the organization distributed over $129 million in food, medicine, and other essentials to children in 23 countries. The international programs, including child sponsorships, meet the immediate needs of children while also addressing the root causes of poverty through education and livelihood development.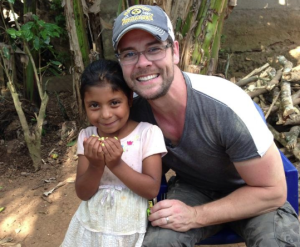 Jason recently made a voyage to Honduras, learning first-hand how the ministry of Feed the Children works in the lives of those it touches. "I sponsor a boy named Christian, and I got to meet him and his family for the first time" Jason shared. "It really was amazing to me to see the faces of these children, who have so little, full of smiles and laughter. I am proud to partner with Feed the Children to bring medical supplies, food and necessities to them."
Jason's latest single, "Love Is Stronger," is making an impact on listeners as he criss-crosses the nation encouraging audiences with songs of hope and love. MUSE concerts – a leader in tour promotion – will provide tour support on select dates during the 
Love Is Stronger
 tour. All tour information is available at 
www.JasonCrabb.com
.
Tags:
Colton Dixon
,
Duck Dynasty
,
Feed the Children
,
Jason Crabb
,
Lecrae
,
Newsong
,
Plumb
,
Southern Gospel News
,
Wnter Jam
Posted in
announcements
|
Comments Off

on 20,000 HELP JASON CRABB KICK OFF LOVE IS STRONGER TOUR
Written by SGN Scoops on July 13, 2011 – 6:53 pm -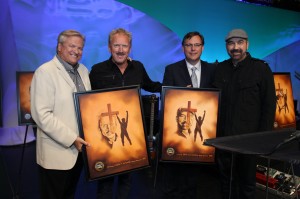 ATLANTA—Eddie Carswell and Billy Goodwin, founding members of Grammy-nominated NewSong, were named Musician of the Year at the inaugural The Champions of the Faith Awards & Benefit Concert, held this week at the International Christian Retail Show in Atlanta.
 
Presented by the Premier Foundation, in partnership with the Association For Christian Retail (CBA), the awards recognize businesses, organizations, entertainers, individuals and Christian retailers and vendors who are "champions" of the Christian faith by living lives dedicated to the principles taught by Jesus Christ.
 
In addition to Carswell and Goodwin, honorees included NASCAR's Trevor Bayne (Athlete of the Year); Karen Kingsbury (Author of the Year); World Vision's Richard Stearns (Charity of the Year); and AFFIRM Films/Sony Pictures Entertainment's Rich Peluso (Business Person of the Year), among others.  The event featured a concert by NewSong, along with GMA Artist of the Year Francesca Battistelli, as well as special guests Mike Donehey of Tenth Avenue North and visual artist Jared Emerson.  
 
The Premier Foundation is a 501 (c)(3) public foundation committed to fulfilling the mission of spreading the gospel of Jesus Christ. With the cooperation of the Premier Group (Premier Productions, Premier Christian Cruises, Premier Festivals and Camp Electric), the Premier Foundation touches millions of people every year through Christian concerts, radio and other Christ-centered events.
 
Co-founded by Carswell and Goodwin in 1981, NewSong is celebrating an unprecedented 30th year in Christian music. One True God, the band's 17th recording, debuted at #1 on Billboard's Top Christian/Gospel Albums chart in May, while NewSong's Winter Jam 2011 Tour Spectacular was the #1 tour in the world for the first quarter, according to Pollstar.  The group has amassed 20 #1 singles, a Grammy nomination, and a #1 mainstream adult contemporary single, among numerous other achievements.
 
For further information on NewSong, visit www.newsongonline.com or www.turningpointpr.com, and for additional information on The Champions of the Faith Awards & Benefit Concert, visit www.thechampionsofthefaith.com.  
Photo: Pictured at the First Annual Champions of the Faith Awards & Benefit Concert are (l-r) Gary Gentry, owner, The Premier Group; honoree Eddie Carswell, founding member of NewSong; Gene Krcelic, president, the Premier Foundation; and honoree Billy Goodwin, founding member of NewSong. (photo: Leland Holder, Leland On Location Photographic)
Tags:
AFFIRM Films
,
Association For Christian Retail
,
billy goodwin
,
eddie carswell
,
Francesca Battistelli
,
Karen Kingsbury
,
Mike Donehey jared emerson
,
Newsong
,
Premier Foundation
,
Richard Stearns
,
Trevor Bayne
Posted in
awards
|
Comments Off

on NEWSONG'S EDDIE CARSWELL AND BILLY GOODWIN HONORED AS 'CHAMPIONS OF THE FAITH'
Written by Scoops Staff on December 16, 2010 – 8:21 pm -
Tune In for a Week of Christmas Delights Beginning Saturday, December 18th
LOS ANGELES,Dec. 16, 2010 /Christian Newswire/ — Trinity Broadcasting Network (TBN) — the world's largest religious broadcaster and a favorite with millions of viewers across six continents — offers a Christmas gift pack of programs this holiday season. Gather up the entire family for yuletide favorites, including music specials, movies, and documentaries beginning December 18th on TBN.
Christmas Child: A mysterious photograph leads a journalist to a small Texas town at Christmas-time. Based on a book by Max Lucado. Showtimes, Saturday, December 18th at 8:00PM and 11PM
Christmas Carol: A Christian Musical is an adaption of Charles Dickens' classic Christmas story. It's the story of Scrooge from a Christian perspective. The musical airs Sunday, December 19th at 10PM; Friday, December 24th at 7PM; and Saturday, December 25th at 2:30PM.
Message In a Baby is a special presentation of the Annie Moses Band as they perform Christmas music, dramatic readings, and some holiday cooking skills! Airs Monday, December 20th at 4PM.
Dino's Christmas Special 2010 is a spectacular Christmas musical taped at TBN's New York studio and featuring guests such as Pauletta Washington and the Lamb Family. It airs Tuesday, December 21st at 4PM and Saturday, December 25th at 11PM.
Essential Christmas is a vibrant music project featuring many of Christian music's most admired artists with holiday songs from Jars of Clay, Rebecca St. James, Brandon Heath, Tenth Avenue North, and others. The special airs Tuesday, December 21st at 7PM; Wednesday, December 22nd at 2PM; and Thursday, December 23rd at 1:30AM.
Our First Christmas tells the tale of Cindy and Tom who married each other after losing their spouses. They're determined to make sure their first Christmas together perfect, but getting their kids to agree on holiday plans won't be easy. This movie airs Tuesday, December 21st at 9PM.
A Celtic Christmas is a Christian musical extravaganza featuring Irish dance, 12th century carols, and dramatic readings presented in a full theatrical cultural performance with some of the top Irish musicians in the world. It airs Wednesday, December 22nd at 5:30PM and Friday, December 24th at 1AM.
Enjoy Christmas In the Park with Jaci Velasquez, a 30-minute special presentation of this Grammy Award-winning recording artist. It airs Wednesday, December 22nd at 10PM.
Christmas at Maxwell's is a movie that celebrates the beauty of life. An inspirational romantic drama and a love story about human struggle, the power of forgiveness and unending faith, Christmas at Maxwell's airs Thursday, December 23rd at 8:30AM.
True Story of the Nativity is a documentary tracing the early years of the holy family through contemporary scientific discoveries and startling new evidence. The True Story of the Nativity airs Thursday, December 23rd at 7PM; Friday, December 24th at 2PM; and Sunday, December 26th at 1AM.
A Christmas Snow is the story of Kathleen, for whom Christmas has always been an unwelcome reminder of her father's abandonment. This year, will she be able to let go and grab hold of a life-changing forgiveness or will she continue to be haunted by the pain of the past? This movie airs Friday, December 24th at 8:30AM.
A Very Merry Christmas is a musical Christmas special featuring Christian contemporary artists Newsong and The Newsboys. The special airs Friday, December 24th at 3:30PM.
Air times are PST. The schedule is subject to change without notice.
Tags:
Annie Moses Band
,
Brandon Heath
,
charles dickens
,
christmas
,
Dino
,
Jaci Velasquez
,
Jars of Clay
,
max lucado
,
Newsong
,
Rebecca St. James
,
tbn
,
Tenth Avenue North
,
The Newsboys
Posted in
christian entertainment
|
Comments Off

on TBN Offers Viewers a Gift Pack Full of Yuletide Favorites and TV Specials this Christmas Season