Written by SGN Scoops Staff on June 4, 2014 – 7:50 am -
Nashville, TN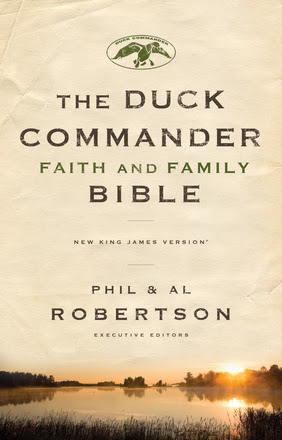 One of the leaders in Christian publishing, Thomas Nelson, is teaming with two high-profile television personalities who are known for their faith, Phil and Al Robertson. Together they are releasing The Duck Commander Faith and Family Bible on October 28, 2014, and the project will focus on the Robertson's five core values: Faith, Family, Fellowship, Forgiveness, and Freedom. The Bible will be released in the New King James Version and will include 30 life-changing testimonials along with 125 Set Your Sights features from Phil and Al, who serve as Executive Editors on the project. The Duck Commander Faith and Family Bible will be available at all online and retail outlets.
"We are honored and excited to be working with Phil and Al Robertson on this new Bible," says Robert Sanford, Vice President and Associate Publisher for Thomas Nelson's Bible Group. "The Robertson family's passion for the Word is infectious and the impact of their ministry is amazing. We see this Bible as being something people can grow with in their own personal walk with God."
"This is just one more way that we can present, as ministers, the message of Jesus to the world around us," says Phil Robertson.
Al Robertson adds, "One of the things Dad and I are excited about for this Bible project, is that it's timeless because it's connected to the Word of God."
Both Robertsons contribute to the extraordinary features of The Duck Commander Faith and Family Bible. The 30 LifeChangers are stories from Al and Phil on how they've seen God transform lives and accomplish His plans for people, while the 125 Set Your Sights features unwrap the five core values of Faith, Family, Fellowship, Forgiveness and Freedom as they relate to the most crucial topics people are asking about today, such as suffering, fear, wisdom, money, hope, and many others. Also included is a reading plan for a "personal time" of 52 plans with Phil and 52 plans with Al.
The discussions for The Duck Commander Faith and Family Bible began nearly two years ago and from the beginning, Phil and Al were resolute in their desire to take on this project. Then, with the gravity of life experience and years in the service of others, they welcomed this opportunity to work on something bigger than themselves. The Robertson family members are well-known for living out their core values in their everyday lives, so the insights and stories from Phil and Al show how God works in the lives of people regardless of the situation or circumstance.
For more information about The Duck Commander Faith and Family Bible please visit online www.thomasnelson.com.
Tags:
Christian News
,
Faith
,
Phil Robertson
,
The Duck Commander
Posted in
announcements
|
Comments Off

on Thomas Nelson to Release "The Duck Commander Faith and Family Bible" October 28, 2014
Written by SGN Scoops Staff on December 19, 2013 – 9:40 am -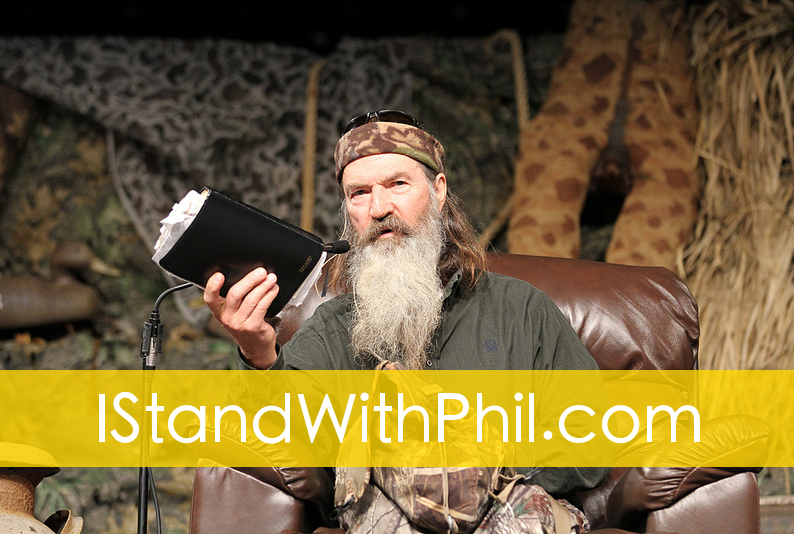 RALEIGH, N.C., Dec. 19, 2013  — Faith Driven Consumer, an organization connecting Christian consumers with faith-compatible companies, has launched the IStandWithPhil.com petition drive, which calls for The A&E Network to immediately reinstate Mr. Phil Robertson to its #1 hit show, Duck Dynasty. IStandWithPhil.com is garnering strong support from Faith Driven Consumers with its call for tolerance, fairness, and respect for differing viewpoints in America's rainbow of diversity.
"Simply put, Phil Robertson is being censored and punished for quoting the Bible, and A&E's treatment of him is punitive and highly discriminatory," said Chris Stone, founder of Faith Driven Consumer. "Everyday people will not stand for this, they know bullying and violation of religious freedom when they see it. A&E's actions are censoring Faith Driven Consumers and eliminating them from an entertainment choice that they have overwhelmingly supported."
IStandWithPhil.com is leading the charge in the call for fairness and equality as we defend the fundamental American right to free speech and tradition of tolerance.
The IStandWithPhil.com online petition drive cites the A&E network's "intolerant, discriminatory, and punitive treatment" of the Duck Dynasty star, noting that "A&E's position, which in your own words is 'championing' the gay and lesbian community…excludes the views of Faith Driven Consumers and effectively censors a legitimate viewpoint held by the majority of Americans." IStandWithPhil.com calls for respect for the millions of viewers of the show, and demands that the network immediately reinstate Mr. Robertson and "formally apologize to him, his family, and the millions of viewers who tune in every week, stand by him, and share his worldview."
The complete petition can be seen here: istandwithphil.com
Tags:
Duck Dynasty
,
Faith
,
Faith Driven Consumers
,
Mr. Robertson
,
Phil Robertson
,
southern gospel
,
The A&E Network
Posted in
causes
|
Comments Off

on IStandWithPhil.com Petition Drive Calls for Phil Robertson's Immediate Return to Duck Dynasty