Written by SGN Scoops on October 17, 2012 – 11:01 am -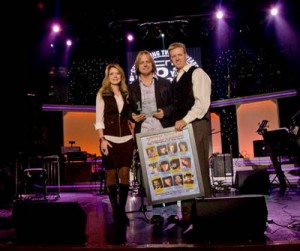 Nashville, TN (October 17, 2012) — Lee Roy of the award-winning brother/sister duo THE ROYS was honored Monday when he received a plaque from Power Source Magazine for his Number 1 Inspirational Country Single, "I Wonder What God's Thinking."  The presentation took place during Day 2 of Inspirational Country Music Week (October 14-18) aboard the historic General Jackson Showboat.  Honorees and luncheon attendees enjoyed a scenic cruise and were entertained with live performances by Geoffrey Andrews, Russ Murphy, Steve Richard, Laura Dodd and Larissa.  "I Wonder What God's Thinking" questions the Lord's perception of today's often selfish society that frequently ignores our fellow humans in need.  The poignant song was featured on THE ROYS' extremely popular and critically-acclaimed Rural Rhythm Records' debut CD, LONESOME WHISTLE.
"Every award is meaningful in its own way," comments Lee.  "But to be recognized for my efforts as a songwriter is especially humbling, since I believe in divine inspiration.  I wrote it after watching the news and considering how separated so many of us seem to have become from each other and from God."
Lee and his sister Elaine comprise THE ROYS, a powerhouse duo that's repeatedly rocketed up the charts and grown in popularity during the past two years.  Their August-issue EP, NEW DAY DAWNING, debuted at Number 2 on the Billboard Bluegrass Albums Chart in early September and two weeks later the disc had risen to Number 1 on Amazon's Bluegrass Best Sellers list.  The EP's first single release, "Still Standing," debuted on the Power Source Bluegrass Top 35 chart this month.
The reigning ICM's Bluegrass Artist of the Year, THE ROYS, are candidates for nomination in three award categories for 2012: Entertainer of the Year, Vocal Duo of the Year and Bluegrass Artist of the Year.
The siblings are playing an active role in this year's Inspirational Country Music Week, with appearances on Sunday, October 14 (ICM Opening Ceremony at Cornerstone Church) and on Thursday, October 18 as they kick off the 20th Anniversary of the ICM Faith, Family & Country™ Awards Show with the evening's first performance.
Fans can follow Lee and Elaine online at THEROYSonline, FACEBOOK and on Twitter @theroysonline.
Photo: Elaine Roy, Lee Roy and Power Source Editor Jason Higgins.     Credit: Wyneka Thomas Photography
Tags:
bluegrass
,
ICM Awards
,
Inspirational Bluegrass
,
Lee Roy
,
PowerSource Magazine
,
The Roys
Posted in
announcements
|
Comments Off

on Lee Roy of THE ROYS Receives Plaque For Number 1 Inspirational Country Single "I Wonder What God's Thinking"
Written by SGN Scoops on October 5, 2011 – 2:49 pm -
DANVILLE, Ky. – (October 5, 2011) – Homeland Inspiration Group recording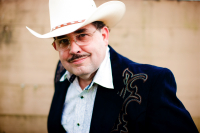 artist Jim Sheldon has earned his first ever charting single this month. His first single to Christian Country radio – "God Is Looking At My Heart" – will debut at #88 on the PowerSource Magazine Inspirational Country Top 100 Chart this month. "I am overwhelmed at how God is using my ministry at this present time," mentioned Jim. "He is using me and my music in ways that I never would have dreamed. Thank you to everyone at Christian radio who has played my music!" "God Is Looking at My Heart" is the debut single from Jim's recording His Grace. The single was released and promoted to Christian Country radio through HMG Nashville. Fans of Christian country and Southern Gospel music can hear the single by visiting Jim's website at www.puttinggodfirstministry.com  . You can also sample Jim's music by visiting his Reverb Nation site at http://www.reverbnation.com/jimsheldon  . Jim recently released his debut recording for Homeland Inspirational Group's Christian country label Mont Eagle Records. The album – I Belong to Jesus – released last month during the National Quartet Convention in Louisville, Kentucky.  More information on that release will be forthcoming. Jim's debut single at Southern Gospel radio will be released soon from Homeland Inspiration Group/Mont Eagle Records. Jim recently signed an exclusive publicity agreement with Southern Spin Entertainment. Through this agreement, Jim will have unlimited access to all media outlets serviced by Southern Spin Entertainment, as well as potential marketing and media campaigns through the organization. For more information about Jim, visit his website at www.puttinggodfirstministry.com .  About Jim SheldonJim is based out of Danville, Kentucky where he spearheads his personal ministry – Putting God First Ministries. Jim was most recently seen traveling and singing baritone for the The Keetons. Jim recently signed a recording contract with Homeland Inspiration Group's Mont Eagle Records. His debut album with Mont Eagle Records – I Belong to Jesus – is now available!
Tags:
christian country
,
Christian Country News
,
Inspirational Country
,
Jim Sheldon
,
Mont Eagle Records
,
PowerSource Magazine
,
southern spin entertainment
Posted in
announcements
|
Comments Off

on Jim Sheldon Scores First Charting Hit at Christian Country Radio