Written by scoopsnews on April 10, 2018 – 12:49 pm -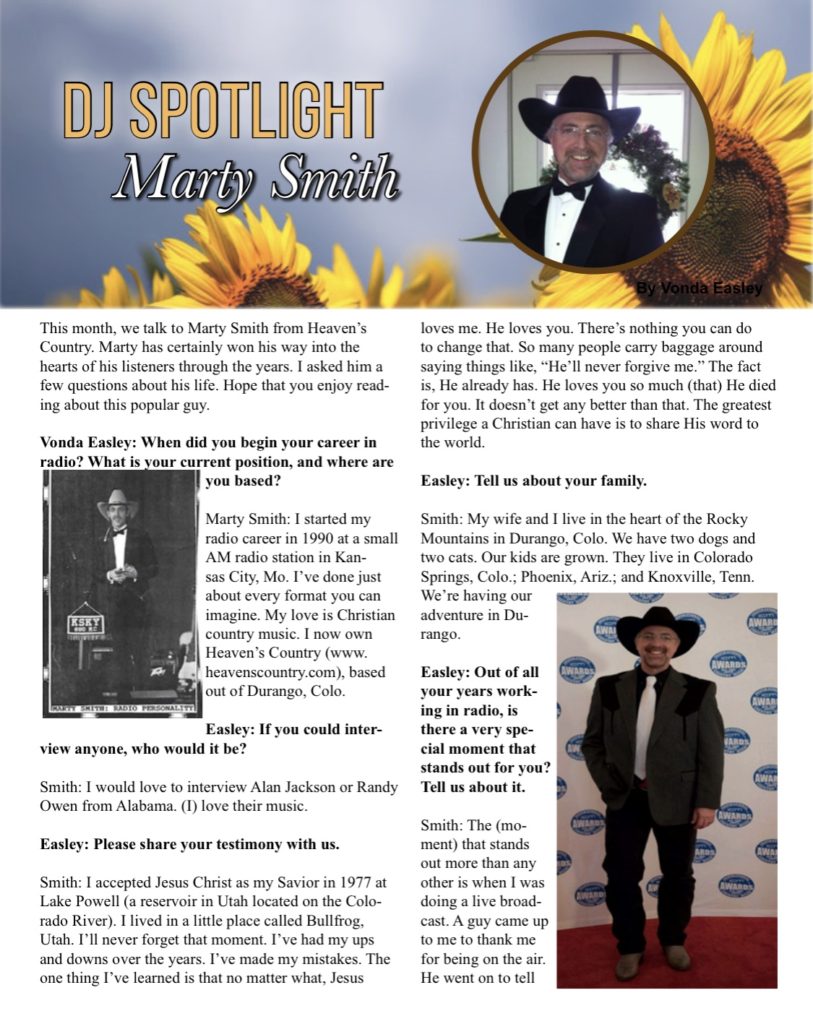 This is the April 2018 edition of SGNScoops Magazine and we are thrilled to present the legendary Larnelle Harris as our cover feature. Craig Harris brings us this singer's thoughts on his earliest influences, performing with the Gaither Vocal Band, and a life-changing time of crisis. This is a must-read.
Other unique features this month include Danielle Allen of the Allen Family, DJ spotlight Marty Smith,  the Peyton Sisters from the Gaither series, teenage phenom Sam Cox, and a tribute to the late Hubert Cooke of the Singing Cookes by his friend, ReJeana Leethe. Don't miss the Christian Country special on newcomer Taylon Hope by new writer, Jade Harrison.
All of this plus SGNScoops' Top 100 and Christian Country Top 40, music and movie reviews, DJ Spotlight, special monthly articles and more.
Thanks so much for reading SGNScoops every month, making us one of the top-read magazines in Gospel music. If you want to read us in print form, you can subscribe to our monthly newspaper digest. Please ask for more information.
Happy Easter! Christ is risen. If He is not alive in your heart, write to me to find out more about my Lord and Savior, Jesus Christ. Write to lorraine@sgnscoops.com
SGNScoops Magazine PDF Here
Listen To Todays Gospel Music Here
Tags:
Marty smith
,
sgn scoops magaine
Posted in
announcements
|
Comments Off

on Did you read about DJ Marty Smith? DJ Spotlight for April SGN Scoops
Written by scoopsnews on July 24, 2017 – 10:48 am -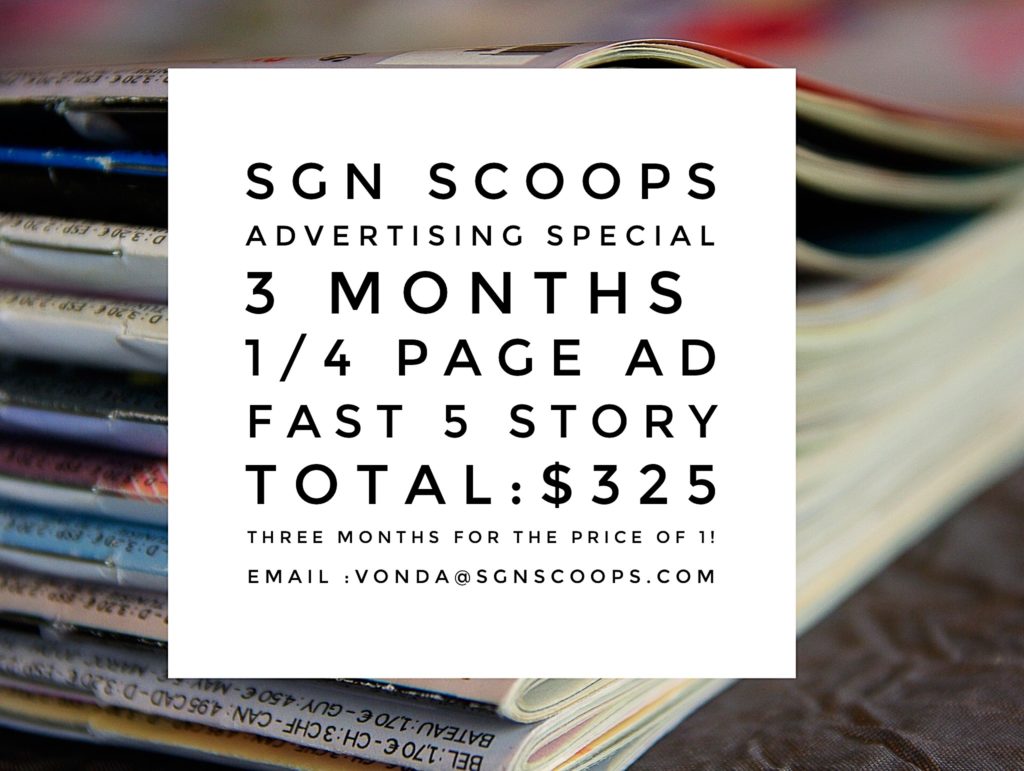 We want to HELP  you spread the word about your ministry! This is our most popular package however we also offer 1/8 page for as little as $175.
These prices include a Fast Five Story and this is total price for 3 months! No one else offers that……
We're Digital, We're Printed, and We Are Ready to work for you!
Call Me!
Vonda Easley
VP Sales and Marketing
SGN Scoops
256-310-7892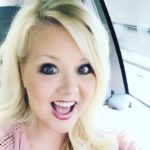 Tags:
SGN Scoops Fast Five
,
sgn scoops magaine
,
Vonda Easley
Posted in
announcements
|
Comments Off

on Let Us Help You Spread The Word About your Ministry…
Written by scoopsnews on July 28, 2016 – 9:07 am -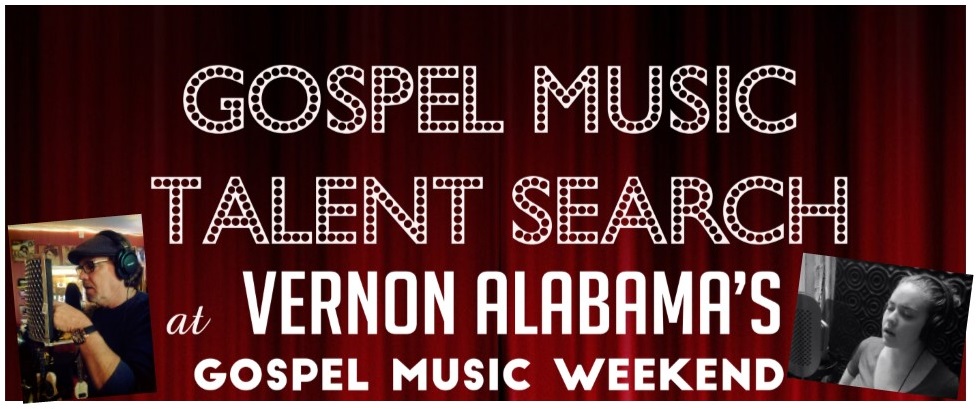 Got Talent? Calling all Gospel Artists and Musicians!
The Gospel Music Talent Search will be held at Vernon Alabama's Gospel Music Weekend on September 10th in Vernon, Alabama. The talent search begins at 10:00 a.m. at the City Auditorium in downtown Vernon. There is still time to register for the talent search so don't delay.
<br>
The prize package for this year's winner includes a 6 song EP valued at $3,000 and includes studio recording time at Studio 115A in Columbus, MS, engineer/producer, mixing/mastering, and two copies of the final mastered project. Also, this incredible package includes advertising in SGN Scoops Magazine and song promotion to national radio by Hey Y'all Media. In addition, the winner will be featured at the Saturday night concert during Vernon Alabama's Gospel Music Weekend. Prize package does not include studio musicians or product/CDs. The entry fee is $125. The event is open to the public and everyone is welcome to come and support the contestants.
<br>
For more information on participation in the Gospel Music Talent Search or Vernon Alabama's Gospel Music Weekend, email info@macrecords.net or call Dennis McKay at (662) 889-2829 or Rob Patz at (360) 933-0741. This even is sponsored by M.A.C. Records, SGN Scoops, Hey Y'all Media, and the City of Vernon.
Tags:
Hey Ya'll Media
,
MAC Records
,
sgn scoops magaine
Posted in
announcements
|
Comments Off

on Got Talent?
Written by scoopsnews on February 17, 2016 – 9:30 am -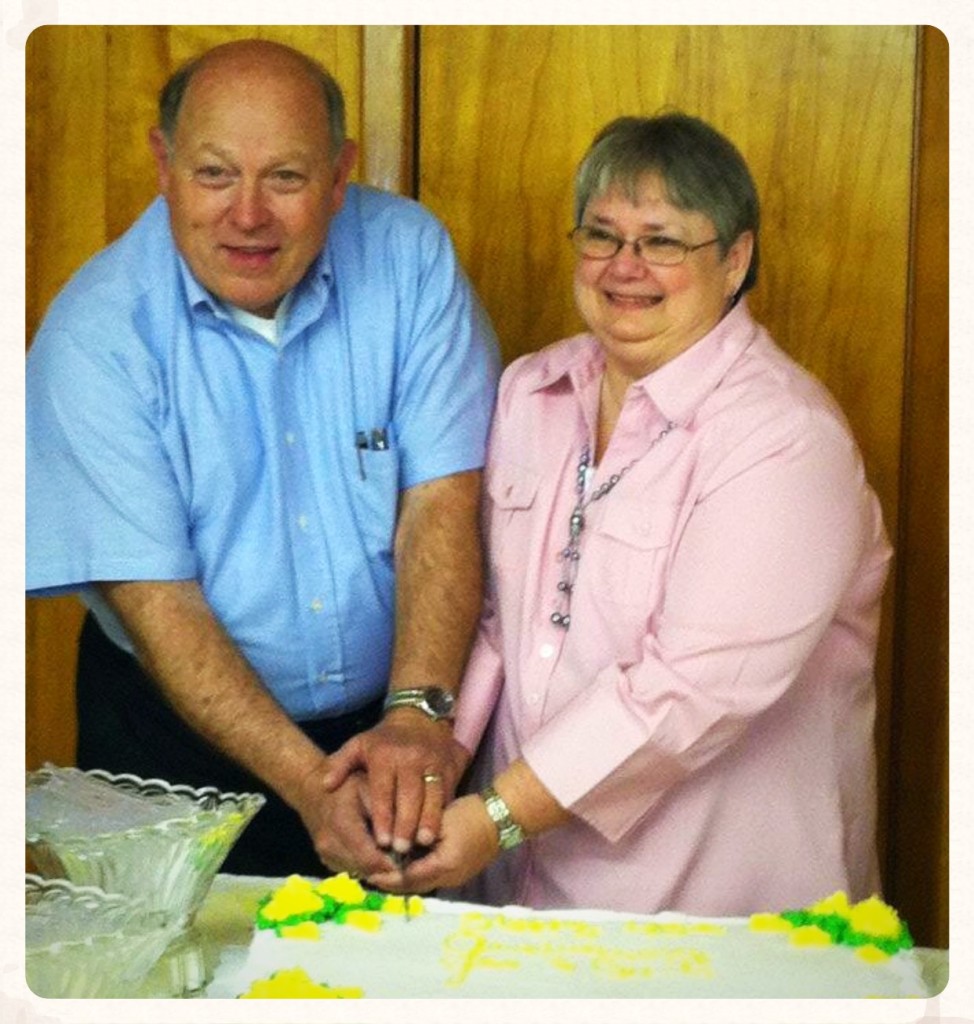 SGN Scoops would like to say thank you to Joe and Cecil Harris from Lineville, Alabama.  They were our first 12 month subscriber to the new printed newspaper edition of the magazine.
We are so excited at all the great things God is doing at SGN Scoops and we are thankful for folks like Joe and Cecil Harris and all the other readers and subscribers.
Rob Patz
Get one year of SGN Scoops Newpaper for only $25
Tags:
sgn scoops
,
sgn scoops magaine
Posted in
announcements
|
Comments Off

on Thank you Joe and Cecil Harris!
Written by Staff on September 19, 2015 – 6:55 am -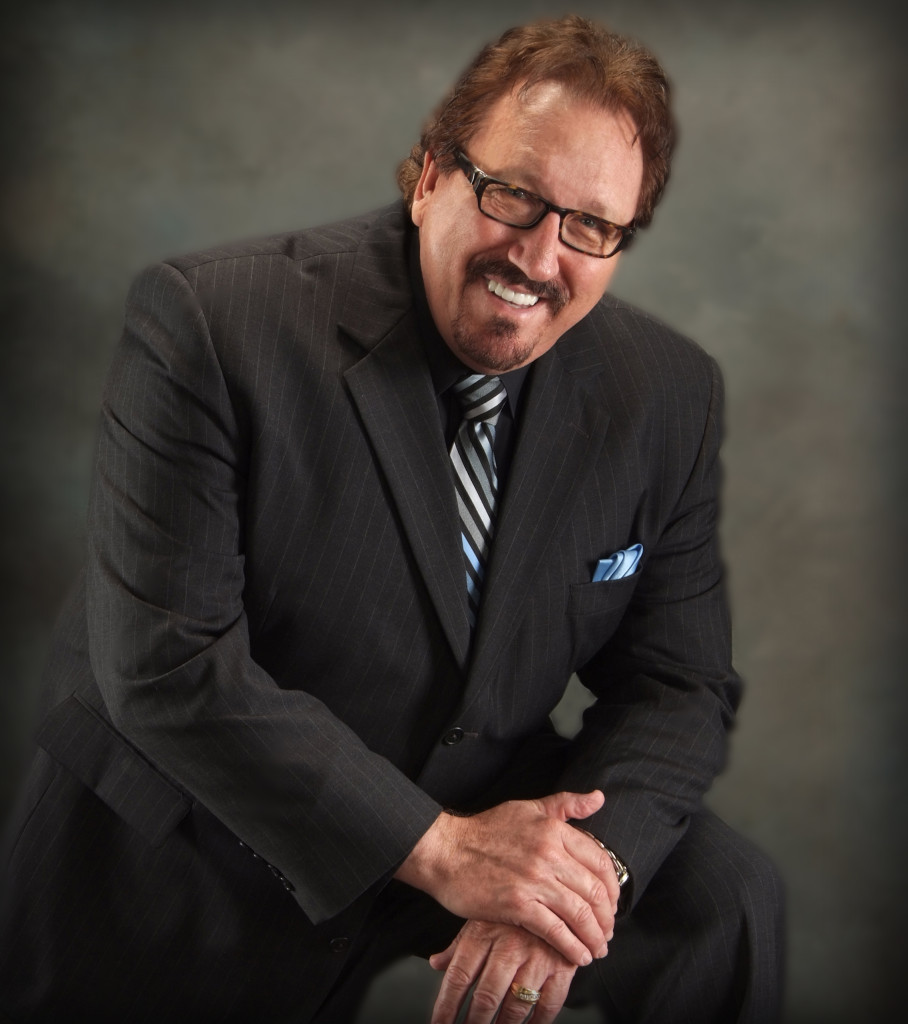 Ronny Hinson grew up in a home full of music. Folks from his little coastal hometown of Watsonville in Santa Cruz County, California, knew that the Hinson family had something special with their singing, but God knew just how far their songs would go and how many hearts would be changed by the message in them. Ronny Hinson's songwriting talents grew from this special musical beginning and have touched countless lives over the 48 years of his music career. Today Ronny writes music, instructs songwriters, and travels to sing and preach Biblical truths. No matter what he is doing, though, Ronny knows that there is one thread that weaves the many strings of his efforts into one lifeline: and that is the call to change lives for Christ.
  Ronny recalls the special day that his family sang together for the first time. "All of my siblings and I grew up singing in my father's little storefront church and in revival meetings that he would conduct. We would always sing as soloists or we'd do a duet, but never all together. It was on December 12, 1967, that we sang beyond the walls of our father's church as the group that the people came to know. It happened in a revival meeting in a little Church of God in Freedom, California, through great efforts of arm-twisting! We sang the old song that The Goodman family made famous called 'The Eyes of Jesus.' We were all familiar with the words and the melody but never had sung it together in four-part harmony. Our singing was so well-received that night and we discovered what God already knew: that we were called to sing. We were invited to sing at another church about 40 miles away two weeks later where we received our first love offering. It was the grand sum of five dollars. Being siblings, we didn't trust each other so we split it four ways outside on the church sidewalk. A buck and a quarter apiece!"
Tags:
Paige Givens
,
ronny hinson
,
sgn scoops magaine
,
sgnscoops
,
The Hinsons
Posted in
announcements
,
exclusive report
,
sgn scoops magazine
|
Comments Off

on Ronny Hinson: The Thread That Weaves It All Together
Written by Scoops Staff on April 3, 2011 – 11:27 pm -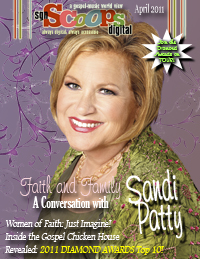 The April 2011 issue of SGN Scoops is now available for download. Click on the cover to read your issue in user-friendly .PDF format.
First, because we know this is why many of you are here: We have announced the top 10 nominees for the 2011 Diamond Awards. YOUR voices were heard and they shouted loudly, choosing gospel music mainstays as well as regionally-based up-and-comers. Gospel music makers from Branson, MO, where the awards are held in June, made a strong showing. Get the magazine now and see how your favorites fared… and vote in the second round all month, right here.
Second, and just as exciting, is our cover story: A new interview with Sandi Patty, world-class gospel vocalist and a key contributor for Women of Faith, who incidentally speaks to our Jennifer Campbell as well.
You will also find features on the Gospel Chicken House, Great Western Fan Fest, and Zack Swain. And our always-diverse columnists range their thoughts from Easter (the holiday, not the family) to personnel changes to Guy Penrod to  Doctor Who…!
Click here or on the cover preview to download.
Click here to subscribe – be notified when a new issue is published or news is announced.
Tags:
april 2011
,
diamond awards
,
doctor who
,
Gospel Chicken House
,
Great Western Fan Fest
,
guy penrod
,
sandi patty
,
sgn scoops magaine
,
women of faith
,
zack swain
Posted in
breaking news
|
Comments Off

on April 2011 SGN Scoops is here!