Written by SGN Scoops Staff on September 21, 2020 – 11:31 am -
ALBUQUERQUE, New Mexico – Church planters and husband-wife duo The Fosters are excited to announce the release of their first-ever studio project, Oh, How I Love Him!, available on CD and all digital platforms October 30, 2020. Recorded at Daywind studios with a band of Nashville veterans, the EP will include new arrangements of 5 timeless songs that transcend generations and genres. The first single is the Jessy Dixon classic, "I Know What Prayer Can Do", to be released October 2nd.
"We have been singing these songs for 15 years now, since we were first married," Andrew Foster says, "and they never get old. These songs come from various sources and they are not widely known but they continue to bless people everywhere we go. They are just so solid in message and melody. We are thrilled to share these songs with a wider audience because we believe they deserve to be heard."
Andrew and Devi Foster have been surrounded by gospel music all their lives. Raised in preachers' homes 600 miles apart, they learned to sing, play instruments, and developed an ear for harmony. Devi sang often in her home church in Scottsdale, AZ and with her parents and siblings, the David L. Abbott Family. Andrew grew up singing with his mother and sisters as a family group as well. Through the years they have been widely used as worship leaders and featured soloists for choirs, weddings, and special events. Now they raise their family in an environment of music and ministry in their adopted hometown of Albuquerque, NM.
The Fosters are on a mission to write, discover, and re-discover gospel music that is timeless and enduring, both in lyric and melody. Their desire is to make music that glorifies God, edifies the church, and draws hungry souls closer to Jesus.
To learn more about The Fosters and the new music project, visit www.TheFosters.site

For more information, promotional materials, or interviews, contact Andrew Foster by email: andrewanddevi@gmail.com or call 505-508-7903
Tags:
Soutehrn Gospel News
,
The Fosters
Posted in
announcements
|
Comments Off

on Gospel duet The Fosters announce release of first-ever studio project
Written by SGN Scoops Staff on September 8, 2020 – 11:55 am -
ESTERO, Fla. – (August 2020) – Christian musician and recording artist Lindsey Graham has announced the release of her newest project entitled This Is My Country.  In conjunction with the album she is also releasing the lyric video for the title cut.
This new CD is filled with songs of faith and freedom, and serves as a tribute to our Country, first responders, and those who serve us so selflessly.  Each cut was beautifully orchestrated and arranged by Nashville producer Jason Webb, and highlights Lindsey's powerful vocals. The collaboration has created a unique and timeless work.
Lindsey said of the project, "What a timely season for songs of faith and freedom, God and Country! We hope to encourage national patriotism and renewed faith in God through this album."
From beloved classics like You're a Grand Old Flag and God Bless America, to newer country classic God Bless the USA, Lindsey stays true to the original songs while adding her own signature vocal clarity, purity and strength. Lindsey chose to highlight the title cut "This Is My Country" with a newly created lyric video that vividly portrays the beauty of our country and those who serve her.
This Is My Country is sure to become a favorite in any musical library.
Available in CD format and digital download at www.lindsey graham ministries.com.
Tags:
Lindsey Graham
,
Soutehrn Gospel News
Posted in
announcements
|
Comments Off

on Lindsey Graham Announces Release Of Lyric Video For Her New Patriotic CD
Written by SGN Scoops Staff on July 24, 2020 – 3:23 pm -
Arden, North Carolina  — During these turbulent, uncertain times, people are searching for hope and encouragement — something music can provide, as it has done throughout history. On In Times Like These, a new playlist from Horizon & Sonlite Records, our gospel artists offer through song the comfort and peace so many are seeking.
Curated by Horizon & Sonlite staff, In Times Like These presents a generous array of talented artists. Featuring a variety of tempos, styles, and messages sure to bring joy and help throughout the day, the playlist includes hit songs such as "Victory Shout" by The Kingsmen, "The Answer is Christ" by The Talleys, "Didn't He Promise" by The Lore Family, and "Beat Up Bible," a recent #1 song by The Down East Boys.
There's room, too, for all-time favorites, with classics such as "It Is Well With My Soul" by 3 Heath Brothers, "I Know Who Holds Tomorrow" by Lauren Talley, and "You've Got A Friend" featuring Karen Peck, Sheri Easter, and Kelly Nelon Clark rounding out the playlist.
These songs will refresh your spirit during "safe at home" time with family, on your daily commute or in times of reflection and devotions, giving new life to the sense of hope we all need in times like these.
Stream In Times Like These HERE on Spotify and Apple Music.
Tags:
Horizon & Sonlite Records
,
Soutehrn Gospel News
Posted in
announcements
|
Comments Off

on Horizon & Sonlite Records release In Times Like These playlist
Written by SGN Scoops Staff on July 2, 2020 – 9:47 am -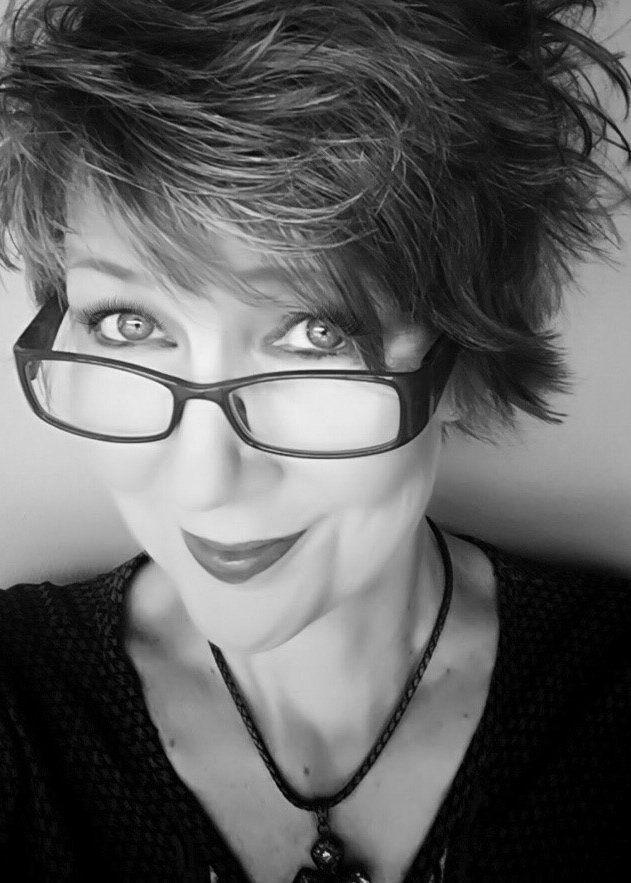 Arden, North Carolina — Sonlite Records and Crossroads Music are pleased to announce the signing of Kenna Turner West to their roster of recording artists. For nearly four decades, West has blended music, devotional teaching, and humor into a ministry that has reached across the nation and around the world. As an award-winning songwriter, her efforts have garnered numerous honors including six BMI Awards, three Dove Awards, twenty-three "Song of The Year" wins, and a growing list of #1s. 
West — who is currently pursuing a master's degree in theology — began her career in gospel music as a vocalist in 1983, serving in full-time ministry until 2011 when she scaled back her touring schedule to help her teenage son learn to navigate the world with a visual disability. For the last nine years, she has poured herself into songwriting, co-writing hits such as "Say Amen," "Even Me," "Victory Shout," "Revival," "Come Sunday Morning," "What Kind of Man," and "Can I Get a Witness." Signing with Crossroads brings the artist's career full circle.
"I am so thankful for the opportunity that Chris White and Mickey Gamble have given me, and I am absolutely overjoyed to work with longtime friends Greg Bentley, Roger Talley, and Jeff Collins," says West. "This is literally a dream come true!"
The new relationship between West and Crossroads is a testimony of God's providence, she explains. "It's amazing to think that at the very same time our son is thriving in grad school — which allows me the opportunity to return to the road with new music — Crossroads calls! The timing couldn't be more perfect, and I couldn't be more excited!"
Sonlite Records' Greg Bentley adds, "I have known Kenna for more than 30 years. She is one of those special people that once you meet them, they are imprinted on your brain as a great friend. Many people know Kenna more for her song writing, but I've known she has a special anointing on her way of communicating the message that needs to be shared. So, we discussed this deal around the office, then with Kenna, and now she is part of our Sonlite Records/Crossroads family. We couldn't be more thrilled. Be watching for new songs coming out before the end of this year."
Tags:
Kenna Turner West
,
Soutehrn Gospel News
Posted in
announcements
|
Comments Off

on Kenna Turner West signs with Sonlite Records
Written by SGN Scoops Staff on February 17, 2020 – 12:29 pm -
WAGO & the GoMix Radio Network…Serving 40 Counties in Eastern NC & Southside VA. Mike Farley, Music Director 48 years in Broadcasting! – Mike Farley
Listen To WAGO & The GoMix Radio Network Here
So excited to have Mike and The team at WAGO & The GoMix Radio Network as part of our team at SGN Scoops Magazine Mike knows radio and its always fun to talk to him about the industry – Rob Patz
Tags:
Soutehrn Gospel News
,
WAGO & The GoMix Radio Network
Posted in
announcements
|
Comments Off

on SGN Scoops Magazine Welcomes WAGO & The GoMix Radio Network
Written by SGN Scoops Staff on December 2, 2019 – 3:55 pm -
Nashville, TN  Family Music Group has had many great charting artists this year and the new January charts show that the blessings will continue. We were blessed to promote 1 Top 10, 2 Top 20s, 4 Top 40s, 6 Top 45s and 13 of the top 80 Southern Gospel songs in the January issue of the Singing News Magazine!  The Top 10 included the Hyssongs and the Top 20 included Williamsons. Tim Livingston and the Old Time Preachers Quartet made the Top 40 while Les Butler and the Old Time Preachers Qt made the top 45 with their brand new singles!  Heaven's Mountain Band, Barry Rowland & Deliverance, Fields of Grace, Adams Family, Faithful Crossings, Primitive Quartet and Heart 2 Heart all had Top 80 songs!
This was also an exciting month for the Singing News Bluegrass Gospel charts- we promoted 3 of the Top 10 songs!  Heaven's Mountain band reached their 10th consecutive Singing News Bluegrass #1 song with "The Empty Altar" penned by Roger Johnson the patriarch of the group!  The Britton Family and the Primitive Quartet also shared in the Top 10 category.  We also promoted Right Side, King James Boys, Primitive Quartet and Tim Davis who had songs in the Top 20.
We are excited to have 2 Top 20 hits in the SGN Scoops national Southern Gospel charts along with 3 Top 10s and 6 Top 20s in the Scoops Magazine Bluegrass chart!
Les Butler states, "What an incredible start to the new year, we are blessed!"
Tags:
Family Music Group
,
Soutehrn Gospel News
Posted in
announcements
|
Comments Off

on Family Music Group Topping the January Charts!
Written by SGN Scoops Staff on September 18, 2019 – 6:36 pm -
We are happy to post our anniversary edition of SGNScoops Magazine. This September 2019 edition marks several milestones in the history of Gospel Music.
Please join us in congratulating Scott Fowler and Legacy Five on 20 years of music ministry. They will begin their anniversary tour in January 2020, but they actually unofficially debuted in September of 1999. I was thrilled to be at that debut, and I am so happy that they have shown such diligence and perseverance in their growth as a force in the industry, as well as in their own lives as Christians. Hope you enjoy some frank discussion with Fowler as well as other members, past and present.
Another gospel artist reaching significant milestone, is Mike Moran and the Torchmen Quartet. Fifty years is a long time to keep climbing onto that motorhome every weekend and travelling across Canada and the United States. We salute the Torchmen in this issue as well as their main skipper, Mike Moran. Congratulations on this major anniversary!
We also talk to some wonderful artists in this issue, including Carol Barham, Ivan Parker, and Darryle Wilson of Eagle's Wings. Regular features, DJ Spotlight, Coastal Events Update, Randall Reviews It, radio charts, Publisher's Point, and Editor's Last Word are of course included, and we hope you are able to read them all.
This issue marks the end of our 10th year in publishing the SGNScoops Magazine, and we are thrilled to have had you along for the ride. We hope you have enjoyed every issue.
Moreover, we hope you have seen the love of Jesus, and read about his mercy and grace in the pages of each issue. We believe that Jesus Christ is the Son of God and the only way to God. We believe that his love brought him to this planet. We believe that it led him to a cross to die for us. We believe that his death has the power to redeem our souls. We believe that his blood covers our sins, and has the power to bring us healing. We believe that he rose to life, and his life gives us eternal life.
If you ever have any questions or comments about anything we have written or stated, please email me at
lorraine@sgnscoops.com
.
Download The PDF SGNScoops Magazine
HERE
Find SGNScoops Magazine On Facebook
HERE
Listen To Todays Gospel Music
HERE
Tags:
Soutehrn Gospel News
,
Southern Gospel Magazine
Posted in
announcements
,
sgn scoops magazine
|
Comments Off

on September 2019 SGNScoops Magazine
Written by SGN Scoops Staff on June 13, 2012 – 9:48 am -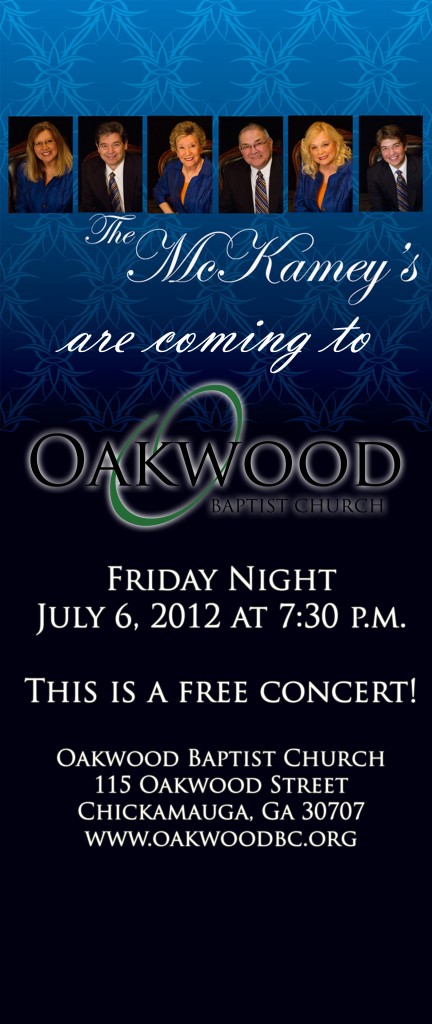 Oakwood Baptist Church welcomes the nationally known and award winning Gospel group The McKameys to the Chickamauga Campus for a free concert on Friday, July 6, 2012 at 7:30 p.m.
Since 1954 the quality of The McKameys has always been there. The harmonies, the songs and the love of the message and for the people it reaches has never wavered. Fans can feel it emanate from the stage as the group breaks into song, because nothing can take the place of sincerity when it comes to delivering the Gospel to the people.
The McKameys have also topped the Southern Gospel Music charts 24 times!
There is no admission charge for this concert; however, a love offering will be taken.  For more information visit www.oakwoodbc.org or call (706) 375-5760.
Oakwood Baptist Church is one church that worships in two locations:  Chickamauga, GA and  Gateway Mall in Fort Oglethorpe, GA   Oakwood is committed to loving God, loving people and making a difference.
Tags:
Chickamauga
,
Oakwood Baptist Church
,
Soutehrn Gospel News
,
Southern Gospel Concert
,
The Mckameys
Posted in
christian entertainment
|
Comments Off

on Oakwood Baptist Church welcomes The McKameys