Written by SGN Scoops on July 17, 2013 – 8:55 am -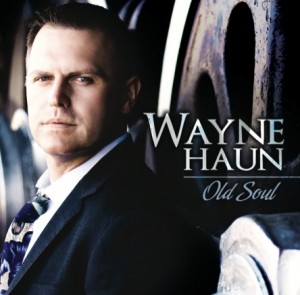 Nashville, TN – Producer, arranger, composer and crooner, Wayne Haun, is preparing to release his debut solo project, Old Soul.
 Wait, CROONER? That's right! Many are just now discovering the vocal prowess that adds an additional layer to this brilliant man's talent. For years, the multi-awarded Wayne Haun has been known throughout the music industry as the "go-to" producer for exquisite orchestrations. Working with a variety of accomplished artists – The Perrys, Jessica Simpson, Ernie Haase & Signature Sound, Celine Dion, Jason Crabb, Earl Scruggs and countless others – he is known as "the genius" and has enough awards and nominations to prove it.
Now, 
StowTown Records
 is pleased to introduce you to Wayne Haun, the crooner. Releasing 
July 28, 2013
, 
Old Soul
 (Provident Distribution) displays another side few have known. Drawing from renowned influences such as 
Frank Sinatra, Nina Simone, Dean Martin, Barbra Streisand
 and more, Haun takes the listener on a musical journey to a "time gone by."
Wayne Haun comments: "I listened to every genre of music when I was growing up. From Bluegrass to Gospel, Broadway to Jazz, all those influences shaped the musician I am today. When I was introduced to Broadway, Jazz and Big Band – all the amazing and lush instrumentation – I knew I wanted to write, to orchestrate, to create those sounds and I was determined to learn how!"
Containing eight classic tunes, and two brand-new compositions, Old Soul is a musical feast for the ear. With songs like "Give Me The Simple Life," "Are You Havin' Any Fun" (duet with Ernie Haase), "The Sweetest Sounds," "Bye, Bye Baby" and "Here You Come Again" (made popular by Dolly Parton) like you've never heard it before, this is a must-have for any music lover.
Ernie Haase comments: "Back a few years ago, when Wayne first came on as our musical producer and began traveling with us full-time, he started singing some of these tunes in rehearsal and one night, I asked him to sing one on stage and our friends in the audience loved it! From that night on, he's performed every night. And then it happened; people started asking for this project. So for everyone who requested it, it's here!
Old Soul (StowTown Records) releases July 23 and will be distributed exclusively through Provident Distribution. The project is currently available for pre-order now at www.ErnieHaase.com and will be available digital via iTunes, Amazon and Rhapsody.
1.   Give Me The Simple Life
2.   I Don't Care Much
3.   Blue Again
4.   Let's Fall In Love
5.   Are You Havin' Any Fun (Duet with Ernie Haase)
6.   Stars Would Fall
7.   Here You Come Again
8.   The Sweetest Sounds
9.   Speak Low
10. Bye, Bye Baby
Tags:
Ernie Haase
,
Southern Gospel News
,
Stow Town
,
Wayne Haun
Posted in
announcements
|
Comments Off

on WAYNE HAUN PREPARES OLD SOUL FOR RELEASE
Written by SGN Scoops on May 25, 2013 – 7:22 am -
May 24, 2013 – (Nashville, TN) Devin McGlamery celebrated the release of his new StownTown Records project,Love Is
A Verb, in style and with friends earlier this week. The popular Ernie Haase & Signature Sound vocalist stepped onstage at The Listening Room Café in downtown Nashville, TN and delighted the crowd of friends, industry leaders and fans with selections from the project on release day – Tuesday, May 21, 2013.
"I wanted to celebrate this day with those I love most," said Devin. "My friends and family mean the world to me so to me, there was no better way to enjoy this day!" With a live band and a packed house, Devin delivered selections from the new release and shared stories behind the songs.
The special concert kicks off a run of select solo concert appearances for Devin as he tours in support of this project. Find out more at www.DevinMcGlamery.com.
Love Is A Verb (StowTown Records), produced by Wayne Haun, is distributed exclusively through Provident Distribution and is available wherever Christian music is sold, on iTunes as well as other digital retail outlets.
:: Track Listing for Love Is A Verb 
Love Is A Verb with Beyond The Ashes
Hold On, Help Is On The Way
In The Depths Of The Sea
From My Rags To His Riches with Dailey & Vincent
I Will
I Tasted Your Water
While I Still Can with Karen Peck & New River
As Long As You Will Walk With Me
Up Above My Head (I Hear Music In The Air) with Russ Taff
Waiting At Home
When He Was On The Cross
That's Why with Ernie Haase & Signature Sound
:: Devin McGlamery Solo Tour Dates :: 
The Listening Room
Nashville, TN
6 PM
May 26
Tanglewood Church
Kinston, NC
All AM Services
June 16
Northpark Church
Raleigh NC
AM Service
Red Lane Baptist
Powhatan, VA
PM Service
July 14
Springfield Assembly
Akron Ohio
AM Service
July 28
The Villages, FL
w/ Doug Anderson
Aug 2
Nappanee, IN
Aug 3
Way Of The Cross Baptist Church
McDonald, TN
Aug 4
Norman Park First Baptist
Norman Park, GA
Oct 3
Milton, WV
Tags:
Beyond the Ashes
,
Dailey and Vincent
,
Devin McGlamery
,
ernie haase and signature sound
,
karen peck and new river
,
Southern Gospel News
,
Stow Town
Posted in
announcements
|
Comments Off

on Devin McGlamery Celebrates Love Is A Verb With Release Concert