Written by Staff on August 15, 2019 – 5:38 pm -
Nashville, Tenn – Five-time GRAMMY® Award nominated and six-time Dove Award-winning family group Karen Peck and New River were honored with two nominations for the 2019 GMA Dove Awards.
The group received the coveted Southern Gospel Artist Of The Year nomination as well as the as the Southern Gospel Recorded Song Of The Year for the group's number one song, "I Know I'll Be There", (writers) Dave Clark, Karen Peck Gooch, Wayne Haun.
On Wednesday, Karen was also honored to be one of the announcers of the 2019 GMA Dove Award Nominees, along with Natalie Grant and Jekalyn Carr.
Of the nominations, Karen said, "We are very grateful and honored to have two GMA Dove Awards Nominations for SG Artist and SG Song. We always pray diligently about the songs the Lord wants us to record. It was a pure joy to co-write 'I Know I'll Be There,' with producer Wayne Haun and award winning writer Dave Clark. This song is dear to our hearts. Also, we are very thankful for the Southern Gospel Artist Nomination. I'm thrilled to work with such an amazing team. Together we will keep persevering for the Lord. We are blessed beyond measure."
Given the rich and extensive history of the group, it is no wonder they have been nominated for these two prestigious awards. Led by Gospel Music Hall of Fame member, Karen Peck Gooch, New River was formed in 1991 when Karen teamed with her husband, Rickey, and her sister, Susan, to create the powerhouse trio.
In addition to their busy ministry schedule, singing hundreds of dates every year across the country, Karen is a recognized leader in the Southern Gospel Music Industry. She serves on the Board of Directors for Abraham Productions, and is still active as the first woman to be named President of the Southern Gospel Music Association.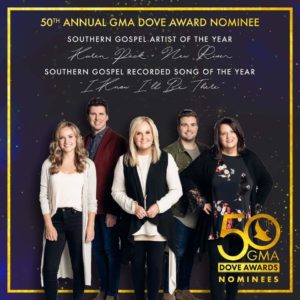 But it is the continued love and support of her extensive fan base, earned by KPNR's transparent heart for ministry, along with their impeccable harmony blend and vocal prowess, that has made them such a popular and successful ministry force.
The 50th GMA Dove Awards show will be held in Nashville on October 15 at Lipscomb University's Allen Arena. The 2019 Dove Awards will be taped to air on Trinity Broadcasting Network on October 20, at 8 pm EST / 5 pm PST.
The video for "I Know I'll Be There" can be viewed here: Video
To purchase Hope For All Nations -Link:   Online Store
For more Gospel music features read the latest SGNScoops Magazine HERE.
Download SGNScoops Magazine In PDF
Here
Find SGNScoops Magazine On Facebook
Here
Listen To Todays Gospel Music
Here
Tags:
50th GMA Dove Awards
,
Dave Clarke
,
Karen Peck
,
karen peck and new river
,
Matthew Gooch
,
Scott Godsey
,
Susan Peck
,
Wayne Haun
Posted in
announcements
,
artists
|
Comments Off

on Karen Peck and New River Receive Two 2019 Dove Award Nominations
Written by Staff on November 18, 2015 – 2:24 pm -
Twenty-four years ago, a dream was realized. In 1991, Rickey and Karen Peck Gooch, along with Karen's sister Susan Peck Jackson, formed the musical ministry known as Karen Peck and New River. Little did they know that this ministry would literally take them all over the world. Since that time, New River has been awarded three Gospel Music Association Dove Awards and three Grammy Award nominations. Karen has been named the Singing News Fan Awards Favorite Soprano an unprecedented eleven times. Despite their numerous accolades, one single thing stands above all else. Their ministry is centered on proclaiming the name of Jesus Christ through song. Through all of their joys and sorrows, they have remained true to their calling and follow the footsteps of Jesus every step of the way.
Long before New River became a reality, a little girl named Karen was too small to be seen while singing about her Lord and Savior, Jesus Christ. Karen says, "They used to stand me in a chair when I was three years old. Mama used to sing in church and my first time I remember singing, I sang 'I'm Bound for That City.'"
Karen and Susan's first recollection of Southern Gospel music was attending the All-Night Gospel Sing in Atlanta. Karen states, "I remember my Mom and Dad used to take me and my sisters to the All-Night Gospel Sing in Atlanta. Literally, they would be all night and we'd be in the Municipal Auditorium in Atlanta, Georgia, and they would last until six o'clock in the morning. I remember being mesmerized when Vestal Goodman came out on the stage." Susan echoes Karen's comments by adding, "I would get so excited when the Goodmans would walk out on stage and start singing. Vestal would step up to sing and her voice would fill the building. She was my favorite!"
Rickey Gooch says his first memory of Southern Gospel music was when his mom had a group come to their house to practice when he was a very small boy. Ricky Braddy shares that he's always wanted to sing Gospel music, even as a child. He says, "I was four years old when I first blurted out the alto part to a song my sister was singing. She and I sang 'When I Need Someone to Talk To' in our little old church. I've done a lot of types of music, but nothing satisfies like singing about Jesus."
Tags:
Karen Peck
,
karen peck and new river
,
Kari Gooch
,
Matthew Gooch
,
Rickey Gooch
,
Ricky Braddy
,
Susan Peck
Posted in
announcements
,
artists
,
exclusive report
,
sgn scoops magazine
,
special feature
|
Comments Off

on Karen Peck and New River: Sailing down a new stream
Written by SGN Scoops on April 20, 2012 – 11:06 am -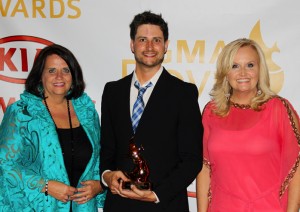 Hendersonville, TN (April 20, 2012) – The 43rd annual GMA Dove Awards celebrated another great year in Gospel music last night, April 19th, at the historic Fox Theatre in Atlanta, Georgia.   Hosted by David Mann & Chonda Pierce, the crowd enjoyed performances by some of the top artists in the industry, including Kari Jobe, Lecrae, and Natalie Grant.  Daywind artist, Karen Peck, lit up the stage with a moving rendition of "I Go To The Rock," alongside Yolanda Adams, Angie Stone, and Crystal Lewis.  Jason Crabb, Donnie McClurkin, and Wess Morgan also combined their talents to pay tribute to the legendary career of Russ Taff.
 Daywind artists brought home a total of three Dove Awards, with Karen Peck & New River receiving Southern Gospel Album of the Year for their 2011 project, Reach Out, and Country Song of the Year for "Good Things Are Happening."  The Perrys received Southern Gospel Song of the Year for their #1 hit, "Celebrate Me Home."  Although nominated several times, this marks the first Dove Award for both groups.
The 43rd Annual GMA Dove Awards will be televised on the Gospel Music Channel, Tuesday, April 24th, at 8:00 p.m & 10:00 p.m. ET.
Daywind Music Group is based in Hendersonville, TN and is distributed worldwide through New Day Christian Distribution.  Daywind is home to such great artists as Marshall Hall and Wilburn & Wilburn, and writers such as Kenna West and Caleb Collins, among others.  For more information on Daywind Records, visit daywindrecords.com.
Tags:
Angie Stone
,
Chonda Pierce
,
Crystal Lewis
,
daywind
,
Donnie McClurkin
,
Dove Awards
,
Jason Crabb
,
jeff hawes
,
Karen Peck
,
karen peck and new river
,
russ taff
,
Southern Gospel News
,
Susan Peck
,
Wess Morgan
,
yoland adams
Posted in
announcements
,
awards
|
Comments Off

on Daywind Artists Shine At The 43rd Annual GMA Dove Awards