Written by Staff on April 23, 2015 – 12:35 pm -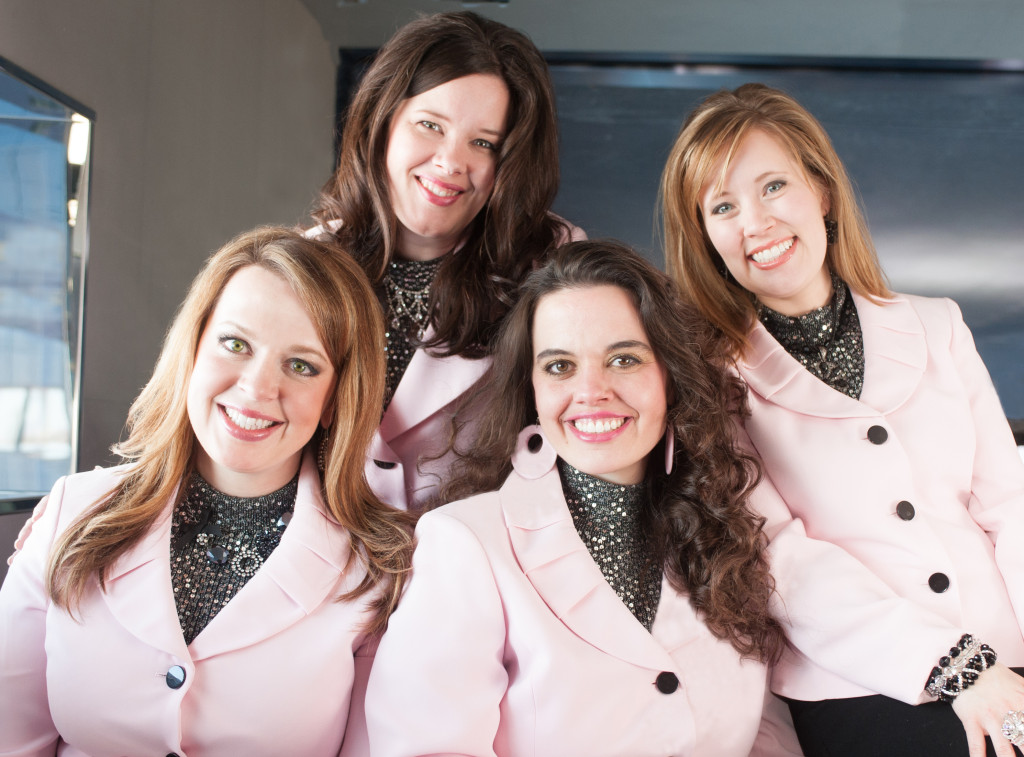 By: Paige Givens and Katie Paull
If you love Southern Gospel Music, tight harmony, and scripture-filled music, you are probably well aware of "The Female Quartet of Southern Gospel Music" known as Sweetwater Revival. They hail from Minneapolis, Minnesota. Yes, you heard that right, Minnesota! Many find it surprising that a Southern Gospel group of ladies would come from the far North, but Sweetwater Revival has found that people are hungry for Southern Gospel music everywhere, and Minnesota is no exception! This year their quartet will celebrate a decade of music ministry.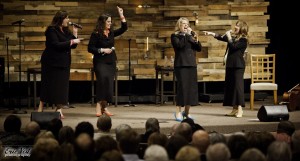 In 2004, founding member Katie Paull was living in Nashville, Tennessee, and singing with "The New Speers." This was a ministry was formed by Faye and Brock Speer's oldest son, Marc Speer. Katie states, "To even be a small part of the Speer Legacy was a phenomenal blessing. I had lived in Nashville for about four years waitressing and pursuing every music contact I could get my hands on. This included meeting with various A&R reps from record labels around town, doing demos with producers, pitching myself to songwriters to be a demo singer, and singing all over town in various venues. I learned so much during this time about the music industry and I will never regret my time there.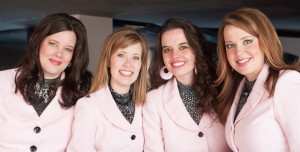 "I eventually felt the Lord leading me back to Minnesota," Katie continues. "I had sold my bed and a lot of my furniture, and then I awoke one Saturday morning to a message from Marc Speer saying he'd heard about me from a friend. He was interested in me auditioning for his alto position. I almost fell off my couch! Upon auditioning and joining The New Speers, one of my greatest joys became reality. At that point I decided to stay in Tennessee indefinitely.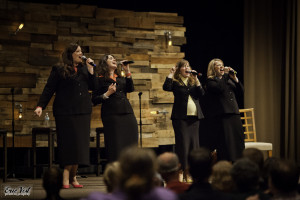 "Singing and traveling with The New Speers was one of the greatest joys of my life. Eventually Marc decided to disband The New Speers and I was heartbroken. During that time of transition, I felt the Lord leading me back to Minnesota. Moving home was very difficult in some ways because I thought that had to mean I was giving up my dream. In reality, God provided just the opposite. I moved home to discover my songwriting mother was in rapid speed, having written hundreds of gospel songs and my dad said, 'Why don't you just start your own quartet?' And thus the vision for Sweetwater Revival began. I don't think it would have happened without my parents' belief in my vision for an all-female quartet." Through much prayer and many auditions with various singers, Katie and her mother Cathie formed Sweetwater Revival. Their deepest desire was to find quality women who could sing and harmonize, but most importantly had a heart for Jesus Christ both on stage and off.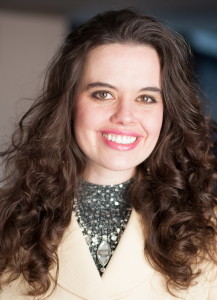 Through prayer and seeking the Lord's guidance for their ministry, Katie and Cathie were inspired to call the quartet Sweetwater Revival. They took inspiration from John 7:37, "Jesus stood and said, if any man thirst, let him come unto Me and drink." Also Isaiah 55:1, "Ho, everyone who thirsteth, come you to the waters." Cathie states, "I love the analogy of water and Jesus being the Living Water that quenches our thirst. He truly is the only One Who can transform our lives and revive us on a daily basis."
The group currently consists of Katie Paull, Korissa Olson, Amanda Ellison, Kayla Krizek, and songwriter/manager Cathie Paxson. These ladies, known as "The Female Quartet of Southern Gospel," work together to minister to people all over the country through meaningful lyrics and beautiful harmonies.
When an audience experiences Sweetwater Revival in concert, they will find out that the concert is much more than music alone. Katie says, "One thing that has been important to us is having scripture-filled music. That is a vital part of each project that we record. In addition to that, we have found that our music ministry is more than just music. Anyone who has ever attended a Sweetwater Revival concert will tell you that the sharing of God's Word is a big part of our ministry. We also share our testimonies and words we feel God has placed on our hearts but as Isaiah 55:1 tells us, "So is my word that goes out from my mouth: It will not return to me empty, but will accomplish what I desire and achieve the purpose for which I sent it." I know and have faith that if we choose to be His vessels in this way, whether through the singing of a song or a spoken word, God's Word will not return void. He promises us that."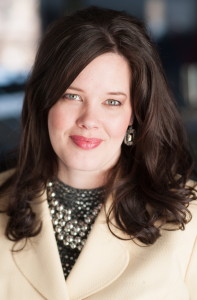 Radio personality Vivian Belknap enthusiastically applauds the group's songs. "We've been playing their music for some time now at KKGM AM 1630 in Dallas, Texas, and also streaming at www.kkgmam.com. I'm live on the board for three hours on Sunday afternoon, and I play at least two, sometimes three cuts of their music during that three hours. I always get phone calls about their music, with people asking 'Who was that?' One listener even ended up calling our corporate office asking who was singing!" Vivian happily informed the listener who was singing. She adds, "One song that many listeners respond to is 'Colossian 3:1-3.' We also get a very positive response for 'A Hallelujah Homecoming,' 'Until Then,' 'He's The Alpha and Omega,' and 'Blessed Assurance.' We love them in Ft. Worth/Dallas!"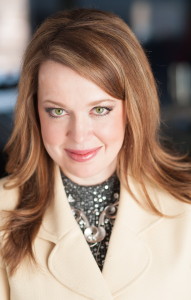 Radio stations are currently playing "A Hallelujah Homecoming," written by Cathie Paxson Music (BMI). The song just charted on the Singing News Chart at #55 in March. Other radio singles listeners may recognize are "When Someday Becomes Today", "The Night is Coming", "We Will Arise", and "Daddy's Hands". Katie points out that without wonderful radio promoters like the group's own Susan Whisnant and United Independent Artists, many spirit-filled, life-changing songs would never make it out to impact listeners.
Sweetwater Revival has released eight CD projects, a DVD, "LIVE at the Mall of America", and a complete line of vocal tracks and sheet music. Any of these can be ordered online at www.SweetwaterRevival.com . Their brand new project Heirloom (A Collection of Hymns and Harmonies) was released this past spring. Listeners will find a fantastic array of beloved hymns, harmony filled original music, and a cappella favorites on this newest project, produced by multiple Emmy, Dove, and Certified Grammy Award winning producer Darren Rust.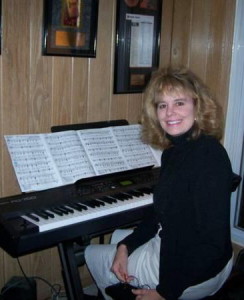 Sweetwater Revival continues to minister at various concerts. Katie shares, "One event we are heavily promoting and excited about, is our Annual 'Hallelujah Homecoming Concert' featuring The Talleys as our special guests. This exciting night of Gospel music will take place on Saturday, June 6th at 6pm. The Concert will be held at Bethel University in Benson Great Hall, St. Paul, Minnesota. Tickets can be purchased through our website or through Bethel's Box Office at 651-638 -6333. All seats are reserved, so please call now to get your best seats!"
You can find Sweetwater Revival online at www.SweetwaterRevival.com and on facebook at https:// www.facebook.com/SWRMinistries. For booking contact the group's Nashville Booking Line (615) 300-1283, visit the website, or send mail to Gospeltown Records, c/o Sweetwater Revival 1934 130th Lane NW, Minneapolis, MN, 55448
By Paige Givens and Katie Paull
Photos Courtesy of Josh Stokes of http://stokesfoto.com and Katie Paull
First published March 2015 by SGN Scoops digital magazine. For current issues of SGN Scoops visit the main page.
Tags:
Christian artists
,
christian country
,
gospel music
,
Katie Paull
,
Paige Givens
,
sgn scoops
,
Sweetwater Revival
Posted in
christian entertainment
,
Christian interest
,
sgn scoops magazine
|
Comments Off

on Sweetwater Revival: It's More Than Just Music
Written by Staff on March 10, 2015 – 1:48 pm -
By Paige Givens
Sweetwater Revival is forging a path into new territory as one of the only all-female quartets in the nation. They have been affectionately called "The Female Quartet of Southern Gospel Music" by their peers in the industry, and they definitely deliver spirit-filled ballads, toe tapping numbers, hymns of old, and new melodies with the tight harmonies they are known for. The group hails from Minneapolis, Minnesota, and proves to us that Southern Gospel music has roots all over the nation, and even the world! Take a few minutes and get to know these talented ladies who are serving with their music and heart in the ministry known as Sweetwater Revival.
Katie Paull, founding member of Sweetwater Revival, was raised in a musical Christian home, with a pianist mother and worship leader father, Charles, who also sang in a men's quartet with Roy Tremble of the original Cathedrals. Katie shares, "Music was like breathing for me. I remember being in college, walking the aisle to get my diploma, thinking, 'This is it? It's time to grow up and get a job and forget music?' Not long after that I made an announcement to my folks that Nashville was my destination. I waited tables by day and made music contacts by night. I did everything from sending out press packets, going to writer's nights, songwriting, meeting with producers, A&R reps at record labels, and singing in places like the Bluebird Cafe. God helped me learn a great deal about the music business during this time. A memory I will always cherish was one weekend when my father flew down to visit. We were eating at a restaurant. I suddenly spotted Vestal Goodman, the Queen of Gospel Music. My dad about choked on his tortilla he was so excited! I went to speak with her and tell her about my music. Standing next to me, without any hesitation she grabbed my hand and prayed for me and my future in music. That moment will always stick out in my mind. God has placed people like her all along my journey and He can do the same for each of us as we seek His will for our lives." Katie would go on to sing with The New Speers. After this group eventually disbanded, the journey of Sweetwater Revival began. "Little did I know that moving back to Minnesota and working with my mom would be the realization of my greatest musical dreams!" Katie has been married for seven years to David Paull and they have two children, Elizabeth and Ethan.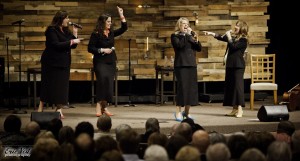 Korissa Olson grew up a pastor's daughter in the mountains of Missoula, Montana with a family of six singers! She began singing at the tender age of two, traveling in the "Wally Wagon" and trailer, ministering at churches and camps all throughout the United States and overseas in Hong Kong, Japan, and in China. By the time she came to minister with Sweetwater Revival she had already professionally recorded three gospel albums with her family, The Erbele Family Singers; sung professional opera in Germany and New York, worked alongside producer Alan Moore (Sandi Patty, Amy Grant), and been honored at Estes Park Music in the Rockies. She is a sought-after vocalist in a variety of areas. Korissa does professional voiceovers on the radio and she is also a concert cellist. She and her husband Darren have two beautiful boys, Emerson and Everett. Everett was born with Galactosemia, a rare disorder discovered early by the newborn screen. Korissa has gone on to become a successful speaker and advocate for newborn screening, serving on the board for the Save Babies Through Screening Foundation
(www.savebabies.org). She is also able to spend time traveling with her husband, who is a full time professional European nature and landscape photographer (www.darrenolson.com), sharing God's beauty from behind the lens. Korissa states, "No other genre of music has touched my soul like Southern Gospel music. I am so blessed to be back in my roots and part of Sweetwater Revival. I love my Sweetwater sisters! My prayer is that in every note of our music, the truth of the gospel, and the beauty of His Grace will shine through."
Amanda Ellison has long been admired for her rich and soulful voice. She grew up a pastor's daughter in Iowa and was saturated with music from a very early age. Amanda states, "As a little girl, music and love were poured into me. Some of my earliest memories involved my parents taking me to Singspirations, where people gathered to sing worship to God. As the melodies and harmonies filled the room, they filled the core of my being. I am so thankful to God for the gift of song. Music reflects my heart and my soul, it conveys every emotion when words will not do." Growing up in a musical family she reminisces about memories such as washing the dishes with her sister, all the while singing and harmonizing. She states, "My brother used to say, 'My life is a musical!'" Amanda is a well-known women's speaker and worship leader with an amazing testimony. She considers her family her greatest achievement, calling her five children, "the most beautiful notes God has written in the song of my life." Most of Sweetwater Revival's audiences are intrigued to learn that four of those five children are two sets of twins! "God has certainly taught me to expect the unexpected!" she says. Amanda is often noticed for her sense of humor and remarkable ability to make people laugh. "If I had a motto, it would be words my mother has so often declared to me: Choose Joy. Those simple words filled with Biblical truth have affected my life at every turn." Having sung at countless events, her deepest desire is to see others come to know Jesus Christ as their personal Lord and Savior.
Kayla Krizek, was raised in a Christian home and is a Minnesota native. She remembers first being introduced to Southern Gospel music in her grandma Erickson's kitchen. It was always playing on Sunday mornings. Kayla states, "At first I just listened, then later started singing along, and eventually we were singing and dancing together in her kitchen. Grandma would share her favorite songs with me, we'd watch the latest Gaither special together on TV, and we often pointed out to each other basses or tenors we especially loved. Grandma, you left me a legacy, an heirloom of music." Like many professional vocalists, Kayla began soloing at a very young age in church. She attended the well-known Minnesota Christian college, Northwestern, where she pursued a Music Education Major. She also participated in almost every music and drama ensemble imaginable, winning numerous awards and scholarships. There she developed an even greater passion for performing and soon began appearing in many musical theatre productions throughout the metropolis of Minneapolis and St. Paul. She has played everything from Beth in Little Women, Liesl in The Sound of Music, Belle in Beauty and the Beast, to The Narrator in Joseph and the Amazing Technicolor Dreamcoat. Kayla states, "The Lord's timing in bringing together this particular group of ladies 'for such a time as this' is so exciting, and an overwhelming blessing! I leave every rehearsal refreshed, encouraged, and wrapped in love. We can't wait to share God's love and power with you through song!" Kayla recently landed her most starring role, that of being a mother, as she and her husband Elliott welcomed a beautiful baby girl, Cora (Cordelia Grace) last July.
Cathie Paxson is the Manager for Sweetwater Revival and also a gospel songwriter of close to 500 songs. Cathie states, "I am humbled by the thought that the Lord could use me in this way. It is a love and a passion for the Lord that drives me to my piano daily. I think back over the years and see how God has led my life. At the young age of five, my dear, beloved grandfather bought me a new piano! He was a milkman and one of the dearest people in the world to me. Looking back, I know it took much sacrifice on the part of my grandparents to buy me such an expensive gift. What a cherished heirloom I was given! I could have never known, all these years later, that the Lord would allow me to write songs for His glory on this very piano." About 95% of Sweetwater Revival's music are songs that Cathie has written. Cathie states, "I feel overwhelmingly blessed that God gave Katie and me the vision for Sweetwater Revival and that we are able to share in this journey together. It is a joy to hear the songs I have written, sung by these girls that I am also thankful to call my friends."
For more on Sweetwater Revival, visit their website today at www.sweetwaterrevival.com. Follow them on facebook at https://www.facebook.com/SWRMinistries.
Photos by http://EricVestPhotography.com/ and Josh Stokes of http://stokesfoto.com
For a full-length feature on Sweetwater Revival, read the story by Paige Givens in the March 2015 edition of SGN Scoops digital magazine.
Tags:
gospel music
,
Paige Givens
,
sgn scoops
,
southern gospel
,
Sweetwater Revival
,
Vestal Goodman
Posted in
artists
,
christian entertainment
,
Christian interest
,
sgn scoops magazine
,
special feature
|
Comments Off

on Getting to know the ladies of Sweetwater Revival