Written by Staff on April 5, 2019 – 1:51 pm -
10,000 items donated to establish research library
Hendersonville, TN – The Southern Gospel Music Association is pleased to announce the acquisition of a massive Gospel Music collection from Harold Timmons of Nashville, TN. The collection consists of nearly 10,000 items procured over his 65-year association with the genre. This important contribution will form the foundation of the SGMA Research Library soon to be established.
The Timmons collection contains 19th-century songbooks and original recordings dating back to the 1920's and includes the best available copy of nearly 80% of releases by the major artists of the genre since its inception. In response to receiving this significant gift, SGMA President, Arthur Rice, stated: "We've always wanted a great library and a collection of artefacts. The SGMA looks forward to Harold's collection, his knowledge, and that of his associates.  Not only will this be good for our organization, it will be good for artists and fans as well, and anyone wanting to research anything related to Southern Gospel Music. We look forward to this new endeavor."
Mr. Timmons commented, "I wanted the collection to be displayed, and available for research and for me to be able to continue to be involved with this work as long as physically able." He continues, "The SGMA now has the possibility of developing a comprehensive historical online database. My long-term goal is that a song may be researched as a recording, video, or printed music, and every reference contained within the library will be displayed.  A large percentage of the materials are already cataloged, and I'm encouraged to know that effort will continue through the new SGMA Research Library."
Harold Timmons is recognized as a touring musician with The Hemphills and Gospel Music Hall of Fame inductees The Chuck Wagon Gang. He is also well known for the large exhibit that he operated at various music festivals, including 38 consecutive years at the National Quartet Convention where he provided fans the opportunity to peruse and purchase classic Gospel recordings and collectibles. His recent effort includes the establishment and management of "We Love Our Southern Gospel Music History," which is a Facebook page and community consisting of 42,000 members.
Established in 1994, the Southern Gospel Music Association (SGMA) is a professional preservation association of artists, songwriters, industry leaders and fans founded to preserve, protect and promote Southern Gospel Music, its history and heritage.
For more Gospel Music news, read the latest SGNScoops Magazine HERE
Download The PDF Of SGNScoops Magazine
HERE
Find SGNScoops Magazine On Facebook
HERE
Listen To The Best In Today's Gospel Music
HERE
Tags:
Aaron Rich
,
Arthur Rice
,
Dean Adkins
,
gospel music
,
Harold Timmons
,
Karen Peck
,
rick shelton
,
sgma
,
SGMA Hall of Fame
,
Southern Gospel Music
,
Southern Gospel Music Association
,
Travis Bridgeman
Posted in
announcements
,
artists
|
Comments Off

on SOUTHERN GOSPEL MUSIC ASSOCIATION RECEIVES THE HAROLD TIMMONS COLLECTION
Written by Staff on August 19, 2014 – 10:38 am -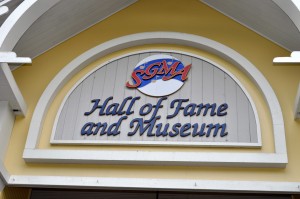 By Marcie Gray Imagine walking down a hallway filled with familiar faces and voices, some of whom you have listened to since you were a small child, some whom you have met, and perhaps, a few you may be privileged to call friends or family! Just inside the gates of The Dollywood Theme Park in Pigeon Forge, Tennessee lies a journey through the history of Southern Gospel music, just waiting to be explored.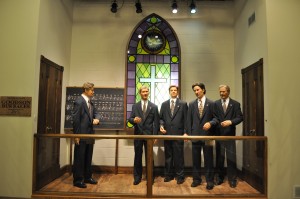 Established in 1994, and opening its Hall of Fame and Museum doors in 1999, the Southern Gospel Music Association (SGMA) is a professional preservation association of artists, songwriters, industry workers and fans, founded to preserve, protect and promote Southern Gospel Music, its history and heritage. The artists within have dedicated their ministries to delivering a message built around biblical truths and spiritual values, and what a legacy they have left and are still leaving! It's like homecoming week every time I walk through the SGMA Hall of Fame. As I enter the doorway, the first thing that catches my eye is a shaped note typewriter, surrounded by various song books and a chalk board with a music staff on it. Originally, Southern Gospel music was sung by quartets, many who used songbooks with notes identified by their shape.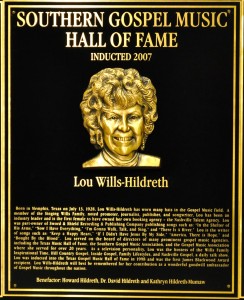 The tour continues as I sit in a church pew and listen to an animatronic quartet singing "Give the World a Smile." There is literally something to look at in every corner as I wander through the museum. A collection of vinyl records, a replica of The Blackwood Brothers' bus, instruments and clothing from legendary artists and collectibles, each having a story of their own to tell, are displayed throughout the museum. The centerpiece of the museum is the Hall of Fame, where bronzed plaques of legendary faces line the corridor. One hundred and fifty-five faces grace the walls of the corridor. Each individual who is inducted is honored with a plaque that bears their picture and a list of achievements in the Southern Gospel industry. Danny Jones, Editor of The Singing News and Executive Director of the SGMA shares, "The Southern Gospel Music Hall of Fame is the home to more than 3,000 Southern Gospel artifacts, not to mention a place where 155 members of the Southern Gospel community are honored. Earlier this year, as we were getting the museum ready for Dollywood's opening day, I cleaned all 155 of those 40-pound bronze plaques that hang in the Hall of Fame. It was impossible not to re-read what each plaque said and truthfully, the memories of many of those special people came flooding back to me. It almost like I could talk to George, Glen, Jake, Rex, Brock, J.G. Anthony, Roger, J.D. —and more—again. Suddenly they didn't feel so far away now that they've gone on to their eternal reward.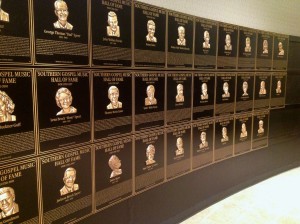 "As I cleaned each plaque I was reminded of how each of those men and women are on the Hall of Fame roster shaped this thing called Southern Gospel Music. Long-time fans need to come to the Hall of Fame and just relive those days. New fans need to come to the Hall of Fame and learn about those made Southern Gospel Music what it is today. It's more than a roomful of plaques–it's a roomful of incredible memories." One of our own SGN Scoops contributors and one of those who have helped shape Southern Gospel Music, Lou Wills Hildreth, was inducted into the SGMA Hall of Fame in 2007.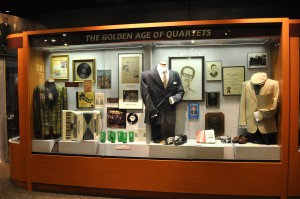 In early February of this year, SGMA President Arthur Rice was minding his own business in Florida, preparing to board a cruise ship with The Kingdom Heirs when his cell phone rang. On the other end one of Dollywood's fine maintenance men was calling to let Arthur know that a water pipe had burst inside the Hall of Fame and was spewing water throughout the building. Though the water flow was stemmed before any harm could be done to any of the artifacts housed there, substantial facility damage requiring significant repair work was experienced. In the ensuing days, the Dollywood maintenance and construction teams worked diligently to return the Hall of Fame and Museum to its "pre-flood" condition in time for the 2014 opening day festivities.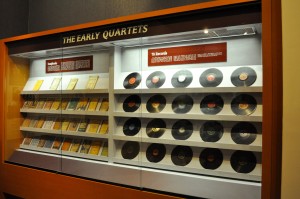 We recently talked to Travis Bridgeman of the Advisory Board of the SGMA Hall of Fame and Museum. "In September 2013, I was elected to the Advisory Board," says Travis Bridgeman. "I had the privilege to walk on the red carpet during SGMA Day at Dollywood for the 2013 Hall of Fame Induction. I am an administrator for the SGMA Facebook and Twitter pages. I post news and facts about the Hall of Fame, as well as recognize the birthdays and anniversaries of the deaths of Hall of Fame members. As a member of the advisory board, I also make recommendations to the executive board to help them with policy and promotion." Bridgeman continues, "Our theme for this year is Raising the Awareness, which is our campaign to make Southern Gospel music fans and artists aware of the contributions of the Hall of Fame members and how they can keep their memory and our music alive. The SGMA operates the Hall of Fame and Museum from the support of its membership. It is important to join the SGMA to help us preserve the heritage of Southern Gospel music for the generations that have no first-hand knowledge of the pioneers of our music. Each month, over 30,000 people visit Dollywood and have an opportunity to walk inside the only brick-and-mortar museum paying tribute to our legacy and the genre of Southern Gospel music. It is the living link to our past, and stands as an example of the excellence we should strive for today."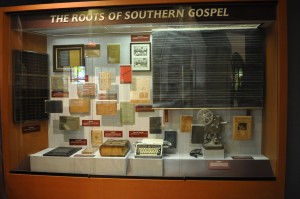 The SGMA Hall of Fame and Museum welcomes more than one million visitors annually to read and observe displays and memorabilia from a century of gospel music. Thousands of items from some of the greatest singers, writers and musicians are displayed. The facility includes a gift shop, which carries one of the country's largest Southern gospel music selections. The SGMA also specializes in vintage and difficult-to-find Southern gospel music products. The SGMA current membership ranks in the thousands with members from almost every state and several foreign countries. Members come from all walks of life joined by a love for the music, an appreciation for the positive, uplifting lyrics and the music's central message of salvation through Jesus Christ. The artists in this industry have traveled thousands of miles, often through adverse conditions, to entertain, minister and create a musical genre for which the SGMA is committed to preserving. In 2014, inductions will be conducted during the week of the National Quartet Convention in Pigeon Forge, Tennessee. Some of the inductions will take place during the nightly NQC programming while other inductions will take place during the Singing News Fan Awards. These inductions are included at no extra cost in your NQC admission.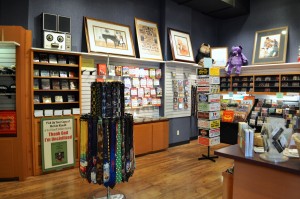 If you have not yet visited the SGMA Hall of Fame and Museum, a wonderful time to do so would be during Dollywood's National Southern Gospel And Harvest Celebration, which takes place from September 22, 2014 through November 1, 2014. During those six weeks of wonderful Southern Gospel music, there are opportunities to see your favorite artists in concert, all included in the price of your Dollywood ticket! Visit http://www.dollywood.com/themepark/entertainment/Harvest-Celebration-Gospel-Performers.aspx to view the schedule of artist appearances.
You can be an important part of helping the SGMA Hall of Fame and Museum to preserve the rich heritage of Southern Gospel music we all love. Visit http://sgma.org/ to find out how you can join the SGMA family. Annual membership is $20, and a lifetime membership can be received for a gift of $1,000. You can also contact the SGMA at (865) 908-4040. From all of us whose hearts are touched by Southern Gospel music and the history that has shaped it into what it is today, we want to say "Thank you" to the SGMA Hall of Fame and Museum Directors and staff. Thanks to your efforts, the legacy of those who came before us will be remembered for generations to come. Photographs and Written by Marcie Gray First Published July 2014 in SGN Scoops digital magazine. For the current issue of SGN Scoops, visit the SGN Scoops website at https://www.sgnscoops.com/
Tags:
Arthur Rice
,
Danny Jones
,
Dollywood
,
hall of fame
,
Marcie Gray
,
Pigeon Forge
,
Southern Gospel Music Association
,
Tennessee
,
Travis Bridgeman
Posted in
christian entertainment
,
sgn scoops magazine
|
Comments Off

on Southern Gospel Music Association's Hall Of Fame