Written by SGN Scoops on January 19, 2012 – 6:31 am -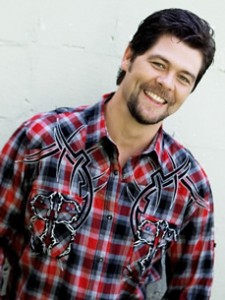 NASHVILLE, Tenn. (January 18, 2012) – GRAMMY® Award-winning Christian vocalist Jason Crabb rang in the New Year with a Twitter chat withCountry Music Chat (#CMChat), generating 34.5 million impressions and reaching 1.4 million people.
#CMchat, the only registered chat devoted to country music on Twitter, is hosted by Jessica Northey, who is ranked as the most powerful woman on Twitter (based on Twitter Grade). Thrilled to welcome Jason Crabb as her first guest of the new year on the weekly chat, Jessica stated, "Starting 2012 with an amazing artist like Grammy Award winner Jason Crabb sets the course for an incredible year for Country Music Chat! Country music and Gospel music have always been known as cousins to each other, so it just seemed right to have Jason as a guest. We had a great time and look forward to having him back."
During the chat on Monday, January 2, 2012, Crabb discussed the new Crabb Family project, Together Again (Gaither Music Group), which streets on February 7th. They also talked about Jason's dedication to his family, his future recording plans and the potential of a children's book.
"I was honored to get to start the new year off with Jessica and her friends during the #CMchat on Twitter," Jason described. "I'm blown away at how many folks came to chat with us and it was fun meeting so many new friends via Twitter!"
For further information regarding Jason Crabb, visit www.JasonCrabb.com , "Like" him on Facebook.com/JasonCrabbMusic , and "Follow" him on Twitter: @JasonCrabbMusic.
For further information regarding the new Crabb Family release or to schedule interviews, please contactCWinstead@springhillmusic.com or aaron@nelonpr.com.
About Jason Crabb
Jason Crabb is known as one of the most respected and diverse vocalists in Christian music. His soulful, heartfelt vocals have made him a critics' pick and a fan favorite on stages ranging from "The Grand Ole Opry" and the Brooklyn Tabernacle to the Gaither Homecoming arena platforms. With a string of number one hits and chart-topping singles, a tour schedule of over 200 dates annually, ongoing tv appearances, a book on the shelves and a new recording, this vocal powerhouse's talent is topped only by his genuine personality and concern for others.
About #CMchat
Since its beginning in May 2011 on Twitter, Country Music Chat has generated over 500 million impressions on this social network. Past guests have included The Oak Ridge Boys, Ronnie Milsap, Barbara Mandrell, Trent Tomlinson, Billboard Magazine, All Access and more. #CMChat is live on Twitter every Monday at 6 PM PST / 9 PM EST.
Tags:
Country Music Chat
,
Jason Crabb
,
Southern Gospel News
,
twitter
Posted in
announcements
|
Comments Off

on JASON CRABB LIGHTS UP TWITTER WITH 34.5 MILLION IMPRESSIONS!
Written by SGN Scoops on July 27, 2011 – 3:05 am -
RALEIGH, NC, July 26, 2011 /Christian Newswire/ — Mark D. Watt of M&B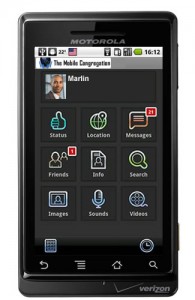 Media Group today announced the launching of The Mobile Congregation, a new mobile Android app project targeted towards congregations and faith based community outreach. Mr. Watt is seeking support and contributions fort his new project and is offering benefits in return.
The Mobile Congregation will feature a host of personal collaborative tools to keep your congregation connected, engaged and extend your outreach in real-time. Mr. Watt stated that technology has allowed the ministry to share the gospel locally and by going global utilizing smart-phones.
Here is a list of some of the many collaborative tools available in this mobile app:
Location based services
Email
Twitter enabled
Facebook enable
Audio/Video streaming
Create groups
Prayer request
Post sermons as a podcast for listening
Donations
Youtube
Mr. Watt states that this mobile app will offer a whole lot more features compared to the listed apps above. In addition, it is user friendly and customizable. When you are on the go no matter where you are, keep in touch with your congregation, listen to a sermon, post a prayer request or extend your faith based community outreach. An Iphone mobile app will follow the release of the Android version.
Tags:
Android app
,
facebook
,
i phhone
,
M&B Media Group
,
Mark D. Watt
,
mobile app
,
Mobile Congregations
,
mobile sermons
,
podcasts
,
twitter
,
youtube
Posted in
Christian interest
|
Comments Off

on M&B Media Announces the Launching of The Mobile Congregation App on the Android Platform