Written by scoopsnews on January 12, 2021 – 2:53 pm -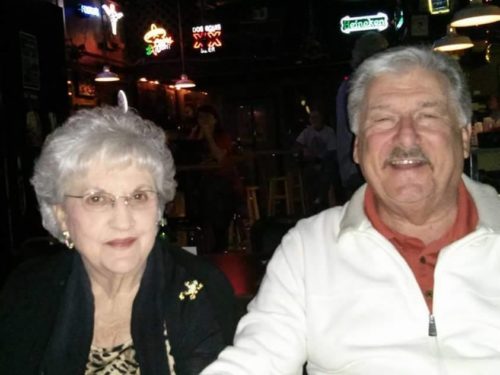 We are SGN Scoops are saddened to hear this news.
From Don Frost:
My heart is broken.
My wife Barbara lost her battle and passed away today. We got to talk to her on face time today. We thought she was doing so good. We got to tell her we loved her. We are heart broken.
We were together for 66 years
We really need your prayers now.
The Frost Family
Tags:
Don Frost
Posted in
announcements
|
Comments Off

on Please Pray for The Frost Family
Written by scoopsnews on January 12, 2021 – 2:18 pm -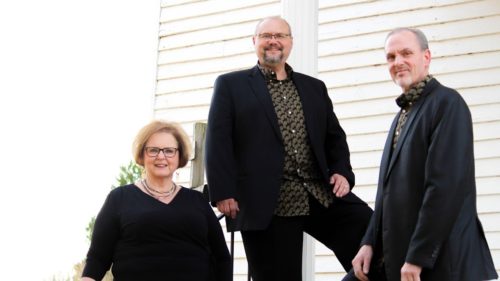 Russellville, Alabama – Chapel Valley Recording Artist, Purpose, is releasing a new lyric video and single.
Purpose officially began its ministry in July of 2011, and since its inception, the Lord has blessed Purpose by opening many doors, as well as expanding the group's territory of travel.  The members of Purpose consider themselves more than just a singing group, but they find themselves an evangelistic team. No matter what kind of stage they are on or no matter how many people are in the audience, the message of what the Lord has done does not change.  The members (Byron Gann, Paula McDougle & Tim Williams) have all been singing and playing gospel music most all of their lives, and each has a passion for sharing the gospel through the ministry of Purpose.
Be listening for the group's new single, "He Still Moves Mountains" which will be sent to radio this week. The song was written by Shane Roark (Chapel Valley) and will be promoted by Vonda Armstrong and Hey Y'all Media.
Check out the video below!
Tags:
Chapel Valley Music
,
Purpose
Posted in
announcements
|
Comments Off

on Purpose Releases New Single and Lyric Video
Written by SGN Scoops Staff on January 12, 2021 – 1:45 pm -
Nashville, TN  Dave Emery, former manager and vocalist for the world-famous Chuck Wagon Gang, has been admitted to the hospital with Covid-19.  Covid is serious enough, but add Dave's COPD to the mix and this is very dangerous.  Dave has asked for the prayers of God's people.  This is coming on the heels of the loss of his mother, Betty Emery (Bellaire, MI) on Sunday who died from Covid at the age of 88 years old.
Dave managed and sang bass with the Chuckwagon Gang for 7 ½ years, and sang bass with the Proclaimers for 1 ½ years.
In 2018, following two years of prompting of the Holy Spirit, Dave made the initial contact with Paul Hyde and they began praying for God's leadership in the creation of Redemption's Promise and Dave became the first baritone for the group.  After seeing where the Lord was leading Paul's heart as the manager of the group, he stepped out of the line-up as a singer but remained best friends with Paul and they talk almost every day.  Dave had a profound influence on Redemption's Promise.
Dave and his wife Phyllis retired in late 2020 and just recently purchased and moved to their retirement home in Bradenton, FL. They have been enjoying their retirement there in Florida. For the last year and a half, Dave has been the bass vocalist for the Blackwood Quartet although this Covid situation has derailed their dates now until March 2021.
Please keep the entire Emery family in your prayers as they lay Dave's mother to rest and as Dave fights this horrible virus.
Tags:
Dave Emery
Posted in
announcements
|
Comments Off

on Dave Emery Admitted to Hospital After Loss of Mother
Written by scoopsnews on January 12, 2021 – 12:52 pm -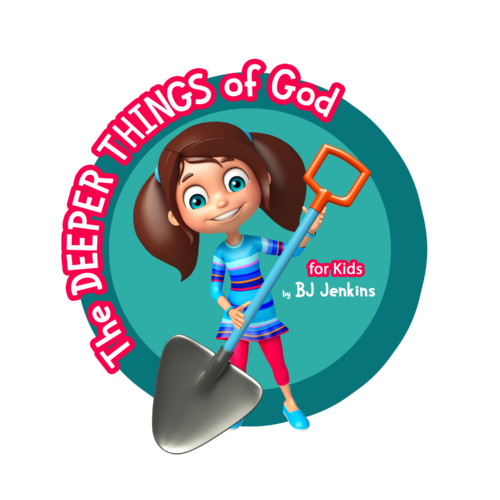 When I asked the students in my Sunday school class if they could tell me what the Fruit of the Spirit was, not a single one of them knew the correct answer. Well, one thing we did find out, it's NOT a Coconut! 
Actually, the Fruit of the Spirit is not a fruit at all but something that can grow in you even when you're small. This special fruit is something that you cannot grow or buy, or even make it on your own no matter how you try. So, WHAT is the Fruit of the Spirit, and HOW does it grow? 
The Bible says, "The fruit of the Spirit is love, joy, peace, patience, kindness, goodness, faithfulness, gentleness, self-control." Galatians 5:22-23
Ok, so we know the names of them…. But how much do we really know about the Fruits of the Spirit? Are they really all that important? Where do they come from? Can just anyone have the Fruit of the Spirit? Let's look at what the Bible says about them. 
First, FRUIT IS IMPORTANT! Jesus said, "I am the vine; you are the branches. Whoever abides in me and I in him, he it is that bears much fruit…and so proves to be my disciples."  John 15:8
When you bear good fruit, it proves you have been Born Again. Jesus Himself said that it was ALL about the fruit. He said everyone will produce some kind of fruit in their lives. (good or bad) The ones that produce the good fruit belong to Him. The ones that produce the bad fruit do NOT belong to Him and will be cast in the fire. (hell)
SO, WHAT MAKES THE GOOD FRUIT GROW?
Good fruit begins to grow when you are Born Again. The Holy Spirit Himself comes and lives inside of your heart. He starts out like a tiny seed. Then, as you water and fertilize Him, He grows larger and larger. It won't be long before He starts to bloom and begin to grow fruit. This fruit may be small at first, but it will keep growing until it's beautiful, tasty, and ready to share with others. How do you fertilize Him, you ask? The best way to fertilize Him is to spend time talking with Him, to praise and worship Him, to learn about Him, to listen to Him, and to always obey God's Word. 
WHAT IS BAD FRUIT? 
Bad fruit would be the opposite of good fruit. This would include hate, sadness, worrying, a bad temper, being mean to others, doing bad things or breaking the law, lying and not keeping promises, being rough and rowdy, and having no self-control. When you see someone who acts this way all of the time, the Bible says, they are not followers of the Lord Jesus, and they are not going to Heaven. 
So, if you want to know who is REALLY a follower of Jesus today, just look for their fruit, because the FRUIT NEVER LIES! 
Note to Parents: Teach the deeper things of Jesus. They're not too young to start, for their childlike faith will open the windows of their heart.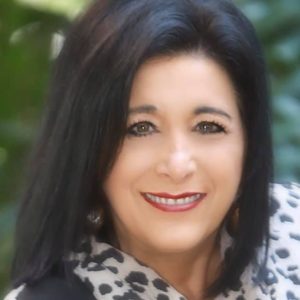 BJ Jenkins
Tags:
BJ Jenkins
,
The Deeper Things of God
Posted in
announcements
|
Comments Off

on The Deeper Things Of God…by BJ Jenkins
Written by SGN Scoops Staff on January 12, 2021 – 10:12 am -
Denham Springs, LA   SGN Scoops 2019 Sunrise Duo of the Year, Chronicle, has announced the release of their next radio single, Old Rugged Cross, as well as an accompanying lyric video.
The beloved husband and wife team, Tim and Missy Kinchen, have chosen to record one of the most well-known hymns of any generation. They have skillfully reimagined the classic Old Rugged Cross with their signature powerhouse vocals and harmonies, as well as Tim's award-winning saxophone stylings, giving the hymn a fresh new sound and flavor without taking away from its timeless beauty.
Already making a splash on the radio charts with their current single, City of Gold, they continue to amaze with this fresh new release of a beloved old song.  Not letting the current Pandemic keep them away from their calling, they are also working with one of Nashville's finest producers, Les Butler, on a new project that is scheduled to be completed early this year.
Of this newest radio release and lyric video, Tim says "Sometimes we just need to be reminded of the timeless promises of God. Can there be anything more important during this uncertain time, than to bring to mind the sacrifice of Jesus on the cross? That message has never been better articulated than in the lyrics and music of this wonderful old hymn. We hope our version of Old Rugged Cross blesses you and brings you back to a simpler time in your life."
The video can be viewed here: https://youtu.be/L36vMvG5psQ
Tags:
Chronicle
,
Southern Gospel News
Posted in
announcements
|
Comments Off

on Chronicle Announces New Lyric Video and Release to Radio
Written by scoopsnews on January 11, 2021 – 10:37 am -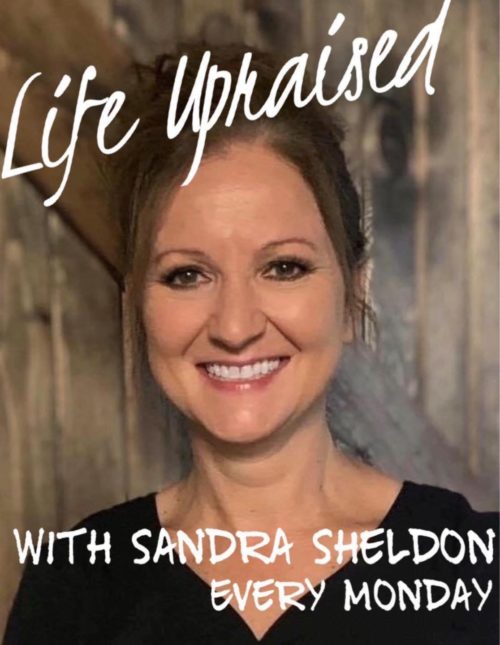 "…Peace I leave with you, my peace I give unto you: not as the world giveth, give I unto you. Let not your heart be troubled, neither let it be afraid."
John 14:27
Jesus knew that His time on earth was coming to a close. He had promised that there would be a Comforter, the Holy Spirit, sent to live in believers, fulfilling His promise, "I will come to you."
The Holy Spirit's work in the heart of a believer results in a deep and a lasting peace. Indescribable to those who have not yet received Him. This is a peace "not as the world gives" … where peace is the absence of conflict, but on the contrary, for those who have experienced this peace, it is most noticeable DURING the conflict. During the darkest hours of the night when the storms are howling, and everything in the physical sense DOESN'T make sense! Those times when the only thing you can do, it seems, is to breathe.
Jesus says, "THIS peace… give I unto you!" and then exhorts his disciples further by telling them to not let their hearts be troubled, or afraid.
Like today, those disciples did not know what lay in their future. We don't know what is in ours, but the God we serve absolutely does!
Regardless of what we face, when we walk in fellowship with Him, He promises the Comforter, and the peace that passeth all understanding!
Do you have it today? You can!
"…These things I have spoken into you that in me ye might have peace. In the world ye shall have tribulation: but be of good cheer; I have overcome the world."
John 16:33
Tags:
Life Upraised with Sandra Sheldon
Posted in
announcements
,
Devotionals
|
Comments Off

on Life Upraised With Sandra Sheldon
Written by Staff on January 11, 2021 – 9:06 am -
Beyond the Song with Jantina Baksteen
I recently came into contact with Caleb King of the King Family. At the time, it seemed like it happened in error; but for God, there's no mistakes, and I believe he put all of this together. When you hear the song The King Family has recorded called, "A Trip To The Altar," you will understand why I know it was God who orchestrated our conversation. I hope you'll enjoy this interview.
Jantina Baksteen: You are no strangers to Gospel music fans. But for those who don't know you, will you please share your family's ministry with SGNScoops?
Caleb King: We have actually been doing family ministry for as long as I can remember. My dad, Earl King, Sr., was the pastor at Cold Springs Baptist church for about 23 years and we would sing as a family there.
JB: When did your journey of gospel music evangelism begin?
CK: Back in 2014, I took a step of faith and did my first solo album called, "Glory to His Name." I had wanted to get in the ministry for singing since I was a little boy. At a CD release party my church had for me, mom, Vicky King, and dad helped me sing some songs that night, and then they started traveling with me after that night.
Eventually, our schedule was getting pretty busy, so dad decided to step down as pastor and his assistant, Oliver Dills, stepped in. On March 1st, 2016, I finally surrendered (to) my call to preach a call. I had been running from (this) since I was a freshman in high school. Later on that year, Cold Springs Baptist Church ordained me as a traveling evangelist. Unfortunately, not long after, our beloved pastor Oliver came down with brain cancer, and Dad and I stepped in to the pastoral roll, while his dear friend for many years began a battle we've all been touched by. For about a year and a half, we were helping each other with the pastoral duties, as (dad) had been one for 23 years. It was a great growing opportunity for me to learn and have my father as my mentor. Unfortunately, his dear friend and our dear pastor wouldn't get the healing we were hoping for, but rather got the ultimate and complete healing as the Lord called him home. A few months after Ollie had passed away, a man named David Postell stepped behind the pulpit and rather then campaign for an opening position, he preached as a pastor should. A few months later, we elected him as our pastor and we were able to hit the road again, spreading the gospel of Jesus through preaching and song. Our home church is still Cold Springs Baptist; when we're not on the road, that's where you'll find us supporting our new friend and pastor, David.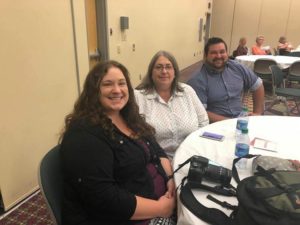 JB: You have a great song out entitled, "A Trip To The Altar." Is there a story to share about when and how you felt the calling on your heart to make that trip?
CK: "A Trip To The Altar," is a song we've got quite a bit of radio time with, even though we haven't officially released it with anyone yet. The Lord has just blessed us. It's an old Hinson song that Ronnie wrote. I loved the Hinsons! Our producer, Shane Roark, suggested I sing that song and I fell in love with it when I first heard it.
I never will forget the night I got saved! I was a five year old boy and I actually was at home, so I'm thankful we serve a God that you can make an altar wherever you're at and he'll find you! I was taking a bath and it just hit me does Jesus love me? My heart began to beat out of my chest and I screamed for my sister Hilary Bumgarner (now – it used to be King). I still say King sometimes when I introduce her. She wrapped me in a towel, took me into the living room on a Friday night. And as I sat in Dad's lap, I began to feel the love of Jesus move into my heart and I'm so thankful the answer was yes, Jesus did love me, and he loves everyone so much that he gave his life for us! That's why I want to live my life for him. That's when I made my trip to the altar and got saved.
JB: What is what you felt or experienced after you surrendered your life to Christ?
CK: Being saved at a young age, the older I got, I kind of didn't take my faith as seriously as I should have. There's a difference in being saved, and being sold out and fully surrendered to God's plan and will for your life. I went through a time when I was in high school when friends on the baseball team would come to church and I would literally fight back tears and worship because I didn't want them to make fun of me. But then something happened one night and God put me in a dry season. I would go to church and we would have good services but I couldn't feel his presence; I couldn't even get my eyes to water. It's a miserable place to be in when you're saved because I didn't know what to do. God sometimes uses valleys and mountains, and in my case, dry spells, to get our attention. That lasted for about a year and a half, and finally in a revival service one night, the spirit was moving and I went to the altar and just prayed and told the Lord I'm so tired of this dry spell I begged God to (feel) his presence like I did the night I got saved, and if he'd give me my tears back, I'd never hold one back again. So I cry a lot when I preach or sing but I'm so thankful that (I) can!
JB: Who is the writer of that song?
CK: Ronnie Hinson wrote "A Trip To The Altar," and it's such a true song. The Lord has blessed me and I've got to go to a lot of places and see a lot of things, do a lot of things, I've wanted to do. But nothing even comes close to the night I got saved or a night when his presence shows up at a singing. Nothing beats being in the presence of the almighty King.
JB: Have you actually experienced somebody go to the altar after singing that song?
CK: We have had several people go to the altar when we sing this song. A few have gotten saved and a few have rededicated their lives and some come to the altar just to praise Jesus. It's a song that's a great reminder of the night people got saved or at least (it is) for me. Anytime I'm down or sad, I just think about the night I got saved and realize there's no (reason) to be down, because we've got the victory through Jesus Christ, if you're one of his children.
JB: As the whole world is struggling with this pandemic, is there something you have learned during this time, as we all have to go back to the basics?
CK: The pandemic really hit us hard but not as hard as some other groups, thankfully. We still have other jobs that helped us out a whole lot. But this new year we are doing some changes. I just turned 30 and am really wanting to be able to do ministry full time, to where I don't have to worry about getting back to a job if a church decides it wants to keep us over for a revival, or something like that. Mom and dad are still going to travel some. My older brother, Earl King, Jr., who doesn't travel with us, lives about three hours away,(with) his wife (and) two kids. So, mom and dad want to spend a little more time with them. So, I'll be doing a lot more solo stuff, as I did when I first started back in 2014.
But the one thing I've learned, as I have time and time again, is we serve a faithful God! When it looks like it's over and the end is near, he makes a way every time.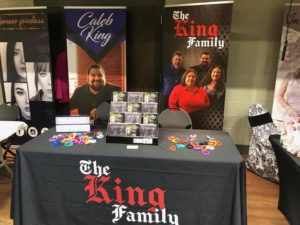 JB: Do you have a message of hope to share for those who have no hope?
CK: Jesus! He's the only hope you need. I could give such a long and precise answer to this question but it's so simple. If you truly have all your hope and trust in Jesus, you'll know how to (weather) your valleys and your storms because you'll know he's right there with you, through the good times and the bad.
JB: What is coming in the near future for The King Family?
CK: Just some more solo stuff on the horizon for me. And hopefully we'll be getting back in the studio real soon with Chapel Valley. They do such a great job on everyone's projects. We love them to death. And hopefully some new places to join with our singing friends. We love when we get to be with our friends at singings and sing together with them. I am hoping to start another singing around the Bryson City, North Carolina, area as well, so any supporters who would like to sponsor a group or something, (that) would be very helpful. It's still in the early planning stages though.
JB: How can we reach you to get your music and maybe book you for a church service?
CK: Anyone who would like to get a hold of us can to to our Facebook page, The King Family, you can send us a message on there. Or you can call me at 828-736-0862. Just leave a message if I don't answer. Hey, guess that's another new thing, hopefully, on the horizon is getting a booking agent and a website.
We hope you enjoy the Kings Family, singing "A Trip to The Altar."
Thank you, Caleb and The King Family, for sharing your ministry with SGNScoops. May the Lord shine down His blessing on your ministry.
Did you know that you can receive the printed, full-color version of SGNScoops Magazine by subscription? Find out more 
HERE
.
Find SGN Scoops Magazine On Facebook
HERE.
You can download the latest edition of SGN Scoops Magazine
HERE
.
Read the latest edition of SGN Scoops Magazine online
HERE
.
Listen To Today's Gospel Music
HERE
Tags:
A Trip To The Altar
,
Caleb King
,
Christian Music
,
gospel music
,
King Family
,
Southern Gospel Music
Posted in
artists
,
Beyond the Song
|
Comments Off

on Beyond the Song: The King Family sings A Trip To The Altar
Written by scoopsnews on January 11, 2021 – 7:21 am -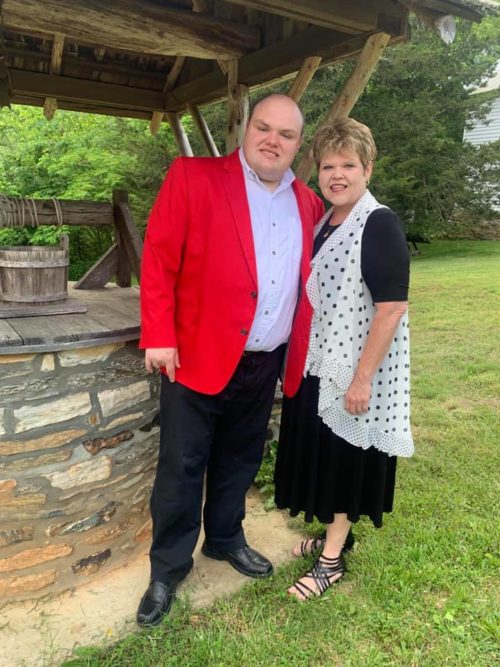 By: Vonda Armstrong
Do you know this special lady?  You may have watched her radio Program, "The Blue Ridge Gospel Showcase", or you may have heard her group, "The Journeys."
One thing is for sure, when you meet her, you will have a friend for life. SGN SCOOPS Magazine featured her not long ago as the DJ Spotlight of the month.
These questions will help you get to know Donna and her family better.
Vonda – Tell me at what age you thought you might like to do radio one day and why?
Donna
–  Somewhere around the age of 18I became interested in radio. My Dad was a
DJ
at the local radio station in our home town of Dobson,NC. He was also instrumental in getting that station switched from an all Country music station to a full time Gospel music station. I would go in and help him cue up records and choose music but I never got up the nerve to speak on air. He would pick at me and say "One day you will talk." Guess he saw  the potential way back then. My Dad passed away from an aortic aneurysm in 1986 and when I do my programs I still feel him sitting right beside me and cheering me on. Even though Daddy is not here with me anymore the closeness I feel to him when I do my program is priceless.️
Vonda – If you could interview anyone in any profession, who would you pick? Why?
Donna
-Temple Grandin
Temple is a lady who was diagnosed with Autism in the 50's.  She is very high functioning and even received her PHD in Animal Science and Engineering. The reason I would love to interview her is to get some answers about why children and adults on the Autism Spectrum do the things they do and how they feel. Having a son with Autism who is basically non verbal, there are many times when you just need to understand how they are feeling and why they do the things they do. I had the honor to hear her speak before but would LOVE to sit down and talk to her and try to understand Autism a little better.
Vonda – Share Your testimony.
Donna
-I accepted Jesus into my heart on March 3, 1873 at the age of 13. My Dad was a preacher and a pastor and we sang as a family. I had been to church all my life and it was hard for me to see that I was a sinner and needed the blood applied to my heart. Sometimes I think when you have always attended church and never done a lot of bad things it is hard to see that you need to accept Christ as your Savior. I remember the tug at my heart and holding on to the pew but when I let go and took the first step, God made the rest of the steps for me. I've never been the same since that day. I've strayed away at times and made many mistakes but HE is always there with open arms ready to forgive me and give me another chance.
Vonda – Tell us about your son, Ben.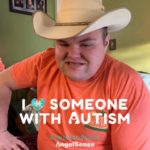 Donna
-My son Ben was born in 1994 to a Mom who was an insulin dependent diabetic and had already lost another child at 12 weeks ….1 1/2 prior to Ben's birth. When Ben was born he was perfectly healthy and mine and Greg's bundle of Joy. As he grew of course as a Mom and a teacher I watched and monitored his growth and milestones. At age one he was babbling and saying Mama and Dada and then all of a sudden that just stopped and he stopped giving us eye contact and started pushing us away. Red flags started going off in my mind and I talked to his pediatrician and he said not to worry that it would come. Well… it continued to get worse and by age 2 1/2  our baby was diagnosed with moderate-severe Autism. Our whole world felt like it had crumbled around us. The hopes and plans and dreams we had dreamed for Ben were shattered. After a major pitty party and questioning God, Greg and I both prayed for the Lords strength and for God to use our test as a testimony. As we watched Ben grow we noticed that he loved  music and was fascinated with guitars. We bought every kind of toy musical instrument he would even act like he was interested in. When he was 8 years old we bought him his first real child size guitar. He would strum it and try to chord it and absolutely loved it! I told him as he grew that if he would learn to play I would get him a nice guitar. As he grew all our Christmases became musical. He asked for different instruments each Christmas and his Granny, his Aunt Vickie and other members of our family would always get Ben something musical for his gift. Some friends of ours got Ben a dvd that had several lessons for beginners on how to play the guitar. Ben would go in his room and go through each lesson until he had it and then move on to the next lesson. By age 14 Ben had mastered all lessons and was playing on his own. A dear friend of our, Barry Scott helped him with his timing and rhythm. In the meantime I had showed Ben some chords on the piano and he began playing piano as well. So in 2012 after not being on the road singing for almost 9 years, I felt God calling us back into a ministry. We formed The Journeys. I sing, Ben plays, and my husband Greg speaks about raising a child with Autism. Ben is amazing and has been a blessing to so many. Without God nothing is possible but with God all things are possible. We thank God for our blessings every day!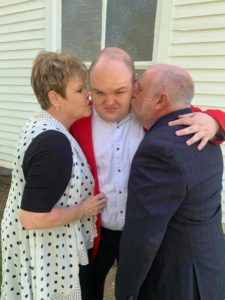 Donna, Ben and Greg
Vonda -How can we book you for a singing?
Donna
-Go to our website at
www.www.thejourneysgospel.net
 or call 336-710-3851
Purchase Product? Purchase through our website or contact us at 336-610-3851
Also available at all internet markets as The Journey's
We also have a FB page "The Journeys"  and you can message me there
Ben has a page called
Through Ben's Eyes
  on FB where you can view some of his paintings.
By the way Donna's Program is on tonight with special guest Doug Corum. CHECK IT OUT!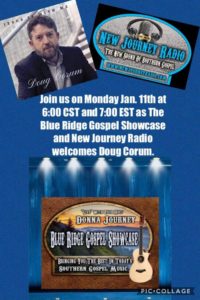 Tags:
Blue Ridge Gospel Showcase
,
Donna Journey
,
The Journeys
Posted in
announcements
|
Comments Off

on Meet Donna Journey, "The Blue Ridge Gospel Showcase"
Written by scoopsnews on January 10, 2021 – 10:37 am -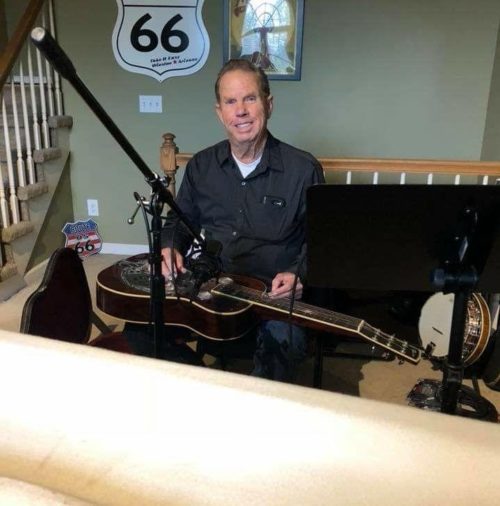 From Jamie Dailey
Update on dad:
He seems to have had a good night. He slept well and his defibrillator did not go off any. His defibrillator shocked him four times in the ambulance on the way to the hospital last night so he's pretty zapped and tired from that.
Praise the Lord The CT head scan was negative, Cr for his neck was negative, ultrasound of his neck was negative. The ones in his neck were to check for blood flow blockages in his neck. Cardiologist has been in this morning and they are working through it. They believe it was medication he was taken off of but needs to be replaced with something different.
Dad and I, and my entire family feel so very touched by all of your prayers!! Thank you! We love all of you! I'll update again once we know more.
I want to say how impressed I've been so far with the Doctors, nurses and staff Cookeville Regional Medical Center they have been very caring and accommodating. A huge thank you to them especially under this unprecedented and stressful time for them.
-Jamie
Tags:
Dailey and Vincent
,
Jamie Dailey
,
JB Dailey
Posted in
announcements
|
Comments Off

on Update on JB Dailey… Please continue to pray
Written by scoopsnews on January 9, 2021 – 6:53 pm -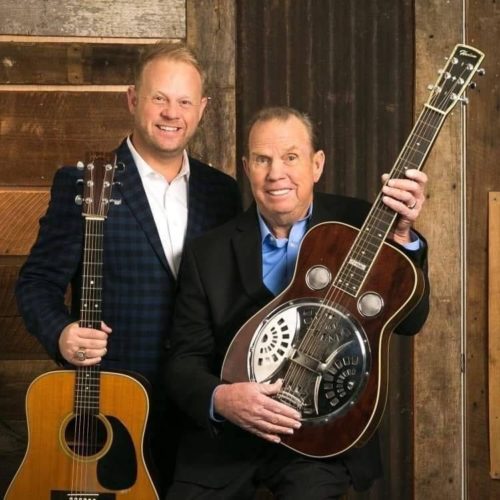 From Jamie:
My friends, my prayer warriors. Tonight my sister Candy called and said my dad JB was rushed to the hospital with his heart. Praise the Lord at this time he is stable and talking. I've made my way up here from Nashville as soon as I could and will get to see him here shortly. Looks like he will be staying a few days until further notice.
This has given us a horrible scare as he has major heart issues on top of his Parkinson's.
I would humbly like to ask for your prayers for him tonight and I know all of you are praying folks. I'm fine though I am very concerned. Like most all of you I'm very close to my mom and dad. They are two of the best friends I've got in this world. Why put it on here? I don't won't to deny him any prayers and I know when we pray for each other it is a mighty force that God has blessed us with.
All my love and appreciation,
-Jamie
Please pray!
Tags:
JB Dailey
Posted in
announcements
|
Comments Off

on Prayers for J.B. Dailey